NFL
The Sky Is Falling For The 4-0 Eagles
10:42 AM EDT on October 2, 2023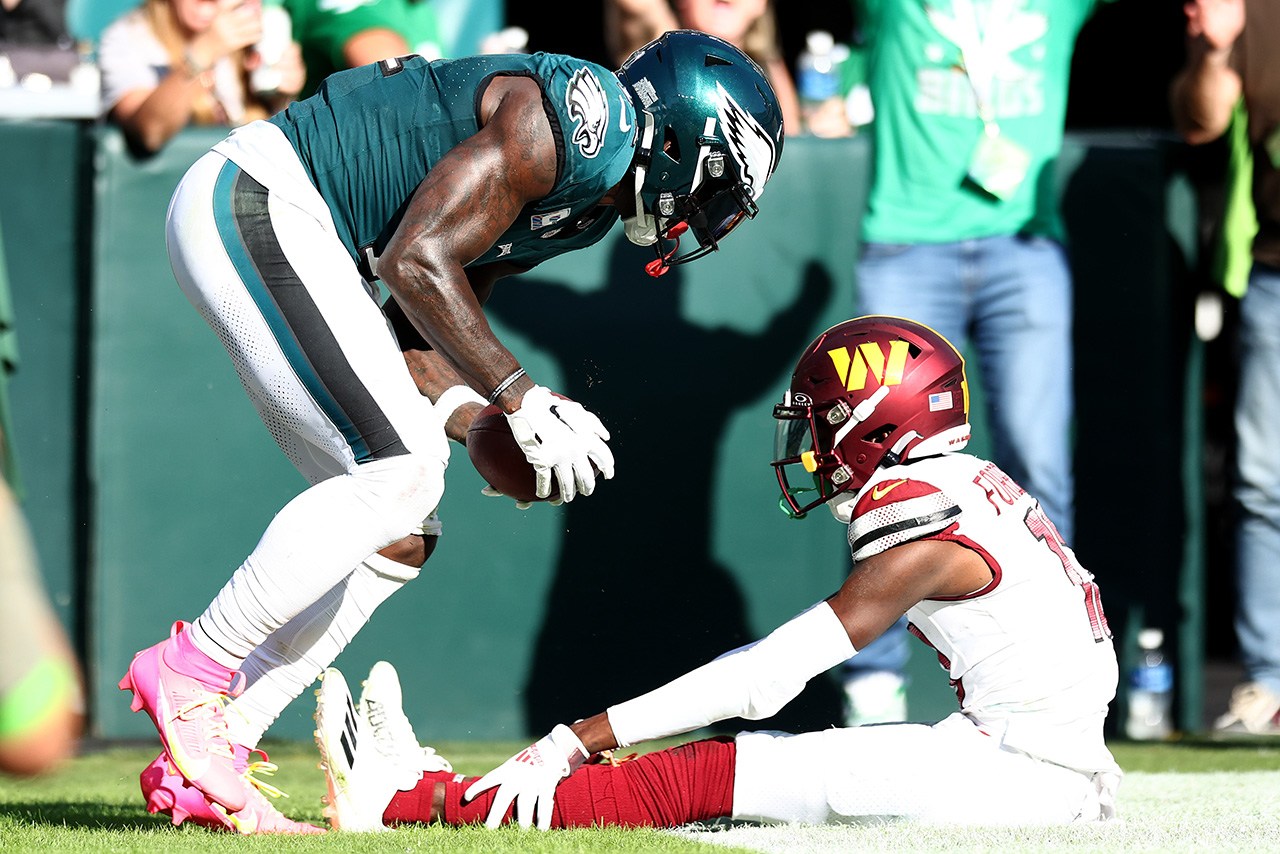 DeVonta Smith has a nickname for kicker Jake Elliott, and he revealed it to the public after Elliott hit a 54-yard field goal in OT to keep the Eagles' season perfect on Sunday. "You seen Chicken Little?" Smith asked. "That's what he looks like."
Elliott later said he did not enjoy the nickname. Too bad! He's now Chicken Little! It's fitting. The Eagles came back to beat the Commanders, 34-31 in overtime. And for the 4-0 Eagles, the sky is falling.
I mean, come on. This cannot keep happening. The Eagles seemed to be trending up after whipping Tampa on the road last Monday in a game in which they just barely played OK. Nope. They played their fourth straight crap game on Sunday, and they won again! The Eagles, the defending NFC champs, are one of two undefeated teams remaining in the NFL. They just won a division game against the last team to beat Jalen Hurts. Why are they still so frustrating to the people that care about them most?
The Eagles gave those fans a bunch of things to complain about this week. The defense gave up 31 points to the fucking Commanders, who came into the game with a below-average offense. They got to Washington QB Sam Howell five times, but also allowed him to throw for 290 yards. He led two game-tying drives in the fourth quarter. For the third time in four games, receivers were wide open all over the field.
And the offense! They averaged just 3.9 yards a carry. There was some baffling playcalling. The decision to throw a bomb to A.J. Brown in Washington territory with under two minutes to play is defensible, but it also came back to bite them: Brown scored, admittedly, but then he got a taunting penalty, and Washington came down the field to score a tying TD with no time left. But then they did it again! At the Washington 34 in OT, Hurts again tried to go deep to Brown but threw it nowhere near him. The grounding penalty that followed, which was the kind of BS thing that usually only gets called in early-2000s Madden games, nearly knocked the Eagles out of range for the game-winning field goal.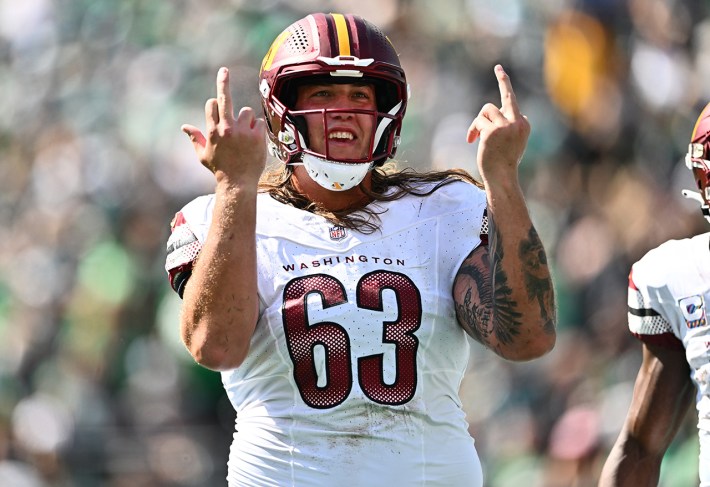 Jalen Hurts got A's on media report cards. He looked the best he has all year. But he still had issues. He missed Smith on a third-down pass in the second quarter. After a few games of taking a bunch of hits, Hurts seemed to avoid contact yesterday. That's good! But also… run down the field when it's open!
You will by now not be surprised to learn that people are complaining. The playcalling is under fire. I could walk out of my house, throw a football, and hit someone who is still angry at A.J. Brown for his taunting penalty. Even the team's official website noticed. "It was far from perfect, however," wrote Dave Spadaro, "on the field and no doubt the coaches will have a lot to say as they go through the self-scouting and correction part of the early week."
Mike Sielski in the Inquirer also wrote that the Eagles needed to play better, opening with a Washington beat writer asking this question: "That game will be ripped apart in this town, right?"
I tried to think of a game that matched up with this, and I came up with one: In 2004, the Eagles had signed Terrell Owens in the offseason. They were 5-0 coming into a game against the Browns. Much of the chatter during the week dealt with Owens's repeated shots at Jeff Garcia, his former QB in San Francisco. The very different personalities and personnel aside, that game was pretty similar to yesterday's! The Eagles were favored. They sucked on third down. They made mistakes and let Cleveland stick around. The A.J. Brown aspect was split into two: Terrell Owens got a bullshit celebration penalty when he ripped down a sign making fun of him, which should be allowed.Then Brian Dawkins received a bullshit roughing the passer flag to help Cleveland score the game-tying touchdown late in the fourth quarter. The teams traded possessions in overtime; the Eagles inexplicably went deep in OT when they should've just been trying to gain more yards to set up a game-winning field goal. But their star kicker came through. The Eagles won, 34-31, on a long field goal in OT to stay undefeated. They made it to the Super Bowl that year. The sky did not fall.
Were people nervous back then despite the 6-0 start? A little! Paul Domowitch in the Daily News wrote about how the Eagles run defense, leaky at 4.5 yards a carry in 2003, was actually worse (4.9) after six games in 2004. "If this team is going to survive the pressure cooker it will face in January, it is going to have to respond with more poise and more intelligence when challenged," Phil Sheridan wrote in the Inquirer. "In January, the challenges are going to be coming from better teams than this one." Les Bowen in 2004: "There were a lot of things that might've been hard to understand." Les Bowen yesterday: "What has happened to the play-calling? None of this makes any sense."
Back in 2004, things got more interesting and more annoying the following week. The Eagles beat the Ravens on a late Owens touchdown; he did the Ray Lewis dance afterwards, which did not draw a taunting penalty. In the Daily News, Rich Hofmann wrote about the Eagles' anemic offense. "An offensive juggernot," read a headline probably written by my father. "4-0," Rich Hofmann (his son) wrote yesterday. "Feel terrible about everyone but the kicker, lol."
So that Washington beat writer was right about the game being torn apart in this town. This isn't new. But, again, it's also warranted. The Eagles are 4-0, and they do not look like a team destined for the Super Bowl again. One of these weeks, they might. Until then, the kicker will not be the only one who deserves to be compared to Chicken Little.
Stay in touch
Sign up for our free newsletter