NFL
The Lions Are Swaggering
1:03 PM EDT on October 9, 2023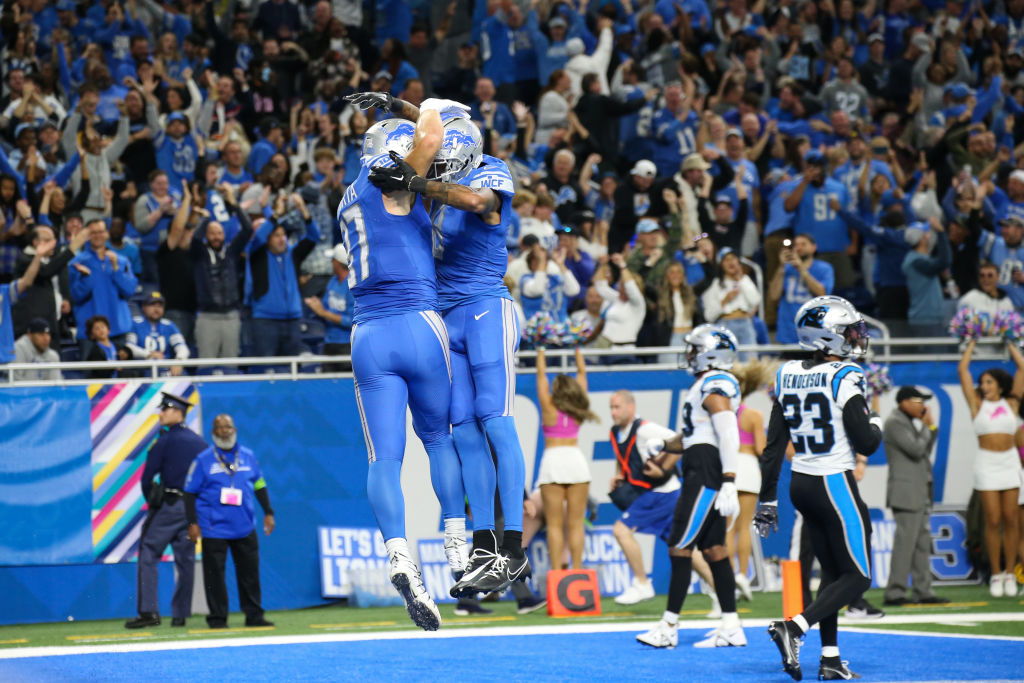 What are the words you associate with Detroit Lions football? I'll go first: Shame, anxiety, frustration, despair. That's the big four. When this franchise is losing, which it usually does, it sits in a dark cloud of predictable incompetence with the weight of historical failure pressing on its shoulders. And when it's winning, which it does one season in a blue moon, it feels like it's walking a high wire, one misstep away from returning to its old self.
The Lions of the last three weeks, however, have felt like neither of these versions. They're certainly not losers, as their 4-1 record will tell you. But they also are not wandering tricksters stealing close victories where they can snatch them. After splitting two tight, exciting games to start the year, the Lions have looked calm and confident as they've—get this—handled their business like professionals against lesser rosters. They led 20-3 against the Falcons with 10 minutes left and only allowed another field goal the rest of the way. They dominated the Packers in Green Bay a few days later, riding a 27-3 halftime advantage to a safe win. And this past Sunday, paired up with the woeful Panthers, they kept suspense on the other side of the turnstile. After their first two drives, the Lions led 14-0, and they never slipped as they waltzed to an eventual 42-24 home triumph.
These Lions are, if I may say, actually a little boring. In 2016, the last time Detroit made the playoffs, Matt Stafford set an NFL record for fourth-quarter comeback wins in a season, because this team has never been good enough to own games wire to wire. But the combined might of Jared Goff and this defense is a different story. With Aidan Hutchinson wrecking blockers and this team's offensive line protecting their QB while he finds open men, the Lions are capable on both ends. There is only so much you can say about five games played against, let's say variable competition. But it's been an unconventionally successful and stress-free start for Dan Campbell's boys.
Another guy on the sideline who deserves a ton of credit is Ben Johnson, the 37-year-old offensive coordinator. Even as these wins have been pretty straightforward, Johnson has thrown some goofy and surprising ideas into the playbook, and as Detroit racked up a multi-score lead on the Panthers, he introduced a few more. In the second quarter, the Lions added an extra wrinkle to a classic flea flicker, as a toss play evolved into a reverse that then dropped the ball back into Goff's hands. The Panthers defense looked like giraffes on rollerblades at this point, and Sam LaPorta got behind them to catch a 31-yard touchdown.
"He called it off that turnover, and I kind of looked over and smiled at him like, 'Man, I love it,'" Goff said afterward. "We're trying to boom, boom on them, you know? It's good."
The Lions signal-caller later got to show off his acting skills in the third, when the team ran a direct snap between Goff's legs to running back David Montgomery, on a red zone third-and-6.
"I've learned to never be surprised by things we're going to put in the game plan," left tackle Taylor Decker said.
I, on the other hand, promise to always be caught off-guard when the Lions execute anything well. Being a fan of this franchise is about being afraid, every week, that the moment they look too good to be true will be the moment they are. Next Sunday at Tampa could be that moment. But the Lions themselves are not behaving in this way. They're playing like they deserve to win, and so they do. It's an unfamiliar thing to see. Is this what it's like for fans of other teams?
Stay in touch
Sign up for our free newsletter