NHL
The Islanders' Garbage Hockey Almost Worked
9:46 AM EDT on September 18, 2020
Watching the Islanders try to stave off elimination in Game 6 against the Lightning felt kind of like watching a cat try and open a door. It's technically possible—in fact, I saw the exact same strategy play out successfully on Tuesday—but the creature just isn't properly equipped for such a task.
For more than 93 minutes on Thursday, the Isles played the Bolts to a 1-1 stalemate, not by matching Tampa Bay's superior talents, but simply by weathering the storm, killing penalties, and forcing goaltender Semyon Varlamov to make 46 saves. (Andrei Vasilevskiy, in comparison, only had to make 26.) After a first period in which both teams scored, the committed Islanders executed their game plan and sat back, waiting for the Lightning to make a mistake that could set up a goal on the counterattack. They finally got their wish early on in OT, but Brock Nelson was stoned on a shorthanded breakaway that looked for sure like it was going to force a Game 7.
About 10 minutes later, Anthony Cirelli dinked a close-range shot off the post, off Varlamov's skate, and across the line to clinch the East. It was an unlucky break for the Islanders, but you couldn't say the Lightning hadn't earned it.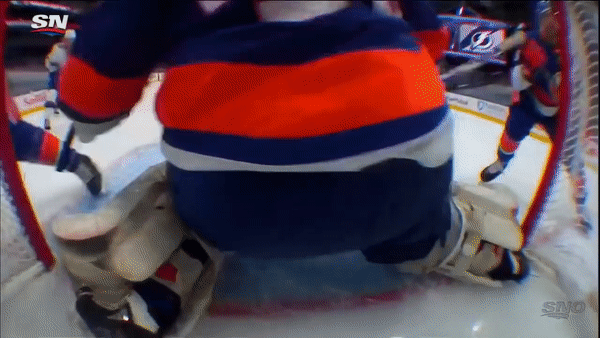 Now, possibly hockey's strangest squad of the past two seasons will have to do some soul-searching. How much of New York's surprising success since the defection of captain John Taveras been a fluke, and how much of it indicates that they're ready to be taken seriously as a true contender?
In an absolute worst-case scenario, this year's Islanders call to mind the 2017 Ottawa Senators—an ugly team with a nearly identical goal differential who scratched and clawed their way into Game 7 of the Eastern Conference Final, only to quickly regress into one of the NHL's most terrible and embarassing franchises. But in a more optimistic scenario, the Islanders' 14 playoff wins over the past two years—including convincing series victories against Pittsburgh, Washington, and Philly—could be the mark of a strong foundation. One thing is for sure, though: These guys need to learn how to score.
In the first year of the Barry Trotz era, the Islanders' defense transformed from a joke into a juggernaut, allowing the fewest goals of any NHL team in 2018–19 and a still impressive seventh-fewest of any team this year. The Isles have only been a little above-average, however, at preventing their opponents from creating scoring chances, so a lot of their success has to be credited to the goaltenders. Last year, Robin Lehner and Thomas Greiss combined to win the Jennings Trophy. This season, after Lehner departed in free agency, Semyon Varlamov arrived and asserted himself as the top guy, a role he'll continue to play due to his lengthy contract and Greiss's expiring one.
Varlamov, 32, met expectations after coming over from Colorado, and despite some down years on his ledger, he should be a solid starter for the near future. But in the upcoming season, the Isles have to be better at giving him cushions to work with. Though their scoring numbers are slightly less dire, New York ranked third-worst among NHL teams in shots on goal last season, and this year ranked above only the lowly Red Wings. When sharing the ice with a team like the Lightning, particularly in Games 5 and 6, it sometimes looked like the Islanders weren't even thinking about scoring, as defense become prioritized at the expense of any extended possession. According to Money Puck, the Islanders only outperformed the Lightning by expected goals in one game, and in their 2-1 Game 5 shocker, Tampa Bay was "expected" to win by a score of 4.18-2.41.
The most troubling thing is that even in their wildest dreams the Islanders cannot even hope to build a forward unit of Tampa's caliber right now. Though they have some exciting players like Nelson and Matt Barzal, plus a handful of solid contributors, they also have a lot of money tied up in this currently unsatisfactory group of attackers. The most team-unfriendly of these deals is Andrew Ladd, who's played a total of 30 games over the past two seasons and has a $5.5 million cap hit for the next three years. But the Islanders are also fully committed to their core forwards with similar long-term agreements for Josh Bailey, Nelson, Anders Lee, Jordan Eberle, and Jean-Gabriel Pageau. If that wasn't enough, pending RFA Barzal is due a big payday of his own this fall, further handcuffing any attempts at large-scale change. There are no can't-miss prospects in the Islanders' system or high draft picks coming up, and this team's doomsayers—the experts and bloggers who just cannot figure out how this team keeps winning—might finally seem smart in a few months' time.
But here's another way to look at it: Even with all their obvious flaws, the Islanders were one breakaway stuff from being one win away from facing a relatively weak opponent for the Stanley Cup. Perhaps there's something there that just can't quite be quantified.
Stay in touch
Sign up for our free newsletter