NBA
The Clippers Weren't Anything Special
3:18 PM EDT on September 16, 2020
Here's a fun image: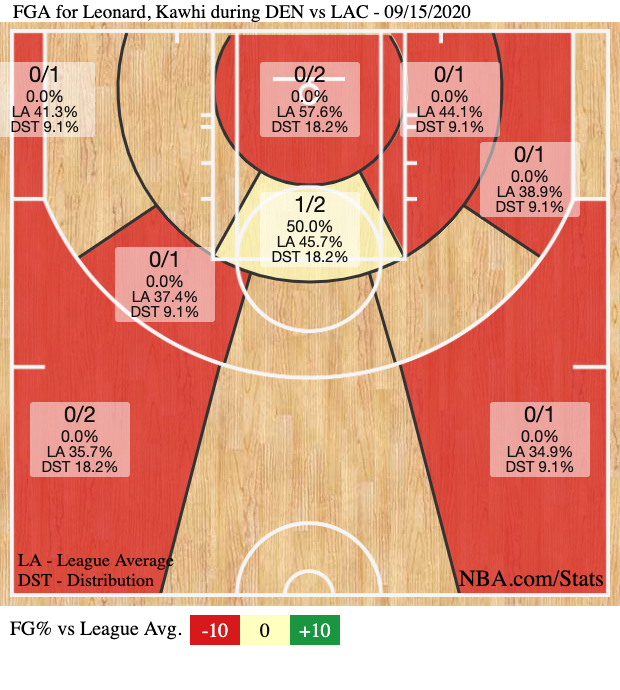 That's Kawhi Leonard going 1-for-11 in the second half of Game 7 last night, as his Los Angeles Clippers—the overwhelming championship favorites among the sorts of people who get paid to talk about the NBA for a living—flatlined after halftime for the third straight game, blew a 3-1 series lead to the Denver Nuggets, and crapped out of the second round of the playoffs. If anything, it flatters his contributions. For good measure, he also attempted zero free-throws in the half and went minus-20.
Much of the pyroclastic cloud of scorn and schadenfreude that exploded toward the Clippers last night and this morning wound up pointed at Kawhi's fellow superstar wing, Paul George, who was at least as bad as Leonard in Game 7, if not worse: 10 points (he averaged 21.5 in the regular season), grisly 4-of-16 shooting from the field, five turnovers, four fouls. That's partly because of the "Playoff P" nickname George bestowed upon himself two seasons ago in Oklahoma City; it's just fun to dump on a dude who falls so short of a self-applied sobriquet. It's also partly because of the truly bonkers price the Clippers paid to acquire George from the Thunder (as part of their strategy for luring Kawhi over from Toronto):
More broadly, the nickname, the trade particulars, and the results of the actual games fit into a pattern of George's reputation as one of the NBA's best players and biggest stars perhaps outstripping the reality that he is a good two-way wing player with a smooth-looking game who has yet to actually accomplish all that much that could not likewise be attributed to, say, DeMar DeRozan—but whose arrival in Los Angeles in exchange for roughly every abstract asset the Clippers could use to improve their team through the draft between now and the heat death of the universe the consensus of basketbloggers greeted as the minting of Steve Ballmer's 2020 NBA Champion ring. What I am saying here is that people were happy to see Paul George taken down a peg.
Coach Doc Rivers, the architect now of three of the 13 blown 3-1 series leads in NBA playoff history (and three further blown 3-2 series leads beyond that), has also caught a heavy share of the opprobrium. His Clippers seemed tactically inflexible and/or insensate in these playoffs, and then outright interpersonally dysfunctional in the back half of the Nuggets series; the word that came to mind again and again, in watching their response to perfectly expectable third-quarter runs by the Nuggets in the last three games of the series, was "catatonic." If you believe a head coach can make choices to avert or address these types of failings, then Doc Rivers self-evidently made the wrong ones. If you do not believe a head coach can make choices to avert or address these types of failings in perhaps the most talent-stacked team in the sport, then I invite you to explain the logic of paying several million dollars a year to have one.
I don't know what specific on-court adjustments could have won the series for the Clippers, and I certainly don't have half a tenth as firm a basis as Doc Rivers does for making a guess. Personally, for one thing, I might have quit double-teaming Nikola Jokic in the post sometime closer to the precise point, games if not years ago, when it became clear that the Nuggets' offense never got more efficient than when Jokic passed out of a double-team in the post. Who knows whether it would have made a difference; the scoreboard seems to argue otherwise. Probably there were compelling reasons not to do it, that I failed to see. That grade of X-and-O tinkering looks hilariously irrelevant in the face of a heavily favored team not once but three consecutive times coming completely unglued in the second halves of games after building substantial leads prior to halftime, and when all it had to do in order to advance to the conference finals was nurse a one-point lead over the finish line in literally any one of those three games. The Nuggets never even had to, say, can a buzzer-beater. They just made the kind of concerted third-quarter push that a trailing team makes, and the Clippers unraveled and kept unraveling. Three straight times. Do you buy the explanation that the Clippers were just in so much worse cardiovascular condition than their opponents, whose best player looks like playing center for the Denver Nuggets is the night job he goes to after a shift as the guy who tests the cigarettes for poison at the Newport factory? I do not.
More and more I am convinced that the chief task for the coach of a championship contending team, during the regular season, is to develop that team's flexibility and adaptability for use in the playoffs. The real privilege of having a supremely talented team of players—of having stars like Kawhi Leonard and Paul George, who can score so many different ways and guard so many different types of opponents and flourish in so many different modes of play—isn't that it frees you from ever having to make any kind of adjustment, but that it liberates you to make any kind of adjustment. That your team can be, when it needs to be, a whirring protean terror morphing continually to exploit whatever vulnerability a given opponent presents. But there were the Clippers, like Mike Budenholzer's terminally stone-brained Milwaukee Bucks the week prior, freezing in a spunky and cohesive opponent's headlights, and calling it gimlet-eyed determination even after they had treadmarks across their faces. I don't think one need necessarily possess extensive sports coaching experience to say that reflects poorly on those teams' coaches.
And then there are the other Clippers who are just fun to root against. Down 16 points with less than 30 seconds left to play last night, skittering goon Patrick Beverley, the Clippers' very own Matthew Dellavedova clone, attempted to take Denver's Jamal Murray down by the shoulder when Murray beat him on a cut to receive a slick behind-the-head pass from Jokic; it was as naked a try at a retributive flagrant-2 foul as you'll ever see, and, deliciously, it ended with Beverley laid flat on his back with his hands over his nose, and Murray looking down at him with a quizzical expression on his face. Marcus Morris Sr., who spent the first round series against the Dallas Mavericks in open shameless pursuit of Luka Doncic's injured ankle, found in this round that he couldn't keep up with anybody long enough to harm them. He shot 7-for-24 over the calamitous final three games of Los Angeles's season. I don't have any particular feelings about JaMychal Green, but in the fourth quarter last night when the Clippers desperately needed something to spark them he smashed a dunk attempt off the back of the rim at the speed of light and it ricocheted like a thousand feet in the air instead of going through the hoop and I let out a huge barking laugh that startled one of my sleeping dogs. This was all delightful.
But I want to return, if only for a minute here at the end, to Kawhi Leonard, whom no small body of wised-up Basketball Knowers (you know who you are!) spent much of the past three seasons telling us had sneakily surpassed LeBron James as the NBA's best all-around player and had etched his name among the greatest players in history. Kawhi has escaped much of the derision that landed on Paul George and Doc Rivers last night and today, despite an almost total no-show in the decisive game of his team's season. That's fair up to a point: Kawhi is a two-time Finals MVP; last season, with a little help from a quintet of fortuitous bounces, the rest of the extremely good Toronto Raptors team, and devastating leg injuries to Kevin Durant and Klay Thompson, he authored the end of one of the great dynasties in league history. If nothing else, he has never publicly gassed himself up as half much as Paul George. So if you're inclined toward mercy today for Kawhi because he lets his play speak for him, that is fine. Just know that what his play said last night was very, very funny, and very, very rude, and I'm still chuckling about it. This blog is over.
Stay in touch
Sign up for our free newsletter