Soccer
Spain Came Just Short Of Perfection
2:06 PM EDT on July 21, 2023
Eight years is a long time. As an example, think back to 2015, when Spain and Costa Rica met in the opening match of both countries' first-ever World Cup. The Spaniards, looking to prove that the quality of their players belied their debutant status, got off to a quick start, scoring the opening goal just 13 minutes into the game. The undaunted Costa Ricans came back immediately with an equalizer in the 14th minute, and successfully frustrated the clearly skilled but toothless Spaniards the rest of the way. That match ended in a 1-1 draw, and set the tone for both countries' subsequent journeys in the tournament: Spain continued to play a flashy game that nevertheless lacked serration, Costa Rica kept on battling bravely, and both teams went home after the group stage, Las Ticas finishing one point above La Roja.
Eight years on, once again meeting in their opening match of a World Cup, things look very different. Spain enters this tournament as one of the big favorites. Costa Rica, meanwhile, is one of those teams more or less happy just to be there. The message the far-superior Spaniards sought to send this time was not that they belonged in the competition, but that they are ready and able to best any and everyone on their way to the trophy. Their eventual 3-0 win over Costa Rica came close to saying all that, but not quite.
The raw stats of the match are legitimately stunning. Spain took 26 shots ... in the first half alone. They ended with 46, to Costa Rica's one. The difference in possession was 80–20. That shot total and the possession stats are both the most Opta has ever recorded in a Women's World Cup match since the company started tracking the data in 2011.
Here is a map of Costa Rica's completed passes (from Opta):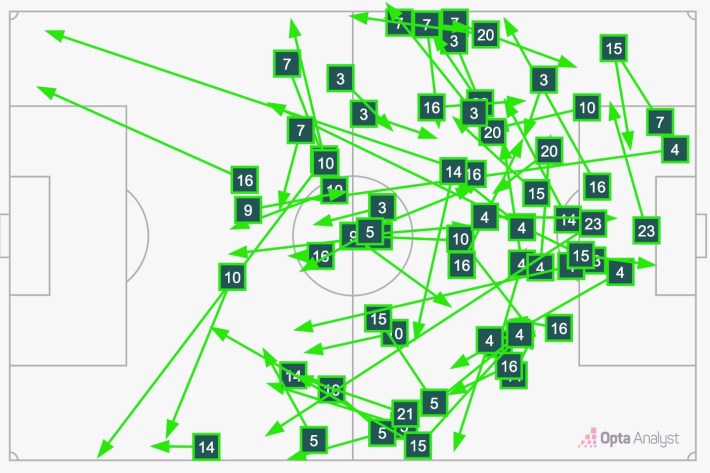 Now here is a map of Spain's: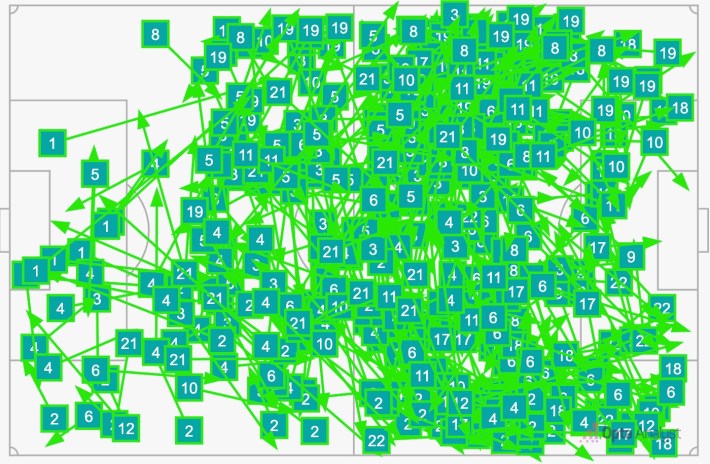 For those counting at home, that's 74 passes for Costa Rica and 513 for Spain. Spanish midfielder Teresa Abelleira by herself completed one more pass than the entire Tica team, and she came off the field in the 77th minute. I could keep going: Spain completed 23 of 36 attempted dribbles, took 35 of their 46 shots from inside the box, hit the post twice, etc. You get the idea. This was a statistical bloodbath of historic proportion.
And yet, despite all that inarguable dominance, Spain only won the game by three goals. Gaudy possession numbers and shot totals are great and all, but by the only stat that really counts, Spain's match was merely impressive when it could've been awe-inspiring. Not only that, but Spain's defense twice allowed Costa Rica to break in behind for a couple dangerous counters that easily could've ended in goals. Errant shooting, a vulnerable defense—these are well-established flaws in this Spain team, and it's a little concerning that both made appearances in a match as one-sided as this.
This doesn't mean there's any reason for Spain to panic, or for anyone to question their status as one of the favorites to win it all. The performance was still outstanding. Aitana Bonmatí was predictably sensational; the little flick she played to Esther González on the opening own goal and the behind-the-leg heel-tap move she used to create some space to shoot on the goal she scored could easily go down as the two coolest touches of the entire tournament. Salma Paralluelo was also great. Alexia Putellas got about 15 minutes of playing time and put together a couple sharp plays as she looks to regain her world-conquering pre-injury form. Spain still has all the tools to win big this summer, and if you add just a little more sharpness to Friday's match, you can make out a real juggernaut there.
(As an aside, I'm becoming obsessed with the way Paralluelo moves: her height, speed, agility, her first step, her nonchalance, how she'll stand almost completely still and upright with a defender just a foot or two away and both she and the defender know with total certainty that the only danger is the one Paralluelo decides to impose. Pardon the reference, but the way she looks when the ball comes to her reminds me of that point early in a new Dragon Ball Z season, when a new race of bad guys first shows up. One of the secondary characters will try to fight the new guy but the way baddie moves is just completely different from what the heroes have ever seen before. The effortless, insouciant way the baddie dispatches the hero spreads pure, unadulterated terror across the faces of the others. God it must be scary to go up against Paralluelo. And she's only Nappa! Vegeta (Bonmatí and Alexia) comes after!)
Still, Spain did miss a trick by not punishing Costa Rica the way they could've. Like all sports, soccer is a game contested on several different domains: on the pitch, inside your head, in the minds of your opponents. Before you can win the World Cup, you first need to believe you can win the World Cup, and it can help when your opponents believe it, too. A five-plus-goal thumping could've really announced Spain's presence to the world, clearing up whatever uneasiness remains between manager and players, unifying them around a common goal, and striking fear in the hearts of all the teams they'll come up against over the next month.
Obviously, it's not like a 7-0 win would've guaranteed Spain a spot in the final. The actual performance, with both its reasons for encouragement and its room for improvement, could very well refocus the group as they dedicate themselves to taking their chances more ruthlessly from here on out. The path to the trophy is often a winding one, as the reigning men's champions can attest. Nevertheless, I can't help but believe that Spain might've gotten a clearer view of what lay ahead had they flown a bit higher today. Alas, back here on the ground, it no longer matters. And the only thing that will actually get them where they want to go is putting one foot in front of the other.
Stay in touch
Sign up for our free newsletter