Racing
Sergio Pérez's Season Cratered On Turn One
3:50 PM EDT on October 30, 2023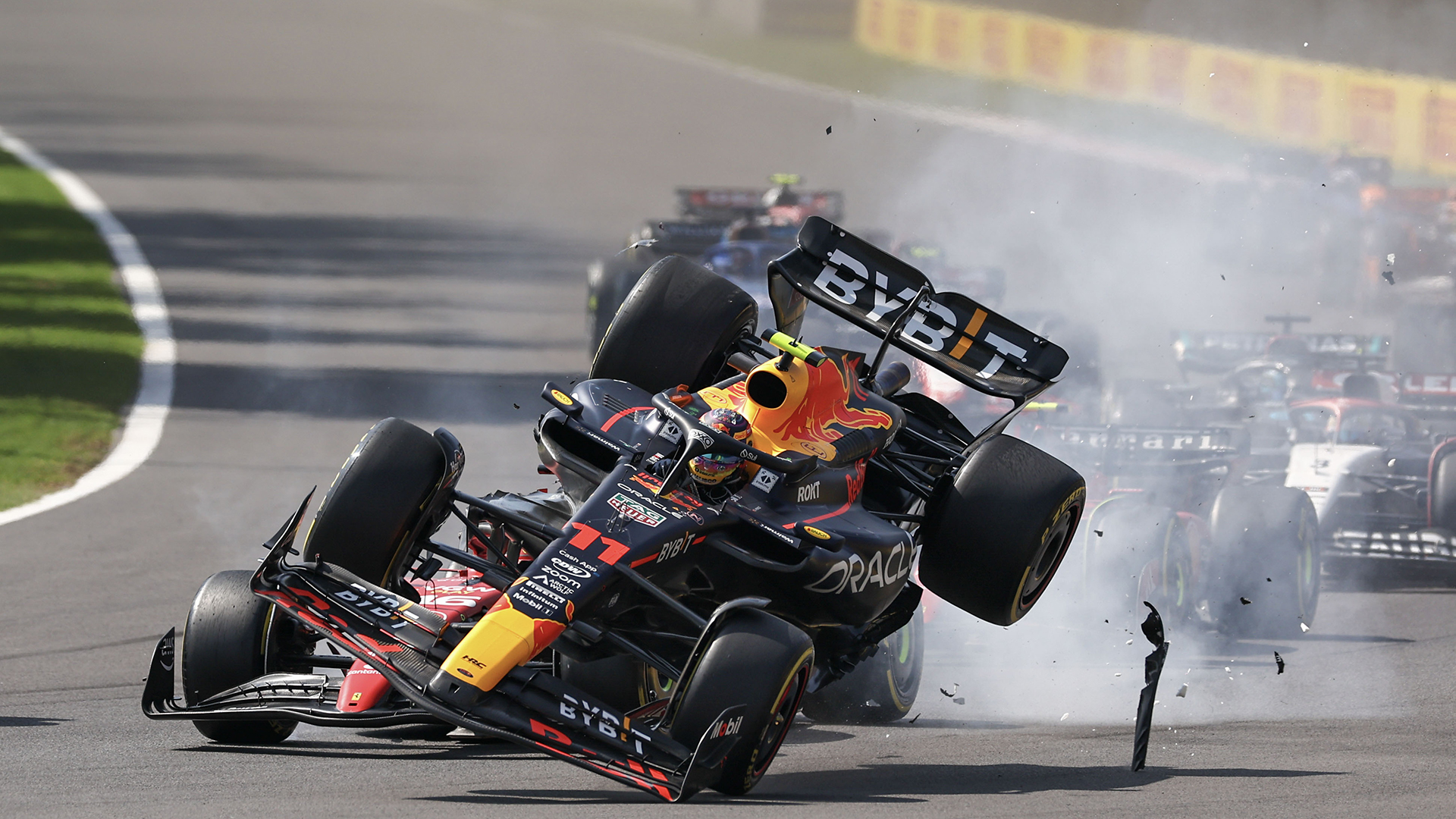 Heading into the Mexican Grand Prix weekend, Sergio Pérez was in need of a win. Not a literal win; with Max Verstappen around, wins are scarce for the rest of the field. However, Verstappen's Red Bull teammate could have used a great weekend to salvage a quickly devolving 2023 campaign, one that started so promisingly—two wins in the first four races of the year—but has since seen the Mexican driver flail about lower on the grid than anyone with his talent and, maybe more importantly, his car should.
Still, nothing cures the Formula 1 blues quite like a home race, in front of fans who were by and large only there to root for their guy. Checo delivered well enough in qualifying, finishing fifth, only behind the two Ferraris on front row, Verstappen in third, and Daniel Ricciardo (more on him in a bit), while Lewis Hamilton, Pérez's main competition for second place in the season standings, started in sixth. Given how good the Red Bull car is, a podium finish could have been, and maybe should have been, in the cards for Pérez, if only he regained some of his form in front of his compatriots.
Yeah, about that:
While Pérez got an incredible start off the line at lights out, he tried to win the entire race on turn one by going three wide with Charles Leclerc and Verstappen, and though he got side by side with Leclerc, he tried to cut across from the outside of the turn, only to give the Ferrari driver nowhere to go but into the Red Bull's side. That sent Pérez airborne and into the gravel with some gnarly side-pod damage that would, at the end of the first lap, see the team retire his car and end his race in front of the immediately disappointed Mexican fans. (One of those fans attempted to cope with the disappointment by fighting two Ferrari gear-clad fans; he has reportedly been banned for life from F1 events.)
That Pérez would go out so quickly in Mexico isn't surprising, given how his season has gone. It was just last month that a similarly aggressive move, born seemingly out of desperation, saw him crash into Kevin Magnussen at the Japanese Grand Prix, ending the Red Bull No. 2's race on lap 28, after some pit stop shenanigans. More broadly, though, the Mexican Grand Prix DNF continues a concerning trend, both in terms of points and on track execution, of under-performance for Pérez. Since winning the Azerbaijan Grand Prix in April, Pérez has failed to win another race, despite Red Bull's dominance over the field. Sure, Verstappen has been untouchable, but Pérez has only managed three second-place finishes in that time: Miami, Belgium, and Monza, all tracks that prioritize straight line speed, one of the car's best strengths.
Elsewhere, Pérez has failed to qualify well: He has five exits in Q2 this season, and an even more demoralizing three exits in Q1. Compare that to his closest rivals: Verstappen, Hamilton, and Sainz have all avoided Q1 exits this season, while Leclerc only exited in Q1 back in Spain. Pérez's qualification failures have made race day harder for him, to be sure, but even when he has performed well in qualifying, the race pace seems to lag miles behind Verstappen. Even in Singapore, one of his best tracks historically, Pérez only managed to go from 13th to 8th, and that was with Esteban Ocon retiring due to a gearbox issue and George Russell binning it into the wall at the end of the race
All of this disappointment for Pérez should be put into context: He's still second in the driver standings, for now, and he could right the ship to hold off a charging Hamilton, who now trails only by 20 points heading into the final three races (plus one sprint). Pérez still drives the better car, despite some decent improvement from the Mercedes, and if he simply avoids DNF-ing the rest of the way, he should be able to pick up enough points to hang on to a very distant second behind Verstappen's record-setting tally in first.
However! It might not matter much what Pérez does the rest of the way for his 2024 future. Rumors have been raging around the paddock since Red Bull installed Daniel Ricciardo at AlphaTauri back in July. Everyone seemed to agree that Ricciardo, who started the season as Red Bull's reserve driver, was given that seat in order to audition for Pérez's spot as the big team's second driver. While an injury to his hand prevented the Australian from appearing in five races recently—allowing Liam Lawson to take over and impress in his own right—Ricciardo is now seemingly in pole position to replace Pérez, following a sturdy fourth place qualification in Mexico and a seventh place finish overall.
While losing three spots in the race looks on paper to be disappointing, the Mexican GP was anything but for Ricciardo, who only lost out to Hamilton, George Russell, and a heroic drive from Lando Norris. All of those drivers are in cars significantly stronger than the AlphaTauri, and that Ricciardo was able to not just defend against Oscar Piastri in eighth but actually hunt down Russell in sixth speaks to his skill. Combine that with Pérez's horrific day at the Autódromo Hermanos Rodríguez, and it sure looks like it's Ricciardo's seat to lose at this point. (There were also rumors that, actually, it would be Fernando Alonso stepping into Pérez's seat, but there are conflicting reports on the veracity of said rumors. That they even exist speaks volumes about the mood around Pérez right now, though.)
Whatever the case may be, the Mexican Grand Prix felt like Pérez's last real chance to save his drive for next year at Red Bull. With his contract expiring at the end of the 2024 season, it would not cost the beverage company-turned-F1-superpower much to buy him out and install Ricciardo instead. With so few races still left, the decision will likely not be made until the offseason. But Red Bull would likely not lose much if they just decided to pull the trigger now and let Pérez disappear into retirement or, perhaps, another seat if one were to open further down the grid.
That he went from potentially challenging Verstappen for the title at the start of the season—those who believed there could be a real title race this year, we were so young back in April—to being in danger of dropping out of second place and losing his seat is bewildering. But his season has had an unmistakable downward trajectory since Azerbaijan. The question now turns from "Will Pérez be at Red Bull next year?" to "Will Pérez be in F1 next year?" and he really has no one to blame but himself for this swoon. It took only one turn in Mexico for the answer to become a clearer "no."
Correction (5:05 p.m. ET): A previous version of this article said Lewis Hamilton started in fourth at the Mexican Grand Prix. He actually started in sixth.
Stay in touch
Sign up for our free newsletter