Racing
The Highlight Of Suzuka Was Sergio Pérez's 41-Minute Pit Stop
1:26 PM EDT on September 24, 2023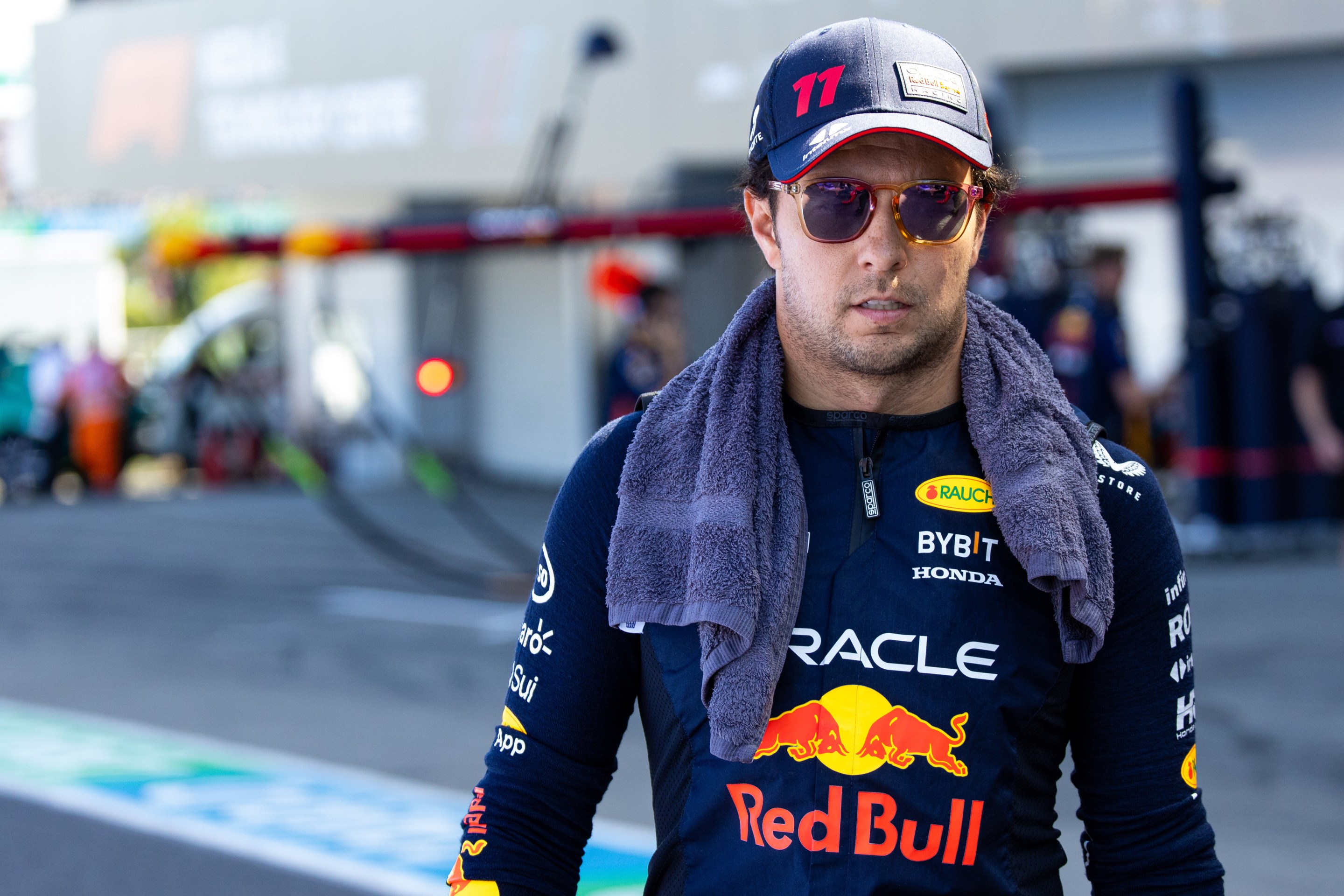 If you are on the east coast of the United States, as I am, the F1 race in Suzuka started at 1:00 a.m. on Sunday and ended at approximately 2:47 a.m. There are some aspects of this that are bad, like sleep deprivation, and some aspects that are good, like getting to deliriously watch Sergio Pérez unretire his car for the express purpose of serving a five-second time penalty.
Suzuka was a return-to-form for Red Bull after a tough race last week in Singapore. Max Verstappen dropped an incredible qualifying lap that was over a half-second clear of the second-best time set by Oscar Piastri, then he powered past Lando Norris on the first lap of the race despite Norris's great start and never had to check his mirrors except for maybe when he was passing backmarkers. He finished first with the fastest lap of the race and guaranteed Red Bull the Constructors' Championship with six races left to spare. The next closest car was nearly 20 seconds behind him.
And yes, despite the presence of Pérez on the team, it was Verstappen that almost single-handedly clinched that Constructors' Championship. He accounts for 400 of Red Bull's 623 points and 13 of their 15 wins. If Red Bull were a team comprised only of Max Verstappen, they would still be leading the championship by nearly 100 points.
Whatever happened to Pérez after the start of the season, it was not pretty. He started P5 this race, a decent qualification, but one that guaranteed he would be in traffic. At Suzuka, that meant about five separate collisions and an immediate safety car to start the race. For Pérez, it meant being sandwiched with Lewis Hamilton on one side and two Ferraris on the other. After kissing wheels with Hamilton going into turn one, Pérez pit for a new front wing, got a 10-second penalty for failing to adhere to pit stop procedure, and wound up behind the Haas of Kevin Magnussen.
The Haas proved an even more formidable foe for Pérez than Hamilton did. Out of the points and impatient, Pérez made an extremely late lunge up the inside of Magnussen from several car lengths away and tapped Magnussen's rear tire with his front wing. The move functioned more as a dive bomb than an overtake attempt and was, at this point, well-rehearsed after he'd tried it last week on Alexander Albon. Pérez wound up with the same penalty too: a mere five seconds that was rendered meaningless for the race. However, this time Pérez, on his third front wing of the day, retired the car.
And so the two a.m. brain was conned into believing that the tragedy of Sergio Pérez was briefly on hold until next race, when he would likely serve a grid penalty for the unfulfilled five-second time penalty in this race. Except Red Bull had a plan, and that plan involved creating one of the most fucked up pit stop summaries that you'll ever see in your life. By lap 28, Pérez was back in his car. The broadcast loved it during the lull of time where there was no overtaking action, occasionally cutting over to watch Pérez just hanging out. When Max Verstappen pulled away from his lap-37 pit stop, the camera swept over to Pérez still sitting in his car in the garage.
After likely undertaking a lengthy discussion with race control, Red Bull officially unretired Pérez's car on lap 40 to do his lap of shame. The original retirement became classified as a 41-minute pit stop, which will no doubt deal a great blow to the Red Bull mechanics' average pit-stop time. Upon reentering, Pérez was 26 laps behind the race leader, Max Verstappen, and five laps behind the next-closest driver, Lance Stroll, who had already retired his car. Pérez came into the pits once more to serve his penalty, which was classified as taking place on lap 14 of the race. Just a couple laps prior, Carlos Sainz Jr. had pitted on lap 38 of the race—such are the intricacies of F1. The following lap, Pérez retired the car again, this time for good, and disrupted our previous understanding of how retirements work: Sometimes, it takes more than one try to get it to stick.
For some reason, the official F1 YouTube channel did not include this incident in its race highlights video and instead relegated it to the extended 30-minute long cut. Why does F1 not believe this counts as an important "race highlight"? Is it because there was other meaningful action taking place on the track at the time? Or is it because Pérez and Red Bull essentially made a mockery of the current F1 judicial system that tosses out meaningless five-second penalties?
I call conspiracy. Sure, Piastri was fighting George Russell for third at around the same time. Sure, Russell got into a little team-orders squabble with Hamilton at the end, a Mercedes strategy gaffe that wound up costing Hamilton significant time and turned the Hamilton-Sainz fight into a nail biter. But staring at the interval between Hamilton and Sainz while the broadcast follows Verstappen on the final lap is nerve-racking behavior. The sleepy brain does not appreciate it, and anyway, we've seen plenty of teammates squabbling over the years. It does not inspire the same bedraggled awe that an unretirement does. That's just the 2023 Red Bull season for you: setting records and making history.
Stay in touch
Sign up for our free newsletter