MLB
Ryne Nelson Was An Excellent Janitor
11:46 AM EDT on November 1, 2023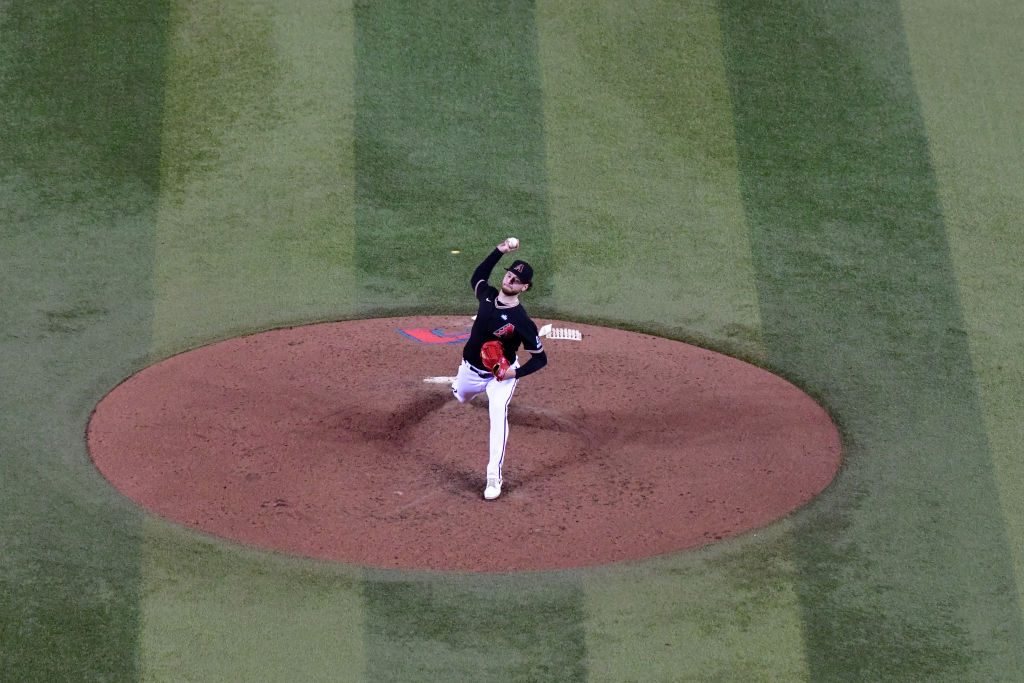 The Arizona Diamondbacks were miserable and embarrassed almost as soon as Game 4 began, as Texas walloped its way to a merciless 10-0 lead in just the third inning before coasting to victory and a 3-1 series advantage. But apparently they still had enough pride left not to gift us a position player pitching in the World Series, even though it might have provided a strategic edge moving forward. Instead, the hurling talents of Ryne Nelson had to suffice.
Even after Marcus Semien's three-run dong put the lead in double digits and sent some fans heading for the exits to go watch Victor Wembanyama, the Diamondbacks could not entirely just curl into a ball, finish the remaining innings, and burn the tape on the way to media availability. With Game 5 happening Wednesday night—one that could be the finale to the entire baseball year—the D-Backs had to stay as prepared as possible for a die-or-die rematch 24 hours later. Specifically, they had to deal with the consequences of Torey Lovullo's disastrous bullpen game, which had them already on their fourth arm with six innings to go. At that rate, nobody would have been fresh when it really counted. They needed a janitor to mop up after them. They needed Ryne Nelson.
The 25-year-old righty out of Oregon managed the impressive feat this season of posting a 0.0 bWAR across 144 innings pitched. By impressive, I guess I mean "kind of strange." Called up in September of last year, Nelson began this season in the rotation and put together an occasionally strong but often infuriating series of starts, interrupted by an August demotion to Triple-A. It all averaged out to an 8-8 record with a 5.31 ERA and a 1.424 WHIP. Nelson is very much a contact pitcher without a real put-away option, and after allowing three straight singles in relief to open his playoffs against the Brewers he's been mostly in hiding. He got two outs and allowed three runs when the Phillies beat Arizona 10-0 in the NLCS, and with that same margin on the board, two weeks later, he finally got another chance to eat some innings.
From the top of the fourth until there was one out in the top of the ninth, Nelson had free rein to do his thing, and he produced a night that would have made for a fantastic start, had it been a start and had the Rangers been trying all that hard. The statline reads 5.1 innings, three hits, and one run, but I think in contrast with the pants-shitting of the earlier pitchers, it felt even better than that. Nelson began his appearance with three straight 1-2-3 innings. In the seventh, he surrendered a two-out single that meant nothing. In the eighth, he got scuffed with his only real blemish, a lead-off dinger for Jonah Heim. When he finally exited after striking out Mitch Garver in the ninth, he got fist bumps from his teammates and a salute from those fans who hadn't been demoralized into leaving.
Lovullo had praise for Nelson in the postgame, noting that two weeks away from the mound could have made his young pitcher undisciplined or rusty. For Nelson, too, this brutal game was an odd morale boost. For the first time all playoffs, he meaningfully aided his teammates. Nobody else on the D-Backs had a greater positive impact, anyway.
"I've been champing at the bit to get in there," Nelson said. "It was nice I had a job to do, it wasn't just kind of garbage time, like I needed to keep those guys from going in, so I had a purpose. It was nice to go out there and execute."
There is no less glamorous job on a baseball team than the one Nelson had to do on Tuesday, but his deft mop-up work didn't go to waste: Arizona was saved from having to burn valuable commodities like The Gink. Game 5 began in the fourth inning of Game 4, and if the Diamondbacks' bullpen is rested enough to help them survive Wednesday, Nelson deserves credit for cleaning up their mess.
Stay in touch
Sign up for our free newsletter