Champions League
Real Sociedad Is Exactly What The Champions League Needs
9:44 AM EDT on October 27, 2023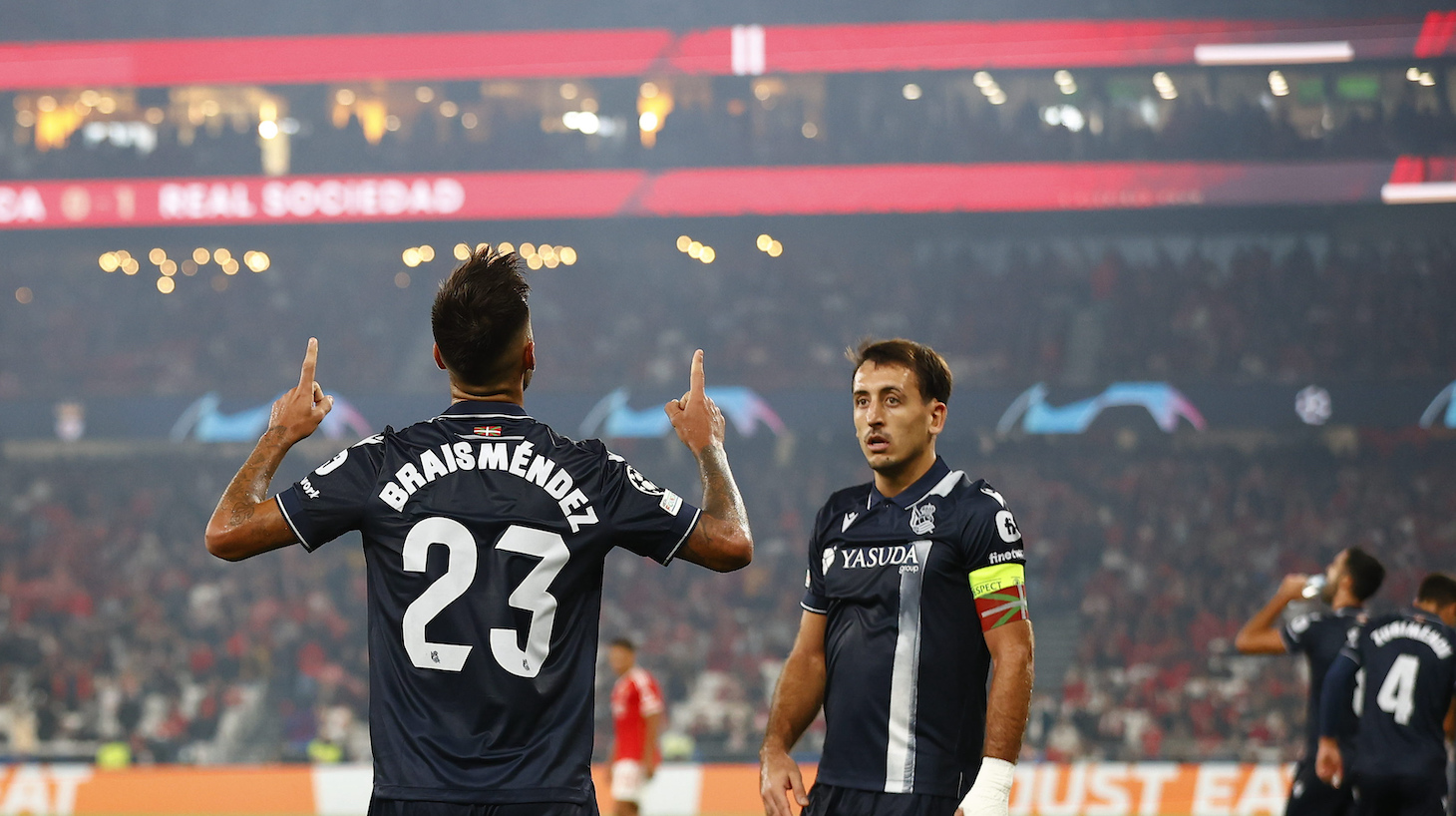 More than high pressure, building from the back, statistical analysis, sophistication of physical and nutritional preparation, or anything else directly tied to what happens on the pitch, what most defines modern soccer is consolidation. Never before has the world's talent and attention been so greedily hoarded by so few teams and leagues.
This consolidation does make for incredibly cool superteams with backup XIs better than most team's starting lineups, which is what makes wondrous feats like 100-point title races and treble-winning campaigns possible. It also creates the conditions for the Premier League's present golden era, where the league is so loaded with money, and the player and managerial talent money buys, that it has become the de facto Super League. But it's a duller night sky with fewer stars, even if the ones that remain are bigger and brighter than ever.
Every competition outside the EPL suffers from this monopolization. The Champions League is less interesting when it's the same four our five legit title contenders every year, with the rest of the tournament being mostly about the other teams trying to grab as many wins and TV dollars as possible before they cross paths with one of the sharks. The non-English domestic leagues are made worse, too; the middle-class teams devolve into glorified feeder clubs to the continents few giants, and even the biggest continental clubs steadily shrink, unable to compete with the Brits' and the oil sheikhs' finances.
It's been like this for a while. In the 2003-04 season, Porto won the Champions League and Valencia won La Liga. Since then, the victors of those tournaments have been a nonstop parade of usual suspects. Wouldn't it be nice to regain a least a little bit of that lost novelty, if only so that for once you could watch a team in different colors and expect to find a team building something that could be legitimately great?
This is where Real Sociedad comes in. The Txuri-Urdin (Basque is a weird and wonderful language) have quietly been one of the most exciting teams in Spain for a couple years now. The secret is starting to get out, though, thanks in large part to last year's fourth-place finish in La Liga, which has returned La Real to the Champions League for the first time in a decade. Through the first round of the group stage, La Real has outplayed every team in a tough group that includes European stalwarts Inter and Benfica. The club's group-leading seven points set them up well to qualify for the knockout round, where no one will relish taking them on. The attractive style of play, the depth of real-deal studs on the roster, and the sustained success the club has already demonstrated all make Real Sociedad the kind of team Spain and Europe have been crying out for.
Tuesday's Champions League away match at Benfica's vaunted Estádio da Luz was the latest salvo of La Real's assault on the game's established hierarchy. It had everything that makes the team so good. The Txuri-Urdin's world-elite high pressing squeezed the life out of Benfica's attacks before most of them could ever really materialize. For the majority of the match, Benfica struggled to even get the ball over the halfway line without resorting to rushed, largely aimless long punts, which La Real's duel-winning specialists at the back were more than happy to gobble up and restart a new attack.
Real Sociedad's pressing intensity and propensity for winning second balls gives them a very strong defense, but with the ball is where the team really shines. This isn't a Kloppian heavy-metal team that relies on hot and hectic counters immediately after turnovers, though La Real does have the runners to take advantage of open space. Instead, Real Sociedad has a brilliant positional attack that thrives on flowing passing sequences, intricate movements, and refined technical feats in tight spaces to patiently loosen the joints of the opposing back line before slipping in the telling goal.
The Txuri-Urdin midfield is the team's standout line. What marks the three starters there—Martín Zubimendi, Mikel Merino, and Brais Méndez—is how well-rounded they all are. Defensive midfielder Zubimendi is a consummate clean-up man in defense. He reads space, fills gaps, and wins duels with aplomb, making sure that any ball that gets past the more advanced members of La Real's press is promptly dealt with. On the ball, Zubimendi is a machine at short-circuiting pressure with crisp and accurate short passes, very rarely putting his team at risk by losing possession. Of the midfield trio, the 24-year-old Zubimendi is the crown jewel. There's a reason Xavi Hernández was desperate to make Zubi the replacement for Sergio Busquets over the summer.
But Méndez and Merino are no slouches, either. Both are powerful box-to-box types who are strong everywhere: on the ball and off of it, sitting deeper or playing ahead of the ball. Méndez is especially dangerous for his goalscoring ability. He scored eight times in league play last year, and has found the back of the net in all three of La Real's Champions League matches this season—his goal against Benfica being the decisive moment in his team's 1-0 victory.
For as impressive as the midfield is, though, Real Sociedad's main man is unquestionably Takefusa Kubo. Long touted for greatness (which feels strange to say about a 22-year-old, yet is true), Kubo is really starting to pay those expectations off now. If his prior forays in Spanish soccer—most of it spent during only intermittently productive loan spells—hinted at possible future stardom, last year is when it all truly came together. At last empowered in a well-coached, attack-minded team, Kubo fully broke out during his first season with La Real. He scored nine goals, played four assists, dribbled past any and everybody, and steadily took the reins from no less than David Silva to emerge as Real Sociedad's attacking mastermind.
And this season has been even better. Through nine La Liga matches, Kubo already has five goals and two assists. With former Man City man Silva unfortunately forced into retirement after an ACL injury over the summer, Kubo has become the undisputed orchestrator of La Real's attack. Whether playing on the right wing in a 4-3-3 or as a second striker in a 4-4-2, Kubo's lethal dribbling, love for sleek combination play, and his creative eye lead the way. Even without getting on the scoresheet against Benfica, Kubo had an outstanding match: he completed seven of nine dribbles, took six shots (one that would've made for a hell of a golazo, a nimble run that turned into a wicked shot that came rattling off the woodwork), and more generally was the driving force behind most of the danger La Real created. For a midsized club to put together a team capable of competing with the big boys, it almost always requires said club to happen upon a superstar in the making. By all accounts, Real Sociedad has just that in Kubo.
What's maybe most impressive about this La Real side is that it's not even particularly top-heavy. The four players mentioned by name above are definitely the big names, but they're not doing it alone. You have Robin Le Normand and Igor Zubeldia, probably La Liga's most in-form central defensive pairing. You have Ander Barrenetxea, a 21-year-old winger who is himself having a breakout campaign with his powerful and aggressive dribbling. You have forward Mikel Oyarzabal, the team's leader, who appears to have finally put his 2022 ACL tear behind him and recaptured the spark he had few years ago, back when he was considered a surefire budding star the way Kubo and Zubimendi are today. You have manager Imanol Alguacil, a former Txuri-Urdin player who came up through the club's youth coaching levels, has risen to the top job, and is now widely considered one of the brightest managerial minds in Spain. You have one of the strongest academies in the country, which produced five of the 11 starters on Wednesday. Real Sociedad is a well-run club from top to bottom, and the success it's experiencing today is no fluke.
Of course, no club is immune to the forces of the modern game. There's no chance Kubo is still wearing Txuri-Urdin this time next year, such is the magnitude of his explosion and the €60 million release clause that only looks like more and more of a bargain as the weeks pass. Similarly, it will be hard for La Real to keep keep hold of all of Zubimendi, Méndez, Le Normand, Zubeldia, and probably Alguacil in the long term. La Real will fight to finish in La Liga's top four again this season and will try to go as far as possible in the Champions League, but under no circumstances will they compete to win either tournament. Sooner or later, the promise of bigger paychecks and better chances to actually win one of the big competitions will lure away several of the current team's most important pieces, as the cycle of consolidation continues apace.
Nevertheless, Real Sociedad does find itself in a glorious position in the present. Kubo and Zubimendi and Méndez are still here, the team is still very good, and their chances to do something memorable are still thrillingly alive. That might not be enough to win them a big trophy now or in the near future, but it is enough for soccer fans in search of a refreshing break from the European scene's monotonous norm to maybe turn on a different match on any given Saturday or Tuesday, and bask in the enjoyment of watching something you don't see every day.
Stay in touch
Sign up for our free newsletter