NFL
Not All Ass-Beatings Are Created Equal
10:33 AM EDT on September 28, 2023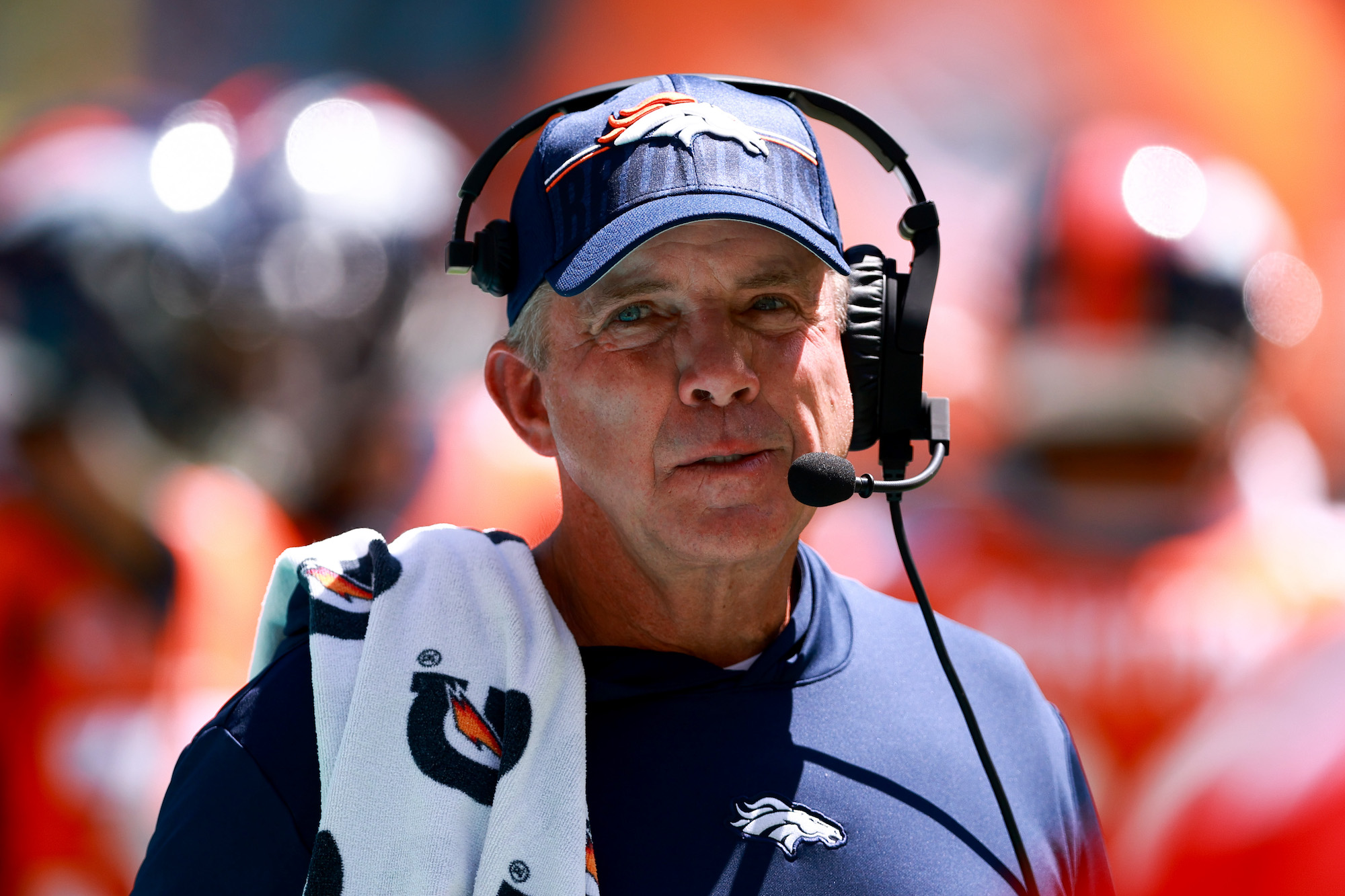 "One of the worst coaching jobs in the history of the NFL." That was Denver Broncos head coach Sean Payton referring to a coach other than himself. What a difference a game makes.
The 70-20 drubbing the Broncos received in Miami on Sunday has some in Broncos Country pining for the good ol' days of Nathaniel Hackett: 4-11 as the head coach, a league-low 16.9 points per game, the home crowd counting down the play clock because Hackett couldn't get the play in on time, delay-of-games on punts, the hiring of a "fixer" named Jerry Rosburg—a retired special teams coach who was sitting on a dock in the Carolinas with a cup of coffee when he got the call to come "help Nathaniel" with game management—and a career low in completion percentage, touchdowns, and wins for the once-superstar quarterback who mountains were moved to acquire. 
Enter Sean Payton: Football Genius™. He was brought to Denver to "fix Russ"—or, more broadly, to fix the team that Hackett destroyed. Or maybe it was Vic Fangio? Or Vance Joseph? Either way, it was no longer "all about Russ," as Hackett often said. Under Payton, Russell Wilson would have to drop the act and get in line. Ditch the office and the performance team that followed him around the facility. Ditch the Tuesday "State of the Union" meetings when he would put in his own game plan (one that often contradicted the coaches' game plan). Stop "kissing babies" and quit with the "Russell Inc." stuff that loomed over each 2022 loss. 
Yep, things were going to finally be different. Upon arrival, Payton immediately asked his team to become "anonymous donors," to quit with the social media stuff and the workout videos and the brand building and product placements and just get to work. 
The work, so far, has been more depressing than any of that. 
I have been on teams that got blown out. We lost a game in college, 70-35, by getting destroyed between the tackles. We were undersized and outmatched. This happens all the time in college and high school. But the parity that exists in the NFL—from the draft to the salary cap—ensures that no one is outmatched. The talent level is equal from team to team, give or take, which is why so many games come down to the final drive. The league is built to avoid this kind of result, in other words, so to get 70 hung on you is a full-frontal abomination.
My old tight ends coach for the Broncos, Tim Brewster, used to say—between curse words and dip spit—that "attitude and effort are non-negotiable." He said a lot of silly things, but this wasn't one of them. He was absolutely right. And in a league with nearly identical talent, it's often the team that actually tries hardest that wins. Sunday's massacre was an indictment of the Broncos' morale and effort more than their skill.
I was lucky enough to play all six of my NFL seasons for Mike Shanahan, a coach whose weekly preparation was refined to a laser point. "We practice at game speed so the games feel slow," he'd say, and that was exactly what happened. The games felt slow. To the Broncos on Sunday, I'd wager the Dolphins felt hypersonic.
After a bad loss, Shanahan would use it to teach. We'd come in for our Monday morning meeting and you could feel it everywhere. There was a pall over the building. An eerie quiet. No one talking, no one making eye contact with any coaches. The meeting would begin and specific plays would be cued up on the screen. Guys would get challenged, chewed out, excoriated, and then benched. Sometimes, if it was bad enough, someone would have to clean out their locker and you'd never see him again.
There would always be consequences, in other words, for not performing up to the standard. And for a guy like me, who was appreciative of his roster spot and wanted to keep it, there was nothing I wouldn't do to avoid disappointing my coach. We all felt this way, which is why we rarely got blown out.
When things are at their best in the NFL, there are real paternal feelings from players toward their coach. I will not let this man down. I will not embarrass the father. I will fight. I will fight for him because he believes in me, otherwise I wouldn't be on this field. 
How strong are these paternal feelings at Denver Broncos headquarters right now, I wonder. Do the guys believe Sean Payton believes in them? Does Sean Payton believe in them? If he does, he has a hard time showing it. I cover the Broncos here in Denver, and not once have I heard Sean Payton praise his team. Never once has he said, "I believe in this group" or "I like the guys we have in this room." These may read as clichés to you, but I'm telling you they're meaningful to players.
There's been none of that, just a lot of ho-humming and let's wait and see. He plays more as a mercurial recluse than a father figure. Maybe it's time for Sean Payton to turn off the film and start connecting with his players. After an ass-whooping like that, it ain't about the scheme, it's about the dream. Do you believe in it or not? Because you have seven days to get ready for the next test.
That's the great thing about football: No matter how bad the loss, you get a chance to change the story the next week. It may have been a truly pathetic game—but it's only one game. Redemption is 60 minutes away.
But how do you reconnect to your passion when you're living in hell? When all you know is losing? When we lost badly back in the day, we had the memory of wins to fall back on. There were champions in that locker room, so how are they handling it? My locker was next to wide receiver Rod Smith's. Did Rod mope around? Did he call for someone to get fired? Or did he roll up his sleeves and go back to work? For a young player like me, the way forward was clear.
But these Denver Broncos don't have that example. Only five of the 22 starters have winning records in their careers. Russell Wilson is one of them, but he is 4-13 as Broncos QB. Since Peyton Manning left the building, there has been nothing but misery. For guys like Garett Bolles and Justin Simmons, team leaders who have been here throughout the losing, it has clearly begun to wear.
First the Broncos' woes were pinned on the lack of a "franchise quarterback." So they went out and got one. They traded two first-round picks, two second-round picks, and three players for a nine-time Pro Bowler and Super Bowl champion, then signed him to a quarter-billion dollar contract.
Then we were told that the longstanding Bowlen family dispute over the Broncos' rightful heir was trickling down and affecting the quality of players and play. So they settled that dispute and sold the team to the highest bidder, the Walton family of Walmart fame, for $4.6 billion. The Waltons have promised to "spare no expense" in righting the ship, so that problem should also be solved.
Finally, the last leg of the Tripod of NFL Success: the head coach. After a spate of misses, a well-respected offensive guru and football visionary with a Super Bowl victory under his belt was hired to set the ship back on course. If anyone can do it, it's Sean Payton. You know, the guy who just lost by 50.
In the middle of Broncos training camp, Payton, who was apparently flummoxed by his offense's struggles, took a "deep dive" and watched all 806 touchdowns from his 16 seasons with the Saints—the most in the NFL during that time. Cool story, Sean, but guess what? Nobody gives a shit. You're a Bronco now.

Nate Jackson is a former NFL tight end and author of
Slow Getting Up
. He lives in Denver.
Read More:
Stay in touch
Sign up for our free newsletter