NFL
Expect Further Humiliation For The Broncos
4:57 PM EDT on September 25, 2023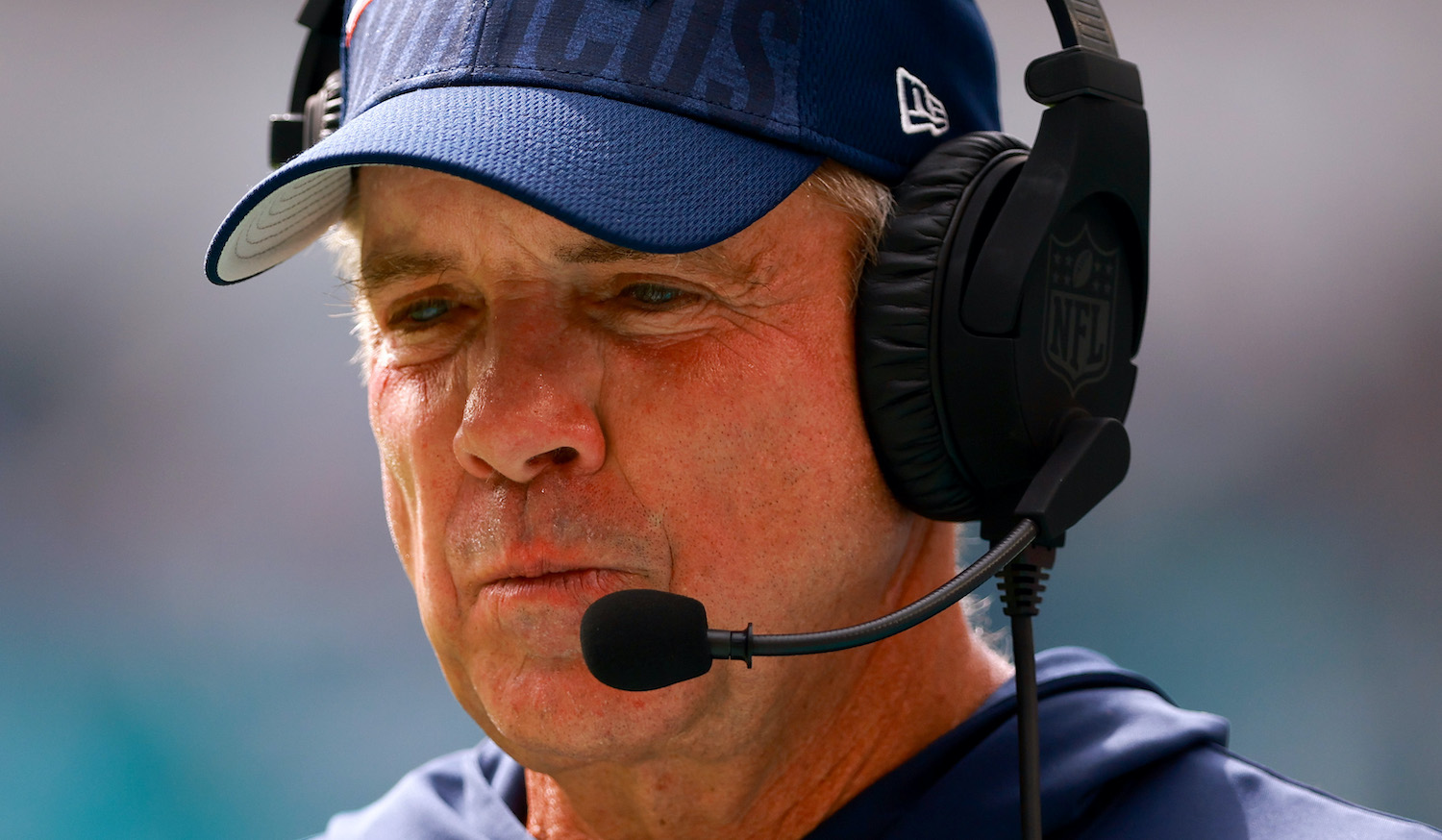 You can only take so much away from a single play in a game that ended 70-20, but a 40-yard run from Dolphins running back De'Von Achane is a decent representation of how the Denver Broncos played in Sunday's loss. Achane, who posted a 4.32 40-yard dash in the combine, took the ball in motion, beat two linemen to the edge, cut back across to avoid more defenders, and only was stopped after Patrick Surtain II, the cornerback on the far side, sprinted across the field to push him out. The Broncos had a majority number of defenders on the ground on this play, and none of them had made the tackle.
This was the funniest of the many humiliations inflicted upon Denver's overmatched defense by Dolphins head coach Mike McDaniel. The former Broncos ball boy showed his old team mercy by choosing not to go for a field goal that would have broken the record for most points in a regular-season game—Washington beat the New York Giants, 72-41, in 1966—though that was a small and undeserved kindness. Miami's 726 total yards are the most in any NFL game since 1951, although there is some dispute about whether they actually broke the all-time record; Achane and Raheem Mostert became the second pair of teammates in NFL history, after Priest Holmes and Derrick Blaylock, to each score four touchdowns in the same game. The Dolphins tied or broke 13 team records yesterday.
This could not have happened to someone more deserving of an epochal ass-kicking. One year ago, Broncos head coach Sean Payton was a Fox Sports analyst who went out of his way to mention that he thought Tua Tagovailoa would get benched for Teddy Bridgewater at some point in the season. The Dolphins had just beaten the Patriots to open the season, and even though Payton acknowledged that Tagovailoa played well in the win, he couldn't help himself from hyping up his former quarterback at Tagovailoa's expense. This week, Tagovailoa completed his first 16 passes, threw a no-look shovel pass touchdown, and clarified that the Dolphins did not seek to specifically embarrass the Broncos. "We're not trying to go out there and humiliate teams, that's just what it happened to look like," he said afterward. Sure.
Credit to Payton for having his prediction come true in the worst way: Tagovailoa was benched for Mike White on Sunday, in order to get some rest after the Dolphins scored so much. Surely Payton must have felt a sense of assurance as he watched Mike White throw a 68-yard touchdown bomb to Robbie Chosen over the Broncos' All-Pro cornerback.
Payton has spent the start of the season grousing about Russell Wilson's performance, and while the quarterback play hasn't been great, the defense might be the bigger issue here. In a presser on Monday, Payton said that defensive coordinator Vance Joseph wouldn't be fired. Perhaps he's stashing him as a scapegoat for the next blowout loss, or Payton has become more sympathetic to poor coaching after he infamously said his predecessor Nathaniel Hackett had put forth "one of the worst coaching jobs in the history of the NFL." That assertion about Hackett wasn't wrong, but now it seems like Payton's trying to join him.
The Broncos are 0-3 and have too much invested in the pairing of Payton and Wilson. Help is not on the way. They are in as bad a position as an NFL team can be in. As Tom Ley wrote earlier today, the saving grace is that this weekend they'll get a chance to appear more competent than the Chicago Bears. And if they don't do that? Oh, buddy. Nathaniel Hackett's stuck with Zach Wilson and even he's having a better time than these guys.
Stay in touch
Sign up for our free newsletter