Soccer
Napoli Shitposted Its Way Into A War With Its Own Best Player
10:08 AM EDT on September 27, 2023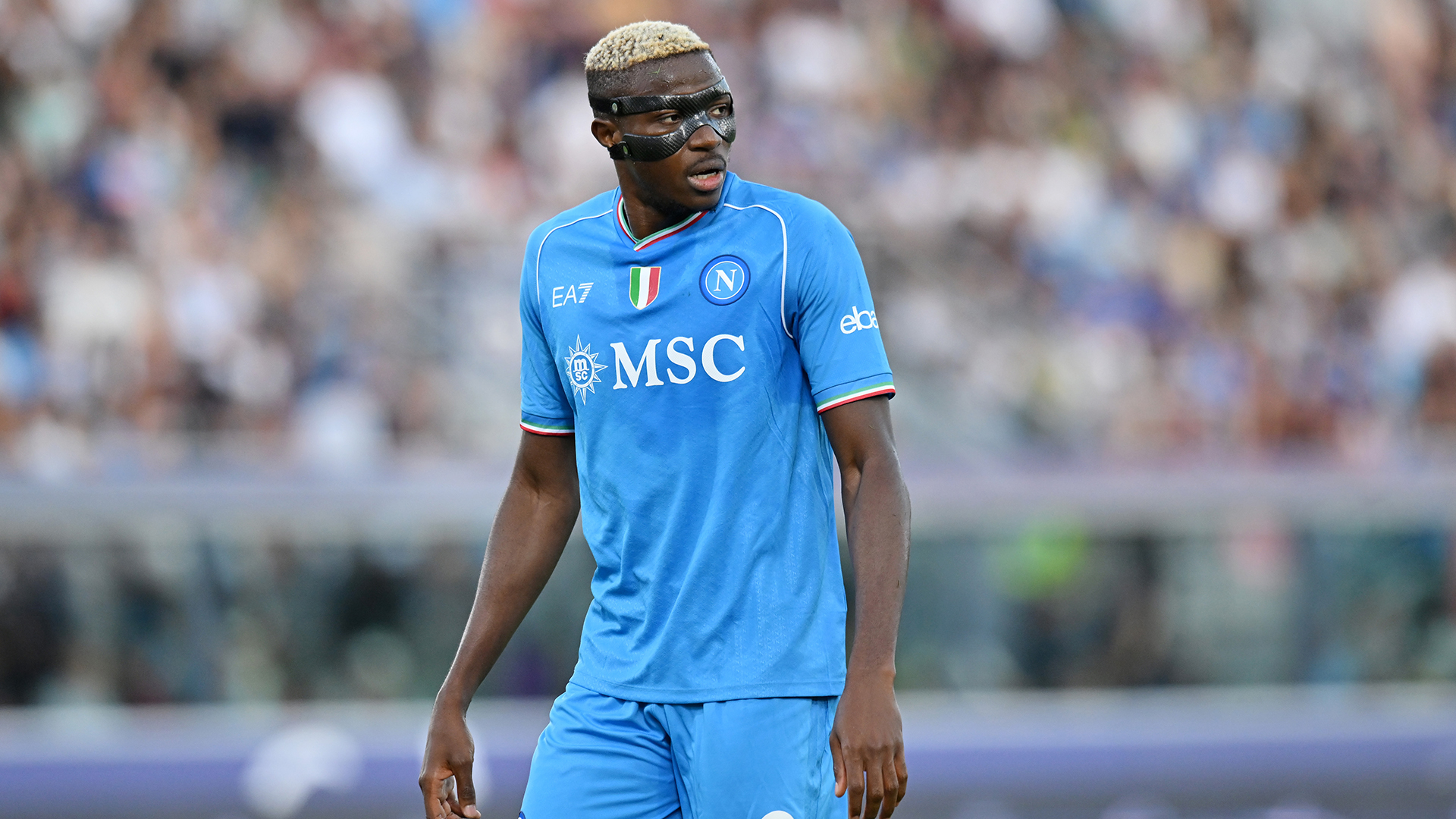 Social media should be a source of low-stakes value for soccer clubs. It's a way to engage with fans, update them with the latest news and lineups from the club, and generally create a ripple of attention in a sports landscape that feels like it has never had more options for viewers. Regardless of whether that is a good thing, or whether social media inspires some of the worst commentary and insults you will ever see (particularly in soccer), it's safe to say that it should not be used by a club to antagonize its own best player. Napoli, the reigning Serie A champions, would have done well to learn that lesson prior to pissing off star striker Victor Osimhen with a TikTok, of all things.
On Sunday, Osimhen missed a penalty in the 72nd minute against Bologna, in a match that eventually ended in a 0-0 draw. Missed penalties happen, roughly a quarter of the time even, so while everyone was probably disappointed with the result, that should have been in it. Instead, the official Napoli account on TikTok posted a short clip on Monday featuring Osimhen asking for the penalty after a cross from Khvicha Kvaratskhelia hit a Bologna player on the arm. The clip then showed him missing his penalty wide right. The entire thing was soundtracked by a high-pitched voice saying, "gimme penalty, please" and, "thank you, you give me penalty." It's bizarre for anyone to post this, but doubly so for Osimhen's own club.
The high-pitched voice is an established bit of online shenanigans. The sound comes from the the "Pionel Pessi" meme on soccer social media, which is used to mock Lionel Messi for seemingly scoring most of his goals via penalty kicks. (It's clearly a reaction to Cristiano Ronaldo antagonists calling that player "Penaldo," which should clue you in on the state of soccer discourse online.) Incredibly, Napoli's now-deleted TikTok even used the hashtag #Pessi in the caption, so there's no real hiding that the intent behind the post was to make fun of Osimhen. There's a chance a club employee accidentally posted it to the team account rather than a personal one, but that's such a rookie mistake that it deserves ridicule anyway.
While this all feels very funny and appropriately strange for Italian soccer, which can just never be normal, Osimhen appears to not be taking it lightly. His agent, Roberto Calenda, posted a statement on Tuesday, saying that the Nigerian striker is considering taking legal action against his own club, calling the video "not acceptable" and saying that it caused "very serious damage to the player." On Wednesday, a video posted by Italian journalist Gennaro Del Vecchio showed Osimhen arriving at the team hotel and seemingly ignoring two of his teammates, while only shaking hands with the team manager:
Osimhen has been courted and scouted by some of the top clubs in the world, including Real Madrid, Arsenal, Manchester United, Chelsea, and Liverpool. It's long been assumed that he will leave Napoli for a bigger club at some point in the near future, which means we now are confronted with the possibility that a dopey TikTok will play a role in hastening that exit. Napoli and its owner-president-hardass Aurelio De Laurentiis are historically difficult to deal with in the transfer market, but an aggrieved star player in soccer tends to get his way more often than not.
Could one of those aforementioned teams swoop in this January with a bid big enough to convince Napoli to part with its star player? Before this TikTok debacle, I would have said no, because surely the price would have been exorbitant to allow Napoli to let such an important player leave mid-season. Now, though, with threats of legal action being thrown around and a mockery of both the club and player raging, I wouldn't be so sure. All Napoli had to do to avoid this situation was not flame its own star striker online.
Stay in touch
Sign up for our free newsletter