Soccer
Megan Rapinoe Couldn't Have Done It Any Better
11:03 AM EDT on July 9, 2023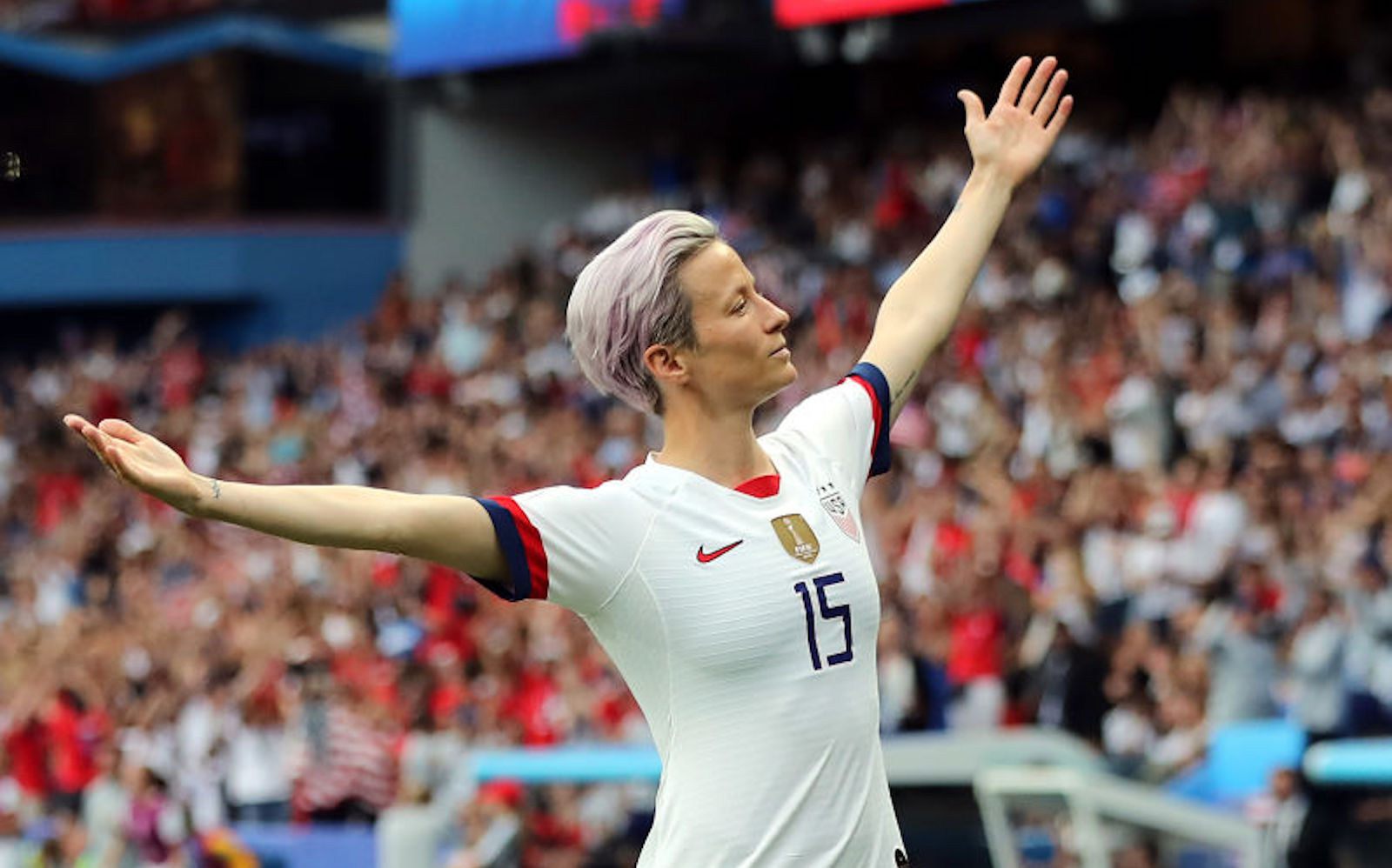 It's possible that no pro athlete has ever had a signature celebration as fitting as Megan Rapinoe's. Head back, chin high, arms spread gently and wide—she stands ready to accept the adoration of thousands the way a flower welcomes sunlight. When the pose was first unveiled following each of Rapinoe's goals in the 2019 World Cup quarterfinal, it felt not just natural but eternal. Only the greatest athletes have the ability to show you in the moment, breezily and uncontrived, exactly how you're always going to remember them.
So when it comes time to make statues of Rapinoe, we know what they'll look like. And that time is near, because on Saturday Rapinoe announced that she will be retiring from professional soccer at the end of this season. The 38-year-old will play in her fourth and final World Cup with the USWNT this summer, and then she will return to OL Reign to end her NWSL career. She will leave the game as decorated as any athlete could hope to be. She has won two World Cups, an Olympic gold medal, and the 2019 Ballon d'Or Féminin. She's only the seventh USWNT player to record more than 50 goals and 50 assists for the national team, and her next appearance for the team will be her 200th. Oh, she was also awarded the Presidential Medal of Freedom last July.
Conversations about women's soccer are often centered around words like "opportunity" and "investment" and "growth," particularly as the World Cup approaches. Every four years brings a chance for American soccer fans to check in on how well other countries around the world are catching up to the USWNT by injecting more money and attention into the women's game. These are valuable conversations to have, but sometimes they sell the USWNT a little bit short. Yes, money and infrastructure are important ingredients in building a dominant national team, but nothing matters more than the players.
Domestic leagues and federations and entries into international tournaments can only buy a sport so much cultural purchase (not a lot). The true value of those things is in the opportunities they present to players who are capable of pushing the game forward through their own individual brilliance. Rapinoe has been a pro for 14 years, and in that time she's seized every opportunity that's been placed in front of her. The USWNT isn't the cultural institution it is today without the years of sparkling play that Rapinoe gave to it. The moments that make this team matter are the ones that delivered not just meaningful victories, but sturdy memories. Because of Rapinoe, you will never be able to think of the USWNT without thinking of The Cross, that beautiful and miraculous ball that Rapinoe whipped onto the head of Abby Wambach in the 122nd minute to save the USWNT from a disastrous quarterfinal exit at the 2011 World Cup. And because of Rapinoe, that moment is further immortalized by what she was thinking when she delivered the ball, which she later shared in her memoir: "Bitch, you'd better be there."
It takes a great player to deliver as often as Rapinoe has throughout her career, but what she did on the field will only account for half of her legacy. Rapinoe understood that as the women's game grew around her efforts, it created more and more cultural space to be filled. Just as Bill Russell and Muhammad Ali leveraged the growing popularity of basketball and professional boxing to practice their politics, Rapinoe saw the growth of women's soccer as an opportunity to stand for something. She helped lead the USWNT's fight for equal pay, kneeled in solidarity with Colin Kaepernick when doing so was a genuine risk, refused to back down from her decision not to go to the "fucking White House," and advocated for the inclusion of trans people in sports. She did all of this affably and with conviction, without ever equivocating or appeasing.
Every sport has its collection of great athletes, but when Rapinoe retires she will join the upper crust of those who were both singular and transcendent. She will have gotten there without ever really faltering, either as a player or a person. It's that natural ease that I'll always remember about her. It was there when she was hitting pin-point crosses and scoring goals and winning World Cups, and it remained when she was championing causes she believed in and standing up to some of the worst critics any American athlete has ever had to face. She was sure of everything she did, right up until the end. "It's with a really deep sense of peace and gratitude and excitement that I want to share with you guys that this is going to be my last season," she said at the beginning of her press conference on Saturday. The effortless charm arrived a few minutes later: "I wanted to do it prior to the World Cup. I've been asked like a thousand times, and obviously I'm not going to play in the next one. My god, that would be a whole scene."
Stay in touch
Sign up for our free newsletter