MLB
Max Scherzer Is In A Sticky, Not Tacky, Situation
12:10 PM EDT on April 20, 2023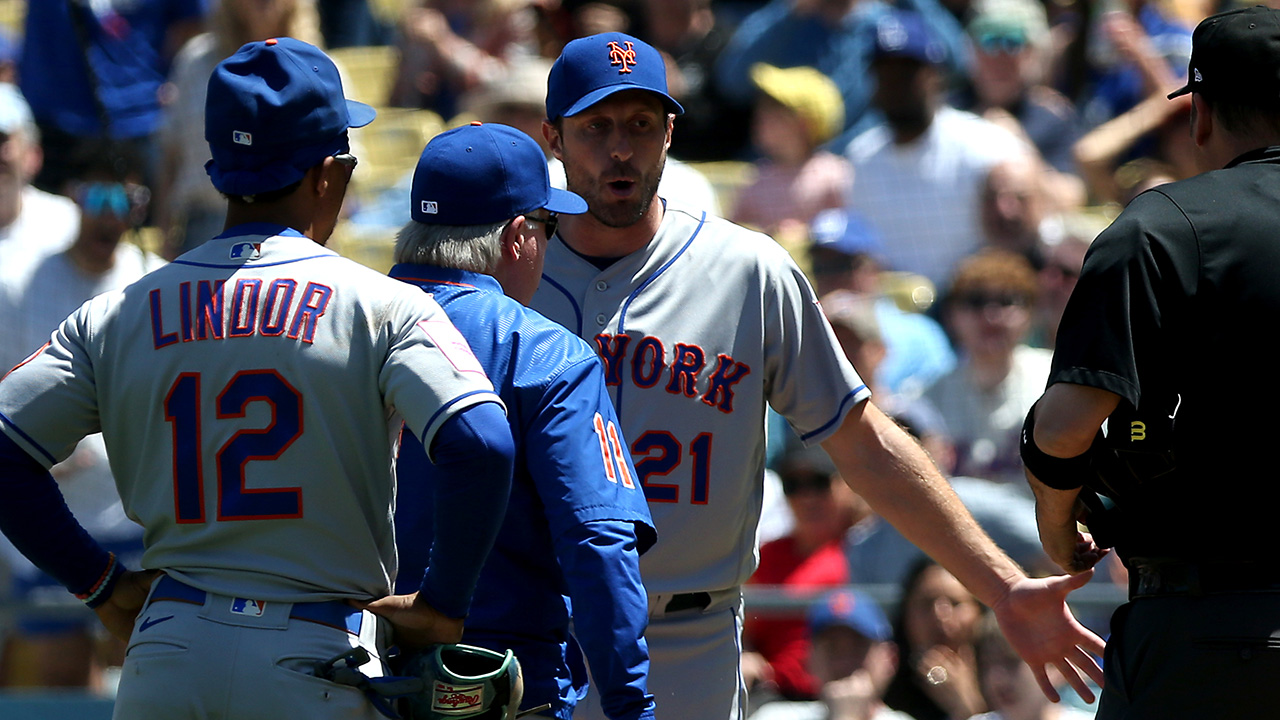 Mets pitcher Max Scherzer did not have a good time with umpire Phil Cuzzi yesterday. After the second inning of a game against the Dodgers, Cuzzi performed a routine sticky substance check and told Scherzer to wash off what he thought was a "slightly sticky" pitching hand. Scherzer said his hand was "clumpy" from rosin and sweat, and that he washed off the substance with alcohol in front of an ump. Cuzzi warned Scherzer that he would be checked again before the third inning, and during that check, Cuzzi noticed the pocket of Scherzer's glove was sticky and made Scherzer change gloves. Now the umpires were on high alert: Before Scherzer pitched in the bottom of the fourth, home plate ump Dan Bellino and Cuzzi checked the pitcher's glove again.
This time, Scherzer was ejected. "It's just rosin!" he repeatedly yelled to umpires, per SNY reporter Steve Gelbs. His protests went unanswered. If he's found to have used some sort of "sticky stuff", he faces a 10-game suspension. It seems likely he will get suspended; SNY columnist John Harper reported a baseball source told him Scherzer has "zero chance" of avoiding a suspension; he would be able to appeal.
Scherzer was adamant postgame that he did not cheat, even invoking his children's lives in the matter. "He said my hand is too sticky," Scherzer told reporters. "I said, 'I swear on my kids' lives, I'm not using anything else. This is sweat and rosin. Sweat and rosin.' I keep saying it over and over, and they touch my hand, they say it's sticky. I say, 'Yes, it is, because it's sweat and rosin.' And they say it's too sticky. They threw me out because of that."
Rosin is a legal way for pitchers to get more grip on the ball. But a 2013 story from Yahoo Sports said sources told them "about 90 percent of major league pitchers use some form of spray-on sunscreen – almost always BullFrog brand – that when combined with powdered rosin gives them a far superior grip on the ball." In an interview last month with Foul Territory, a daily baseball show, Scherzer said rosin can basically get as sticky as sticky stuff.
Scherzer said "I'd have to be an absolute idiot to try to do anything when I'm coming back out for the fourth." The umpires say he was, indeed, that idiot. In a conversation with pool reporter Mike DiGiovanna of the Los Angeles Times, Bellino said that when Scherzer came out for the bottom of the fourth, "we realized the level of stickiness on his hand was much worse than it was even in the initial inspection that had taken place two innings prior."
The umps could not tell what the sticky stuff was, they said, though Bellino insisted Scherzer's was "the stickiest" a hand has been "since I've been inspecting hands." Basically, the umps say they asked Scherzer to get the sticky stuff off his hands twice, and when he came out a third time even stickier, they had to toss him. "All we know is that it was far stickier than anything that we felt certainly today, and anything we've felt this year," Cuzzi said. "So in that case, we felt as though he had two chances to clean it up, and he didn't."
Bellino also clarified Scherzer's hands were "not tacky, sticky. It sounds silly, but there is a difference between tackiness and stickiness." Right. It's not like Scherzer was wearing a novelty t-shirt and wacky sunglasses while pitching.
At The Athletic, Ken Rosenthal wrote that a pre-season memo told teams certain levels of rosin on the hands would be considered an illegal substance. Any rosin Scherzer put on in the dugout would not be legal. "When used excessively or otherwise misapplied, i.e. the gloves or other parts of the uniform, rosin may be determined by the umpires to be a prohibited foreign substance, the use of which may subject a player to ejection and discipline," the memo read. Jayson Stark reported last month that MLB would step up sticky stuff inspections this season, both "in frequency and scope."
Cuzzi also seems to be at the head of the anti-sticky stuff enforcement agency, as he's been a part of the crews for all three ejections since the beginning of the crackdown. "Fans familiar with Les Miserables might regard Cuzzi as the Javert of sticky-stuff ejections," Rosenthal writes. I will admit I have no idea what this means. Can someone put it in terms I might understand? Maybe something about AEW ref Bryce Remsburg? I dunno. Just looking for a tackier explanation of this.
"The Cuzzi on field spectrometer is not the answer," Scott Boras, Scherzer's agent, said in a postgame statement. "MLB needs to employ available scientific methods (not subjective) to create verifiable certainty of its rules." Thanks, Scott. Not quite what I was asking, but delightfully tacky.
The Mets won the game, 5-3. They are 12-7, currently stuck in second in the NL East.
Stay in touch
Sign up for our free newsletter