MLB
Managers Matter
12:24 PM EST on November 8, 2023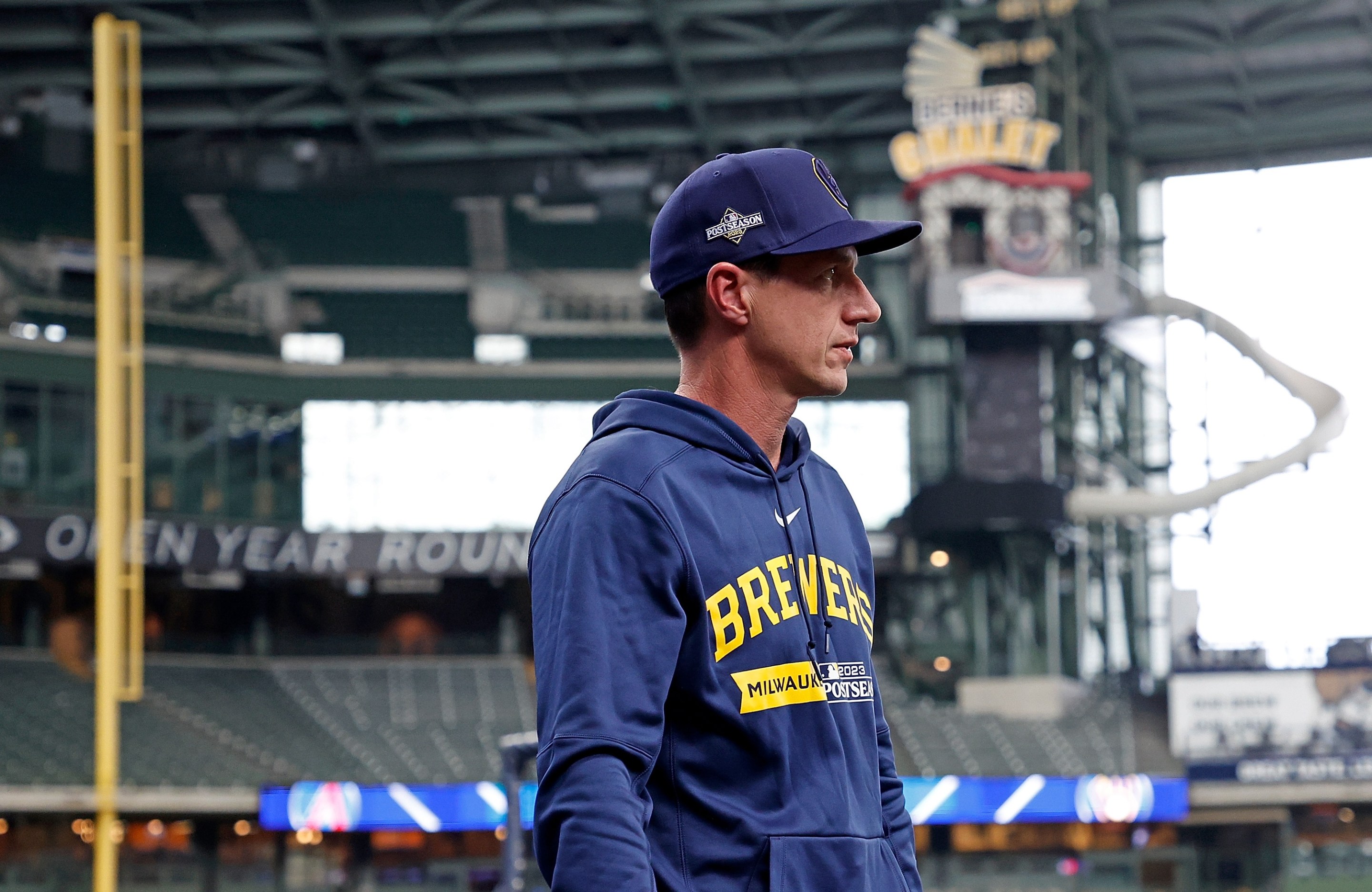 The American League Championship Series was noteworthy in part because it was the only fun series of the postseason, but also because the managers involved, Bruce Bochy and Dusty Baker, had managed for a combined 52 years. In those two places, managerial experience mattered greatly: Baker because he was the wallpaper that helped cover the Houston Astros' foundational rot, and Bochy because he had proven repeatedly that he could make championships. Baker had given Houston Astros owner Jim Crane and Houston the first title it could openly brag about since 1995, and Bochy came out of retirement and was paid $3 million to manage a dugout that was paid $209 million, and in response gave owner Ray Davis and the DFW Metroplex the bragging rights their football team hasn't managed since, well, 1995.
Along the way, they proved that managing matters a lot more than the people who run baseball want to think they do, and if imitation is the greatest form of flattery, the Chicago Cubs just flattered the living fertilizer out of the Astros and Rangers by stealing Craig Counsell from the Milwaukee Brewers (and by extension the New York Mets) for a five-year contract paying a record $8 million a year.
This contract will pay Counsell more than Joe Torre's highest salary in the last Yankees heyday, more than doubles Bob Melvin's last San Diego contract, and in general serves as a reminder that experience and freedom of action are to be cherished rather than lowballed by cost-conscious chowderheads who want their billion-dollar companies run by oddly dressed temps. It is so much money that it arrests a decade-long campaign by owners and their associated suit creeps to depress managerial salaries by hiring inexperienced and often younger men who take orders from above and get paid like marketing directors who also are related to the owner.
In other words, managers matter when you're laying out the kind of jack the Rangers did, or have the kind of issues the Astros had. What the Cubs need, apparently, is the feel that they had in the mid-teens when they won a World Series and reached the LCS on either side of it, and were willing to pour dough into a job that has been steadily undermined by efficiency experts who ultimately are neither.
And in doing so, they re-stimulated the one-way rivalry between the Brewers and Cubs, as Counsell's hiring and the price at which it came completely gobsmacked Brewers owner Mark Attanasio. There had been a steady flow of Counsell-to-the-Mets rumors, so his departure wasn't the surprise nearly as much as the fact that he went to the Cubs of all teams, and the fact that they fired David Ross out of the blue to do the deal was even more of a jaw-slackener.
Counsell's resume is by no means Baker's or Bochy's; nine years, one postseason series victory. He has an excellent reputation, but David Ross had a good reputation. Basically, club president Jed Hoyer, maybe at the behest of the Ricketts ownership, decided he wanted Counsell and was willing to outbid everyone by several million dollars to get him on the theory that this particular manager was worth it. It is the logic that convinced the dreadfully dull San Francisco Giants to free Bob Melvin from the hell he signed up for working for notorious big-spending doorstop A.J. Preller. It is the logic that the Astros and Rangers applied to great effect, and the logic that the Mets applied when they hired Buck Showalter in 2022; that one went slightly poorer.
This may become a trend; then again, this may be a blip in a depressed industry. Experience matters less in some places, like, say, Cleveland, where they went for puppylike eagerness and charm in hiring Stephen Vogt after one entire year as bullpen and quality control coach in Seattle ("Come on, you guys, let's show some quality out there!").
Vogt is a popular fellow in baseball circles, and his ineffable conviviality surely bowled over the Guardians' front office, but he is quite literally 384 days removed from his last big league at-bat, which to his storyteller's delight was a home run. He may be the magician Cleveland needs to invigorate the least powerful everyday lineup in the game, and we do not question the hire as it reflects the team's self-view, but he is not being paid commensurate to Cleveland's projected payroll as Counsell is being paid commensurate to Chicago's. We know this not because there's an easily accessible list of 2024 managers salaries on the internet (plus there are still four open jobs, not including the Mariners' bullpen coach gig) but because we are fairly certain that Vogt is not being paid $3.5 million this coming year.
It is, however, instructive that Vogt replaces Terry Francona, who retired after 23 years in Philadelphia, Boston, and The Land, so experience isn't for everybody, and paying for that experience is for almost nobody. But it's still a smarter way to position a team for immediate success than taking a flyer on someone who knows how to answer the dugout phone from upstairs. Maybe Counsell's real accomplishment here was not in cracking a salary ceiling or pissing off Wisconsin as much as honoring the idea that managing matters far more than the people who hire them typically comprehend.
Stay in touch
Sign up for our free newsletter