This Is So Stupid
LIV Golf's "Team Finder" Knows Which Of Four Sandwiches Describes Your Values As A Sports Fan
1:12 PM EDT on March 13, 2023
As you very well know, the 2023 LIV Golf season is upon us. Wow! So much excitement! Who is going to win it all this year? The Crushers? The 4Aces? The Cleeks? And which player will take home the, ah, the big enchilada—you know, the big one, that signature LIV Golf trophy or sports jacket or whatever that we're always talking about—after winning the big one at the historic tournament? Wow!
To help the many extremely serious and dedicated LIV Golf fans—most of whom can be found in the grade-school classroom of Bubba Watson's 10-year-old child—get into the groove of the new season, Monday morning LIV Golf formally launched something called LIV Golf X. It appears to be an email newsletter, and possibly also a page on the LIV Golf website, cordoned off for the exclusive use of people who've created free LIV Golf X accounts. Wow! Truly this is a wonderland for the sorts of diehard ultras who would eagerly sign up for maximum exposure to LIV Golf marketing materials. Where casual LIV Golf fans may be content tuning into The CW every few weekends to watch Ripper (a LIV Golf team) face off against Stinger (also a LIV Golf team) in glamorous Tulsa, Oklahoma, hardcore LIV Golf supporters need "regular updates, offers, competitions and highlights" and "more content from your favourite players, with exclusive looks behind the scenes," delivered straight to their inboxes.
Naturally, the entryway to this incredible LIV Golf X product made for the most enthusiastic LIV Golf supporters is a fancy new Team Picker: a personality questionnaire that asks you to identify with an animal and then to choose which sandwich looks yummiest, in order to determine which LIV Golf team you should support.
The Team Picker uses nine multiple-choice questions to nail down who you are as a golf fan and to line you up with the team that best matches your values. Are you motivated by improvement or winning? Are you an eagle or a stallion? Do you like a striped or a "loud" golf shirt? Simply click around and discover which team is the one for you.
Personally I am a Fun-Bear-Pin Seaker-Fist Pump-Sentosa-Blue/Cool-Classic-Pop-Chicken Club Sandwich kind of golf fan. On the first pass the Team Finder indicates that I am most closely aligned with the 4Aces. Alas, the 4Aces employ obnoxious bile creature Patrick Reed, a man I could simply never support. On the second pass, after inputting the exact same choices, the Team Finder indicates that I am most closely aligned with the Crushers. Unfortunately, the captain of the Crushers is ridiculous overinflated balloon Bryson DeChambeau, another puke man whom I would never choose to support. Also this Crushers team statement describes entirely too much ass-kicking to comfortably vibe with my Fun-Blue/Cool-Chicken Club Sandwich golf ethos: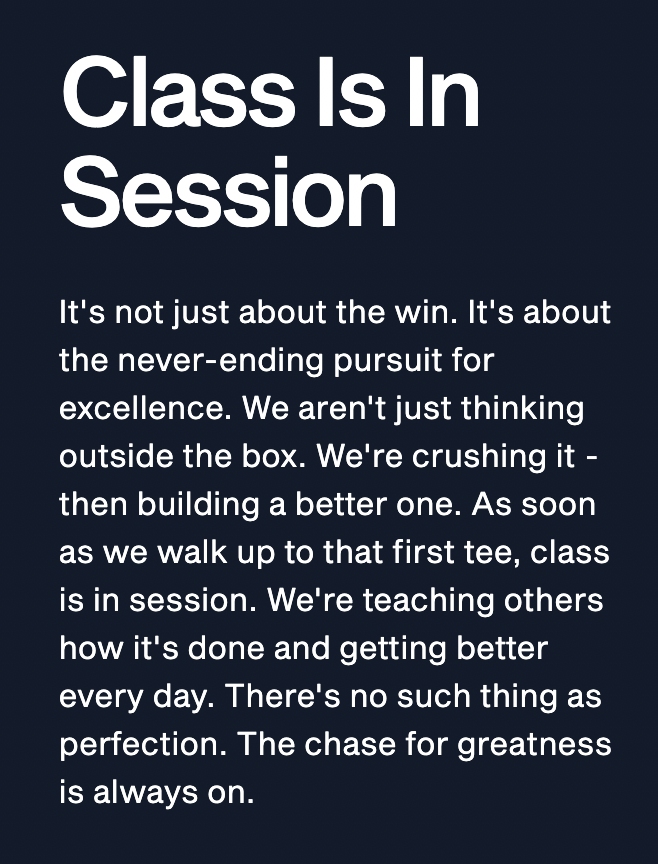 Fortunately, a third pass at the Team Finder, using the exact same set of inputs, tells me that in fact I as a golf fan am most closely aligned with the Smash, which employs the brothers Koepka, plus Jason Kokrak and Matthew Wolff. I have only ever heard of one of these men, and that man is a grumpy broken-down dude-bro, but nevertheless this team's whole deal is less immediately repulsive to my stated golf values.
Fight Like Family

From the beginning, success was the only option. We earned our way. As a team we share the drive, to win. We're here to work.

We live and breath this sport. And we fight like family to reach the top. Going deeper on our own to go higher together.

It's the only way we know how. All of us, or nothing at all. United we grind, united we win.
Anyone who is familiar with this website knows that we also "share the drive, to win," which right away helps us to understand where Smash is coming from in the realm of team golf. Also it turns out that Smash is a team for all types: When I ran the Team Finder again, this time impersonating a Teamwork-Wolf-Spectacular Save-Team High-fives-Mayakoba-Green/Light-Classic-Classical-BBQ Pulled Pork Sandwich freak, I also was told that my golf values most closely aligned with those of Smash. Wow!
But perhaps you are not into Smash's whole deal. Good news: If you input Teamwork-Wolf-Spectacular Save-Team High-fives-Mayakoba-Green/Light-Classic-Classical-BBQ Pulled Pork Sandwich a second time, the Team Finder will direct you to Stinger, the team of Louis Oosthuizen, Dean Burmester, Branden Grace, and Charl Schwartzel. Is this your deal, you weirdo?
Grin And Grind

All jokes aside. If we're not grinning while winning, it's not worth it. So it's always we before me. We're our country on the course. Play hard. Have fun. That's the gees. Which means a smile on our face. And a sting in our tail. Big grins. Real grit. It's just who we are. So laugh it up, boys. We're gonna grind to the end.
I could simply never support such a team. God help me, I will run this goddamn Team Finder as many times as it takes to find the combination of answers that directs me to the team that doesn't draw its paychecks entirely from the investment fund of a repressive, blood-soaked totalitarian monarchy.
Stay in touch
Sign up for our free newsletter