Golf
LIV Golf Bozos Hope To Storm The 18th Green In Masters Triumph
2:12 PM EDT on April 4, 2023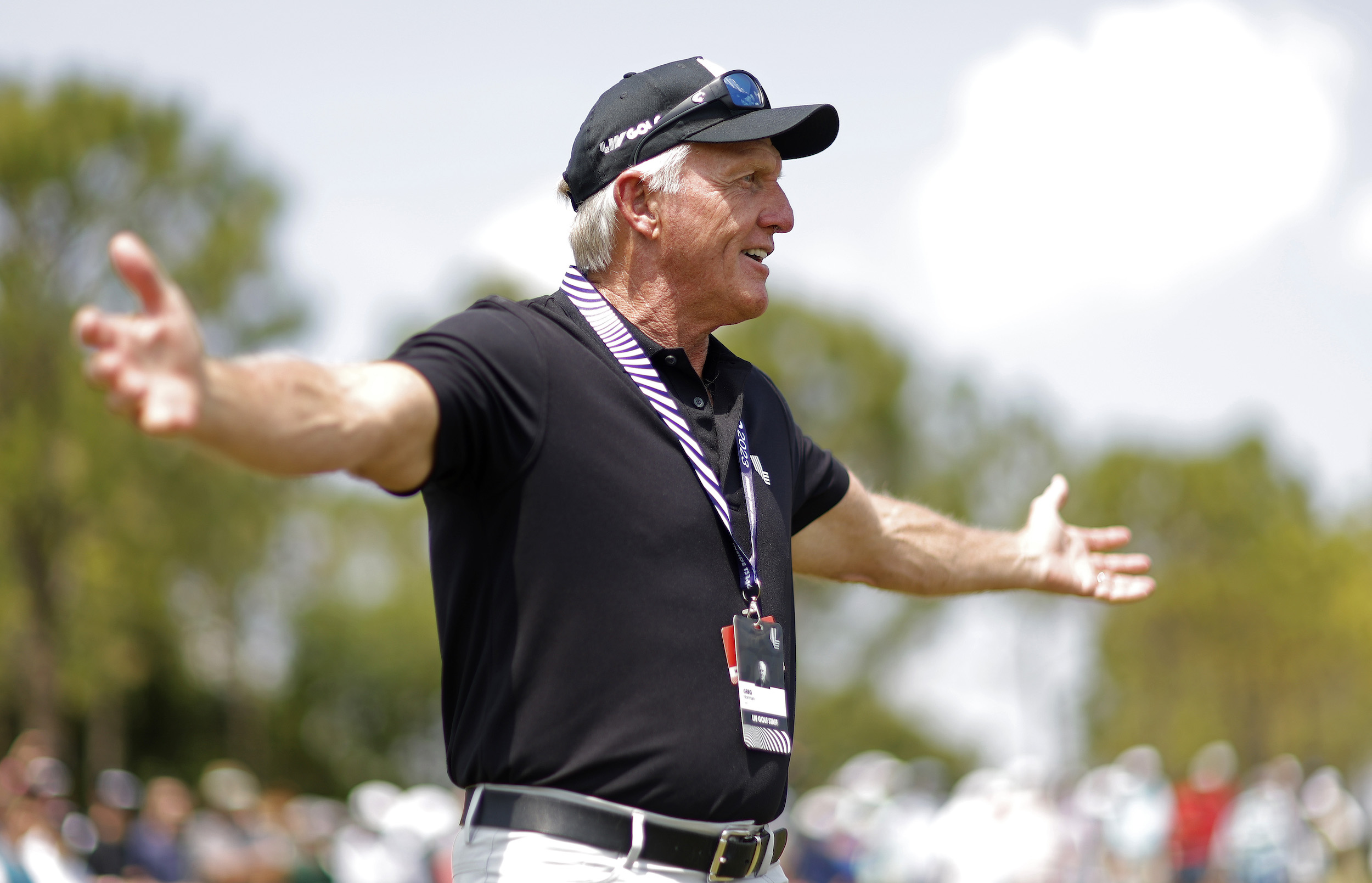 A whopping 18 LIV Golf professionals will participate in the 2023 Masters Tournament, to be held this weekend at Augusta National Golf Club in Augusta, Georgia. Not all of these guys are hopeless scrubs. Cameron Smith was the second-ranked player in the world when he bolted for the Saudi-funded breakaway league in August 2022, and is currently sixth in OWGR points. Ten others are currently ranked in the top 100; three—Joaquin Niemann, Abraham Ancer, and Thomas Pieters—are still ranked in the top 50, the cutoff for qualification to The Masters according to the current criteria, which the tournament declined to update this year despite a scold-y, disapproving statement from chairman Fred Ridley. Six of the 18 have worn the green jacket. Bubba Watson has won twice; LIV Golf pioneer Phil Mickelson won in Augusta three times in seven years.
That these 18 golfers have been playing bozo golf to the thumping rhythms of The Chainsmokers for most of the past year certainly puts them at something of a disadvantage, but there is a non-zero chance that at least one of them will be shooting for the win come Sunday afternoon. Only three players in the field are given better odds than Smith, who finished his PGA Tour career as the reigning Open Championship winner and the PGA Player of the Year. That's the nightmare scenario for PGA Tour commissioner Jay Monahan, who has led a radical reshaping of his promotion over the last year in response to the threat posed by LIV Golf's infinitely deep pockets: 2022 winner Scottie Scheffler pulling the green jacket over the shoulders of Smith or Louis Oosthuizen or—heaven forfend—Bryson DeChambeau, while PGA Tour loyalists applaud mechanically beneath agonized rictuses of swallowed humiliation.
That nightmare scenario, it turns out, is also one that LIV Golf's representatives have been planning for, in order to make that hypothetical victory as embarrassing as possible for their PGA Tour nemeses. According to LIV Golf CEO Greg Norman, all 18 LIV Golf entrants plan to be on-hand at the 18th hole, and will celebrate a win by joining together for a group celebration right there on the green. "There's talk in our teams all around here, there are 18 of us LIV guys at Augusta, and if one of the guys, no matter who it is, they are all going to be there on the 18th green," Norman said in an interview Saturday with sleazy Murdoch family-owned outfit News Corp, per Golf Magazine:
"They are all going to be there, and that just gives me goosebumps to think about. When you walk up 18, your caddy hugs you, then you see your wife or your mom and dad. Now to have those 17 other guys there, that's the spirit we want. That's what these guys talk about. They are saying no matter who wins, no matter who is in that position, we are going to be there. And that just gives me goosebumps to think about."
Players from both camps have already begun congregating in Augusta in preparation for golf's signature event. Smith says the vibes have been friendly so far—he's "seen lots of familiar faces" and everyone seems "happy where we are"—but it sounds like he and his fellow defectors are eager to prove they aren't softening up at the LIV Golf banquet. "I think there's a lot of chatter about, these guys don't play real golf, these guys don't play real golf courses," Smith said at a news conference Monday. "But we've still got a lot of guys up there that can play some really serious golf, and we compete against each other hard week in and week out."
Smith is co-captain of something called Punch GC, which may or may not have changed its name to Ripper GC at some point prior to the launch of this LIV Golf season. It took me 11 tries at LIV Golf's mercurial Team Picker (Improvement–Dolphin–Unmakable Putt–Composed Wave–The Grange–Red/Warm–Patterned–Rock–BBQ Pulled Pork Sandwich) to land on Ripper GC/Punch GC, where I learned that they, and now I, are "unapologetic in who we are" and "scorchers on the course" who "didn't come here to make friends." And why would anyone need to make new friends at a golf tournament, when you already have 17 good friends with you, united in fellowship and a shared, craven indifference to who signs your checks?
Unfortunately, Ripper GC is currently last in LIV Golf's team standings, and none of Smith's fellow Ripper GC teammates made the Masters field. But Norman assures us those extremely serious team affiliations will go by the board if one of the LIV Golf fellas can claim the green jacket Sunday. The entire LIV Golf cohort will storm the green, Norman will have goosebumps on goosebumps, his bosses will have gained a mark of legitimacy even they have thus far been unable to successfully purchase, Monahan will transform live on-air into the vanquished villain at the end of a snobs-versus-slobs comedy as the rowdy members of LIV House throw the wildest party the 18th green has ever seen, and professional golf moves one step closer to Hell.
Stay in touch
Sign up for our free newsletter