NHL
Let's Survey The Carcasses Of The NHL Season
3:23 PM EST on February 9, 2023
We have come upon that time in the NHL season when everyone must deal with reality. The schedule is returning to normal after the all-star break, the trade deadline looms three short weeks away, and with about 30 games left in the regular season, good teams have to be honest about their weaknesses and bad teams need to think about next year.
There will be plenty of time to discuss the good teams. For the crappy teams, though, I'm ready to bid them adieu. In this blog, I'll take a short look at the dregs of the NHL, what they did to earn the ignominy of inclusion in this blog, and what they can do to avoid being here again next year. Let's start with the teams just on the outside looking in, and work our way down to the ones that have been in tank mode since fall.
Detroit Red Wings
How did they get here?
The Red Wings are a good example of how being busy and being productive are two different things. By sheer volume, they had an impressive offseason, with a horde of additions like Ville Husso, Dominik Kubalík, David Perron, Olli Maatta, Andrew Copp, and Ben Chiarot. A few of them have been solid. The rest have been middling-to-bad. But even if all of these guys had hit their ceilings this year, and Jakub Vrána had been present after his trade from the Capitals, the Wings still needed more drastic improvement to close the 26-point margin that kept them out of the playoffs last season. This year's team has been too little, and maybe too late.
What can they do to get better?
This doesn't even make them better, but to not get worse, and to not make the last several years feel like even more of a waste than they already are, Detroit needs to resign their captain, Dylan Larkin. Without their most important offensive presence, they're absolute roadkill. Even after that deal gets done, they'll still have a decent amount of cap flexibility this summer, and maybe a deal that sends the ice-cold (in a bad way) former 30-goal scorer Tyler Bertuzzi to a contender kickstarts the retooling. Also, they can win the draft lottery and get Connor Bedard.
Ottawa Senators
How did they get here?
Where else would they be? This will be the sixth straight year that the Senators haven't made the playoffs, and even though their decision-makers kind of tried last summer, this is still an unsteady group best-suited for random surprise attacks. (They beat Toronto 6-2 a few weeks ago!) Claude Giroux, their headline signing, has been good but not game-breaking, and he's mostly just canceled out the long-term loss of injured top scorer Josh Norris. The rest of this team looks like it could be talented but is still quite young, and they're stuck working out how to be more consistent. The rest of Ottawa's games will still matter, in that sense, but only on a long-term individual level.
What can they do to get better?
There's the concerning thought that some of the Sens' vaunted prospects just aren't as good as their hype, but I want to believe in patience here. Ottawa has worthy pieces, and they'll get the chance to reboot at goalie, but with players like Shane Pinto and Alex Debrincat entering restricted free agency, it'll be a tough puzzle to work out which guys have a future and which have peaked already. To make things simpler, they could win the draft lottery and take Connor Bedard.
St. Louis Blues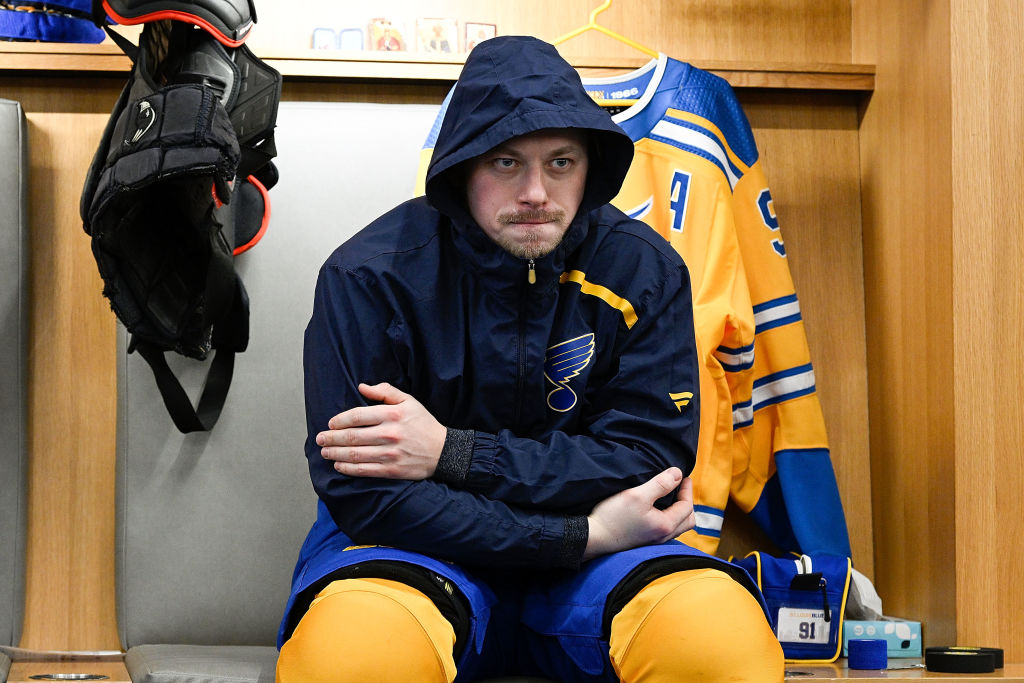 How did they get here?
The slow but inevitable decay that comes for us all. And also their goaltending kind of sucks. The sustained success that the Blues achieved over the last decade buys them a pardon for missing the playoffs, but it also sets high expectations for a quick turnaround. The key pieces of that 2019 Cup squad were either too expensive to keep or less effective than they used to be. Though they have a couple promising youngsters, led by Jordan Kyrou, the Blues just haven't been in position to stockpile the young talent they'd need for a smooth transition. And Jordan Binnington, who's signed to number-one goalie money until the sun burns out, has suffered a sharp decline in his play since his glorious rookie year, with this one serving as his worst yet.
What can they do to get better?
It's time to reset. Vladimir Tarasenko is gone, and most of the rest of this roster should be fair game, too. They're probably stuck with Binnington, however, so utilizing some dark goaltender magic to make him well again should be a high priority, right behind winning the draft lottery and taking Connor Bedard.
Philadelphia Flyers
How did they get here?
They love it here! Isn't that Philly's whole thing? They get off on complaining about how their teams are weird little dumps so when they do succeed they have a solid excuse for tearing down that bus shelter that's been looking at them funny for the last few months. So the Flyers are doing their part to keep this city humble and primed for cathartic destruction. That's apparently by design, because GM Chuck Fletcher could not possibly have believed he was actually putting together a good roster when he constructed this outcast gang of bigots.
What can they do to get better?
I really don't like thinking about this team. I guess they could win the draft lottery and get Connor Bedard.
Vancouver Canucks
How did they get here?
Aw, these poor Canucks. This will be the seventh year of the last eight that they've missed the playoffs, and yet, more than most in similarly dark situations, they've managed on occasion to poke these tiny little holes of sunshine, which only makes it more tragic that they've never built anything meaningful. Remember Elias Pettersson's rookie year? Remember the brief bubble heroism of Thatcher Demko? Remember "Bruce, there it is!"? Better to have loved and lost, I suppose.
What can they do to get better?
They already started trying by trading Bo Horvat to the Islanders before he left as a free agent. But I cannot stress enough how badly they need goaltending. Nobody else in the league has made a bigger mess in the crease. They can maybe still pin their hopes on Demko, who's one year removed from a stellar season and, even after an ugly start to this one, can blame the injury that's kept him out since December. So, OK, he could be a solid base again, but even with the arrival of Russian scorer Andrei Kuzmenko, the Canucks still don't have much depth backing up their two young leaders, Pettersson and Quinn Hughes. Winning the draft lottery and getting Connor Bedard would help, at least.
Montreal Canadiens
How did they get here?
The better question is, how the heck did they make it all the way to within three wins of the Stanley Cup two years ago? Granted, the Habs have weathered a storm of injuries and absences since that bizarre playoff run, but even in the best of times this was never all that talented a team. Carey Price did a lot of the heavy lifting, and sadly, it seems like he might be done with hockey for good. They did take down Toronto in a very funny season opener, but their victories have come mostly at the expense of other teams in this blog.
What can they do to get better?
The good news is that I don't see things getting much worse. The Habs are a very young team, positioned to get even younger at the deadline, that's buoyed by a couple of anointed leaders in Nick Suzuki and Cole Caulfield, plus a first-overall talent in Juraj Slafkovsky and a handful of other intriguing kids, too. (Could Sam Montembeault actually be the answer in goal?) The bad news is that an 18-year-old Slovak in the hand is worth two in the bush, as anyone who's watched Slafkovsky try to work out the complexities of the NHL this year can tell you. Just because Montreal can claim to have a lot of exciting prospects doesn't mean they can actually execute on that bright future. It'll be easier if they win the draft lottery and get Connor Bedard, though.
San Jose Sharks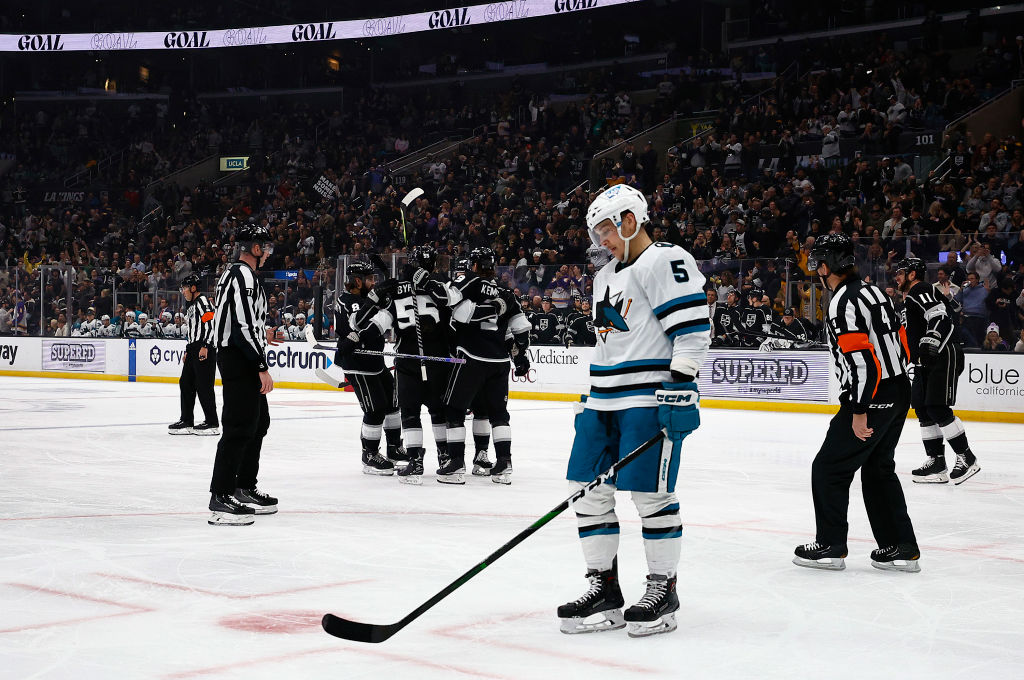 How did they get here?
Because you can't be good forever. The Sharks tried as hard as they could to win a Stanley Cup, but after that failure, they're suffering what will be their fourth straight year without a playoff appearance. That matches the entirety of their missed postseasons from 1994 to 2019. There are a couple of bright spots on the Sharks, namely a resurgent Erik Karlsson and an unstoppable Timo Meier. But with too many castaways supporting them and just completely intangible goaltending behind them, even the good stuff might be most valuable as a trade piece.
What can they do to get better?
Sorry to be a broken record, but they really need a goalie. Maybe they can get Martin Jones back from Seattle! After all, his buyout's still counting against San Jose's salary cap. But outside of addressing that need, I think the Sharks might just be forced to go through the typical rebuilding process. As Meier's and Karlsson's excellent but futile seasons prove, you need much more than just a few stars to win in the NHL, and it's going to take time to replenish the vault. Winning the draft lottery and picking Connor Bedard would kickstart them, though.
Arizona Coyotes
How did they get here?
By moving from Winnipeg. I don't know if I need to go through the whole spiel about how hockey in Arizona has been mostly an embarrassment, how the Coyotes have missed the playoffs in 10 of the last 11 years, how they don't even have their own arena, and how Tempe will soon get a chance to raise a middle finger in response to their new construction plans. The Coyotes are so sad that a bunch of their young players are even resorting to half-assed aliases to avoid being associated with this franchise. I mean, Barrett Hayton? Jack McBain? Lawson Crouse? You can do better than that.
What can they do to get better?
Part of me has almost come around on the idea of the Coyotes just fully committing to the bit and embracing the spirit of this nasty, deformed little desert creature that nobody really likes to think about. (Sabs informs me that I'm speaking of an antlion.) That means staying in their stupid, tiny building, investing solely in 33-year-old golf aficionados, and absolutely reveling in the few times they manage to beat like the Avalanche in front of 4,500 fans, most of them from Denver. If the Coyotes are going to stay in their sicko climate, they should be a sicko team. But they'd probably prefer to win the draft lottery and trap Connor Bedard. He's the right age to play on a college rink, at least.
Anaheim Ducks
How did they get here?
In much the same way as the Sharks. The Ducks were really a model franchise for most of the 21st century. But after the core of Ryan Getzlaf, Ryan Kesler, and Corey Perry succumbed to father time, and cornerstone goalie John Gibson struggled to uphold the high standard he'd set for himself, Anaheim became helpless. You can't actually fault them for failing to pivot into another decade of playoff appearances, but this year is still a disappointment. The Ducks boast a very famous, often exciting kid forward in Trevor Zegras, plus a grab-bag of other contributors both old and young. But the defense is weak, Gibson is still unfortunately mediocre, and the offense is nowhere near good enough yet to secure them points.
What can they do to get better?
They have veterans that they can theoretically sell, which is good, and they also project to have a lot of money to spend going into the summer, which is also good. Winning the draft lottery and getting Connor Bedard would be very good.
Columbus Blue Jackets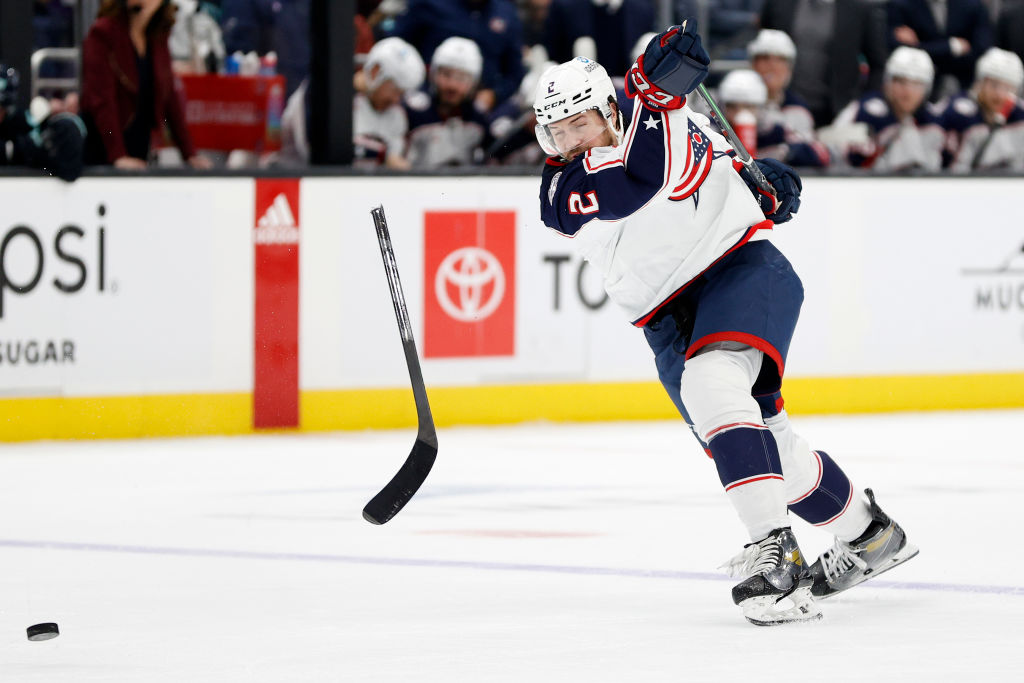 How did they get here?
Hubris. When Johnny Gaudreau shocked the world by signing here, they couldn't wait to spike the football (puck) and brag about how, actually, everyone who said Columbus was a boring city that no star hockey player would want to live in was wrong, wrong, wrong, wrong, wrong, wrong. Sure, whatever guys. But a team that was already quite bad last year got bit by the injury bug and has so far turned in the fewest points of anyone in the NHL. Johnny's been fine, but he's not a savior, and as both acts of God and organizational sluggishness have robbed him of a supporting cast, the hard work remains to be done.
What can they do to get better?
The usual, I think, though improving via free agency remains a struggle no matter what they say. They can trade some expiring veterans for some beans, get healthier, and find a cheap goalie of the future because Elvis Merzlikins and his big salary probably isn't viable as a starter after Joonas Korpisalo departs. Maybe they can fight their way to another eight-seed if they pull off all that, especially if they also win the draft lottery and land Connor Bedard.
Chicago Blackhawks
How did they get here?
They suck!
What can they do to get better?
Contract the franchise!
Stay in touch
Sign up for our free newsletter