Life's Rich Pageant
Bus Shelters Are No Match For The Combined Weight Of Eagles Fans
11:02 AM EST on February 1, 2023
The Eagles won the NFC Championship on Sunday, and we went out into the streets to celebrate. We were not the only people with this idea. My wife and I walked down Main Street in Manayunk, which was boisterous but subdued by the standards that apply to Philadelphia in the hours after the Eagles win a postseason game. Cars drove by honking their horns and waving Eagles flags. A guy told me I "should get an award" for my kelly green Chalk Line Eagles jacket. (Unfortunately, Andrea Riseborough got the Oscar nom for Best Eagles Jacket over me.) In nearby Roxborough, fans gathered where they always do: at an intersection that features a Dunkin' Donuts, a gas station, a tobacco shop, and a Thai restaurant. Even people on the notoriously nihilist local Facebook page were excited for once.
Things were a little rowdier in other areas of the city: Fans rushed to Frankford and Cottman in Mayfair, a longtime gathering spot; they flooded Broad Street in South Philly and Center City. Streets were closed in most of downtown as the city prepared for Eagles fans to lose their shit. And then, like the swallows returning to Capistrano, they did.
Fortunately, the vibe was celebratory rather than destructive. One dude on Broad Street in town handed out jello shots to fans. Another guy proposed to his girlfriend. (I proposed to my now-wife a month before the Eagles won Super Bowl 52. Hopefully this month is as good for this guy as that was for me.) Most media outlets concurred that Eagles fans celebrated peacefully.
But there was one incident of note. Fans gathered on top of a bus shelter on Broad Street, near City Hall. They danced and partied and then the bus shelter collapsed. There was a great tweet about it.
That's Ashley "Kilos" Marcial with both the solid nickname and the neck brace. She's OK. She's now doing the media rounds as this year's first New Celebrity Fan. Move over, Shoulderpads Shaun! Now we're all into Neck Brace Kilos. She did hits on Action News and on Fox 29, standing next to the bus shelter and recounting what happened. Even Stephen Colbert made fun of her! This is great. I'm so psyched for the Super Bowl already that I could run through a bus shelter myself.
Marcial talked to the Philadelphia Inquirer's Jesse Bunch about what happened. As it turns out, the story is pretty simple: They were standing on top of the bus stop, and then it collapsed. "I went down feet first because I was standing, but a lot of people got worse injuries than me because they were sitting," Marcial told the newspaper. "This one guy I was with, he had all this blood coming from the back of his head."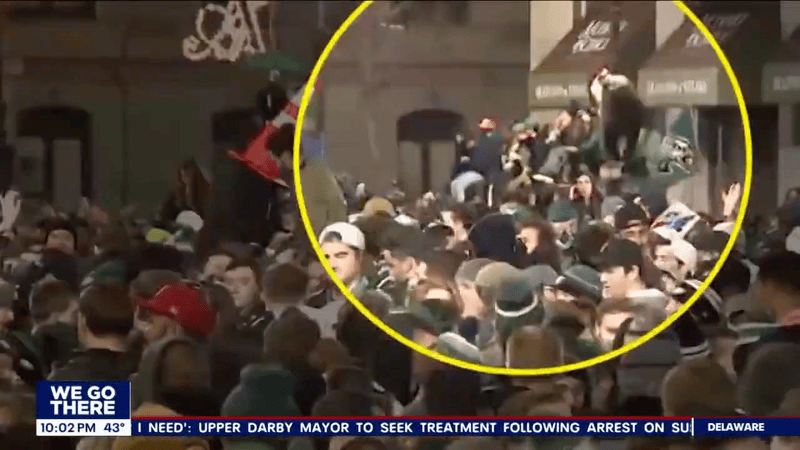 This is not the first time a bus shelter has collapsed after a Philadelphia sports victory. More to the point, this is not the first time this specific bus shelter on Broad Street in front of McCormick and Schmick's has collapsed. It fell the same exact way—and for the same reason, which is that too many fans got on top of it. "The structural load of people standing on the shelter roof is not commonly factored into shelter designs here in Philadelphia," Mike Carroll, Philadelphia's deputy managing director for transportation, told the Inquirer. "Or, as far I can determine, in any other city." I can't speak to the need in other cities, but the need in Philadelphia is clear. Maybe they should be factoring this in for shelters in areas where people tend to climb on the bus shelter? I am not a transit expert, but just wanted to throw that out there.
Action News says the shelter could cost "tens of thousands of dollars" to repair, which seems like a lot for a structure with such a weak roof. Naturally, this turned the joy back to anger in the angry Roxborough Facebook group. "She's celebrating the fact that because this happened to her she's 'trending' on social media," one poster wrote. "When, In all reality, she should be 'paying' the 10's of thousands to repair the public property that she & her cohorts caused!" The next post I saw in the group was, I swear, one asking people if they'd ever used the Duck Duck Go. No, but I'd be interested in an Eagles-themed search engine.
Stay in touch
Sign up for our free newsletter