NBA
LeBron Compliments Nikola Jokic's Big Basketball Brain And Contemplates Retirement
3:32 PM EDT on May 23, 2023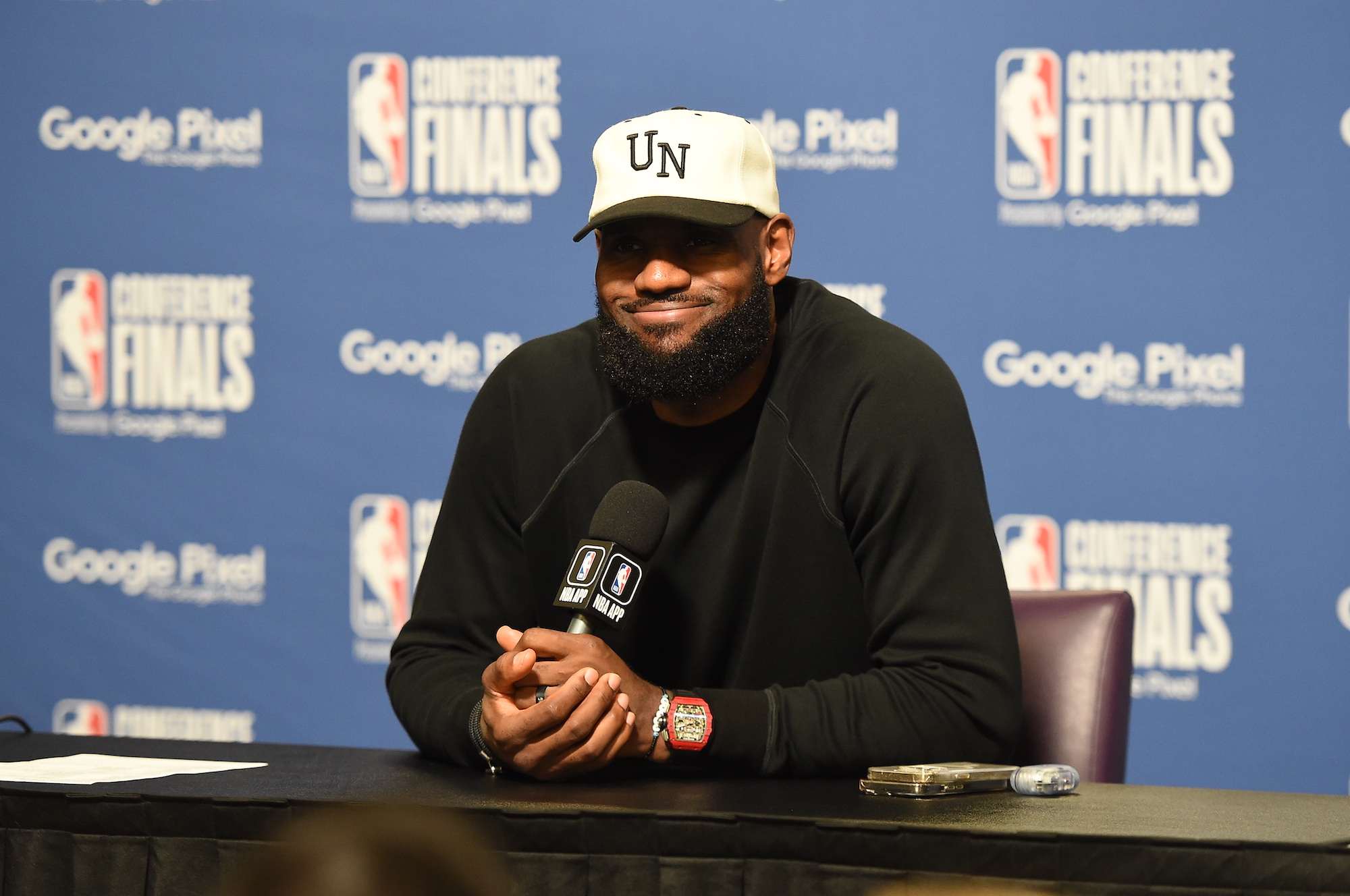 It's easy to get desensitized to permanent excellence, so let's lay it out for posterity: After his 20th season, in his 282nd playoff game, a 38-year-old LeBron James put up 31 points in the first half of Game 4 of the Western Conference Finals on Monday.
This was the highest-scoring playoff half of James's career, and aside from the three-pointer he unintentionally passed into the hoop, it was the usual repertoire of late-career Bron. He got to the rim via mid-tempo drives or inexorable backdowns. He drew his fouls and hit his lightly-lilting-to-the-left threes. James shot 11-of-13 from the field, and the Lakers led by 15 at halftime, a lead they were unable to protect, losing 113-111 to the sustained excellence of Nikola Jokic and the Nuggets to end their postseason run.
Year-20 LeBron is limited not so much by his skillset, but by health and four-quarter endurance. His peak is still astonishing, but he can't execute the full-out carry jobs of his youth, at least not with a Lakers roster so light on shooting that it saps the threat of his drive-and-kick playmaking. He would finish with 40 points, 10 rebounds, and nine assists, his last shot a double-teamed miss at the rim in the final seconds of regulation.
After the buzzer, James went through some perfunctory handshakes and walked off the court. I was disappointed that he didn't hold his jersey over his mouth and convey secret wisdoms to Jokic, in his usual elder-statesman style, but he was probably still fuming from his miss and feeling the sting of a rare sweep. James has been swept just twice before, both in the NBA Finals with an undermanned Cavaliers squad: as a 22-year-old crashing into the dynastic Spurs in 2007, and as a 33-year-old crashing into the dynastic Warriors in 2018. The Nuggets, about to make the franchise's first Finals appearance, join this rarefied group.
Though James didn't say much on court, he was effusive about his opponent in postgame press. He said he'd consulted with his co-star Anthony Davis in the locker room and concluded that the Nuggets were the best team they'd played in their time on the Lakers.
"They're well put-together. They have scoring, they have shooting, they have playmaking, they have smarts, they have length, they have depth," he said. "When you have a guy like Joker, who is as big as he is, but as cerebral as he is, you can't really make many mistakes versus a guy like that. Even when you guard him for one of the best possessions that you think you guarded him, he puts the ball behind his head, Larry Bird style, and shoots it 15 feet in the air and it goes in. Think he did it like four or five times this series." Then James literally tipped his cap. (He was definitely thinking about this one and this one.)
Comparing brains is probably the highest compliment that a basketball mind like LeBron can pay a colleague. "Certain guys in this league that play the game a certain way—a certain way that I like to play the game as well—and [Jokic is] one of them," James said. "He sees plays before they happen. It's not many guys in our league like that. Everybody gets cracked up into his stats, but I don't think a lot of people talk about this part of his game [tapping temple], or maybe it's not talked about because a lot of people don't understand. But I do. And he's special." The idea that nobody talks about Nikola Jokic's basketball smarts is the latest in a rich history of LeBron James lies, but point taken anyway.
Another great Jamesian tradition is filling up an empty NBA news cycle—currently it's been sparse with two conference-final blowouts—and after the game, he told ESPN that he's considering retirement. This is hard to take at face value, given how many times he's said that his only remaining NBA aspiration is to compete alongside his son Bronny, who will play at USC in the fall and enter the 2024 draft class. The senior James also said he is considering offseason surgery on the foot tendon he tore in February, an injury he played through after reassurance from "the LeBron James of feet." Playing in an NBA-record 282 playoff games adds a lot of extra mileage.
Maybe LeBron will take a year off to let his body recover. Maybe he's just publicly pressuring the Lakers to shore up the roster this summer. In any scenario, I don't think he'll turn down the spectacle of getting subbed out for his son in his final NBA game. They'll call it The Substitution. It'll be a feature-length Nike commercial.
Stay in touch
Sign up for our free newsletter