NBA
LeBron James Of Feet Not Quite Enough To Push LeBron James Of Basketball To Return Win
4:02 PM EDT on March 27, 2023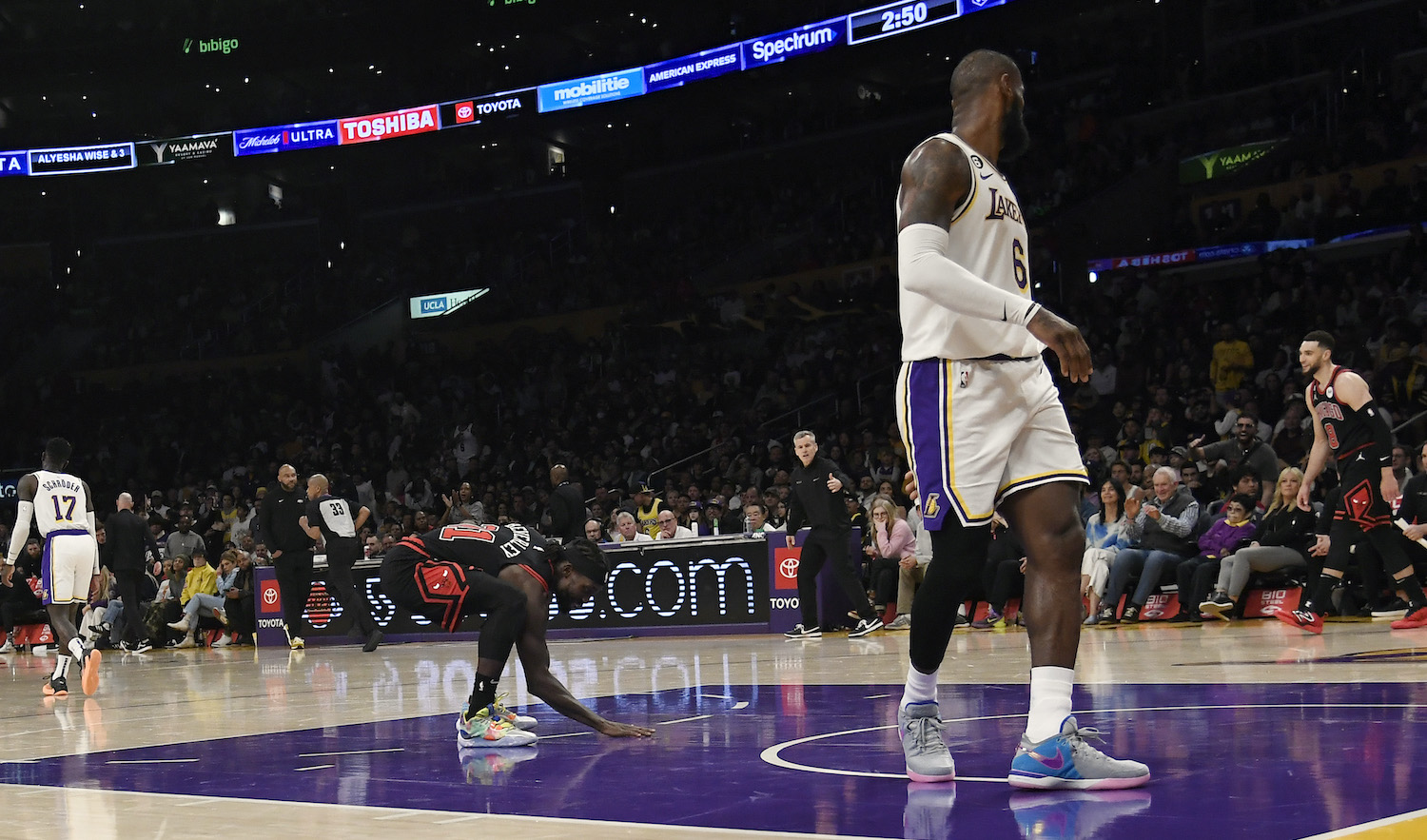 As a rule, it is almost never a good sign for either of the NBA teams involved in a game when Patrick Beverley steals the show. Beverley, former Los Angeles Laker and current Chicago Bull, did just that when his new team beat his old team on the road on Sunday. This matchup between disappointments was supposed to be all about LeBron James's return to the lineup, and yet the Lakers lost a game whose indisputable comic highlight was Beverley hitting James with a "too small" after nailing a hook shot in the lane in the game's final minute. The Lakers blew their latest chance to peek their heads above .500 for the first time this season, and they had to sit there and watch a guy they just exiled clown on them in the process.
Exactly four weeks before Sunday's game, James hurt his foot in a win against the Mavericks, ominously declaring that he "heard a pop" after hitting the deck. James was quickly diagnosed with a tendon injury, and as his sorry-ass Lakers team was then sitting in 12th place and about to be without the best player of the millennium for a month, they seemed well and truly cooked. Instead, they went 8-5 without James (against a schedule that only featured one game against a tanking team, which they somehow lost), thanks partially to Austin Reaves's hero act and thanks largely to an, uh, oddly familiar free throw discrepancy. No matter how much help the Lakers got along the way, their March was an impressive, resilient month from a group that was just cobbled together at the trade deadline. Meanwhile, Utah and Portland pulled the plug, Dallas melted down, and L.A.'s path to the playoffs cleared up.
Winning without LeBron may have kept the Lakers afloat, though any playoff ambitions hinge on his health, which turned out to be in a significantly more precarious state than initially believed. Foot injuries tend to require more caution than most, and James revealed this past weekend that two doctors he consulted recommended season-ending surgery to repair the flapping tendon. However, the "LeBron James of feet" said he could return to the court with an intensive rehab and training regimen, so James took the risk and went for it. He wouldn't even say what country this supposed LeBron James of feet was based in, or what distinguished that doctor as such Did this clinician also announce which hospital he was joining in a televised interview? Is he also from Ohio? Is he also unnecessarily and hilariously perfidious?
Either way, LeBron is back, and the Lakers are in the fight. During James's absence, The Great Western Conference Whirlpool Of Mediocrity expanded and ensnared several more teams that thought they'd reached safety. With the Clippers, Suns, and Warriors all scuffling, the fourth-seeded Suns and 12th-seeded Jazz are separated by all of four games, and the Lakers find themselves in the middle of the play-in race. They're tied for ninth and tenth with the Thunder, just behind the surging Wolves and Pelicans. And now a Lakers team full of guys who barely got to play with James before his injury have seven games (five on the road, though one is against the Clippers) to turn into a winning basketball team. Their first attempt at this was a failure.
The Lakers coughed it up 18 times on Sunday, and the Bulls capitalized and scored 34 points going the other way. In a 10-point win in which DeMar DeRozan only had 17, that was the difference. James had five of those turnovers on his own, including a bad pass on his first touch of the game, and while a few Lakers players bowled over their defenders or got happy feet, half of their turnovers were bad passes either out of bounds or to Bulls defenders. Watching the lowlight reel, it's clear that this team is talented, not especially deep, and not remotely on the same page. Guys would pass it behind a cutter, or toss a lob when the roll man expected a shot. These are the sorts of turnovers committed in these sorts of numbers by bad teams in the regular season or good teams in preseason, and it's not a positive sign when you're forking it over so vigorously that you put a guy you exiled to Orlando a month ago in a position to hit the leading scorer in NBA history with the "too small."
I still don't think it will matter within the confines of the last 10 percent of the regular season. While the Lakers are only two games out of a top-six seed, there are so many other teams swirling around them in the standings that a play-in berth seems almost certain; having the tiebreakers on New Orleans and Oklahoma City is huge, and winning their two games against the currently 12th-seeded Jazz to bury them and secure a backstop is critical. The LeBron James of basketball, thanks to the LeBron James of feet, is healthy enough to play, which means that the Lakers will have the best player in any potential play-in matchup. From there, their path to losing 4-1 in the first round is set.
Stay in touch
Sign up for our free newsletter