MLB
José Leclerc Stepped Away From The Void
9:27 AM EDT on October 23, 2023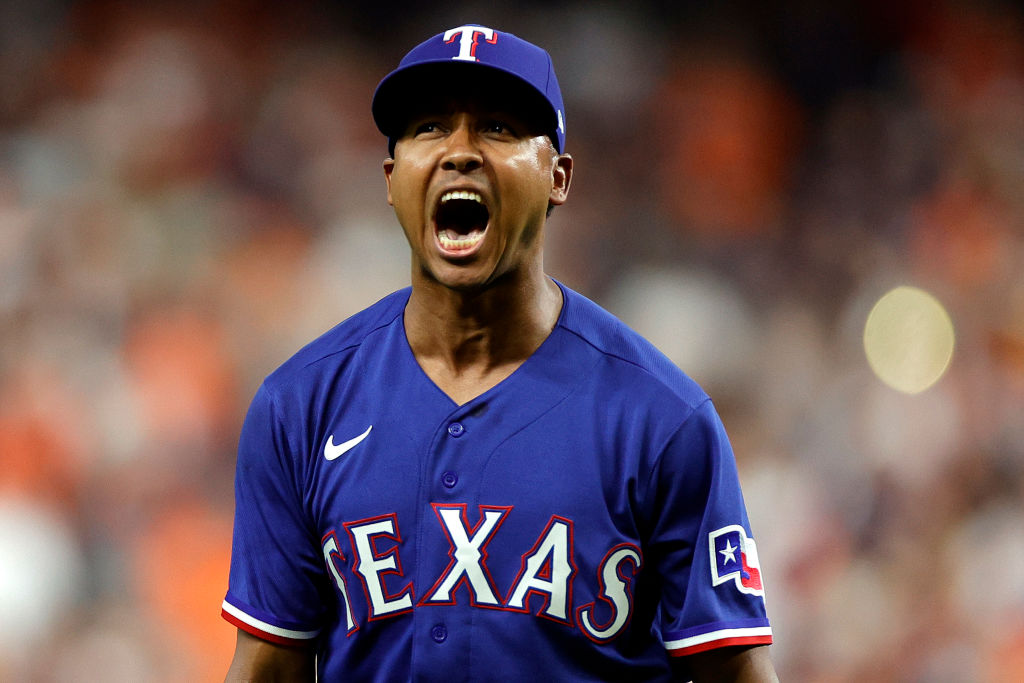 Perhaps postseason baseball is God's retribution visited upon relief pitchers. He sees them lounging out there in the bullpen during the regular season, soaking up the sun and playing games like "Whose Glove Smells Worse?" while waiting to make brief appearances in games nobody much cares about, and he points his finger and says, "Laugh it up. Your time will come." That time inevitably arrives when relievers whose teams make the playoffs suddenly have to stop playing "Whose Glove Smells Worse?" and are instead forced into a much crueler game, which unfolds in the cold winds of October and in front of millions of eyeballs. It's called "Who Shall Be Ruined?"
Brad Lidge was once a nice man with a nice family, and then Albert Pujols turned him into an anguished ghost. Aroldis Chapman was once destined to be remembered as the most fearsome left-handed reliever the game had ever seen, and then Jose Altuve plastered that look on Chapman's face, and he forever became known as the guy who made the face. Such is life for relief pitchers in the postseason: Make a few bad enough pitches in a high-leverage situation, and that's it. You're the guy who blew it.
On Friday night, in Game 5 of the ALCS, Rangers closer-by-necessity José Leclerc, became a guy who blew it. Leclerc is nobody's idea of a lockdown ninth-inning man—he earned and lost the job a couple times during the regular season—but because he's surrounded in the Rangers bullpen by a bunch of guys whose ERAs start with 4s and 5s, he's been pressed into service for the playoffs. Things were going just fine until Friday, when Altuve hit a three-run homer in the top of the ninth, giving the Astros a 5-4 lead in what would be their third straight win in Arlington. It seems that Chapman, Leclerc's teammate, didn't spend any time this season talking to his fellow relievers about what not to do with their faces should they end up victimized by Altuve, because as soon as the ball cleared the fence, an unforgettable emptiness came over Leclerc's face.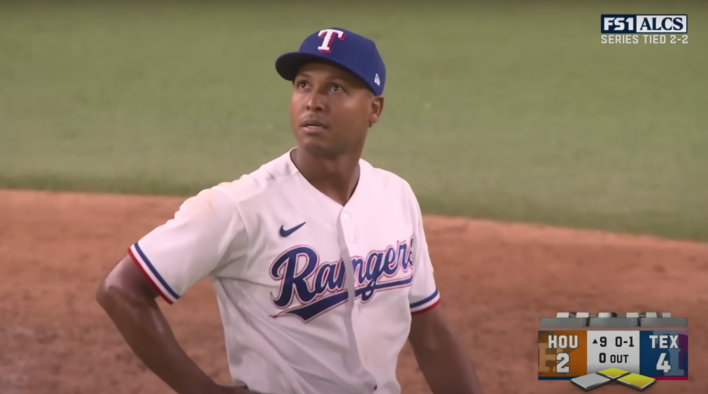 It doesn't seem fair for a guy who was making that face on Friday night to be called on to work a five-out save in Game 6, but Rangers manager Bruce Bochy called his closer into the game to do just that in the eighth inning. The Astros had two men on with one out, and trailed the Rangers 4-2. Leclerc walked the first batter he faced, elicited a line out to short from Mauricio Dubón, and then just had to get past John Singleton.
Perhaps God saves his toughest battles for his strongest 29-year-old relievers with no previous postseason experience who end up closing games just because nobody he shares a bullpen with can throw a strike. Or at least that's what one might start to believe after watching Leclerc grind his way through Singleton's at-bat. Leclerc, who was throwing harder than usual, needed eight pitches to retire Singleton. His last three came with the count full, and when Singleton fouled off the first two of those, it started to feel like Leclerc was running out of time. But just as the arrival of a fourth ball or a hanger that would get turned into a bases-clearing double started to feel inevitable, Leclerc uncorked a weird, loopy, 92 mph cutter that skipped its way over the top of the zone and evaded Singleton's cut. That empty, hollow look we saw from him on Friday night was replaced by a triumphant roar and a few emphatic thumps of the heart.
Leclerc pulled his story away from a much darker turn with that 3-2 cutter, and in the bottom half of the inning he was rewarded for it. The Rangers put five runs on the board in the top of the ninth, thanks largely to an Adolis Garcia grand slam, and thus Leclerc was spared having to return to the mound in the bottom half. A blessing in the moment, but also maybe something of a curse: Leclerc should be available to pitch in Game 7 Monday night. There's no rest for competent bullpen arms this time of year; triumph and humiliation are always calling, as loudly as they can.
Stay in touch
Sign up for our free newsletter