Soccer
James Rodríguez Is Perfect For Everton, Because He's Bigger Than Everton
3:01 PM EDT on September 14, 2020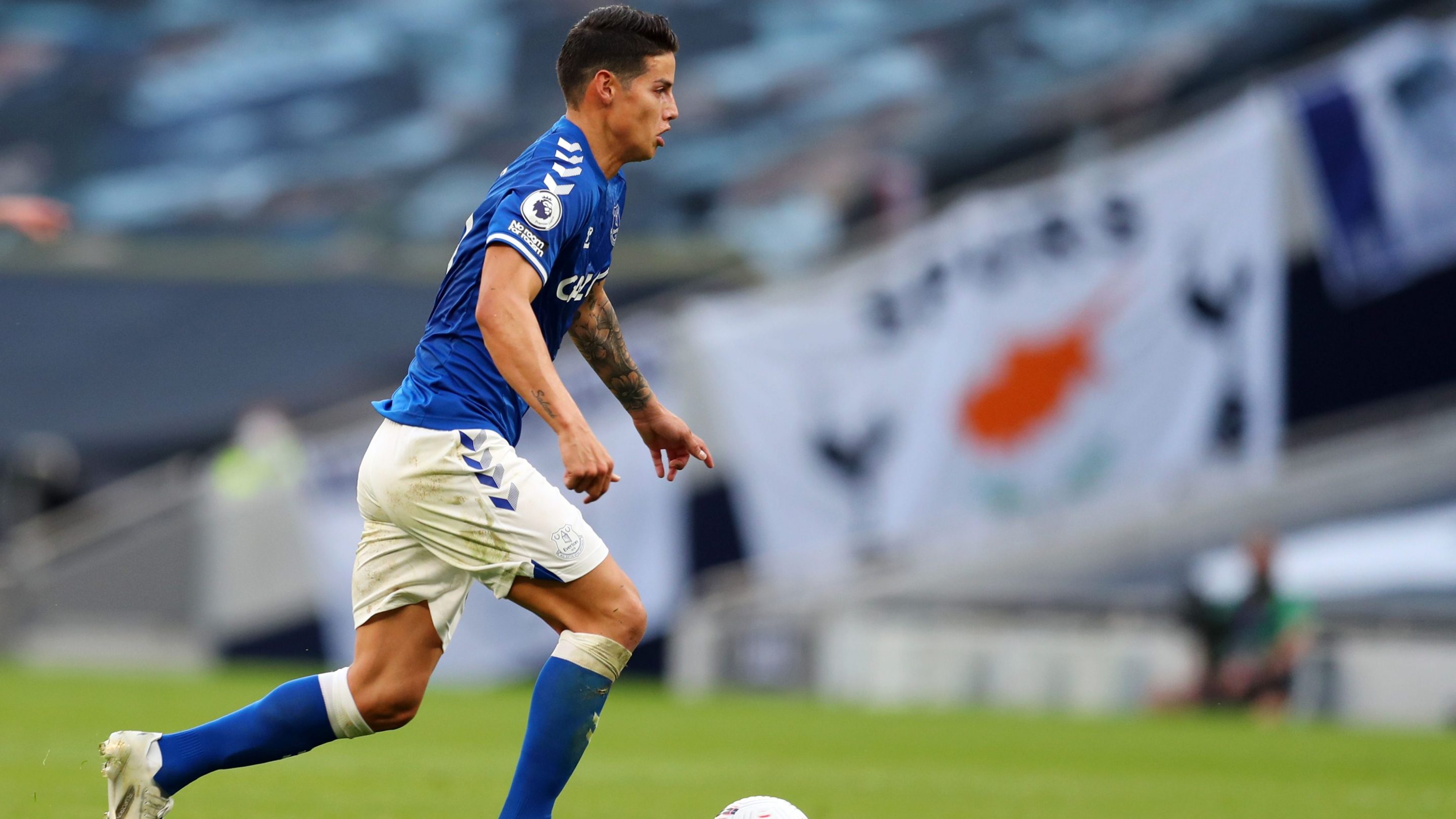 On Sunday, Everton kicked off its Premier League season with higher preseason expectations than they've had this decade. This is because the Toffees brought three presumed starters into their midfield—easily the weakest part of the team sheet last season—and then promptly deployed all three on day one against Tottenham. While Abdoulaye Doucouré and, especially, Allan both performed admirably in the 1-0 win, the true star on Sunday was, perhaps unsurprisingly, James Rodríguez, who moved from Real Madrid a few weeks ago on what was essentially a free transfer.
In one match, James showed exactly why he was the steal of the Premier League transfer window. His 11 completed passes in the attacking third (on 14 attempts) were a game-high, and lead to five chances created, the highest single-game number by an Everton player in 20 matches, according to Sky Sports statistician Matt Cheetham.
If stats aren't your thing, though, just watch this compilation of his touches; even under pressure, James doesn't really panic, spraying long-range, pinpoint passes, usually from his starting spot on the right wing to the opposite flank:
In his Premier League debut, James was the best player on the field. Despite previously playing in the more technical La Liga and the Wild West of No Defenses that is the Bundesliga, the Colombian was able to withstand some strong man-to-man pressure to keep his composure. Early on, Tottenham guided missile Ben Davies took James down from behind, expecting to stop Everton's number 19 and perhaps welcome him to the more physical English top flight. The only problem is that James got right back up, ball still safely in his possession, and dribbled past Davies, who must have realized right then and there that he was in for a long day.
It's still surreal that a player of James's caliber ended up at Everton, who, despite their history as one of the more successful clubs in the English pyramid, haven't had a player of his pedigree in many, many years. After the 2014 World Cup, there was no hotter prospect in world soccer than James. The-then 22-year-old midfielder won the Golden Boot with six goals, despite only playing five games; he also earned some buzz for the Golden Ball, which was eventually given to Lionel Messi. As is tradition, James made the big-budget move to Real Madrid a few weeks after the tournament. So how did he go from there to moving to a mid-table Premier League side like Everton for essentially free in just six years?
Well, injuries played a big role. Following his move to the Spanish capital, James never played more than 29 games in any league season, which he did in his very first season with Madrid. That was also his last season as anything resembling an elite player; 13 La Liga goals, with 4 assists, and nine appearances in the Champions League. Since then, injuries have held him to about 50 percent participation, including in his two loan years at Bayern Munich. That's about the only way that a former €75 million players finds himself moving to a club of Everton's stature.
But is that such a bad thing? For someone who had the world at his feet, only for those feet and legs and knees to fail him repeatedly, there's no better place to rehab than on a club thirsty for his moments of creative brilliance. It could be that James will fall apart again, particularly as more fouls like Davies' come in. If he's able to stay on the field, though, Everton have found a veritable spark, bolstered by exactly the two midfield purchases he needs behind him; both Allan and Doucouré are hard-working, box-to-box style midfielders, with the former focusing more on the reactive side while the latter is able to shuttle ball forward.
The attackers ahead of James are also perfectly suited to provide him with targets for his deadly long passes. Dominic Calvert-Lewin plays far forward in the middle of the park, occupying opposing center backs to give James a space to cut in and play as something closer to a traditional 10, while Richarlison is a monster on the left wing, constantly making runs into the box to give his fellow South American a target for those same long passes.
Add in center backs that are at least comfortable passing the fall forward, and you have a perfect situation for a playmaking right-wing like James. Sure, the quality of players is uniformly lower than he's played with at, say, Real Madrid, when Karim Benzema and Cristiano Ronaldo played those forward roles, but the value of a player like James is that he can elevate more average players into role-playing contributors.
It was just one game, and against a Tottenham team that decided it didn't actually want to return to action with anything resembling top-six quality. But Everton with James on the controls didn't just beat the North London side; they bullied Tottenham, and likely could have won by an even more lopsided score with some more precise finishing. Part of that is that the starting line-up worked together in sync, but another, equally significant factor was that the Toffees now have a player to fear when he's on the ball.
A surface glance at his career could result in disappointment that this is now seemingly James's level, but it's actually his biggest strength: for the first time since he was fully healthy and terrorizing defenses in Brazil six years ago, he has a team built to function around him, and to make the most of his still-elite on-ball skills. After his years in injury-ridden hell, it must feel like heaven to be able to run a game to this extent.
Stay in touch
Sign up for our free newsletter