WNBA
It's Betnijah Laney's Turn To Be The Playoff Hero
5:41 PM EDT on October 4, 2023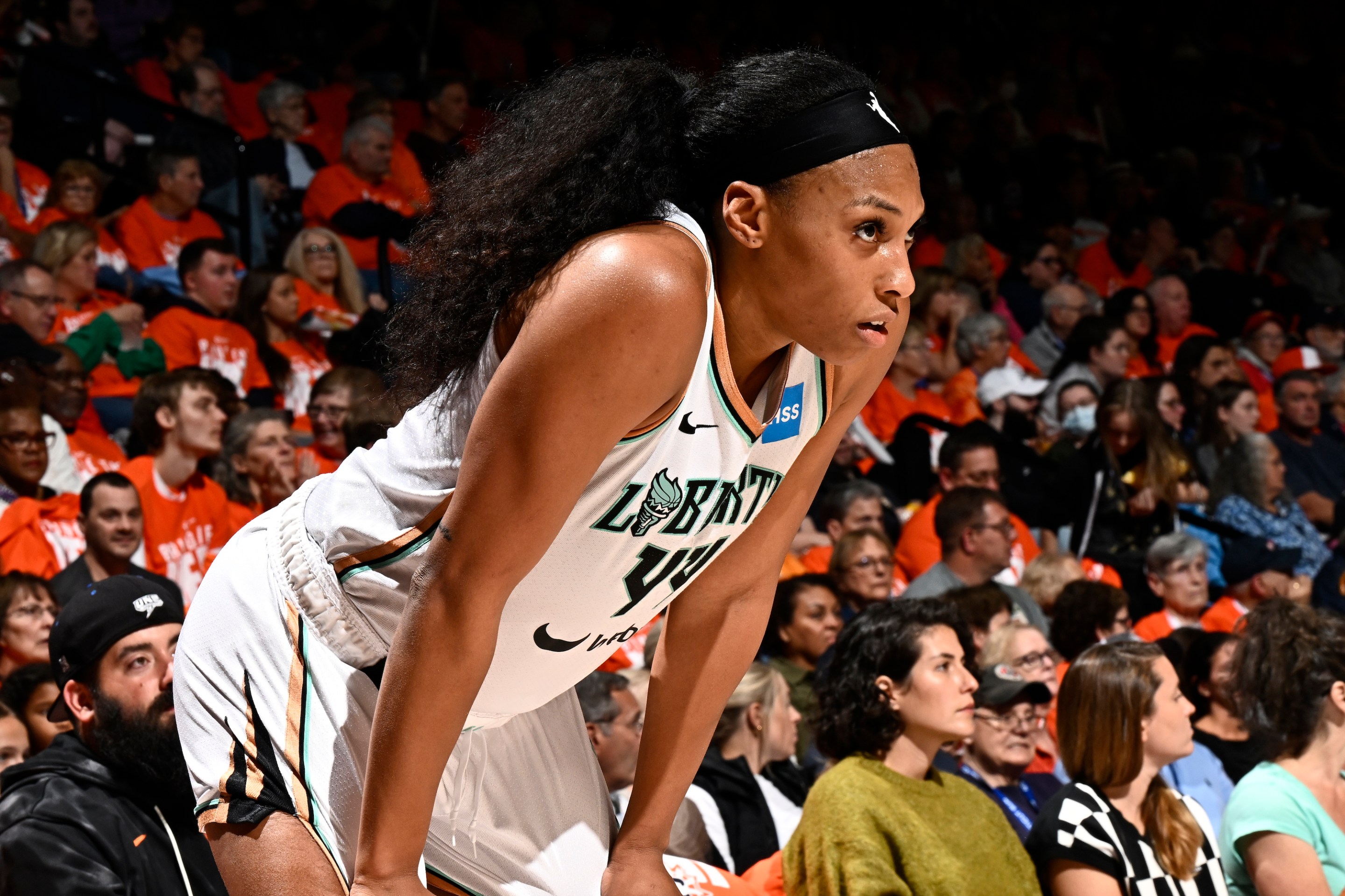 When Betnijah Laney signed a two-year contract extension with the Liberty last month, general manager Jonathan Kolb said there was "no doubt" in his mind that Laney "could see herself in the Liberty Ring of Honor someday as one of the franchise's all-time greats." It was very possibly a throwaway line in a statement, but it's been on my mind this week, as the Liberty prepare to play the Aces in the WNBA Finals, where the season's exposition will finally give way to some plot.
The names in the Liberty Ring of Honor all have roots in the earliest days of the team—microwave scorer Crystal Robinson, always coming to the rescue; sweet Sue Wicks; the intense Teresa Weatherspoon; Vickie Johnson, or just VJ, who never blinked at tough assignments. Everyone who watched those teams remembers them being straight-up likable. No, they never won a championship in New York, but it almost heightened their appeal, the gritty and ever-hustling foil to the star-studded dynasty of Houston. If you believe a team retains some essential quality through the years, that there exists something called Liberty Basketball even when there is a new Liberty owner and a new Liberty arena and a new Liberty mascot, then what Kolb said rings true. The heir to the women in the Ring of Honor is Laney.
By the time Laney arrived in New York, as a 2021 free-agent signing, she had enjoyed one of the stranger WNBA careers you'll see. The Sky drafted her out of Rutgers in the second round in 2015, but she played sparingly in Chicago, and usually only as a defensive stopper. It was defense—the size and quickness to guard up and down the lineup, in particular—that earned Laney her next contracts as she tried coming back from an ACL tear she'd suffered in her second season with the Sky. She played for the Connecticut Sun in 2018 and then signed with the Fever in 2019. But a month before the 2020 bubble season began, the Fever called to tell her she'd been waived.
Laney was 26 years old. Through four seasons, she'd never averaged more than six points a game. And then she was averaging 17 points a game. The Atlanta Dream signed her to replace the guards opting out of the COVID season, and her coach gave her a green light she'd never been given before. By the end of the bubble season, Laney had Most Improved Player and All-Defensive awards to her name, which she parlayed into a big contract with a Liberty team looking to create its next foundation. Those '90s Liberty OGs may have begun their WNBA careers with the Liberty, but many of them were already well-traveled, veterans of the overseas grind who were finally getting a chance to shine as professionals stateside. When they played as if making up for lost time, it was because they were.
The playoff sample size we have for Laney, who turns 30 later this month, is painfully small for a player so suited to the postseason. Unlike Jonquel Jones or Breanna Stewart or Courtney Vandersloot, she'll be starting in the WNBA Finals for the first time. What we have seen through two series this year has been terrific. In the first round against the Mystics, she countered Washington's stingy perimeter defense with her own strength through contact. When the Liberty, down 1-0 in their series against the Sun, badly needed a win, she made five threes and chipped in nine fourth-quarter points. She closed out the series in Connecticut with three straight 20-point performances, all while taking the toughest defensive draws. If anyone can grind the Aces offense to a halt, look for it to be Laney, who will likely be given the task of dealing with Chelsea Gray when Game 1 tips off this Sunday. Playoff Chelsea Gray is the last person in the entire world I would ever want to guard, but Laney will no doubt do it with a smile. "B's built like this," said Liberty head coach Sandy Brondello after the Sun series. "B is the ultimate professional."
Stay in touch
Sign up for our free newsletter