NWSL
Gotham's Batshit Championship Win Caps NWSL's Season Of Renewal
11:32 AM EST on November 13, 2023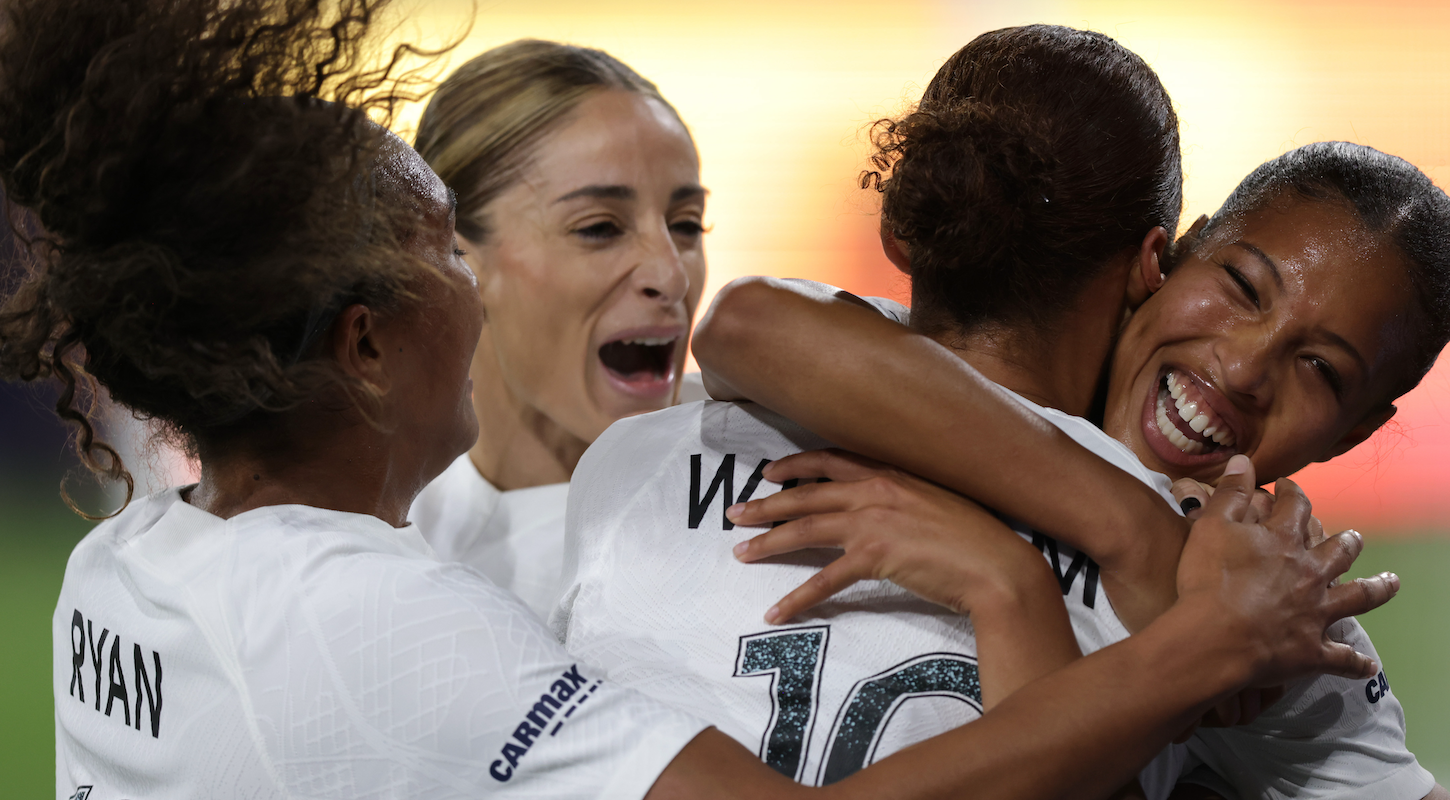 In the second week of the 2023 NWSL season, Gotham FC hosted Seattle's OL Reign. The visitors won, but in hindsight one moment stands out, for both its footballing implications and its undeniable strangeness. In the 13th minute of the match, Gotham's Lynn Williams had the ball deep in the Reign's defensive third and, as she so often does, made so complete a fool of her defender that she found herself dribbling toward the box with acres of free space on all sides. Then her right cleat flew off her foot. What could have been a hilarious blooper became a blink-and-you'll-miss-it moment: Williams proceeded her run as normal, used that now-shoeless right foot to make a dime of a pass to an incoming Kristie Mewis, kept running toward the net, and only turned around to retrieve her fallen boot once the ball went out of bounds.
How damn impressive is it that Williams not only didn't immediately take herself out of the play—can you imagine how painful it would be to be stepped on by a cleat with only a sock (not) protecting your toes?—but delivered a truly insightful ball. It's a fair microcosm of Williams's whole career, which has been defined by perseverance through countless undeserved challenges. Even just the story of how she ended up at Gotham fits the theme: She had just gone through a year-long injury recovery when her club, the Kansas City Current, blindsided her with a trade during the NWSL draft in January. She had to scramble to move and get acquainted with her new team, but as soon as the season started it was clear that she was just as great a player as ever. 
But I'll admit, it's the physical comedy of Williams's Cinderella moment that brought it to my mind after Saturday's NWSL Championship match between the same clubs. After a pair of semifinals last weekend that were so tense my roommate texted me, "You sound like ur in labor" as I watched, Saturday's match was pure chaos. 
Coming into the final, the Reign and Gotham each had a beloved retiring star—Megan Rapinoe for the Reign and Ali Kreiger for Gotham—who would motivate their teams to unite in a shared mission for championship glory. But just six minutes into the match, Rapinoe suffered a non-contact leg injury and had to be subbed off. She later said she'd immediately known she'd ruptured her Achilles. Both team's buoyant spirits, as well as the narrative of a pre-retirement showdown, collapsed. Here was Megan Rapinoe, soccer star and freedom fighter extraordinaire, felled in her last shining moment, abruptly bringing her brilliant career to a gutting, devastating end. 
As Rapinoe laid on that torn-up field, I couldn't help but think of the cruel metaphor of the moment. The USWNT, stumbling since the 2021 Olympics, crumbled in this summer's World Cup. That crushing failure is what has brought about the team's long overdue transitional phase, which Rapinoe's retirement is a sad but necessary part of. Her inelegant exit on Saturday, though awful, is also an apt visual representation of the team's brokenness under coach Vlatko Andonovski and general manager Kate Markgraf. Only an agonizing and definitive end could force it to move on from the old guard. On Saturday, young and dynamic Bethany Balcer replaced Rapinoe, just as phenoms like Jaedyn Shaw, Mia Fishel, and Alyssa Thompson deserve to be doing at the national team level. After the match, Rapinoe darkly joked, "guess I just rode it til the wheels really came off." Unfortunately for USWNT fans, that's what the team did as well. Good thing it has the best mechanic in the world coming to the rescue. 
Back to the match. For the next 15 minutes, neither team seemed willing to even take the chance of causing another injury. They played slowly and methodically and without aggression, as if it were a passing warm-up and not the championship. It dawned on me during this time that there were not two but three opponents in the match: Gotham, Reign, and the stadium field surface. The home field of both the San Diego Wave NWSL team and the San Diego State University football team, it had borne both the paint markings and poor grass conditions of a recent football game during last week's semifinal match between the Wave and the Reign. According to Eboni Christmas, who attended the NWSL match on Saturday, the grass had simply been cut shorter ahead of the championship, to get rid of the yard lines and university logo, and there were many "brown, uneven spots all over the field." 
I'm no expert in maintaining grass pitches, but my years following the NWSL leave me unsurprised by this lazy, dangerous move. As well-organized as much of this NWSL championship weekend was—a skills challenge, an attendance record, a fan fest, oh my!—the league seems incapable of getting out of its own damn way on some issues that shouldn't be issues at all. And they paid for it: the most famous player on the field, forced out of the last game of her career after six minutes, for the entire national CBS viewing audience to witness.
In the 21st minute, Williams skied a shot, which is not a great footballing move, but most of the funk and shock that had been hanging over both teams seemed to leave the field with that ball. Things started to heat up. A few minutes later, Gotham's Midge Purce had one of those unbelievable individual runs that make a goal feel inevitable. She found Williams with her cross, and as inevitable things go, Williams cleanly slid the ball into the back of the net. 
Game on! The story of the night may have been Gotham's in the end, but Rose Lavelle was determined to give them a hard time on the way. A healthy Lavelle is one of the scariest forces in soccer, and she, newly recovered from a nagging injury, proved this yet again on Saturday. Her vision of the field, piercing passes, and ridiculous footwork were on display; it took her mere minutes to answer Williams's goal with one of her own. Balcer sent a brilliant through-ball past Gotham's offside trap, and Lavelle, quick and cool as ever, sent a low rocket past the reaching goalkeeper Mandy Haught. What's that thing they say about big players in big games?
The chaos continued through the rest of the first half, including a baffling sequence in the 38th minute, when a Gotham throw-in that traveled as far as a corner kick resulted in shots off the woodwork from both Purce and Delanie Sheehan. I'm telling you, this game was weird!
Just a few minutes later, in first-half stoppage time, came what would be the game-winner for Gotham. A perfectly placed corner from none other than President Midge landed on the head of Spanish international Esther González, who sharply directed the ball into the back of the net with a jump that seemed to defy the laws of physics.  
Esther was one of many of ingenious recruiting efforts by Gotham general manager Yael Averbuch West and coach Juan Carlos Amorós this year. She joined the squad after her victorious World Cup, and seemed to slot right into Gotham's system and culture, despite not speaking English well. Indeed, according to Williams on her podcast Snacks, the team has tried to learn Spanish so they can communicate with her rather than expect her to learn English right away. And while we're talking about recruits and team culture, there's never a bad time to celebrate that both Sinead Farrelly and Mana Shim joined Gotham this year, after years-long breaks from professional soccer. In 2021, the two spoke out about abuse they experienced while playing for Portland, a vulnerable and necessary move which ultimately launched many much-needed reforms within the league. To see these two, who have sacrificed so much for the league, come out of retirement and win the whole goddamn thing? You can't not love it. 
Oh, it's only halftime? Yeah, that's how I felt too. I'll keep things moving: The second half was a defensive masterclass from Gotham, anchored by the imminently retiring Ali Kreiger, which managed to successfully ward off the Reign's waves of threats. The soccer was physical, but less like a fever-dream than the first half, as both sides seemed to have settled themselves mentally during the break.
But these teams couldn't leave us without one last burst of plain absurdity. In stoppage time, the Reign launched one of their most dangerous attacks of the match, forcing Haught, standing on the edge of her box, to make a choice: let Elyse Bennett past her with the ball and an empty net, or handle the ball outside of the box. She chose the second option, and a VAR check confirmed that since she handled the ball and was the last defender, it was a denial of an obvious goal-scoring opportunity (a categorization shortened to DOGSO, a chaotic name I love) and therefore a red card. An ejection in the last moments of a championship match! What drama! 
But there's never enough drama in the NWSL. Of course Gotham had used up all of its substitutions, of course backup goalkeeper Michelle Betos couldn't come on, of course it was midfielder Nealy Martin who donned the goalie shirt and gloves (though not in that order, which was confusing). Lavelle and Sofia Huerta, two of the best set-piece specialists in the league, stood over the free kick on the edge of the box, and, in the 12th minute of stoppage time, Martin coordinated all nine of her teammates into a wall, which successfully deflected Lavelle's shot. Play continued for a frantic minute, until the referee blessedly blew the whistle, cementing Gotham's victory.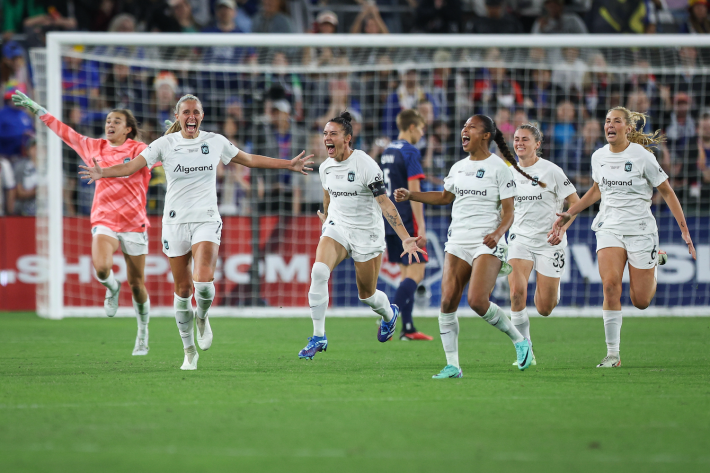 Cue euphoria, tears, despair, hugs, confetti, all the familiar post-sports championship game images. But—and I may be biased—this one felt especially pregnant with meaning. Of course, the momentousness of both Kreiger and Rapinoe's final game stands out; all of women's soccer is better for the efforts of those two icons. Beyond them, Farrelly and Shim, Williams and Purce and Mewis—all of these players are emblems of persistence and grit.
Indeed, the story of this Gotham club is one of redemption. They finished dead last in the league last year, which was not all that surprising in light of the club's history of deeply underserving its players. But Averbuch West, and the rest of the club were determined to build a dominant squad, as summarized in this now iconic Twitter thread from the end of last year's season. "We appreciate the patience of our fans, players, and staff as we build," she wrote. "We have a long list of ways we need to better support you all for success, and the list will certainly grow before it gets shorter. … We urge you all to see this time as the beginning of a journey!" One year later, they're champions, united around a shared vision, a shared trust, and a shared commitment to each other.
Another striking image: the procession of Gotham players getting their medals and piling onto the podium. I couldn't help but think about what happened the last time Esther was on a podium like this, and the sea changes in soccer since then, due to the courage of Jenni Hermoso and her teammates as well as the rallying of the global women's soccer community. In women's soccer, victories are never just victories. They're reminders of all that is yet to be done—in Esther's federation, at FIFA, in the NWSL, and beyond.
One challenge the NWSL has had to contend with, this year more than ever before, is the question: What do we offer the world? The World Cup this summer was distinctly un-American: The USWNT fell short, just three NWSL players made it to the tournament's semifinals, and the league wasn't represented at all in the final game between Spain and England (though Esther later joined Gotham). The NWSL was once the preeminent women's soccer league, but it has now arguably been eclipsed in both quality and relevance by the Women's Super League in England and the UEFA Women's Champions League. With the games since the World Cup—not least this championship match—as well as the unprecedented parity among NWSL teams, the league has asserted itself as entertaining, fiercely competitive, and full of undeniable talent.
Stay in touch
Sign up for our free newsletter