Soccer
Gabriel Martinelli Is Built For The Big Ones
10:12 AM EDT on October 10, 2023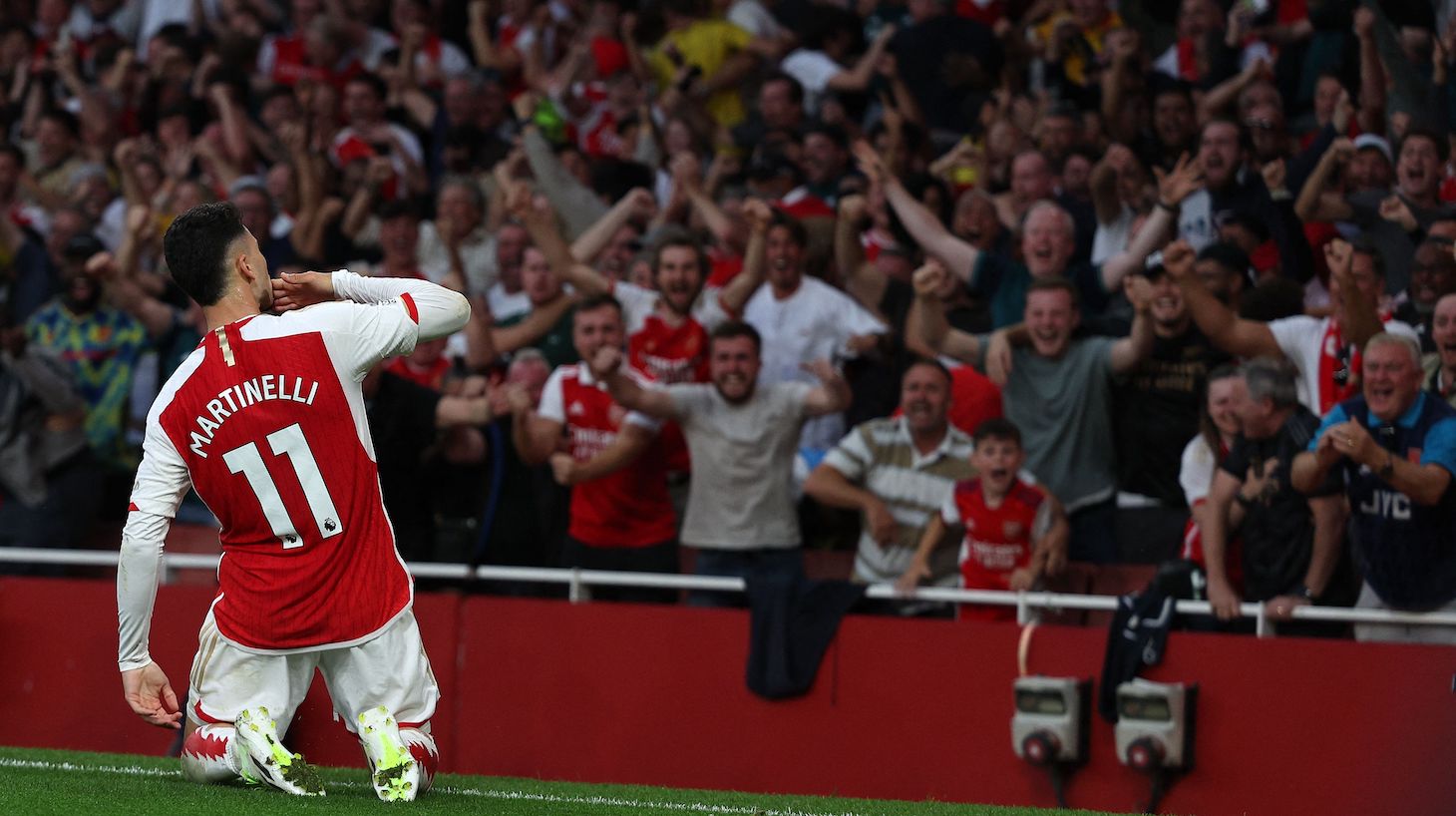 When seeing forward Gabriel Martinelli subbing into the game at halftime of Sunday's much-hyped but, up to then, largely uneventful battle of Premier League title favorites Arsenal and Manchester City, I couldn't have been the only one who thought things finally, blessedly, might soon change. I don't claim any clairvoyance here, and in that moment I hardly foresaw the eventual outcome—a slight but potentially massive 1-0 victory for Arsenal, delivered by none other than Martinelli himself. But it is true that the match was calling for a shakeup, a touch of rebellion, a player who could escape the tactical strictures the two teams' celebrated managers had locked the match into and, as only a player can, invent the thing that would make the difference. In other words, the match was begging for a player just like Martinelli.
To be the sort of player who enters a tightly sealed match and pries it apart enough to slip in a goal or two, it takes a certain set of skills, of course, but also a certain attitude. You must be physically and technically capable of the kinds of feats that create or score goals, but you also have to possess the confidence and determination to be the one who will actually go try to do it.
It took Martinelli no time at all on Sunday to demonstrate once again that he is indeed that sort of player. You could see it in his very first intervention. One minute after play had resumed coming off of halftime, Arsenal found itself charging down the right flank in search of a chance. Gabriel Jesus, playing on the right wing in place of the injured Bukayo Saka, who wasn't fit enough to make the match squad, carried the ball down the touchline, sizing up Man City's defense. Jesus skipped a pass centrally for Eddie Nketiah, whose ballooned first touch prevented him from taking any advantage of his positioning, so he pushed the ball backwards to Jorginho. With City's defense clogging the pathways on the right, Jorginho dutifully swung the ball to his left, where Oleksandr Zinchenko controlled the ball with his first touch and sent it along to Martinelli on the left touchline with his second.
This was to be Martinelli's first touch in his first match since a hamstring injury in September that kept him out for about a month—and in the biggest match yet of Arsenal's expectation-freighted season at that. You could imagine a certain kind of player wanting to take a quick settling touch there, and maybe offloading the ball soon after with a crisp but safe pass, as a way of easing his way back into things in such a big match after so much time away. But Martinelli is not the kind of player who thinks about safety, ease, and fitting in. Instead, the Brazilian welcomed Zinchenko's pass onto his stronger right foot and immediately pulled off a little ball-roll with the same foot while flicking his left foot up and over the ball.
Having successfully orchestrated this flashy but wholly unnecessary technique (it's a shame I can't find video of the moment, but know that Martinelli was under no defensive pressure at the time, with City defender Kyle Walker closing him down but not really looking to challenge for the ball, and the trick did nothing to open up any previously obstructed space out in the relatively harmless area of the field where he stood), Martinelli cut in toward the center of the pitch, retreated and reversed course once it became clear Walker had any inside channel covered, jittered and feinted his feet around to make Walker cover Zinchenko's overlapping run, decided against making that pass, cut back inside to try to take his new marker (Julián Álvarez) on, cut back outside when that wasn't on, and eventually hit a tame ball out to Zinchenko, who was standing right about where Martinelli had received the ball that started all of this. Zinchenko turned inside, Martinelli made a circular run back outside, and Zinchenko returned the pass to his Brazilian teammate. Martinelli cut back toward the inside of the pitch, this time in a more committed way, took a couple touches that gave him a step on Álvarez, and from a couple yards out from the left corner of the penalty box, hit a big cross toward Jesus, who was bombing in from the right wing. The ball was hit well but not perfectly, so it sailed just over Jesus's head and went out for a goal kick. As it bounced away, Martinelli turned toward the stands and threw his arms up a couple times, which had the intended effect of getting the crowd revving.
This might seem to be a relatively random and irrelevant sequence to have gone on about, but I do think it is indicative of who Martinelli is and why he is the kind of player who could score the decisive goal in a title fight like Sunday's. Earlier, I described Martinelli's first little flick-control as "unnecessary," which is only partially right. Strictly speaking, there was no particular need for Martinelli to control such a straightforward pass with such an extravagant touch. It wouldn't have qualified as as completed or even attempted dribble in the stats, and it did not present him with any immediate advantage in the play at hand. Ditto for his dallying on the ball after getting it, especially since lightning-speed ball circulation is one of this Arsenal's chief tactical principles. But there is more to soccer than just utilitarian movements, quantifiable statistics, and tactical obedience.
Especially in today's era, where tactical analysis of teams and the managers who implement them is ascendent, you often hear about on-field superiorities—most often, numerical superiority (one team having more players in a given area of the pitch, which, when enjoyed by either an attacking or defending team, allows them to better mobilize or stymie an ongoing attack) and positional superiority (a player being in better position to either create or cut out danger, depending on whether they are an attacker or defender). These types of tactical situations are of course important and can be useful when trying to learn or explain why a team is or is not good, but when focusing too much on the utilitarian, the quantifiable, the diagrammable, or the tangible can lead one to miss a large and, I'd argue, equally important part of the game.
Martinelli's flick did little to nothing to create a direct numerical or positional superiority for himself or his team. And yet I'd wager that that little flash of technical brilliance gave Martinelli himself a little jolt of what we might call emotional superiority. A player like that, who runs on confidence and risk-taking and difficult, inventive plays, needs to feel himself capable of little moments of genius and creativity in order to produce match-winning plays—the kinds of plays no manager can draw up, which are often the difference between victories and defeats in the most difficult matches, and which, beyond that, give soccer its beauty and soul.
After so much time away from the pitch, and as still a young player fighting to make his name in the team and on the greater sporting scene, I bet Martinelli was eager to once again show off the talent that made him such a big part of Arsenal's unexpectedly strong run last season, which would explain his little bit of "unnecessary" brio. The same goes for his determination to do something with the ball once he got it, eschewing managerial dictums about keeping the ball zipping around with each player only taking a touch or two before passing it off, and instead grabbing hold of the thing, twisting about in search of a lane or an opportunity in which he might do something different, and eventually trying to unlock the match by hitting an aspirational through ball clear across the penalty box. To me, Martinelli wanting so badly to not only win the game, but to be the one who did what it took to win it, and communicating all of this the very first time the ball rolled onto his boot in a month, goes a long way toward explaining why he was in fact the player who did what it took to win the game.
In concrete terms, Arsenal's victory was narrow and the win itself big but not determinatively so. The one-goal margin and the accompanying three points put the Gunners two points above the now-third-place Citizens, just below table-topping Tottenham. But from a less direct perspective, the win could prove huge.
The question for Arsenal coming into this season was how it would cope with this new status as one of the favorites for the title that it surprisingly, bravely, but ultimately futilely challenged for last year. No one would've been shocked if the young Gunners wilted under that pressure, revealing last season to be something closer to a fluke than the inauguration of a new era. But by finally defeating Man City, the great ogre of England, Arsenal has made the case to the league and maybe especially the team itself that its trophy-lifting aspirations are real and attainable.
So yeah, in terms of positional and numerical superiority, second place vs. third place and 20 points vs. 18 might not seem like much. But in just one win in one match, and which arguably started with just one little touch, the emotional superiority Arsenal must feel right now could very well be what helps carry them to the promised land.
Stay in touch
Sign up for our free newsletter