Soccer
Bukayo Saka Is Arsenal's Beating Heart
3:10 PM EDT on March 20, 2023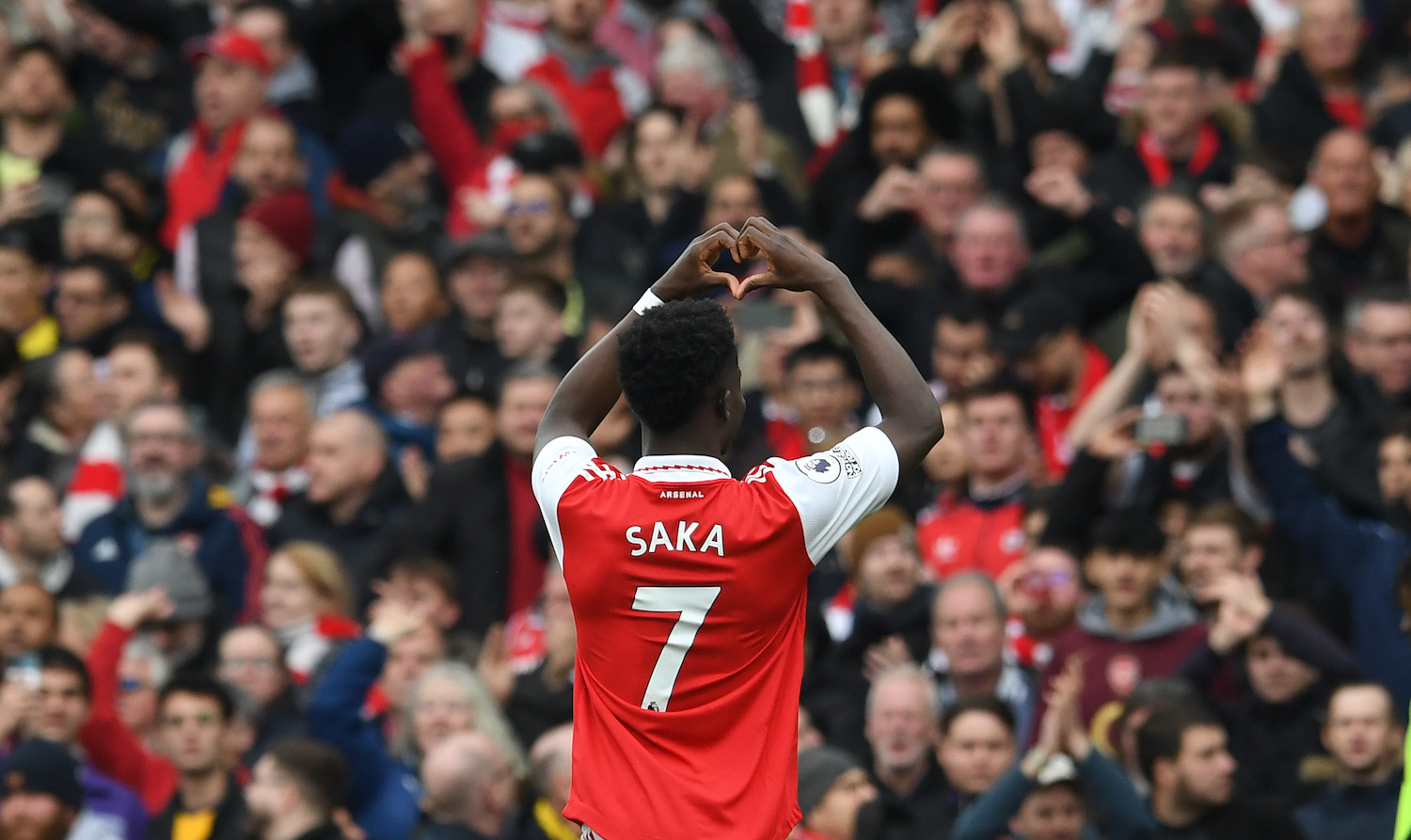 Twenty-seven minutes into their 4-1 win against Crystal Palace on Sunday, Arsenal scored what I believe to be their most prototypical goal of the season. This one had it all. Martin Ødegaard and Thomas Partey forced a turnover with some intense on-ball pressure, winning the ball back on the right, where Ben White and Bukayo Saka have made magic together all season. Saka got free into a tiny bit of space, shifting the defense a bit towards him in anticipation of a cutback or a drive to the line. Instead, as Crystal Palace's collective attention drifted right, he popped a ball back through the defense to an open Gabriel Martinelli on the far side, who turned the one guy near him with ease and smacked it into the net.
It took half the team to score this goal, but Arsenal don't score if Saka doesn't hit that audacious pass across the box. The assist was Saka's 10th of the season, and after he scored off a cheeky combination with White from the wing in the 41st minute (brains) then nailed a first-timer from the center of the box in the 73rd (brawn), he became the first Premier League player this season to notch double-digit goals and assists, striding into the international break with 12 and 10, respectively. Erling Haaland should win the EPL's Player of the Season award for scoring what will probably be 40-plus goals, though in a narrative sense, Saka has undoubtedly been the league's most important player. Arsenal have an eight-point lead over Haaland and the rest of a Terminator-ass Manchester City squad with 10 games to go. The delightfully pronounced contrast between the two teams is typified by each squad's talisman attacker: Haaland stands in his spot, does one thing better than anyone else in the world, and he joined the team (for a hefty prize) after establishing himself elsewhere; Saka is at the helm of a free-flowing offense, and he's been at Arsenal since he was seven years old.
As for that style, even some more anarchic playing systems can suppress the individual brilliance of their stars. But rather than stifle Saka's genius, Mikel Arteta's system is perfectly suited to let him show off why he's among the very best young players in the world. Arteta took over during Saka's breakout campaign in 2019-20, during a season when Unai Emery was experimenting with playing Saka as a left back/left midfielder. Saka's shift to the orbital center of Arsenal's offense has been coeval with the implementation of Artetaball. With the striker spot in flux all season, Saka has been Arsenal's rock, and they run most of their attacks through his side.
Saka first distinguished himself as a dribbler, and that's still how he most commonly puts pressure on opposing defenders. It gets him kicked all to hell and beat up constantly, because his control with the ball at his feet is a terrifying thing to contend with. Saka's burst isn't as searing as an archetypal wing-dribbler, though few players are as smart or as inventive as he is. The threat of Saka busting through onto the goal is why the Crystal Palace defense so dramatically shifted over towards him, leaving themselves open for Martinelli to score, and while maybe Antony could have gotten past an extra guy, I don't know who else would be able to see and the hit that pass. When Arsenal are trying to pry open a stubborn low-block defense, as they were against Everton earlier this month, it's Saka's ability to create and then leverage an advantage out of nowhere that's reliably gotten Arsenal through.
That Saka has ascended to this level after suffering racist abuse from England fans after infamously missing a penalty in the Euro 2021 final is all the more impressive. It's hard to believe he just turned 21 this season, since he was already Arsenal's best player two seasons ago and since he exudes a sage-like focus. Saka has to shoulder so much creative responsibility through sustained physical and mental challenges, and he's never backed off for one second. When Gabriel Jesus got hurt at the World Cup, Saka stepped up. When the team started wobbling in February, Saka elevated his game and has led them to six straight league wins. When he was asked about the pressure on his team heading into the stretch run, Saka was defiant. "We don't fear anyone," he said after the game, and when he was asked about the possibility of earning some individual hardware, he was dismissive. "I know you know what I'm focused on," he smirked. He has 10 games left to secure Arsenal's first league title in 20 years.
Stay in touch
Sign up for our free newsletter