Soccer
Everton Is Beyond Broken
1:40 PM EST on January 17, 2023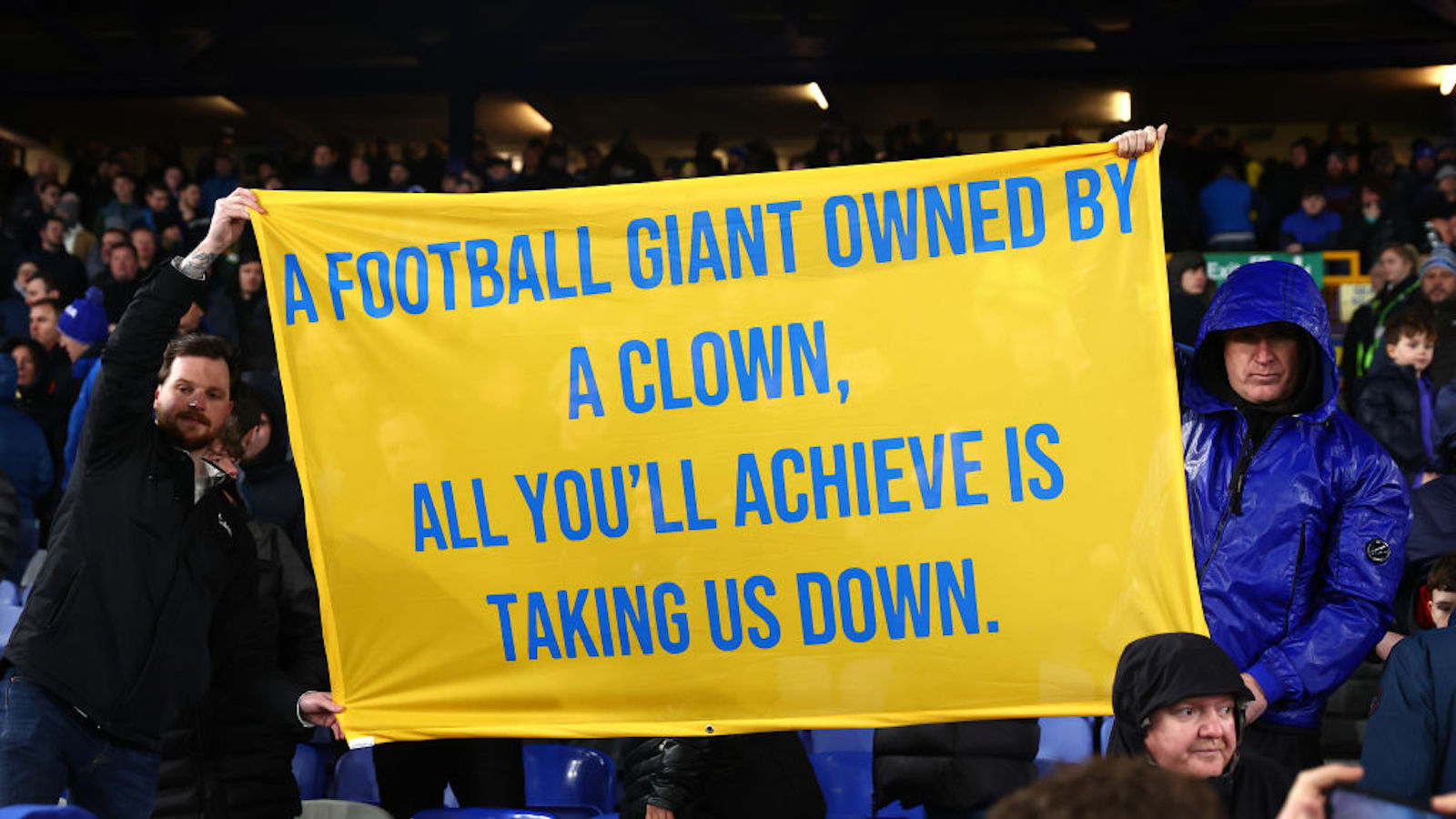 Exactly a year ago, Everton reached a state that the club's fans would have described as rock bottom. That was when Rafa Benítez, then the sixth permanent manager the team had cycled through in six years, was given his walking papers after just a few months in charge. Everton was in 15th place in the Premier League at the time, had just fired its Director of Football, and had previously sold two of its most creative attackers while bringing in little to no reinforcement. That was a bad place for a club as storied and rich as Everton to find itself in, but surely things couldn't get worse. Except they did: After Frank Lampard took over as manager in January, Everton plunged into a relegation fight that it only barely escaped thanks to a thrilling comeback win against Crystal Palace. OK, but that was as bad as things were going to get, right? Right????
Wrong! Everton is a year clear of Benítez's stewardship, and this is where the team finds itself: at the very bottom of the Premier League table, with just 15 points and 15 goals scored in 19 games. Everton has won just one of its last 13 games across all competitions, and since November it has lost three home games to teams that came into the match occupying the very bottom of the table. The latest of these losses came on Saturday against Southampton, in which the Blues squandered a 1-0 first-half lead in typically inept fashion:
Just as bad as the loss was what came before and after. A few hours before the game kicked off, the club released a statement indicating that Everton's board of directors would not be attending the match due to "tangible threats received by the Club and intelligence we have gathered." A few minutes after that, the Liverpool Echo published a story citing sources who told the paper that one of Everton's board members, Denise Barrett-Baxendale, was "put in a headlock" by a fan as she was leaving the directors' box following a 4-1 home loss to Brighton on Jan. 3. (Merseyside police have since released a statement saying that no threats or other incidents were reported to them by the club prior to the Southampton game, and when asked to provide more details about the headlock incident the club released a short statement saying it would "not be making any comment related to specific historic events.")
After the game was over, a few thousand fans stayed inside Goodison Park to carry out a planned sit-in protest, which involved angry Scousers unveiling a variety of surprisingly lyrical banners demanding that the club's entire board of managers step down.
The fans' anger eventually spilled out into the streets outside the stadium, where a handful of Everton players were harassed while trying to drive home from the game. One player, center back Yerry Mina, who did not play in the Southampton game, got out of his car and spoke to the fans for a little while. He did not look like he was having a good time:
But wait, there's more! On the same day as the Southampton game, The Guardian published a story about Everton's odd relationship with Uzbek billionaire Alisher Usmanov, who was recently sanctioned by the U.K. government for his close ties with Russian president Vladimir Putin. It's always been known that Usmanov has a close relationship with Everton majority shareholder Farhad Moshiri, and following the sanctions the club was forced to cancel a lucrative sponsorship deal with Usmanov's company, USM Holdings. But The Guardian story claims that Usmanov was more than just a wealthy sponsor of the club: According to paper's sources, he was present and involved in several interviews that the team held for its vacant manager position last year, even telling one candidate that he was the actual owner of the club. The Usmanov story is just another reason to be concerned about the state of Everton's finances—the club has been hemorrhaging money ever since Mohsiri took over in 2016, is currently having its spending monitored by the Premier League, and has plowed hundreds of millions of pounds into construction costs for a new stadium that is scheduled to open the season after next.
All of this is enough to make any Everton fan's head spin. This was never a club that anyone expected to be one of the unassailable giants of the Premier League, but neither was it expected to fall apart like this. What Everton lacked in megariches and Top Four finishes it was supposed to always make up for in quiet competence. This is a team that's meant to be defined by its ability to maximize resources, maintain a strong organizational identity, and foster a deep connection with its fanbase. That's why last season's brush with relegation felt like such an emergency, and why the relief expressed after the team's escape was so overwhelming. This isn't supposed to happen to us.
But maybe it is. Zoom out a bit, take away the colors and the name and the history, and just look at what's there. What do you see? You see a team that's spent the last six years cycling through managers with no sense of what sort of recruiting or playing philosophy it wants to foster. You see such reckless spending that it's unclear if the club is capable of bringing in reinforcements during this pivotal transfer window, or even solvent enough to afford to fire its current manager. You see the fans losing their minds while engaged in a public PR war with the club's hierarchy. Caught in the middle of that is a beleaguered and overmatched manager running out of ideas for what to do with an increasingly demoralized set of players. You see a road to relegation, built not by one or two unlucky breaks, but by years of sustained mismanagement.
You know what all that looks like? It looks like a bad soccer team, no different than any other that has previously seen its light snuffed out by the most competitive league in the world. Observers are free to make as much as they want out of the fact that Everton has been in the top flight since 1951, or that the club was a founding member of the Football League in 1888, but the team's history and legacy have zero bearing on what it currently is right now. It doesn't feel like there's much of a difference between being an Everton fan and, say, a Watford fan right now, and that's because for more than half a decade there hasn't been much difference between how Everton and Watford are managed. 
It's clear now that last season's brush with relegation wasn't the end of something, but rather the beginning. When the home fans rushed the field after that season-saving 3-2 win over Crystal Palace, it was easy to get caught up in the moment and see brighter days ahead. This is Everton, after all! Surely a club with this kind of history and pedigree wouldn't allow itself to end up in this position again. But history and pedigree can't balance the books, or suddenly imbue inept decision-makers with a clear vision for success. The time for mistaking the idea of Everton with what the club actually is has long past, and reality must be confronted. The reality is this: The worst-run club in the Premier League currently sits at the bottom of the table and looks destined for relegation. It happens to be named Everton, but that doesn't really mean anything.
Stay in touch
Sign up for our free newsletter