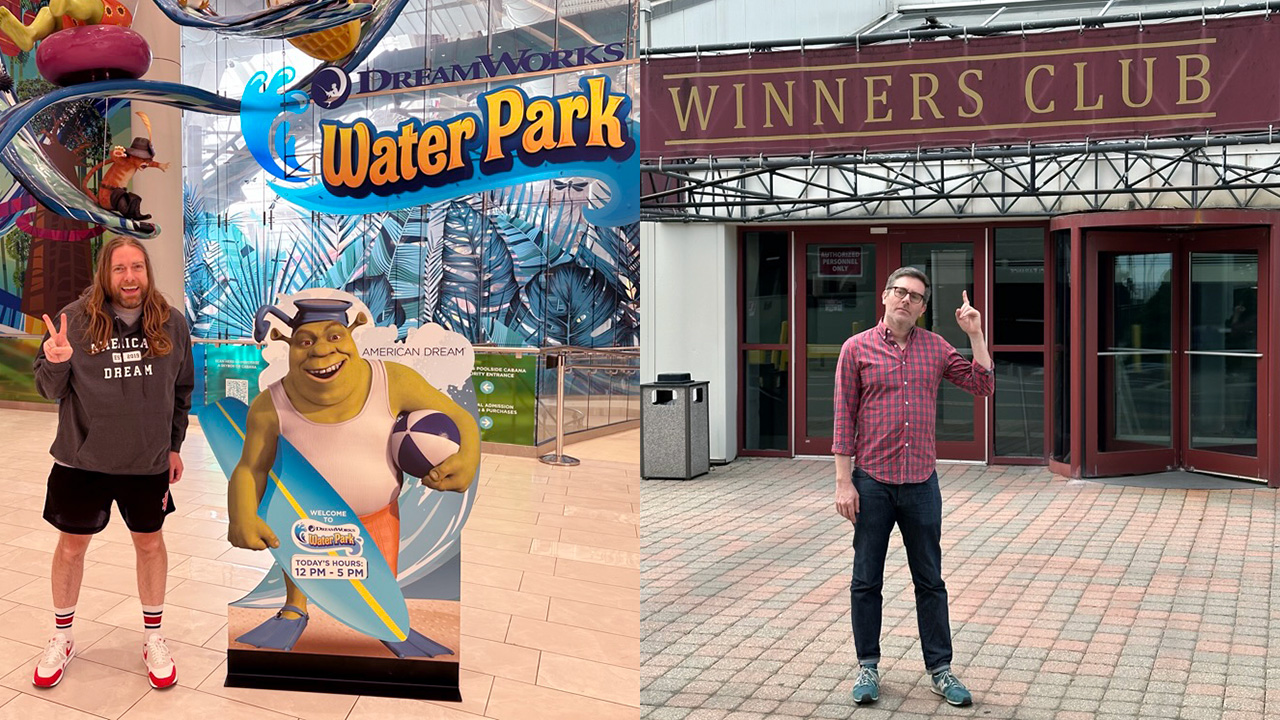 EAST RUTHERFORD, N.J. — The jokes are easy. Signs on the highway read "Exit For American Dream." All the many (many) obvious corny, cute jokes become cornier and uglier if you know basically anything about the mall. Last year this sprawling development in the North Jersey swamps, across a pedestrian walkway from the home of the Giants and Jets, had just $800 in the bank. It has an escalator to nowhere, and it's not a Simpsons reference. After a "decorative helicopter" hurt four when it fell from the ceiling at the mall's waterpark, New Jersey declared it an "unsafe structure" and (briefly) closed it. The town of East Rutherford, where the mall is located, says mall owners Triple Five Group owe it $8 million; a lawsuit alleges the Triple Five has "dubiously asserted" the mall is not actually open. A judge recently ruled the mall must repay $389 million to creditors; given that the American Dream lost $60 million in 2021, it almost certainly does not have that money. In 2017 a study predicted $2 billion in sales its first year; it had $422 million in revenue in 2022. It missed an $8 million loan payment in February. These easy jokes—"American Dream headed for bankruptcy" and all that—are pretty funny, too.
The mall was first proposed in 1996 by the Mills Corporation, a company that went bankrupt in 2007. Xanadu Meadowlands, as the mall was to be called, would feature a tropical rainforest area with live birds and "an interactive attraction featuring simulated nature zones," per The Bergen (NJ) Record. The mall would also have Saks Off 5th (the fancy department store's outlet), Bed Bath & Beyond, and Sports Authority; there would be 2.2 million square feet of office space and a 1,000-room hotel. Environmentalists helped kill the project in the early 2000s.
Still, developers were itching to build a mall, and the state had more paved space amid the marshlands than it strictly needed. New Jersey solicited bids for what was then the parking lot of the Meadowlands Arena—it had also been named after former N.J. Gov. Brendan Byrne, a now-defunct airline, and the polo shirt company best known for licensing the Lacoste alligator logo in the 1980s—which was then in the process of being abandoned by both the New Jersey Nets and the New Jersey Devils. By 2003, a competition for who got to build a mall in that swamp was down to three finalists, and a bid from Mills and Mack-Cali Realty Corporation Meadowlands Xanadu was selected. The Giants supported the bid. In what The Record later called "one of his final notable acts before leaving office," Jim McGreevey attended a signing of a 75-year lease for the site. It was to open by 2007. Before it went out of business, Mills sold the building to Colony Capital.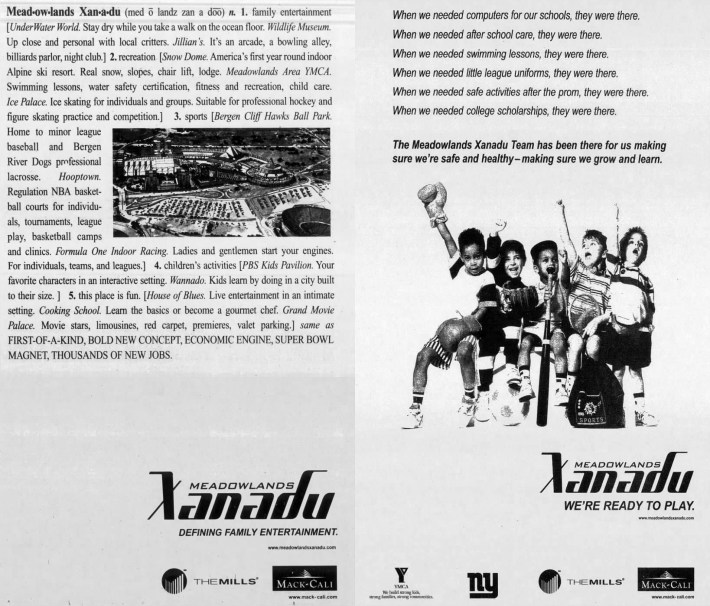 And then it sat there, empty and all but sinking into the swamp, for what seemed to be forever. (David has photos from outside the last Nets home game at the arena, in April 2010, in which the mall's indoor ski slope is visible in the background.) The mall was allegedly nearly 80 percent complete in 2009 when Xanadu Mezz Holdings, "a non-bankrupt affiliate of Lehman Brothers Inc." per court papers, was accused of defaulting on its loan obligations. Triple Five, which had previously opened the megamalls West Edmonton and the Mall of America, bought the site in 2011 after Colony handed it to its lenders and vowed to invest $1 billion. Gov. Chris Christie announced he would give the developers $180 to $200 million in low-cost financing.
So far, this is both familiar as a type of bad public idea and familiar as the New Jersey version of that. So you know where it goes from here. By 2016, New Jersey had reaffirmed $1.15 billion in municipal bonds to support the project. "The project cannot and will not proceed now or likely ever" unless the bonds were issued soon, Tony Armlin, Triple Five's senior vice president of development and construction testified. In 2018, Armlin said the project was "68 percent completed." The building opened in November 2019 and was somehow instantly both a new mall and a dead mall. Much of it was still under construction. Then COVID hit. The mall had already projected an obviously unrealistic number of guests: 40 million, or about double what the Magic Kingdom drew in 2019.
When Dan went there, after the worst of COVID but before the two of us returned on Tuesday, it was still pretty dead. But how were things going in spring 2023? Here is what we saw.
---
McQuade: I must open with an apology. I picked you up from your apartment in Yorkville, went to the next stoplight and began pulling into the intersection while the light was still red. It was, I believe, the first time you have yelled at me—which is pretty good, considering you have to read my raw copy. So again, sorry. I didn't own a car for 15 years and I'm still getting back into it. And yes, this was the Subaru Impreza Sport from Roth & Roth, the short film now streaming on YouTube. It was nice to have you riding in the passenger seat this time, even if my driving was worse.
Roth: I appreciated that you went with Dismemberment Plan as the soundtrack instead of Patrick Redford's financial grindset podcast. And your driving was excellent. Not a lot of people want to journey into New Jersey's boglands. I grew up like 15 miles north of there and even I fear the region's powers. There are …things there. Harness racing. A restaurant that used to advertise itself with the words "Good Food—Nude" on its sign. An enormous mall with a hockey rink, a ski slope, at least two CBD stores, and also a full-on Saks Fifth Avenue in it.
McQuade: I shall use a cringeworthy line: The reports of the demise of the American Dream are greatly exaggerated. I go to a lot of malls. Many are dead. When I went to the Coventry Mall near Pottstown last year—it's now being converted into a strip mall—there were three escape rooms. Now that's a dead mall.
Roth: My standard for Dead Mall is "there are always birds flying around in it." I don't think I'd even considered the possibility of multiple escape rooms.
McQuade: The empty storefronts at the Coventry Mall were all just open for anyone to walk into. American Dream is not like that. For one, its storefronts are covered up with ads, mostly for other (filled) storefronts. It has those attractions you mentioned. It also has a Shrek-themed waterpark, a Nickelodeon-themed amusement park, and a Ferris wheel that lasts an estimated 20–30 minutes per ride. I kind of wanted to go on it, but I figured I was pressing my luck. The mall was not crowded, but patrons were there on early Tuesday afternoon and it was more bustling since my previous visit.
Roth: My friends who live in North Jersey and have kids say that the mall does crazy business on the weekends. The kids apparently really like the water park. But also it is the size of a moderate-to-big airport, with parking to match, so it's hard to imagine how many people would have to be around for it to feel crowded. A sold-out Jets game could empty into the mall and you wouldn't really notice it, beyond the (chillingly familiar) sense of noticing that you're suddenly surrounded by red-faced men in Wayne Chrebet jerseys.
McQuade: Parts of the mall definitely seemed like the long concourses between the airport terminal and baggage claim. I expected to see a moving sidewalk. How did they spend $5 billion on this mall and not put those in!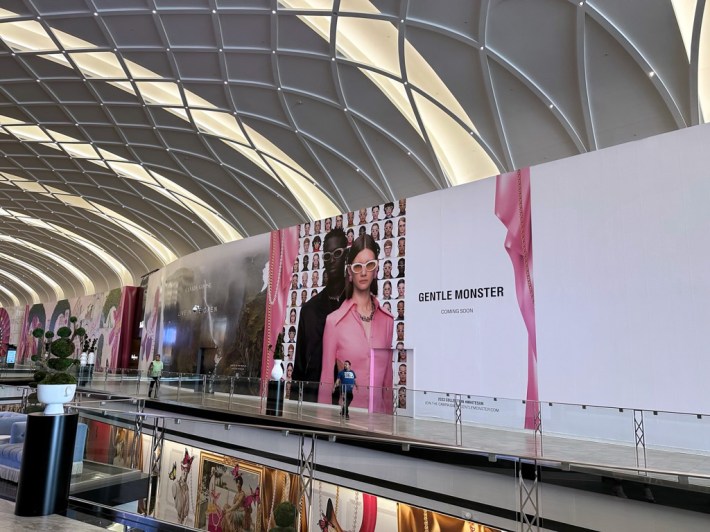 Roth: Or just have some little carts that constantly emit an annoying beeping sound driving people around. The one thing that mitigated against the Fancy Foreign Airport Terminal factor was that it was so recognizably A Mall in terms of its vibe. Or, more accurately, it was like three malls at once, all under the same roof but all of them at something of a remove from each other. You could tell which one you were in by the stores and food options you saw around, but there was something tonal about it, too. Like there is a mall in there that has an Old Navy and a Popeyes, and there is another that has a Burberry and a restaurant called Carpaccio, and they are identifiably different, but also they feel different. The former feels kind of like the North Jersey malls I knew, but newer; the latter feels like the malls I visited in Qatar, but less finished and with smaller crowds and without the canal/gondola feature. That might be coming soon, too, though.
McQuade: The luxury end of the mall was probably the saddest part of it. It seemed the most empty, despite having a few stores.There were bull sculptures, presumably referencing the one on Wall Street, at each end of that hallway. By the way, I was down in the Financial District that morning and saw a huge line to take a photo with the Charging Bull. It was Rocky-statue length. I wondered how people posed with it, and my friend told me people usually grab its balls.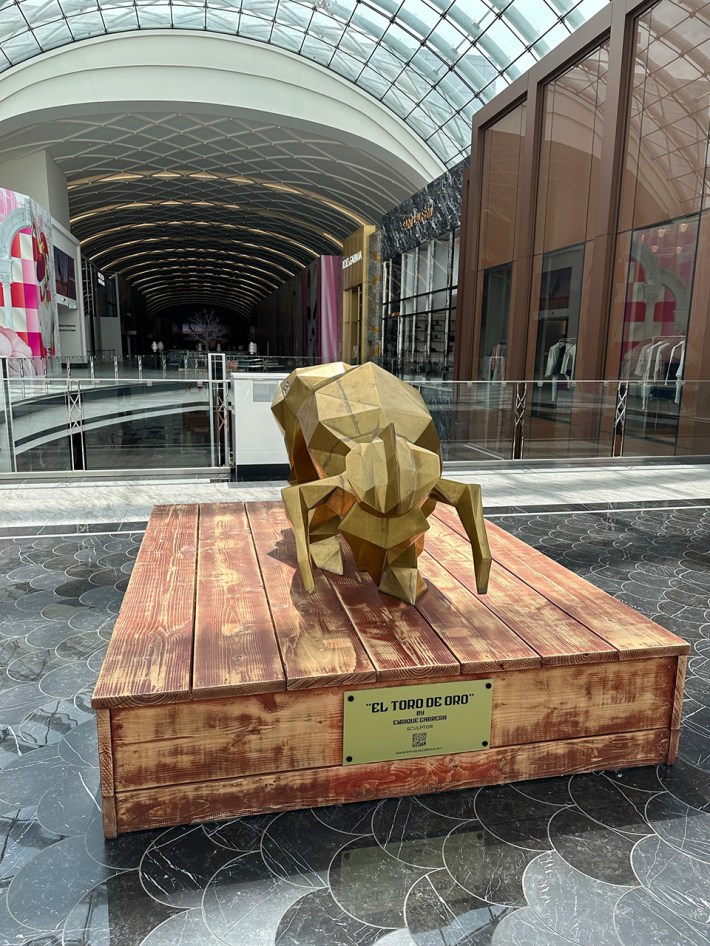 Roth: In North Jersey, where we respect the free market system and take success seriously, people mostly just kind of stood near the statues looking bemused. There were a lot of fountains, enough fountains that I feel compelled to mention it, and people were into that enough to toss pennies in there. I feel like that's one of those things you don't see so much anymore.
McQuade: I liked how the mall had both a food court and a food hall. It's not quite Mall of America–level—that place has a Nordstrom and a Nordstrom Rack outlet—but it was impressive. There may also have been more food courts we couldn't find. 
Roth: There were some standalone restaurants, in some cases with Manhattan-grade prices and huge built-out spaces. Also, presumably in tribute to Bergen County just being like this, there were random Italian bakeries scattered all over the place.
McQuade: One odd thing is that I found the Mall of America pretty easy to navigate when I went; there's a center area with various spokes of stores branching off from it. The American Dream mall was one big line, mostly, but also had long spokes of indeterminate length branching off from it, where you might find a professional hockey game. This makes sense, as the mall's original developer also built Franklin Mills, my childhood mall. That one is designed in the shape of a lightning bolt, possibly because Milton Glaser did a bunch of design for it.
Roth: I haven't spent that much time in proper everything-under-one-roof malls since I was in high school and I found the experience both kind of nostalgic—not for anything I'm especially nostalgic for, really, just like in the sense of recalling previous times in my life that I had gotten off an escalator and seen a Lids—and kind of vexing. I don't mind shopping, and I have always loved like open-ended flipping-through-boxes-of-junk shopping experiences the most, but I do like to know where I am, and have a sense of where I'm going. I never felt lost in there, but I also never really knew where I was.
McQuade: I love malls. To me they're like sonnets: Constricting in form, but also remarkably full of potential freedom inside their walls. (I believe I am stealing this simile from A Wrinkle in Time.) But we only really went into one store, the Saks, because I wanted to see if they had anything good in the clearance section. I will admit I considered a $100 pair of Off-White™ ℅ Virgil Abloh flip flops, but then I remembered I do not like wearing flip flops. But honestly, I did not want to buy anything after I was charged five dollars for parking in a mostly empty parking garage. There is so much room there! It is not a Giants game. It is not even a Jets game. How the hell do they charge for parking? Is this like Twitter, where everyone is nickel and dimed because the owners are in so much debt?
Roth: The parking facility is so big that it's almost poignant. The novel Martin Dressler, by Steven Millhauser, made me sympathetic in a weird way towards psychotically whimsical real estate development gambits in the abstract—they're often very stupid, but there's something dreamlike about them. But that's a book, and a mall is a different kind of text. At American Dream, you can see the distance between the conception of what it would be (a global destination, located near the Meadowlands harness racing track) and what it actually is (a decently busy mall, located near the Meadowlands harness racing track, with more parking there than there is at Newark Airport). 
McQuade: I did end up buying something. The siren song called to me. I purchased an AMERICAN DREAM EST. 2019 hoodie for $15, in a too-big-for-me size XXL. The only other sizes I saw were 3X. Honestly, if they had all been that size I still would've gotten one.
Roth: I respected you going for the souvenir. The thing I brought home with me was the opportunity to visit the former Byrne Arena where it is resting in state in the shadow of the parking complex. It looks more or less the way it did when the Nets played there, which is kind of striking and kind of ugly and sort of half-deserted. I appreciate your willingness to humor me on that, and to take my picture outside The Winners Club. 
McQuade: I asked you to take about 50 photos of me, a task usually reserved for my wife. I also enjoyed seeing the Winners Club logo on the maroon awning, which was in the style I like to call "1980s Atlantic City casino." It brought back memories for me, too.
Roth: I've since been told that musical acts about to embark on big arena tours sometimes rehearse their shows at the arena to get a sense of the sound at scale. I like the idea of that. If any of those musical acts would like a recommendation on where to eat in the mall when they're done with band practice, I hope they'll reach out.

Editor/co-owner/flannel doofus at Defector, co-host of The Distraction.
Read More:
Stay in touch
Sign up for our free newsletter