NBA
Celtics Live To Disappoint Another Day
9:17 AM EDT on May 24, 2023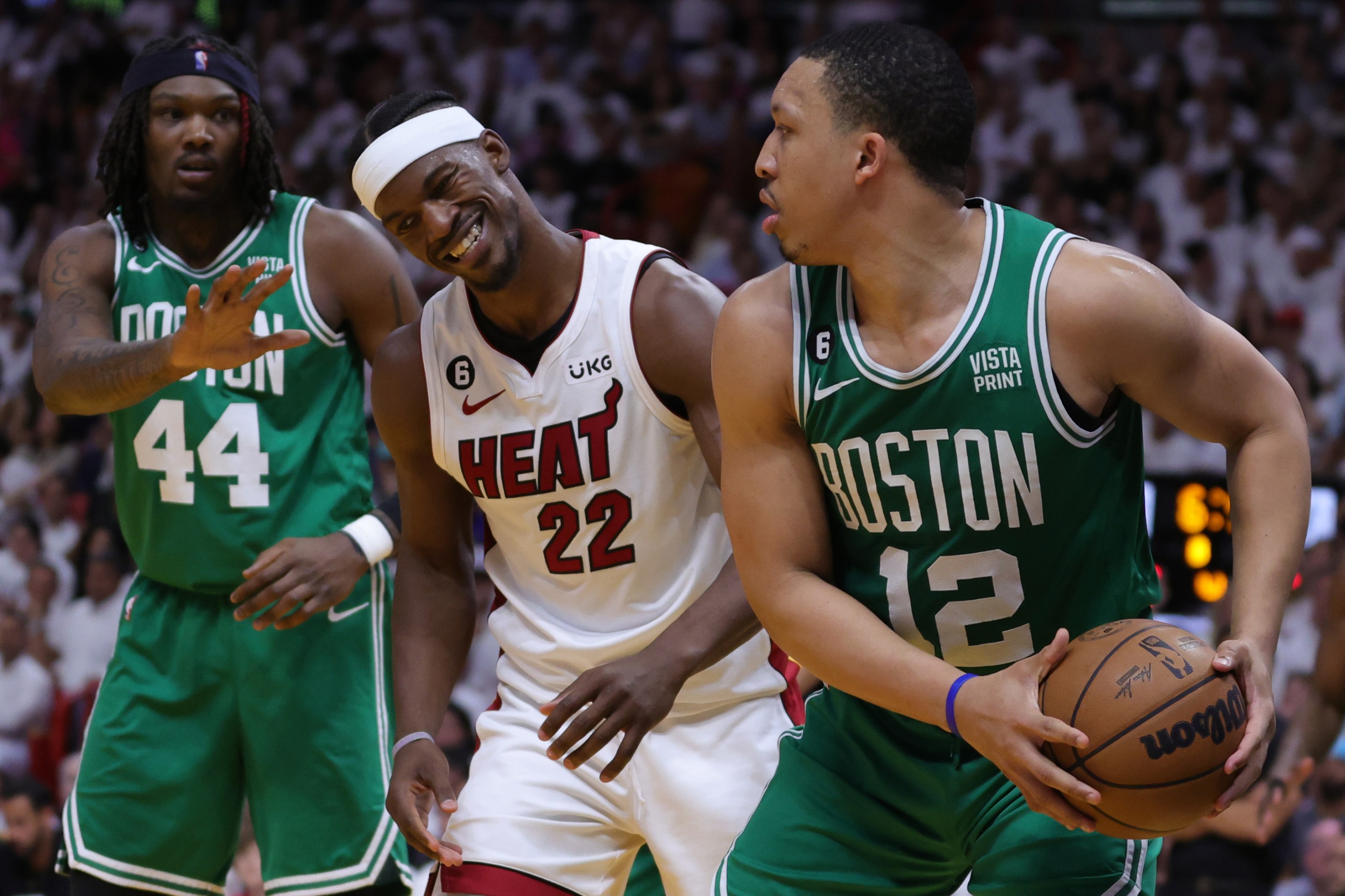 The Boston Celtics used to stand for something. Whether it was irritating excellence, smug dominance, irritating smugness through excellent dominance, the cartoonish leprechaun befouling the semi-precious parquet floor, or just the plain old assumption that they were basketball royalty overseeing a balkanized league that didn't deserve them, you knew what they stood for and where they stood.
Now? Now they can't even quit properly.
Having spent the first three games of the Eastern Conference Final coating themselves in their own vomit while simultaneously raising the eighth-seeded Miami Heat to iconic status (remember when people didn't like Jimmy Butler?), the Celtics were presented a chance Tuesday night to go out like the craven weaklings they'd proven themselves to be. Their Angie's List coach had proven himself wanting, Jaylen Brown was being shipped out with the tide, Jayson Tatum was a papier-mache superstar, and Al Horford had become a genuflecting time-out meme. They were set up for an embarrassing end because they'd prepared themselves for just such an eventuality.
And then they decided to win a game. It's hard to know whether that was a sudden burst of life or just one more letdown.
The Celtics had been the principal water carriers for what would have been remembered as the worst intersport conference finals ever. The Los Angeles Lakers had already been Jokerized in the minimum four games, and their superduperstar turned retirement bait, but they were a seven-seed punching above their weight. The Carolina Hurricanes had been gifted a path to the Stanley Cup Final when the Florida Panthers dropkicked the indomitable Boston Bruins into mockery-paved oblivion, and now they were getting the same treatment from the same team. And the Dallas Stars had played hard and well but unsuccessfully before shaming themselves in record time Tuesday night. Four series, four teams down 3-0, an unprecedented level of bulk capitulation, and suddenly the sporting landscape was going to be left to the WNBA restart, a couple of big-deal soccer matches, and the Audubon Society scourge that is modern baseball.
And in that moment, the Celtics chose to revert to type. Down six at halftime and ticketed for a richly merited summer of shame, they suddenly remembered why people enjoy their failures— because they don't fail all that often. They ran a discernible offense that created open shots, they cared for possessions while shortening Miami's, and they made Butler seem merely really good rather than an ethereal force. They treated the Heat like the eight-seed it is, and made them a doppelganger of the team that couldn't beat Atlanta in the first play-in game.
For one night, at least.
Based on their Mardi Gras of cravenness in Game 3, where Boston was lucky to lose by 26 and luckier still not to be kicked out of the playoffs entirely for crimes against honest effort, they'd made Butler an icon of indomitable spirit, the Heat the new model of Eastern Conference basketball, and Pat Riley the latter-day version of Red Auerbach—the only thing missing was Red's in-your-eye cigar, and Riley's Lego hair is a poor substitute for that.
Then the second half started, the Celtics ran off 18 straight to turn a 61-52 deficit into a 70-61 lead, and the closest Miami got on their prom king coronation night after that was five. The Celtics, suddenly a symbol for abject surrender, suddenly remembered what their fans believe they represent. They closed back-to-back games with Luke Kornet, Mike Muscala, Payton Pritchard and Sam Hauser, only this time they had earned the right to do it rather than had it thrust upon them.
But even in face-saving triumph, they may have only delayed the inevitable. One half of spirited performance out of eight does not scrub a suddenly earned reputation for inadequacy. They put themselves in this jam by first being outplayed and then by being disgraced, and bringing out the ghosts of the 1951 Knicks, 1994 Nuggets, and 2003 Trail Blazers, just to name all the teams that went down 3-0 and forced a seventh game, seems cheap consolation. The Celtics were the two-seed in a playoffs in which the one-seed was eliminated in the first round, and all they've really accomplished so far is avoiding humiliation, which is the American version of relegation.
But they did ruin the possibility of the four-sweep platter, the only thing that could have made this turgid postseason memorable for people outside South Florida, so even in victory they defeated us. Whether they revivify themselves and make this series worthy of our attention or take the pipe in Game 5, the Celtics have already ruined our postseason. The only remaining question is whether they can go on to ruin theirs.
Stay in touch
Sign up for our free newsletter