La Liga
Barcelona's Doing Its Damnedest To Make Winning Boring
3:53 PM EDT on April 17, 2023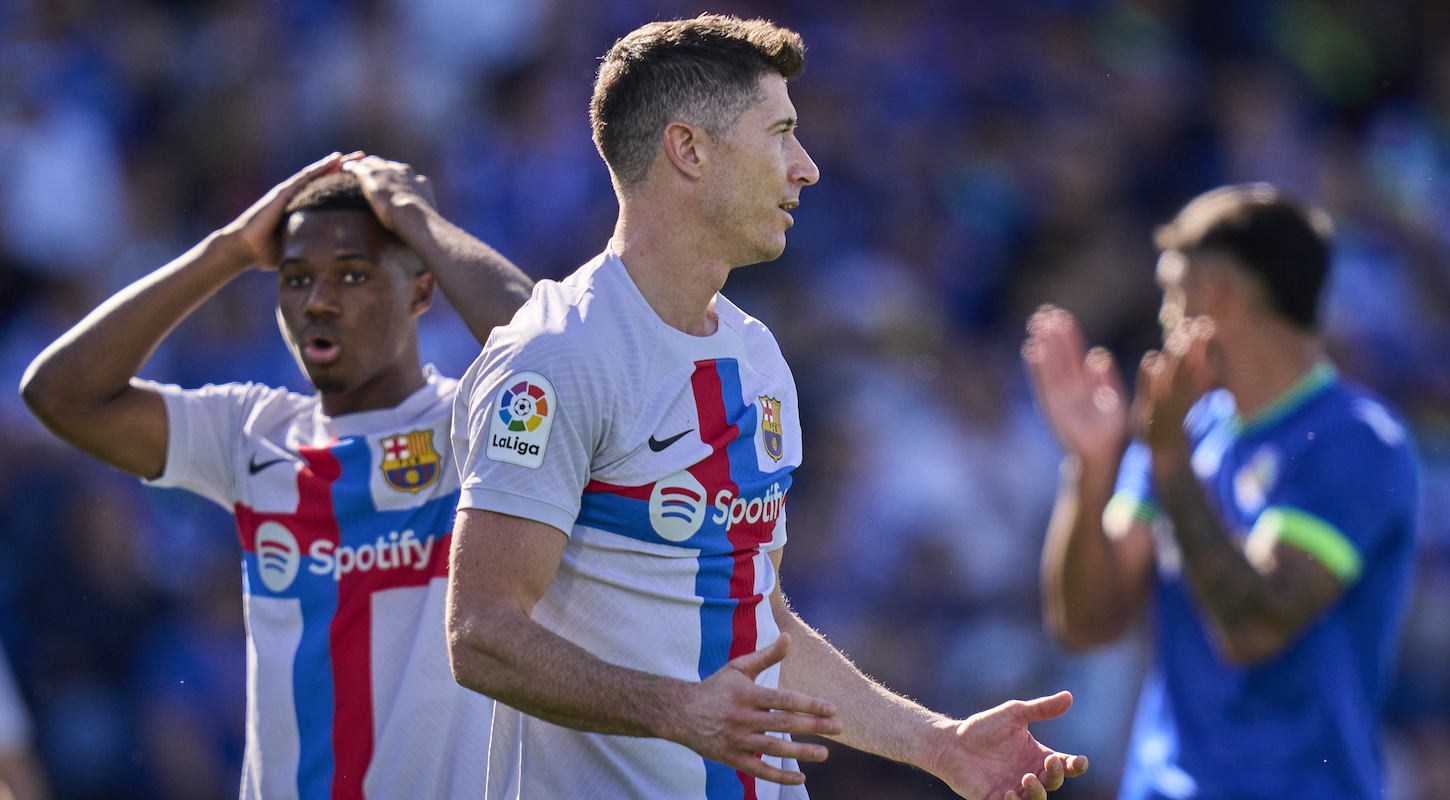 Barcelona shuffled and groaned its way to a bleak and deathly boring 0-0 draw away to Getafe on Sunday, the club's second consecutive 0-0 scoreline, the first time in 18 years the Blaugrana have pitched two of those in a row. Since the March international break, Barça has scored four goals in four games in all competitions—all four of them in the first game back, against relegation-doomed Elche, perhaps not ironically on April Fools Day.
Barça manager Xavi's embarrassing post-match protestations about the quality of Getafe's turf—
And, uh, the presence of sunshine—
—aside, the Azulones didn't do anything particularly bold or ingenious to thwart their visitors: They packed their defense and let Barça's two-cylinder attack bonk helplessly off of it for 90 minutes, firing off the occasional counterattack to not much avail. All the galaxy-braining was on the other side: Xavi, bringing a goal-starved squad against what he had to know would be a deep and compact defense, started the game with Alejandro Balde, a left back, as his left winger, and Jordi Alba, another left back, as his left back. In the 68th minute (so like at least 70 minutes after it became clear this was not going to work), he subbed in a pair of young out-of-form wingers, Ferran Torres and Ansu Fati—playing Torres, a right winger by skill and inclination, in the middle behind striker Robert Lewandowski, and Fati, an inverted left winger or inside forward, out on the touchline. If he hadn't intentionally set them up to fail, well, he'd done it accidentally all the same. (At least Balde got to go back to his fullback spot for the game's final 22 minutes.)
A La Liga lead that got as large as 13 points a couple weeks ago is down to 11. That's still an objectively gigantic margin with a measly nine match days left to play—an Arsenal fan might contemplate any number of unholy sacrifices to add seven points to the Gunners' Premier League lead this morning—and all but guarantees a trophy to celebrate. But context, and relentlessly boring play, dull the triumph somewhat. Now that Barça can't score goals (and second-place Real Madrid has no such problem) and Xavi seems to have reached the throwing-darts-at-a-corkboard stage of his search for solutions, the closing stretch of the season looks perhaps a little less like a victory parade, and a little more like Gollum hunching over his precious.
There's more to that context. Barcelona got smushed, feebly, out of all European competition this season, and could do little more than watch Real break it down on them in a deeply humiliating 4-0 Copa del Rey semifinal dismissal two weeks ago, at home. Moreover, the club won its big league margin via what's mostly been ugly, unlovable, un-Barcelona soccer, with little to no creativity or flair in front of goal and lots and lots of dismal crosses. Fully 27 of the Blaugrana's 73 league points have come via 1-0 score lines; that's three more league points by way of 1-0 wins than Barça recorded in its previous three La Liga-winning seasons (2015-16, 2016-17, and 2018-19) put together. Watching them bumble around and fail to create even modestly dangerous scoring opportunities against some of the dregs of the league, one can't help but bump into the nagging suspicion that in some meaningful sense this Barcelona squad is not particularly, y'know, good—that its La Liga supremacy, if it's not quite blind luck, mostly testifies to La Liga's present shittiness.
Still, there's nothing for it: Stiff-armed out of European play and drop-kicked out of the domestic cup chase, winning even a weak and talent-starved league is all that can suffice to redeem months of ugly and desperate play, as well as all the frantic and undignified lever-pulling and future-mortgaging that went into assembling even this sputtering, top-heavy squad. On top of that, due to Barcelona's dire and well-known financial straits, that squad will have to be drastically overhauled in the coming summer whether it wins the league or not; no small contingent within the team are playing for their place in the organization, or for their standing in the summer transfer market, and under the knowledge that the club's hierarchy now views each of them as a salary number it would rather offer to Lionel Messi, the greatest and most beloved figure in club history.
That's a lot to have riding on what might otherwise be a breezy jog down the back stretch! Which might help explain some of the stumbling, but doesn't make it any more entertaining to watch.
Stay in touch
Sign up for our free newsletter