NFL
New Old Quarterback, Same Old Jets
8:56 AM EDT on April 25, 2023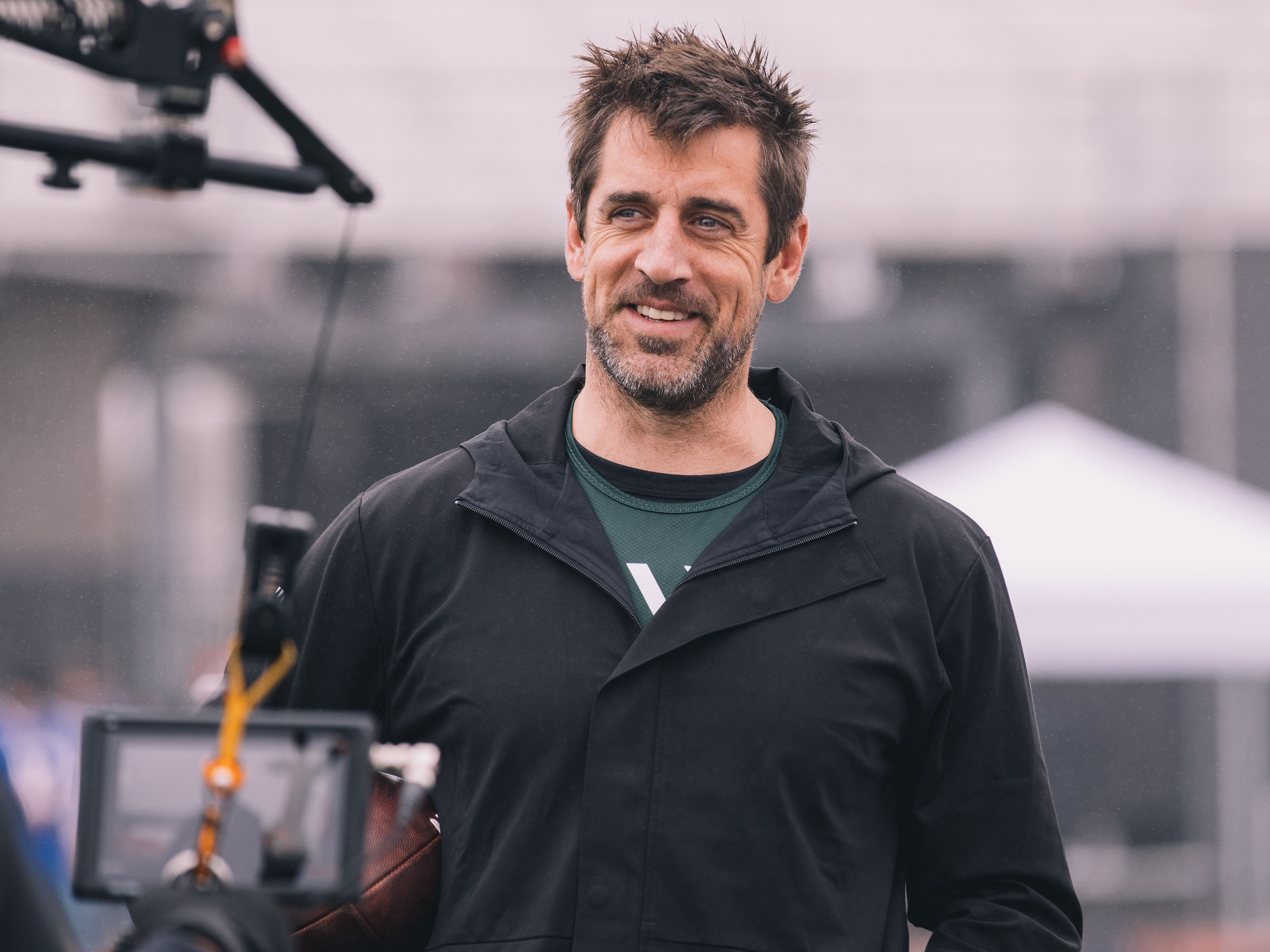 Can a trade be a blockbuster if we've seen it coming for weeks? Can it be a blockbuster when the key component is 39 years old? Can it be a blockbuster when the recipients of the big prize are the New York Jets, who have been lying to people about their importance to the National Football League for decades?
Oh, ESPN did the best it could. When Adam Schefter broke the news that the Aaron Rodgers trade had finally, mercifully been completed, three of its five on-screen panelists acted like a dog had won the National Spelling Bee. Weeks of speculation fueled mostly by Rodgers playing the football cognoscenti like a cheap ocarina and the Green Bay Packers playing blockhead/coy had led us to this moment, three days before the NFL's annual human auction. The Packers were sick of Rodgers for good reason, the Jets needed a quarterback that didn't give them the dry heaves, and the rest was inevitable if needlessly prolonged.
So Rodgers becomes the 30th quarterback the Jets have employed in this century, joining such luminaries as washed Brett Favre, the washed Vinny Testaverde, the washed Michael Vick, the washed Josh McCown, the washed Joe Flacco, and the almost immediately washed Zach Wilson. The reason why the Jets needed Rodgers so badly is because of Wilson, and the litany of 30-and-older reputations that they have gravitated toward in their search for the next Joe Namath, or to be more contemporary, the next Chad Pennington. The Jets don't create their own quarterbacks, though they try their damnedest—they find quarterbacks made in other towns and then try to pass them off as their own before their sell-by date.
It's why they're the Jets—playoff- and dignity-free since 2010. They have a fan base that is deep into self-flagellation to go with the delusion that their franchise actually matters, even though it has had no Super Bowl appearances since Richard Nixon was a law-abiding citizen. The Jets are basically the Lions with a more annoying fan base, and Aaron Rodgers is therefore a perfect fit. He'll hate them because they won't love him enough, and they'll hate him because he'll ignore them as beneath his dignity.
It is important here to remember that Rodgers is one of those rare NFL players who cannot be too old until he is forcibly ejected from the game. His age is belied by his resume, though his resume has started to brown up and curl at the ends like old blunt paper. But that can't be acknowledged because the sport that allows the fewest number of players to age gracefully denies age entirely when it comes to quarterbacks. Rodgers must be immortal because many are too invested in him for him not to be. But he has joined a team that needs him too desperately for this to end well. This can't work in the end, not necessarily because he is 39-year-old Aaron Rodgers, but because they are the New York Jets, a team that courts failure, has slept with failure, and is in a common-law relationship with failure.
Having a new old quarterback isn't the same as actual achievement, and the Jets have talked way more than they have walked. Rodgers could not elevate a mediocre Green Bay team last season, though we won't know until this year how much of that was his fault and how much was general manager Brian Gutekunst's. Football makes you wait to learn why your favorite team sucks, but Rodgers didn't stay long enough to solve the mystery. He went to the New York Jets to burnish his legacy, even though it was a move with negative percentage for notorious skiver Brett Favre.
So the smart money has Rodgers flaming out with a team that hasn't not flamed out in roughly forever. He gets to choose his way out of the game, as is his right as a nascent Hall of Famer, but he cannot fight gravity. Tiresome Aaron Rodgers and the New York Jets: a marriage made in Satan's colonic tract and likely to end the way Favre's ended—with the Chargers in the playoffs instead and the fans demanding Mark Sanchez. 
Stay in touch
Sign up for our free newsletter