Two days typified Wildwood in 2020.
The first was in winter. The novel coronavirus was not yet an outbreak in the United States. Donald Trump came to the New Jersey seashore resort for a rally on January 28. He spoke for about an hour. The real party was outside, where dozens of vendors sold t-shirts and other Trump trinkets to eager fans. It was 40 degrees.
In what's usually a pretty sleepy month in Wildwood, several thousand people attended the rally either inside the Wildwoods Convention Center or watched on jumbotrons from the parking lot outside. The town decked itself out in Trump colors for the occasion. Several businesses were covered in Trump flags.
Local media outlets cheered the off-season business, even if the Democratic mayor said the Trump campaign had to pick up the tab. (The mayor said he was "not invited" to the rally in response to his comments.) Boardwalk stores normally closed cashed in with Trump shirts and t-shirts in memory of Kobe Bryant, who died two days earlier. The public Fox Park, across the street from the convention center, had Trump and pro-police flags added to the flagpole. Under a flag for the state of New Jersey, there was a flag with Trump astride a military tank.
Scott Dietz, selling shirts outside the rally, told me he usually sells shirts at places where Trump fans would be: outdoor trade shows, gun shows, Trump rallies. He'd just launched his line of shirts in October and was doing brisk business, he said. Michael Foley, a Philadelphian selling "Watch the Trump car, please" shirts, said he wanted to make a unique shirt for this "once-in-a-lifetime" event: "He's not coming back to Wildwood again."
One man, Buddy Hall, drove a bus wrapped with an image of Trump as Rocky Balboa from North Carolina to Wildwood. He told the Philadelphia Inquirer he was selling t-shirts with all the profits going to "a charity that searches for kidnapped children."
The second rally was in late spring. Protests had flared across the country in the wake of a widely shared video of a police officer killing a man named George Floyd in Minneapolis. The Cape May County NAACP held the rally in the same Fox Park. Several hundred people showed up. Local media outlets were more fearful this time; one speaker at the event decried the "irresponsible journalism" of the Cape May County Herald and Watch The Tram Car, a Wildwood Facebook page.
The rally—along with one earlier in the day in Middle Township, on the mainland of the Jersey Cape—was a success, Cape May County NAACP head Alexander Bland told me. Bland helped relaunch the chapter last year, and said he was tremendously pleased by the turnout. Wildwood's chief of police spoke at the rally. It ended with a DJ playing the Wobble and the Electric Slide—a common protest dance this summer—and a crowd marching up and down Ocean Avenue.
Boardwalk t-shirt sellers got in on the action. Every t-shirt store that day sold Black Lives Matter shirts alongside their usual wares. It was one of the first times I can remember explicitly political pro-black merchandise being sold on the Wildwood boardwalk. Vendors sold shirts for George Floyd, and ones that said Defund the Police. Despite BLM being a movement that's around four years old, there weren't Black Lives Matter shirts on the boards until this year.
The offering of these shirts was not a result of any ideological shift by sellers. In fact, you could buy Black Lives Matter shirts right next to All Lives Matter shirts.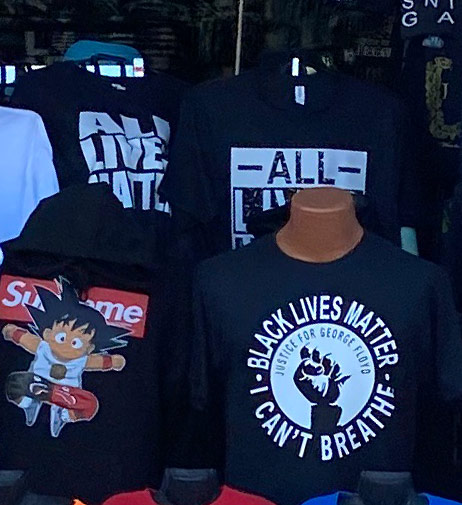 There's a trope in journalism, in presidential election years, that hacky journalists go to diners to interview "real" Americans and figure out how the country is doing. Me, I'm a tacky journalist. I go to the Wildwood boardwalk to figure out the tone of the land. Four years ago I twice noted the number of Trump t-shirts as a harbinger of his election in November. This year, if the shirts are any indication, Trump is in trouble.
I first wrote an article about Wildwood boardwalk t-shirts for Philadelphia magazine in 2012, and I've done a column or two about them almost every year since. Lots of things contribute to why I continue to chronicle boardwalk tees: their bootleg nature, where you can see crossovers you never imagined; the enterprise's expression of pure capitalism, where vendors hawk opposing political beliefs right next to each other; the "outsider art" aspect of the designs, which are largely guided by what teenagers are interested in that year; the ability to go down the shore and say it's for work. I hope you enjoy this year's version.
Black Lives Matter shirts
Most years, there are plenty of shirts on the Wildwood boardwalk that target black patrons on the Wildwood boardwalk. But the political shirts you see are mostly aimed at white people—Confederate flag stuff, in particular.
There are still some confederate flags on the Wildwood boardwalk, but this year they've been overtaken by messages about black lives and, in particular, justice for George Floyd. One shirt even had "Black Lives Matter" in the Ben & Jerry's font.
Wildwood is a city that once put up billboards scolding parents for telling their children to be fearful of the police. Though most of the shirts on the Wildwood boardwalk are pro-police, there is one anti-police shirt, aimed at black people, that's been sold for a long time on the boardwalk: "If you see da police, warn a brother." The shirt, which a rapper named James Stokes says he created, has been around since the late 1990s, This year, I saw a variant.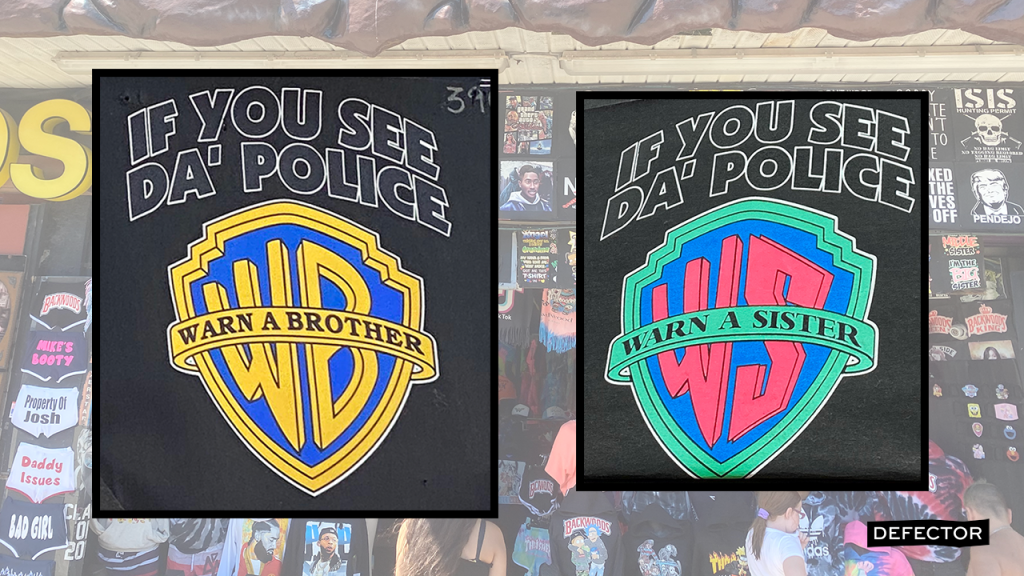 Warn a sister! Truly, there are things in the world that can surprise us still.
Fire/Police/Military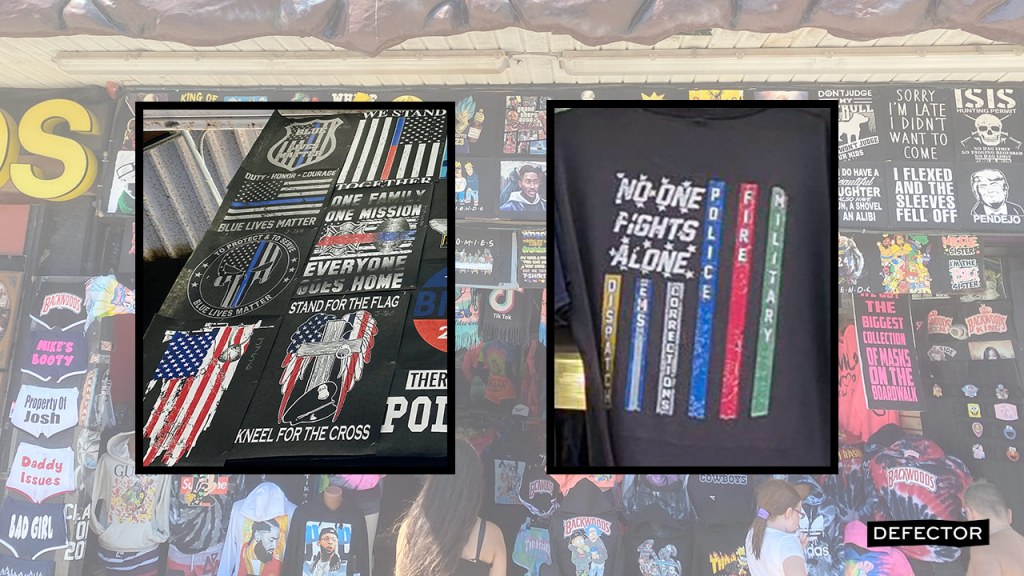 This isn't a scientific measure, by any means, but I did notice fewer pro-police shirts on prominent display this year. Trump shirts were still being sold far and wide, but the cop stuff seemed a little more hidden from open display this year.
One interesting thing about Wildwood is the prevalence of cop/firefighter combo shirts. Obviously all cop merchandise can also veer into firefighter/first responder/troop merch, but in Wildwood there is a special connection: The New Jersey Firemen's Convention is held every year at the Wildwood Convention Center.
Sometimes, the shirts veer into even broader territory. My favorite is the "no one fights alone" shirt, which features police, fire, military, corrections, EMS and dispatch. No offense to the hard-working police dispatchers out there, but if you told cops the dispatchers were on their level they probably would not be too pleased with you.
At least once a season there is a viral video of a Wildwood police officer. Here is this year's.
Trump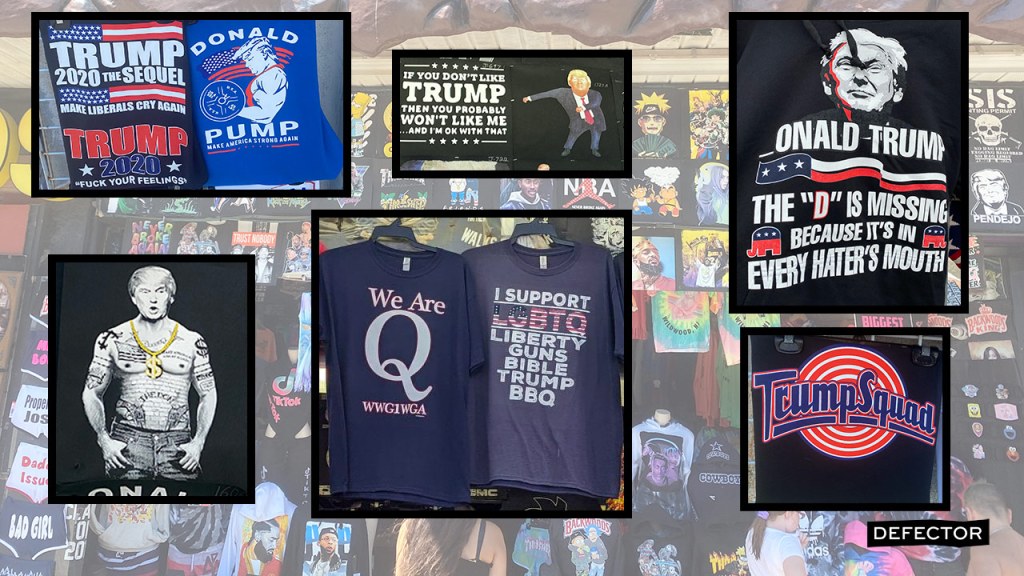 My wife counted as we walked down the boardwalk this year. She said 10 out of 18 shops we passed on the Wildwood boardwalk this year displayed Trump merch. Is that down from earlier years? Who knows! I never counted before. What is clear is that there's still a lot of Trump stuff on the boardwalk. Some of it is simply horrifying: Trump as a muscleman lifting heavy weights, Trump covered in tattoos, Trump flossing. There was also one store selling Q shirts, which I'm counting in the Trump category.
Back in January, during the Trump rally, there was a completely different line of Trump shirts for sale.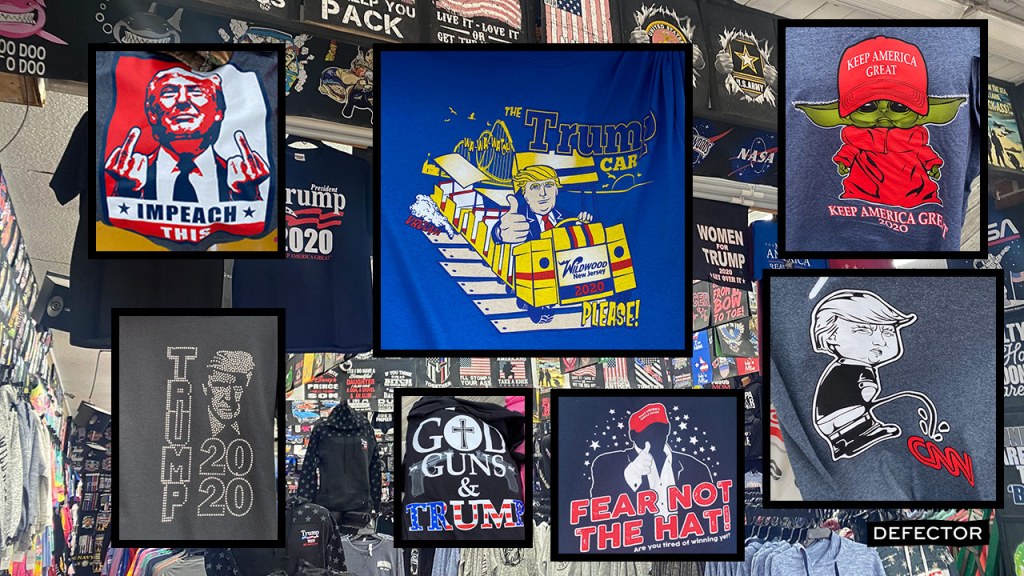 The best was the "Watch the Trump car, please" shirt playing off the audio message often heard in Wildwood that warns people to get out of the way of the boardwalk's tram cars. The strangest one was Baby Yoda supporting Donald Trump. How would that even work?
Trump's unpopularity has also led to a line of anti-Trump shirts.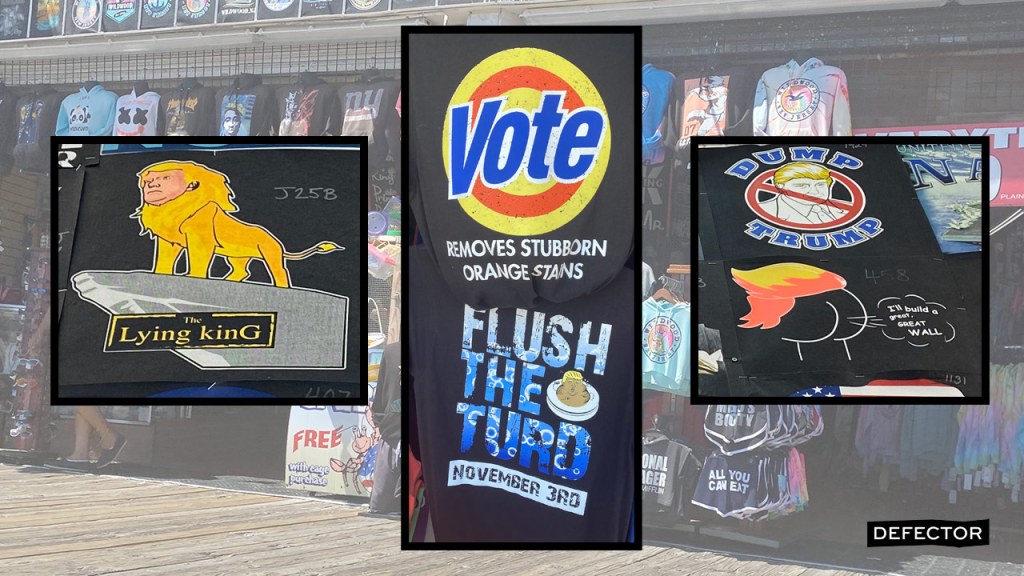 The t-shirt battle lines have been drawn. I guess we'll see who wins on November 3.
Vet Bro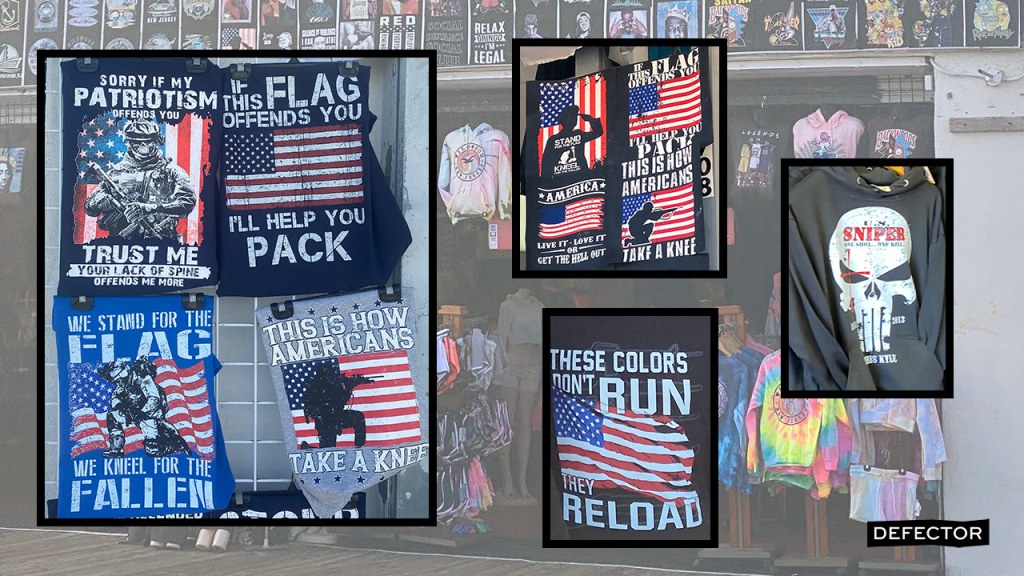 Violent, militaristic shirts are far from out-of-place on a boardwalk that once hosted a paintball range called "Whack the Iraq." Most of this merchandise appears to be ripped off from (or at least inspired by) a company called Nine Line Apparel. The term "vet bro" comes from this New Republic column by Matt Farwell, where he describes what a nine-line is:
It's odd to reflect on this brand name, 9 Line Apparel. A bad call on a nine-line medevac overseas means a person gets on the helicopter alive and leaves the helicopter dead; a bad call on a 9 Line T-shirt means wearing "Freedom Sleeves" from a company that describes itself as "Relentlessly Patriotic."
A fun fact: If you ever decide to leave America, you can by law enlist up to four men wearing "If this flag offends you, I'll help you pack" shirts to help you pack.
COVID-19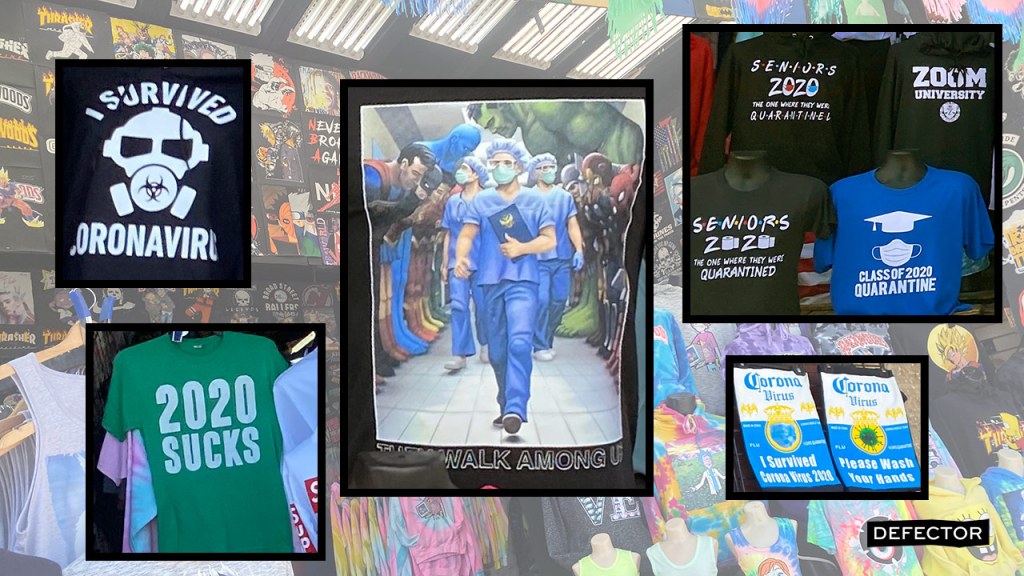 When I wrote this article about the possible disastrous Wildwood boardwalk season for Vice in early April, I figured whatever shore season happened would be full of COVID-19 t-shirts. Not for the first time, I was wrong. There aren't that many coronavirus shirts displayed prominently on the boards.
And, like, duh. Who wants to remember the terrible time of indoor living, isolation and constant political battles? The one shirt has it right: 2020 sucks.
Masks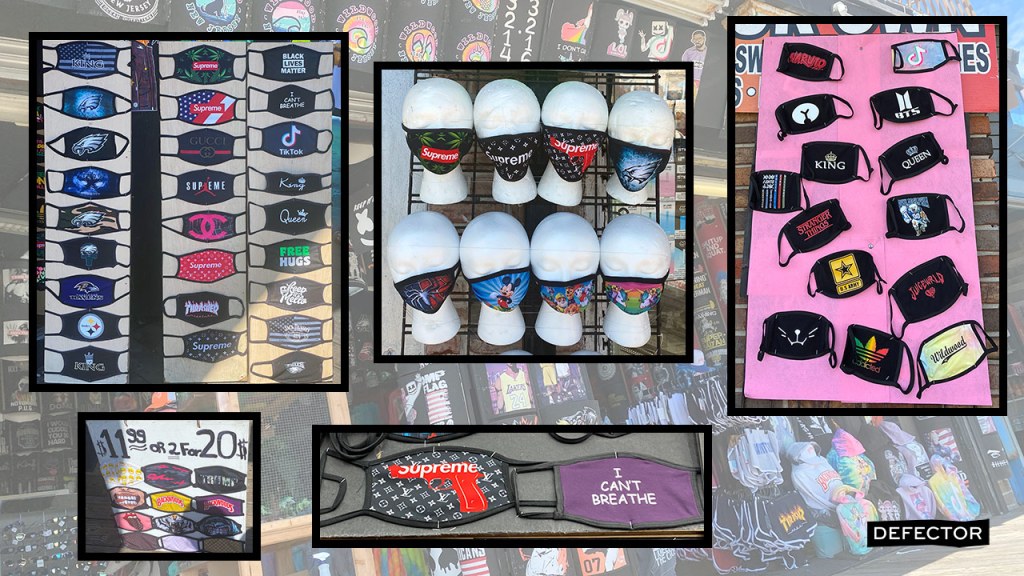 New Jersey banned indoor dining from March until Labor Day, so basically the entire summer season. You had to eat your pizza on a bench on the boardwalk. It doesn't feel particularly eerie on the boardwalk, though. One of the lone reminders of the pandemic are masks, which are usually priced at a reasonable 2 for $20.
Two for $20 is a pretty good deal. The COVID-19 store at the King of Prussia Mall sells its bootleg masks for $30.
Booty Shorts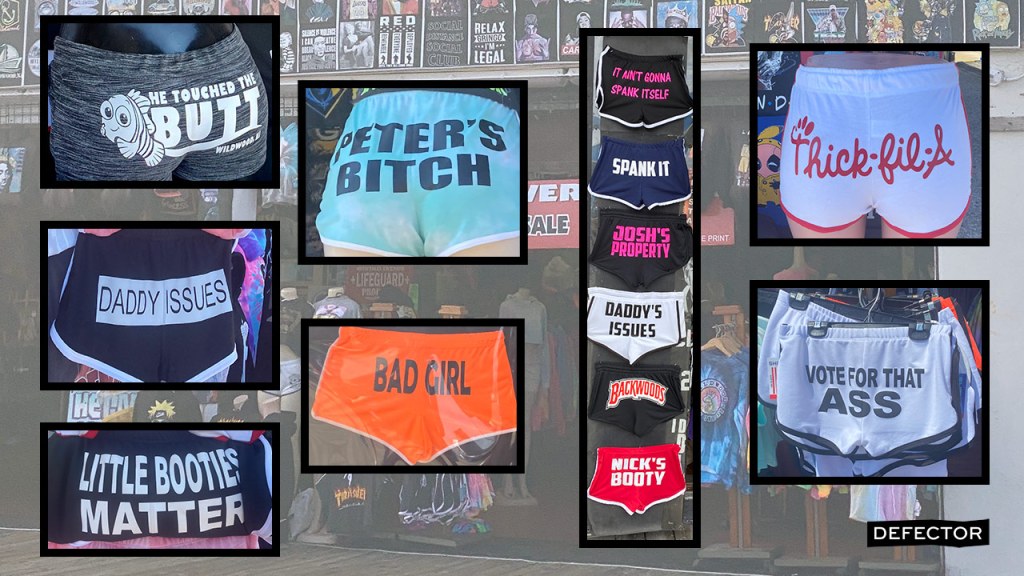 I wasn't able to find out when the technology for screenprinting on booty shorts was invented, but surely it was a joyous day in Wildwood. You can get any number of ridiculous, often troubling slogans printed on your ass. They run the gamut from, uh, a Black Lives Matter knockoff called "Little Booties Matter" (?) to a Chick-fil-A parody "Thick-fil-A."
Music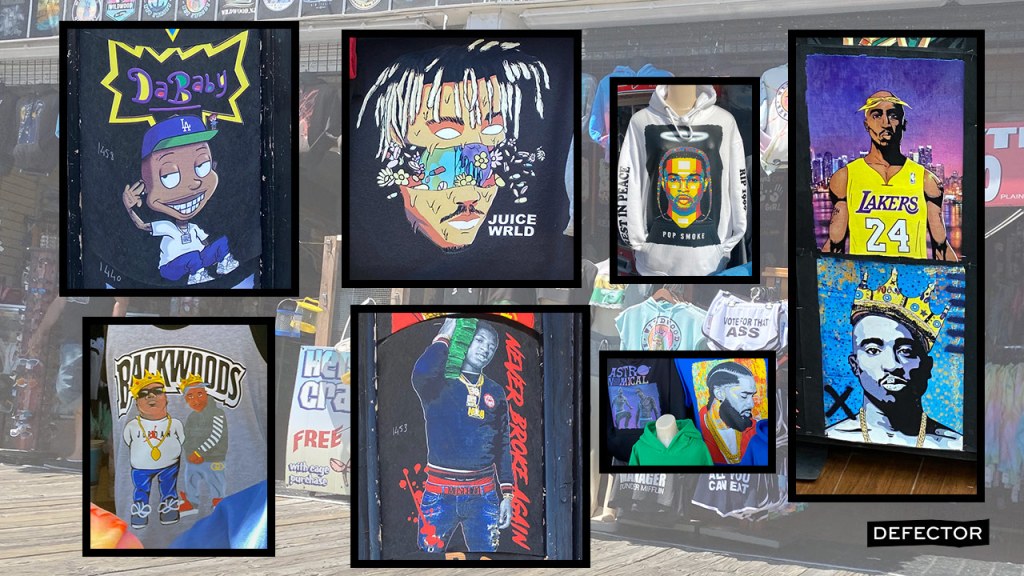 I have actually heard of some of the rappers on boardwalk t-shirts this year! This is kind of cheating, of course, as the rappers I have heard of are Tupac Shakur and the Notorious B.I.G., who are as popular as ever on t-shirts this season. There are also plenty of shirts for late artists Pop Smoke, Juice WRLD and Nipsey Hussle, as well as lots of shirts for DaBaby and YoungBoy Never Broke Again. YoungBoy really is his moniker; he's only 20! The kids, I have been told, love him. (DaBaby may need a new name; he is now 28.)
Kobe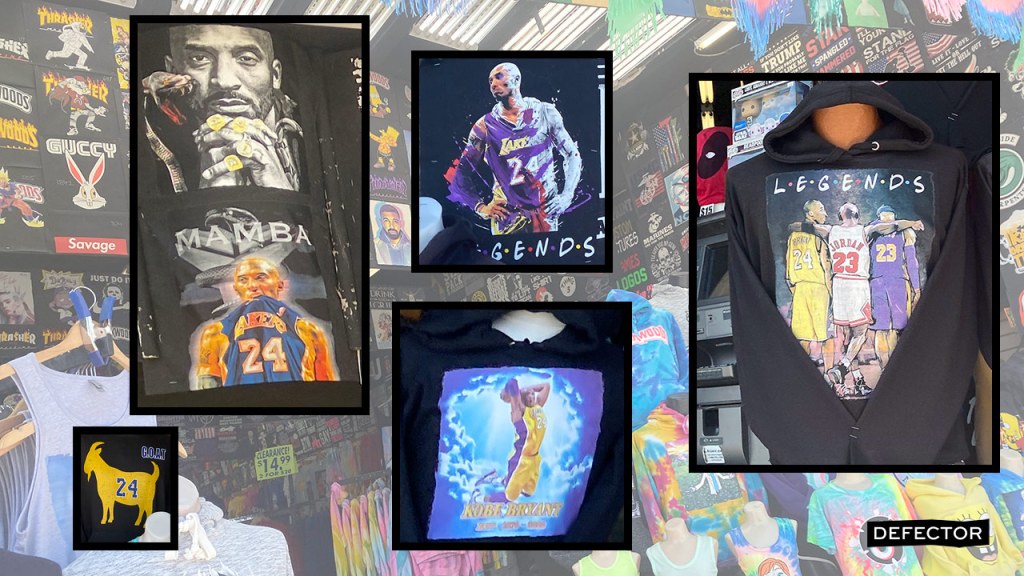 Jeez. Back in late January, Kobe Bryant died in a helicopter crash. There are a lot of shirts memorializing the Philadelphia native on the boardwalk. It all kind of bums me out; you can't walk on the boardwalk this year without being reminded of that time the retired basketball star died tragically.
Bootleg Streetwear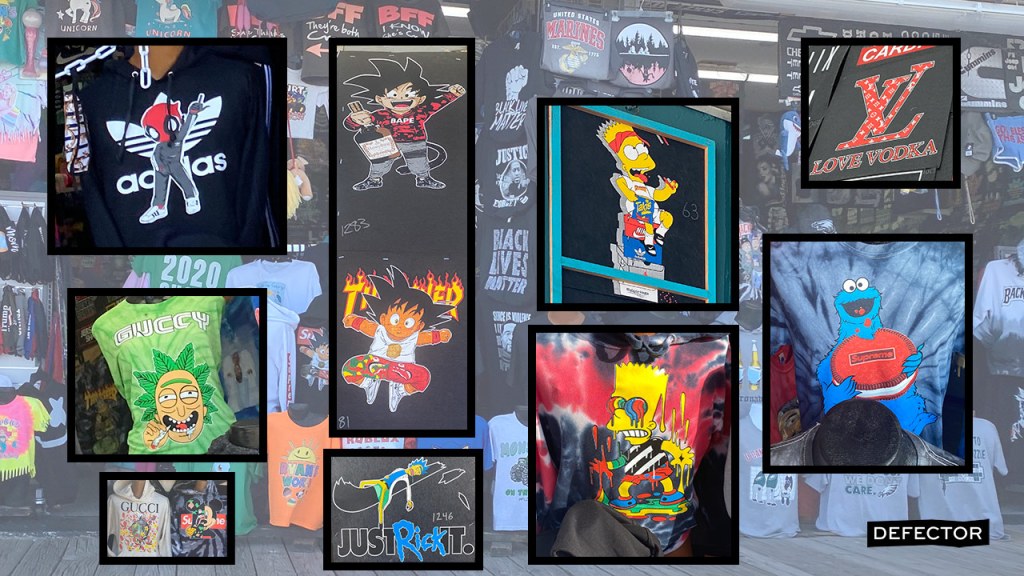 Bootleg Bart is back, baby! Actually, Bootleg Bart has been back for a while. Back in 2018, I wrote about the wide variety of bootleg Supreme shirts with cartoon characters on them. Now the market has expanded into an endless number of cartoon characters wearing what appears to be an endless supply of branding: Supreme, Nike, Adidas, but also higher-end stuff like Off-White, Gucci and Louis Vuitton (or, as one shirt says, Love Vodka).
My favorite shirt was probably one where Cookie Monster eats a giant Supreme oreo (the cookies were an actual product). I also liked a shirt aimed at the Latino market, where Bart sits on a pile of sneaker boxes eating a bag of Takis.
Backwoods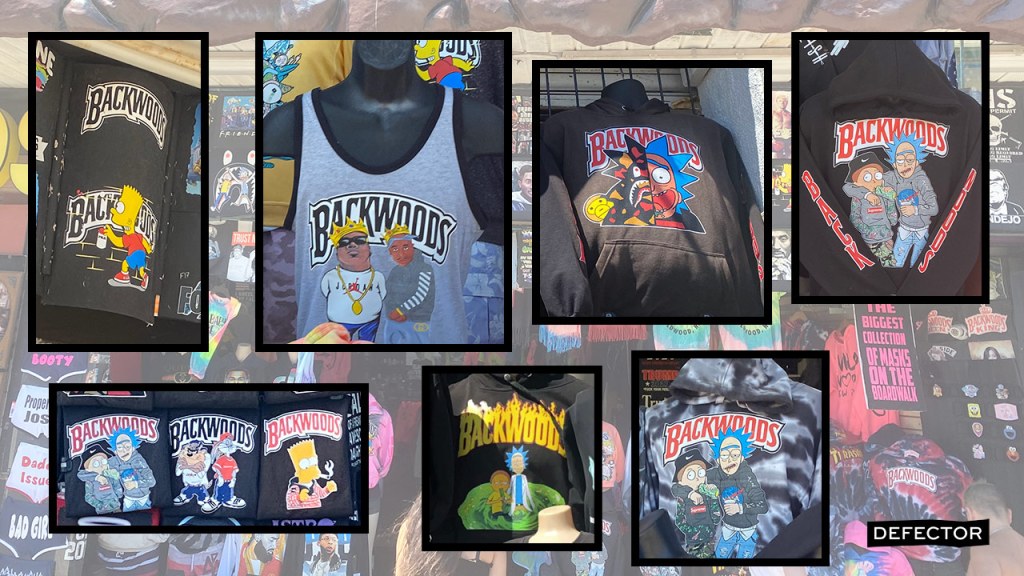 In 1979 Consolidated Cigar Corporation launched, in test markets, the Backwoods Cigar Brand. It was a hit. Consolidated introduced a new addictive product to the market, and half to the people who bought it were under 30. They'd have customers for decades. At Walgreens in Austin, an eight-smoke pack was only a buck with a newspaper coupon, or $1.29 without one.
Backwoods were created after the Public Health Cigarette Smoking Act, a 1970 law that mandated tobacco warning labels and banned tobacco ads from radio and TV. But Backwoods was a cigar. When Backwoods went national in 1981, the Chicago Tribune reported that Consolidated spent $5 million on advertising and aired commercials starring two knockoff Marlboro men.
Backwoods' manufacturer was a part of the Gulf + Western Company, a one-time bumper manufacturer that became a large American conglomerate after World War II. The company sold off its non-movie assets in the 1980s, renamed itself Paramount Corporation after its movie studio, and is part of the lineage of ViacomCBS. Its headquarters is now the Trump International Hotel and Tower on Columbus Circle.
None of this has much to do with why the Wildwood Boardwalk sells Backwoods t-shirts with cartoon characters on them. Backwoods cigars, along with other similar cigar products like Dutch Masters and Phillies, eventually fell out of favor for regular tobacco users. They're now more associated with smoking weed. Before COVID-19, you could safely offer a hit to a person in a Backwoods t-shirt.
Backwoods' popularity surge is probably due to its reference in several popular songs of recent vintage, like Drake's "Hotline Bling" and Fetty Wap's "Trap Queen." But references go back. Amanda Saviñón writes: "Growing up in Harlem in the late 1990's and early 2000's, it seemed as if all the songs on the radio mentioned Backwoods." Notorious B.I.G. raps: "I smoke Backwoods and Dutchies; you can't touch me." It hits the area in particular: A Vibe article cites two Philly rappers, Beanie Sigel and Freeway, as two of the brand's "top ambassadors."
Backwoods is probably the most commonly-referenced blunt in hip-hop. Most rappers on Hot New Hip Hop's "How To Roll A" Series use Backwoods. Backwoods is now owned by a subsidiary of Imperial Brands, a UK tobacco company that owns many major blunt brands: Phillies, Dutch Masters, El Producto and Grenadier.
There's no real connection between cartoon characters and Backwoods, except that it's very easy for someone with a computer and a screen printer to put two of them on one shirt.
Thrasher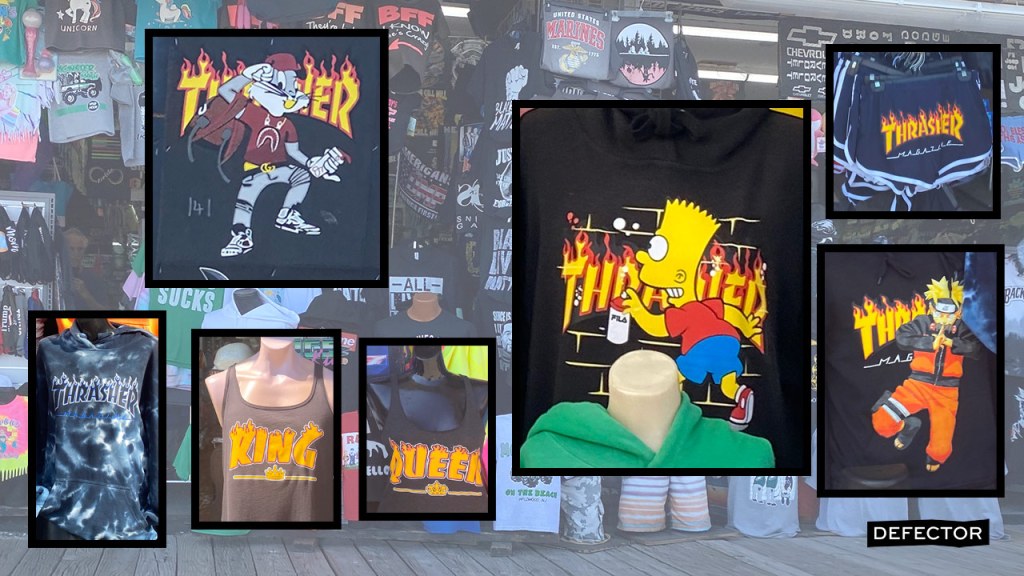 Not every trend lasts on the Wildwood boardwalk, but going strong in their fifth year are Thrasher magazine tees. Thrasher is a San Francisco skateboarding magazine founded in 1981; it's been selling t-shirts just about as long. The shirts first rose to wider cultural popularity in 2015, according to Vogue, when models started wearing them on Instagram. High fashion has co-opted some skateboard elements in the last decade or so, and Vogue had a thought on why Thrasher in particular has endured: "The piece comes with a certain skater reputation that's synonymous with a youthfully rebellious distaste for authority and a vintage appeal."
This trend has been out and back again. It was so oversaturated that W magazine was calling for an end to it in 2017, but Wildwood keeps churning out new bootleg Thrasher merch every year. But if you're going to wear a Thrasher tee with Rick and/or Morty on it, you apparently should skate in it. Thrasher's longtime editor-in-chief Jake Phelps, who died last year, once said of the shirts: "We don't send boxes to Justin Bieber or Rihanna or those fucking clowns. The pavement is where the real shit is. Blood and scabs, does it get realer than that?"
Friends Font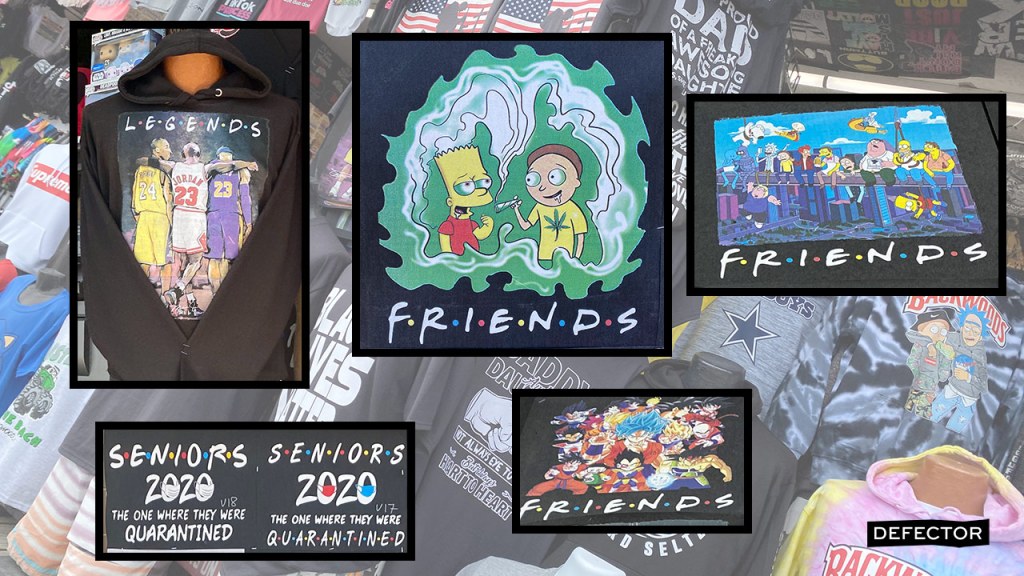 If there's one typeface that typifies 2020 on the Wildwood boardwalk, it's whatever font the Friends logo is in. Friends, which has been one of the most popular shows on streaming for nearly a decade, moved off Netflix at the start of the year. It returned to streaming when HBO Max launched in late May. The show's popularity may take a dip now that it's on a less-popular streaming service, but the Wildwood boardwalk is picking up the slack by remembering everything this year with the Friends font.
Jeeps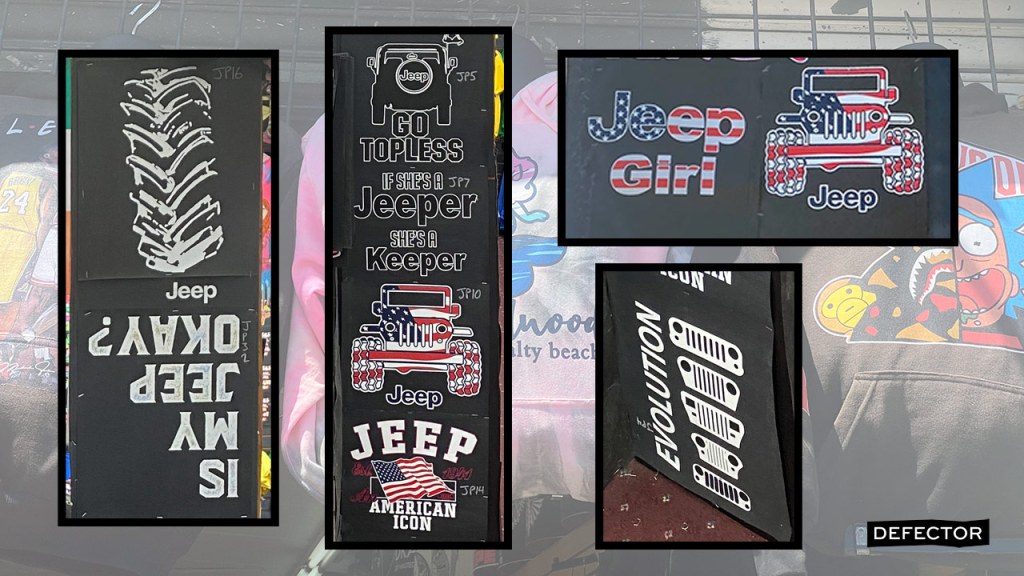 In recent years, I believe we've seen an uptick in people who drive Jeeps telling you how much they love their Jeep and how great Jeeps are and how they're going to go camping or off-roading or whatever in their Jeep. Anyway, now we have more of these shirts.
Tiger King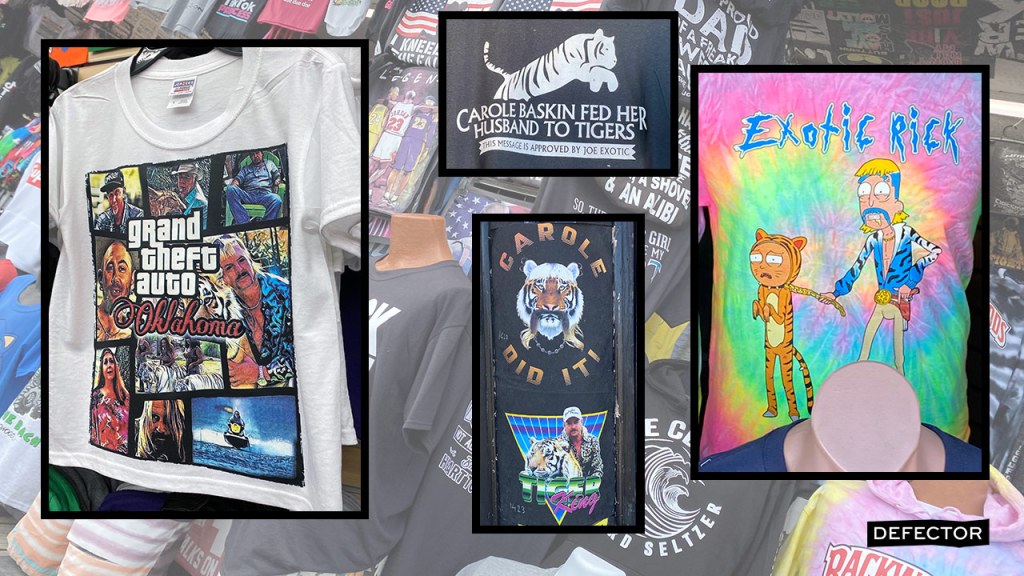 Remember Tiger King? It feels oh so long ago. But there was a "Fuck Carole Baskin" sign at the BLM rally in Wildwood in June—I swear—and the boardwalk is full of Tiger King merch in various forms. The Rick and Morty/Tiger King mashup is quite possibly too horrifying to comment on further. In fact, this is the end of the column.
Stay in touch
Sign up for our free newsletter