Some people are fans of the Pittsburgh Steelers. But many, many more people are NOT fans of the Pittsburgh Steelers. This 2023 Defector NFL team preview is for those in the latter group. Read all the previews so far here.
Your team: Pittsburgh Steelers.
Your 2022 record: 9-8, and isn't it just like the Steelers to have a winning season that was unwatchable from start to finish? Have you ever gone to a bar to watch Sunday Ticket, only to feel cramped, drunk, exhausted, and depressed right around 3:00 p.m.? That's what Steelers football feels like all the time.
To wit: the 2022 edition started out 2-6. It didn't help that Pittsburgh's star edge rusher tore his pec and missed the first two months, or that they were transitioning from a Hall of Fame QB to one they drafted because they still felt guilt about not drafting Dan Marino out of Pitt in 1983, or that watching them run the ball was like watching a first grader try to cut a steak. But none of that was my problem, so fuck 'em. These Steelers blew a 20-10 lead to Zach Wilson. They gave up three chunk TDs to A.J. Brown in a single half. They gave up almost 500 total yards to Josh Allen in 38-3 loss to Buffalo. Miami and their headless quarterback beat them in a game where neither team scored a single point in the second half. And they lost to Baltimore in a game where the Ravens, minus Lamar Jackson, passed for 94 total yards. You are picturing all of this in your head right now and you hate it. You now hate football in general. You're not even sure why you liked this sport to begin with. You wanna go home … maybe drink a bottle of bleach just to see what happens.
Too bad! You're not going anywhere! You're staying alive and hearing more about how this team made Tár look like Fury Road! Too bad for you, fuckface!
The Steelers averaged a pathetic 18 points per game. Their workhorse running back hit the century mark a grand total of one time. Their best wideout scored zero touchdowns. And they tied for the second-most TD passes allowed leaguewide. But because these are the Steelers, and because the football media will forever portray Pittsburgh as The Little City That Could, they just had to win six of their last seven to stay in the playoff conversation, and I had to sit there while people acted like seeing this paint-drying operation in January was an appealing prospect. Why couldn't this organization have just DIED? Why couldn't Urban Meyer have paid them a visit and kicked them all down a flight of stairs?
Luckily for me, the Dolphins beat the Jets for the No. 7 seed at the exact same time the Steelers finished off the Browns in the final week. All that hard work for nothing. Not unlike living in Pittsburgh.
Your coach: Mike Tomlin, who will never be bad enough to get fired. Oh, Steelers fans can piss and moan about Tomlin all they like—and they do—but Mike Tomlin is adept at shutting out that noise and willing his men to one barely-above .500 season after another. He's a good coach. His offensive coordinator is another matter…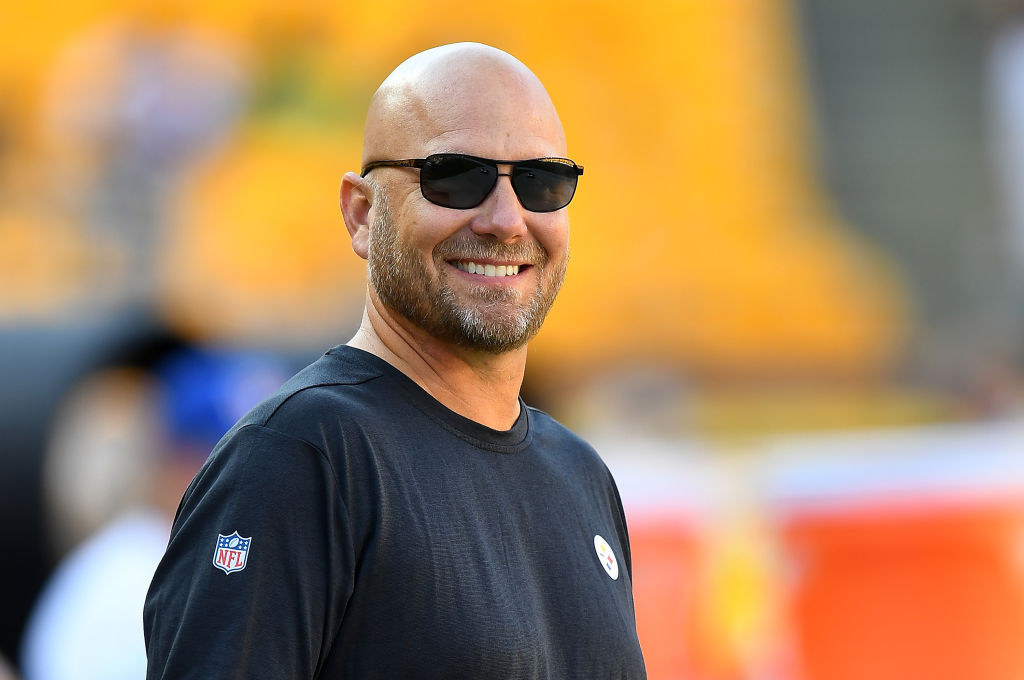 Why does every Steelers' offensive coordinator look like the kind of guy who starts a bar fight and then immediately gets his ass kicked? Anyway that's Matt Canada, who is bald and who hates play-action more than the average Steelers fan hates direct sunlight. That's not an ideal OC when you're re-fashioning your entire offense into a run-first, throw-six-times-a-half model centered around this fella…
Your quarterback: Kenny Pickett, who has Justin Herbert's hair but none of his ability to throw intermediate-range passes. Pickett represents a karmic upgrade over Ben Roethlisberger, except that Roethlisberger—even in retirement—is still hanging out and grabbing every last bit of oxygen in the room like it was your sister. Roethlisberger has a podcast now, presumably for people who find The Joe Rogan Experience to be too intellectual. Last year, he had Pickett on and felt comfortable saying this directly to the new guy's face:
"I probably shouldn't say this, but who cares at this point. I wouldn't say that I wanted Kenny to necessarily fail, but when someone comes to replace you, I still feel like I had it, I hope he doesn't come ball out. Because then it's like, Ben who?"

Roethlisberger continued, telling Pickett: "Early on I didn't want you to succeed because you followed me up -- I didn't want it to happen. I think that's probably the selfishness of me, and I feel bad for it."

ESPN
Selfish? Well that is absolutely the Ben Roethlisberger that I know. Kenny Pickett is quickly learning the deal here in Pittsburgh, where no QB is ever good enough until he retires. Big Ben now gets to live on the other side of that equation, and I couldn't be happier for him! He's such a stand-up guy! I hope he rides his motorcycle off an embankment!
As for Pickett, the knock on him before the draft that his age at the time (23) meant he had already reached his physical ceiling. Nothing about his rookie year proved that wrong. What you see of Pickett now is all he'll be. He also left the team's offensive playbook in his car this offseason, and then had that car stolen. That playbook was recovered, because nobody is afraid of what's in it anyway.
By the way, Mason Rudolph is still here. And so is Mitch Trubisky. This town is a fucking roach motel.
What's new that sucks: Pittsburgh lucked out when the draft broke their way and they grabbed OT Broderick Jones in Round 1, followed by CB Joey Porter Jr. and NT Keeanu Benton in the second. If Porter's name rings familiar to you, it's of course because you know that his father's pit bulls once broke loose and killed a miniature horse:
I am saddened to learn that my dogs escaped from my yard and attacked and killed a horse. It was an accident and I am not sure how the dogs escaped. We have a very secure yard with a six-foot fence around it and this has never happened before.
Those dogs had that horse in 'em. Anyway, if Porter Jr. is anything like his old man, he'll be both a remarkable player and an insufferable dipshit. Put him in the ring of honor right now.
But the Steelers will need all three of their top draftees to contribute right away, because they're overhauling the left side of a horrific run-blocking O-line from a year ago, and they're replacing over half their starters on defense. Playing alongside Jones will be newly acquired LG Isaac Seumalo, who arrives from Philadelphia. These two will be charged with helping Najee Harris and 2022 undrafted free agent Jaylen Warren play like they're worth a shit. I am not optimistic, but the Steelers are gonna attempt to dredge up their '70s offense anyway, with more running than ever before. Maybe it's their way of honoring Franco Harris, who just died. [Franco Harris voice] Or did he? We deserve the real facts.
Over on defense, Pittsburgh is trying to cut down on the number of big plays they gave up a year ago by adding Porter, CB Patrick Peterson, nickel back Chandon Sullivan, and depth S Keanu Neal to the secondary. Peterson and Sullivan were teammates in Minnesota last season. The Vikings had the worst pass defense in the entire NFC. Sullivan himself had the worst PFF grade of any Vikings player, and allowed more yards in the slot than any player leaguewide. But you guys do also have two new LBs in Kwon Alexander and Cole Holcomb, and I know how much this organization values linebackers in an age where they don't matter in the slightest.
Oh hey, and did you know that second-year WR George Pickens reportedly knew something about one of his UGA teammates sexually assaulting a girl, and then he clammed up about it to police when the football program's designated fixer arrived at his police interview? I think you already knew it in your heart. I'm ready for Pickens to go the full Antonio Brown by November at the latest. Not gonna be fooled again.
Also here is WR Allen Robinson, who sucks now.
Why the players think you suck: You've been told many, many times over that members of the Rooney family are exemplary caretakers for both their franchise and for the NFL's own high standards. Well guess what? Steelers players think that family is cheap as FUCK:
Player respondents believe that the team is understaffed in both the weight room and the training room; and, unlike the majority of the league, they do not offer a family room or daycare for the players' families on gameday.

Only 44% of players who responded feel like Steelers owner Art Rooney II is willing to invest money into upgrading their facilities, ranking him tied for 29th in this category.
I can't believe the Rust Belt's answer to inbred British royalty is a bunch of decaying skinflints whose only interest is in looking like they care and not actually caring. Mister Mara would never.
What has always sucked: I've spent years making fun of Steelers fans for being annoying. But they're also old. This is an ancient race of people for whom death feels ordinary. All they do is sit around the stadium, gum their french fry subs, complain that all of the new players are worse than the old ones, and wait for the earth to reclaim them.
To be a Steelers fan is to give up on life in general. You don't work out. You don't read. You don't eat anything that isn't the color brown. You don't travel, certainly not outside of the United States. You just sit there and consume vital resources until one day your heart fails and your family poses your body in your favorite recliner at the wake. I see this team and I see nothing but wasted lives. Thinking about them makes me think about my own mortality. Did I do enough in this life? Have I tried to make the world a better place? Did I make others happy? Well when I compare myself to you people, the answer to all of those questions is an emphatic yes.
I don't like Pat Freiermuth; this is one of those fanbases that must be permanently barred from having a white tight end to cheer for. T.J. Watt will end up with fewer playoff victories than his brother. If Primanti's was located in an actual city, no one would care that it existed.
Ratto says: Tomlin and his I-last-smiled-in-1997 expression has been there forever—only those other noted prop comedians Bill Belichick and Gregg Popovich have been at their current jobs longer. But Tomlin is a made guy on a franchise full of made guys. The Steelers love this about themselves almost more than the logo-on-one-side-of-the-helmet affectation. They're the same guys doing the same things over and over again. They've had three coaches in the last 54 years, four general managers in the last 52, and been owned by the same family for 90 years. They even told Reebok to shove off when the apparel company wanted all the NFL teams to change their uniforms in 2002, and inspired a revolt by other NFL teams to do the same. In other words, they are who they are because they don't know anything else.
What might not suck: Pickens will make a lot of neat circus grabs in games that otherwise end 12-9.
HEAR IT FROM STEELERS FANS!
Matt:
We are the worst people on earth. At least we can beat the Pats at being undeserving shitheads. 
John:
The reason the Steelers are so popular here in Western Pennsylvania is that they distract us from the excruciatingly shitty winters while providing civic pride in a place where nobody has any money. 
Hugues:
We drafted a first round QB and put him behind an offensive line that was somehow both too old and too inexperienced. After another concussion, he'll be the mental equivalent of Terry Bradshaw. Maybe that was our goal all along. 
Alex:
The offensive play calling is worse than Don Jr.'s pillow talk.
Jeffrey:
It took until 2017 for our fanbase to realize James Harrison isn't a good person.
Robert:
Let's have one of the most unproductive, predictable offenses in the league, and then bring EVERYBODY back. 
Ryan:
Absolute best case scenario is that Pickett is the third best QB in the division and Matt Canada is the 25th best OC in the league.
Sam:
I have so many Steelers/Pittsburgh tattoos that a nice Yinzer at the pool approached me and accurately identified where I went to high school. I'm almost 40 and am an attorney for the federal government. Pathetic.
Steve:
The day after the Steelers got Tebowed in the playoffs, I went to a job interview still piss drunk from the night before. I got the job, because expectations for an employable person in Pittsburgh are so pathetically low.
Tom:
Matt Canada will throw the ball on first down (despite everyone knowing it), run the ball on second down (despite everyone knowing it), and then call a screen pass on third down.

But because Mike Tomlin is magic, the Steelers will be 7-4 after 11 games and in the thick of the playoff hunt! We will then lose at home to the Cardinals 27-24 in OT.

In Week 18, we will play at Baltimore in a game we have to win to make the playoffs. Baltimore will have nothing to play for. We will still lose.

I should bet my life savings that we will end the year exactly 9-8.
Jim:
Do you know what? Pickett sucked ass as a rookie. I have no idea how so many Steelers fans are chugging the Kool-Aid when he made four good throws all year.

These were not your normal nine wins. They were nail-biting wins against bottom feeder teams that made the night I lost my virginity seem satisfying by comparison. Everyone who knows anything about football saw those wins and had a good laugh. Defector, these wins were gaping ass: just dumbass Tomlin grindfests where we ran Najee Harris 32 times for 90 yards, took four tries to score from the half-yard line, and needed a turnover or TD in the last 30 seconds to manage to win 14-10 against a team that drafted in the top 10.

I paid for goddamn Sunday Ticket to watch every single one of them too. I suffered immensely every single weekend, because I'm fucking stupid. And what do we have to show for it? Mediocre draft picks, zero playoff wins, and enough of a turnaround midseason that our lucky sperm owner decided to stay the course.

And here we are now. The team spent an unusual amount in free agency and the Yinzers are FEELING IT, ignoring the fact that this team is going to get steamrolled by the entire AFC and that we're all crossing our fingers that Kenny Pickett might be good enough to develop into the next Daniel Jones… all while also convincing ourselves that Najee Harris is finally going to be an elite back, that the corpse of Patrick Peterson will be an upgrade over the young versatile corner we were too cheap to re-sign, and that George Pickens develops into a WR1 before anyone finds the hostages in his basement.

This team will start out like 1-6, finish the season 9-8, fall over backwards into the 7th seed, then get eviscerated by Cincinnati or Buffalo 49-17. It is destiny. THIS is the Steelers Way that our fans and organization prattle on about. I fucking hate everything about this goddamn team and its insufferable, troglodyte fanbase. Now if you'll excuse me, I need to go sign up for the new YouTube Sunday Ticket so that I can get ready to do it all over again. 
Jake:
What a dilemma to wish that your coach wasn't quite as good as he is. 
Terry:
For the record, I'm 100% a delusional Steelers fan because I firmly believe Kordell would've been MVP like Lamar Jackson if he played 20 years later than he did.
Sam:
I can't wait to make the playoffs and get completely outcoached again.
Josh:
This is just the shittiest fanbase in the NFL.
Sam:
Their last playoff win was during the final days of the Obama administration, and in two of the intervening losses they pulled the trick of making Blake Bortles and Baker Mayfield appear competent. The only teams with a longer streak of postseason futility are the Broncos, Panthers, Cardinals, Jets, Bears, Commanders, Raiders, Dolphins, and Lions. 
Jeff:
Kenny Pickett is a lose-lose situation for me. If he's good, then Pitt fans, the most unjustifiably arrogant college fanbase you'll ever encounter, will never shut up about him. If he sucks, fans will simply blame everyone else regardless of how bad he plays. It's an easy-to-predict future where a fanbase that already blames Mike Tomlin for every shortcoming will scream, "Kenny would've been a star if Tomlin didn't ruin him!"
James:
I was so ready for this team to finally have a losing season and go into full rebuild mode, but nope. This team eked out yet another winning season in the ugliest way possible and somehow emboldened this mouthbreathing fanbase into believing Kenny Pickett is Christ with baby hands. 

It will never cease to amaze me how many Yinzers still want Tomlin fired, even after cobbling together a winning season last year of all seasons. Every time you ask them who they'd rather have as head coach, they say another coach who isn't going anywhere (Reid, Belichick, etc.) or go, "Durrr, Ida know, just someone else (swigs IC Light)!"
Tommy:
I moved from Pittsburgh to San Francisco after growing up/going to school there, and I was psyched about hitting up all the crazy famous Steeler bars. After about the first half of my first season there, I quickly learned that these bars are hell. Everything becomes a contest of how Pittsburgh-y you can be. No longer are we watching and discussing the team that is on 10 screens surrounding us, but you are regaling me with some story about how you ordered something different than usual at Primanti's one time and will forever regret it. YOU, awful fan, have forced me to hide in my home on Sundays, terrified that someone will bring over a friend who has some story about meeting Willie Parker at Six Flags or something.
John:
The Steeler fan is passionate yet completely clueless as to how the game of football is played. Just because they played high school ball in the 70's, they think they know everything there is to know about football. That's like thinking you could be a brain surgeon because you played Operation when you were 10. 
Jeffrey:
The past five seasons have been like reliving John Kerry's presidential campaign in perpetuity. They look respectable because of the pedigree but ultimately get zero playoff wins.

Our offensive line disintegrates every season like they're drafted from IKEA. Yinzers are so pitiful that they applaud three-yard fullback dives. If Iron City ever did a social media promotion with a trans person, Western Pennsylvania hospitals would be swarmed with myocardial infarctions. This goddamn team had me rooting for Joe Flacco as he got outplayed by Skylar Thompson on the abandoned television at the bar. Every incomplete inched me closer to the grave.
Submissions for the NFL previews are now closed. Next up: Detroit Lions.
Stay in touch
Sign up for our free newsletter