Some people are fans of the Minnesota Vikings. But many, many more people are NOT fans of the Minnesota Vikings. This 2023 Defector NFL team preview is for those in the latter group. Read all the previews so far here.
Your team: Minnesota Vikings.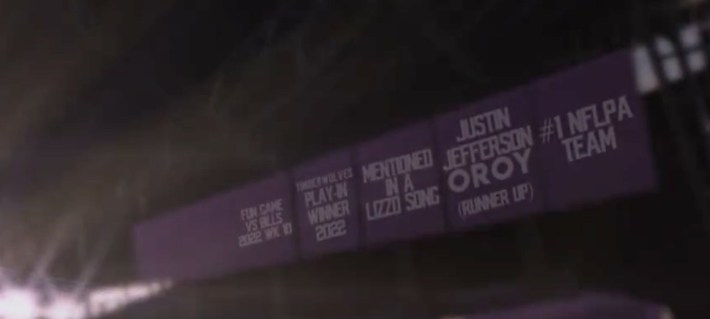 When the Chargers social media team has you nailed, that can't be good.
Your 2022 record: 13-4. Biggest party in the NFL. I'm a Vikings fan and I fucking loved this team. They rolled into 2022 with nearly the exact same roster they had from the previous season, when they went 8-9. And yet, they still cruised to a division title by staging miracle win after miracle win. They crushed the Packers on opening day. They beat Detroit on a last-minute TD pass to a wide-open K.J. Osborn. They snatched T.J. Hockenson away from the Lions soon after that and instantly became more dangerous on offense. They beat New Orleans in London after the Saints double-doinked the potential game-winner. They beat Chicago on a last-minute forced fumble. They came back from 17 down in Buffalo thanks to the greatest catch I've ever seen. They came from 33 down against Indianapolis in the largest comeback in NFL history. And they beat the Giants on Christmas Eve with a 61-yarder at the gun.
I've never enjoyed a Vikings team as much as this one. The only people who didn't love it were, frankly, assholes: datahumpers who looked at this team's net point differential and proudly cried out ACTUALLY THEY'RE NOT GOOD to anyone who would listen. Like it was some grand revelation. Gold star for you, fuckface. It's almost as if these people resent that football games have a final score and aren't decided by a panel of judges. Or by fucking Vegas. This is a lousy way to watch football, and a lousy way to live life in general.
You think I like sounding like Phil Simms about this shit? I don't. I'm a better football fan because of analytics, and I like it when both writers and front offices use data to properly evaluate a football team ... but not at the expense of everything else. The whole point of sports is to find out who will defy the odds, not obey them. Wins matter.
+#+#+#+#REALITY HAS ENTERED THE POST+#+#+#+#
The 2022 Vikings were the worst 13-win team in NFL history, beating their opponents by a fearsome -0.2 points per game. Every win was sheer happenstance, and often brought more aggravation to fans than elation. They could never keep a lead. Their short-yardage game was a pratfall. They only won that Buffalo game because Josh Allen played like an idiot. They only mounted that comeback against Indianapolis because a Radio Row guest was head coach of the Colts at the time. Every other win that these Vikings notched came against teams that were underwhelming, as underwhelming as they themselves would prove to be.
Every loss, on the other hand, was a definitive rout. The Eagles destroyed this team in Week 2 in a game that left Troy Aikman—and all of America, really—openly wondering why the Vikings elected to play prevent defense for 60 straight minutes. Turns out this was by design: a non-scheme cooked up by new defensive coordinator Ed Donatell that was as passive as it was indecipherable to his own players. And Donatell never changed it. Even when his boss subtly begged him to blitz more in a postgame press conference, Donatell still wouldn't do it. His stubbornness, coupled with a truly bad assemblage of defensive talent, was this team's undoing every time it mattered. Right after that incredible victory against the Bills, Dallas annihilated them, 40-3—the worst Vikings loss at home in nearly 60 years.
Detroit, meanwhile, would get their revenge in the rematch because the Vikings' new head coach called for the running back to throw a goddamn jump pass at the goal line. Despite beating New England on Thanksgiving night, this defense still made Matt Patricia look like the shrewdest offensive coordinator in the world during it. And those miracle victories against the Colts and Giants? The Vikings rolled into Lambeau after them, had their cornerstone RT tear his Achilles on the first series, and got hammered 41-17, giving Aaron Rodgers one last bit of satisfaction before he fucked off to New York.
Their season all but ended right there. During the regular season, this team won 11 straight games that were decided by a touchdown or less. Guess when that streak ended, and guess how?
Everyone was right about this team. Everyone is always right about this team. If the Packers had just had this exact season, you would've had the point differential shaved into your fucking temple, Drew. Stop kidding yourself.
Your coach: Kevin O'Connell, who turned out to be an upgrade from predecessor Mike Zimmer in terms of play-calling, situational mastery, leadership, player health, and general looks. O'Connell knows how to cook up a game plan. He knows how to give the media copy without saying anything revealing. His players love playing for him. Most important, he's a quietly ruthless coach who will cut ties with any player and/or assistant who proves to be of little use to him.
He proved that after the Giants loss by firing Donatell and hiring the diametric opposite in former Dolphins head coach Brian Flores, who alone is worth a jump of 5-10 spots in the defensive rankings, if not more. O'Connell is honest about his shortcomings and open about how he plans to correct them, especially with regard to fixing last year's abysmal rushing attack. And I can already tell that O'Connell knows that QB Kirk Cousins is a head case, and that he can't wait to get a new QB that he doesn't have to babysit all game long. This is a good coach. I believe in KO.
+#+#+#+#REALITY HAS ENTERED THE POST+#+#+#+#
Kevin O'Connell let this defense play dead all 2022 without firing Donatell. Like any other self-appointed whiz-kid coach, he's prone to getting too clever by half and calling a fucking jet sweep to his fullback on short yardage. O'Connell is also, at heart, a scheme guy. His system is so ornate that everyone needs a lifetime to understand it, and he only wants players who do. Cousins, no stranger to having new OCs foisted on him year after year, still needed virtually the entire season before he had a firm grasp on all of the verbiage.
As for Flores, he's good but he doesn't PLAY defense. He's still been handed a shit sandwich to work with. No interior D-line. No corners. Barely any linebackers. So instead of giving up five long TD drives per game, Flores's men are gonna give up six short ones instead.
And despite having a great debut season, neither O'Connell nor GM Kwesi Adofo-Mensah have answered the only question that matters: Quarterback. Quarterback, quarterback, quarterback. All of this good vibe shit is worthless unless these two men prove that they can find and develop a championship QB, something that the Vikings have never done in your lifetime, Drew. And you better believe that this guy ain't it…
Your quarterback: IT'S ALIVE!!!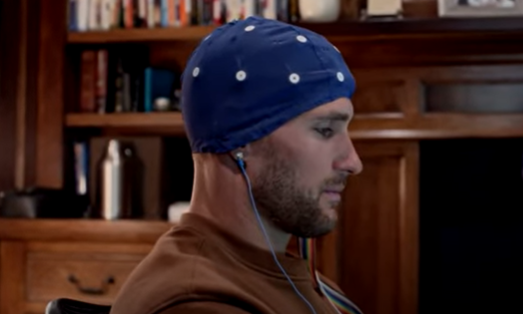 Yes, Kirk Cousins is still here. For one more year. And isn't it just like Kirk to do a little face turn right before he finally goes. This man played balls out all season long. And if you watched Quarterback on Netflix, you know that Kirk led all of those comebacks despite having 37 cracked ribs throughout the season thanks to the Vikings' usual absence of interior pass blocking. The 2022 season gave me a new found respect for Kirk, and Quarterback only deepened it. This is a decent, hard-working, thoughtful, and objectively tough man. He's also dorky in a genuine, almost lovable way. I've wanted Kirk gone for years now, but I already know I'll probably miss him once he's elsewhere.
+#+#+#+#REALITY HAS ENTERED THE POST+#+#+#+#
Do you remember what happened when the season was on the line? Hmm? Do you? I'll tell you what happened: Kirk curled into a fucking ball the way he always does, and always will.
And remember his little trophy room in Quarterback, where he had an alcove installed specifically so that he could put a Lombardi Trophy in it? Remember how sad he looked staring at that alcove? You know he's never getting a trophy to put in there, and you know that he knows it. Kirk isn't good enough, and now he's getting old. No amount of hard work and house calls from the chiropractor will change that. Kirk knows this is his last year as a franchise guy, for any team. And what's he doing with that precious time right now? Crying to his daddy because Flores won't stop blitzing him in practice and making him look bad.
Also, Kirk's wife may as well have a HATE THE SIN LOVE THE SINNER placard hanging around her neck.
Oh, and guess who's behind Kirk this season? That's right: NOBODY. Yes, Kirk goes unchallenged as the starter for the millionth straight year, with Nick Mullens manning the clipboard and fifth-round dartboard QB Jaren Hall eating paste over in the corner. There's also an XFL guy here now, but who cares.
What's new that sucks: Adofo-Mensah was hired to end former GM Rick Spielman's habit of doling out fat contracts to over-the-hill veterans. So once the offseason came around, he wisely ignored 13-4 and cut ties with longtime fan favorites including RB Dalvin Cook, WR Adam Thielen, and LB Eric Kendricks. He also let veterans DT Dalvin Tomlinson and CB Patrick Peterson walk, and he traded edge rusher Za'Darius Smith to Cleveland because he wasn't willing to pay Smith more than he was worth.
All of these moves were not only good, but long overdue. Cook, Kendricks, and Thielen were all significantly diminished and needed to be replaced with younger, cheaper talent. Even getting rid of Smith was canny, because Smith disappeared in the back half of last season and also strikes me as the kind of guy who acts like he's a big deal in the locker room but is actually hated by everyone in there.
With Kirk's contract still on the books (more on that in a moment from our good friends at Reality), Adofo-Mensah still managed to patch as many holes as he could, taking a flyer on edge rusher Marcus Davenport on a one-year deal, grabbing new CB1 Byron Murphy from Arizona, and adding beef along the lines in blocking TE Josh Oliver and DT Dean Lowry. Adofo-Mensah isn't gonna hand out any long-term deals to anyone he thinks will underperform them, and that includes star edge rusher Danielle Hunter, who held in briefly during camp before Adofo-Mensah forced him to accept a reworked one-year deal that doesn't come close to reflecting Hunter's long-term value as an elite pass rusher.
Meanwhile, the Vikings GM also handled the 2023 draft a million times better than his first go-round, staying put in the first to grab WR Jordan Addison and then grabbing physical man corner Mekhi Blackmon at the end of the third, at Flores's behest. This is a team that will be flush with cap space in the near future, but will have a turnkey roster that any talented QB will able to win with quickly.
+#+#+#+#REALITY HAS ENTERED THE POST+#+#+#+#
Adofo-Mensah's 2022 draft was a fucking embarrassment. His first-rounder from that year, S Lewis Cine, can't play. Cine couldn't play before he pulled a Teddy Bridgewater in the Saints game, and he's gotten no better since recovering from that injury. Second-round pick CB Andrew Booth is so shitty that Adofo-Mensah had no choice but to draft both Blackmon and CB/S Jay Ward, and then sign Pats castoff CB Joejuan Williams to make up for it. And the other second-rounder, G Ed Ingram, can't pass-block for shit and ought to be actively replaced before the season begins. Time and again, this team has the chance to fix their guard situation, and they never do a fucking good thing about it.
That goes for the D-line too, with scrub-ass Lowry brought in to replace Tomlinson, who was never as good as his PFF numbers suggested. Hunter is gone after this year and there's no one here even close to replacing him adequately. The reason this team failed a year ago was because they got killed on the line of scrimmage when it mattered. Nothing about that has changed. This roster is worse than last year. Pick any position group and it's one injury away from being fucked.
Speaking of which, Adofo-Mensah clearly has a type when it comes to the draft and free agency: players who are undervalued on the market because they have an injury history. That's why Davenport, who's missed 32 games over the past three seasons, got a call. Same goes for Murphy, who missed half of last season; for Booth, who was always hurt in college; and for Addison, who got hurt at USC last year and has already gotten hurt twice in camp. These are outlet-store players, and all of that will show up on the field, especially when they don't.
Right before camp, Addison pulled a gentleman's Henry Ruggs and got pinched for driving 140 mph. So if injuries don't get him, his idiocy will.
Also, Adofo-Mensah never brought in serious competition for K Greg Joseph, who missed four PATs a year ago. He hasn't locked up Hockenson or Justin Jefferson long-term. He traded for WR Jalen Reagor, which made Eagles fans WAY happier than it ever made us. He reworked Kirk's current deal to put MORE dead money on the 2024 cap, for reasons he never bothered to explain (and can't). And he still has no discernible plan for acquiring Kirk's replacement. His first big move in free agency this year was to get Oliver. A fucking second tight end. This is bullshit.
Jefferson isn't gonna sign an extension, because the only people who go to Minnesota and stay there are fucking WEIRD.
Bud Grant died.
Why the players think you suck: They don't! They love it here! WE'RE NUMBER ONE! WE'RE NUMBER ONE!
The Minnesota Vikings are ranked as the best team in our guide… a shining example of what is possible when a concerted investment is made in both staffing and facilities.
+#+#+#+#REALITY HAS ENTERED THE POST+#+#+#+#
And how many Super Bowl rings do you get for winning a survey? Maybe Kirk can put a fucking J.D. Power award in his little alcove now.
What has always sucked:
+#+#+#+#REALITY HAS ENTERED THE POST+#+#+#+#
+#+#+#+#ANGER HAS ENTERED THE POST+#+#+#+#
+#+#+#+#DECADES OF PAIN HAVE ENTERED THE POST+#+#+#+#
The worst fans you'll ever meet are Vikings fans. They never wanna talk about this team. When they do, it's never with anything resembling excitement. And if YOU get excited about this team, they sit you down on their knee, pat you on the head, and smugly pass along their tired fatalism to you, like it's fucking wisdom. Like they're doing you a fucking favor by taking a shit in your lunch. This team has won plenty over the decades, and employed some of the dopest players ever to play the game. Do these fans appreciate any of it? No, because all they wanna do is piss and moan. They see more ghosts than Sam Darnold.
Every time you meet another Vikings fan, you are let down. Aren't you shocked at how PASSIVE they are, all the time? It's like a million Ed Donatells, all freezing up the second adversity comes barreling at them. You're like that too, Drew. I've seen you during games, tweeting out the usual defeatist bullshit like "Welp," and "Uh oh," and "Here we go again," anytime the other team comes within a touchdown. I've seen other fans get in your head and stay there merely by saying "Kurt" or "Danny Dimes" to you. I've seen you go dead silent for endless stretches of gameplay. I know how much the phrase "regress to the mean" gets under your skin. Your whole deal is nothing but loser shit: the same as any other Vikings fan has to offer.
THAT is why this team will never win dick. How can they when these fans never, ever believe in them?
And while we're here, fuck Brad Childress.
Ratto says: They are the best franchise in all of Christendom, the model for all other companies in all other businesses. They have the coolest uniforms and the best game-day fan experience and are the envy of the entire National Football League for more reasons than we can list here. Bud Grant's passing should have caused a national day of mourning. Now, will you please unchain me from the radiator and let me out of your basement, Drew?
[NOTE FROM DREW: No.]
What might not suck: O'Connell is top-shelf. Jefferson is a god. Addison will be a star instantly. The offense is gonna be fucking bananas and Flores will get the best out of this defense, even if he has to suit up himself to do it. Undrafted free agent LB Ivan Pace is so legit I can hardly stand it. The division is a cupcake factory and so is the rest of the NFC. We're winning the Super Bowl, and then we're letting Kirk walk anyway. Fuck the numbers, fuck reality, and fuck you. SKOL.
HEAR IT FROM VIKINGS FANS!
Gabe:
My dog died the night before the Buffalo game. I may or may not have pointed to the sky and thanked her for divinely helping the Vikings beat the Bills. I had to put down my cat the morning of the Colts game. I may or may not have pointed to the sky and thanked her for divinely aiding the Vikings in the amazing comeback.

Unfortunately, none of my surviving pets died before the playoff loss.
Timothy:
Last year was fun but no one allowed me to enjoy it.
MT:
We lost a home playoff game to New York's version of Christian Ponder. Fuck Ed Donatell with Donatello's stick.
Layne:
I'm going to knock over Kirk's mortality vase.
Al:
Kirk will always make the safest throw at the worst time.
Adam:
Liking the Vikings taints everything else about Minnesota sports fandom.
Howard:
Craig Finn once said to me in 2013, "This team will bring you despair. There is plenty of room on the Vikings bandwagon for a good reason."
Bill:
I have tickets for the New Years Eve Vikings/Packers game this year. I assume the Packers, who will at that point be 1-14 or something, will win 77-3.
Andrew:
'98 was a seminal moment in my life. I'm not sure if I've ever cared about anything that much since. Also, a dead dog on the highway (35W) afterwards caused me to throw up the 14 White Russians I'd had all over the back of my friend's car.
Ryan:
The worst thing about your star player having a signature dance is that the opposing defense gets to do it when they humiliate your team. 
Connor:
The Vikings are like student loan relief: all promise, little to no actual results.
Christopher:
We have the most exciting WR since Randy Moss and some pale goober is throwing to him.
Grant:
The last time the Vikings made the Super Bowl was in 1977, the same year that Elvis died and Star Wars was released. Joe Biden had been a Senator for four years. Gas cost $0.62/gallon.
DA:
Hearing the name Oli Udoh discussed by people with Minnesota accents should be recognized as a form of torture by Amnesty International.
Tim:
I am a mid-40s professional with a loving family, a steady job, an advanced degree and a good credit rating. I have had security clearances and a series of jobs with progressively greater levels of responsibility and trust. I think conspiracy theories are what people believe when they are too emotionally fragile to face facts. I will go to my grave believing the Giants stole the radio transmissions from the Vikings' headsets in the 2000 NFC Championship game.
Dustin:
With his first start this year, Kirk Cousins will pass Daunte Culpepper as the longest-tenured Vikings QB of my lifetime. I think this team is giving me a complex because I am starting to remember Daunte with rose-colored glasses. I hated him back in the day, but now I would kill for his boom and bust excitement instead of Kirk's slow, murderous mediocrity. 
Harry:
I am writing this email to distract myself while my wife is in surgery.* And yet I am sure that these three and a half hours spent wondering if she will live or die will be much more pleasant than any three and a half hours I spend watching the Vikings this fall.

*Everything went well; I showed her this when she woke up and she thought it was funny and said I should send it in. 
Ethan:
Vikings fans are the type of people who go onto What If Sports over and over and over again.
Lucas:
This team is perhaps the biggest regression candidate in league history, for a franchise where karma never misses an opportunity to exact its revenge. What could possibly go wrong?
Cael:
Kirk Cousins needs 15 minutes to find an open receiver and our line can only get him two seconds. 
Thomas:
I have a sinking feeling that we just witnessed KOC's best season as a head coach and he will immediately go down the Stefanski career path of having peaked in year one.
Daniel:
The only thing worse than cheering for this team always letting you down is suffering through the fanbase who insists that they actually hate the team ,and that this hatred serves as some sort of talisman against getting too attached.
Baubak:
Taylor Swift played at USB stadium two nights this summer. Multiple people said it was louder than any Vikings game. Whoo-boy, Vikings Twitter (TM) did not take that well. You would have thought that someone spit on their mother as she was being stabbed and rolled into a shallow grave. Vikings fans are the most emotionally infantile group in the state, by far. 
Tyler:
There is no other franchise in the NFL that could have one of the wildest regular seasons in the history of the sport just to get curb stomped by Daniel Stephen Jones III in the Wild Card.
Pasquale:
Ten times, Drew. Ten times we've been within two wins of an NFL championship. 

Four Super Bowl losses. Six NFC championship game losses. A neat 0-for-10, to say nothing about the repeated ball-punch losses too numerous to count, like just last year, when we made Daniel fucking Jones look like Aaron fucking Rodgers. I am 57 and still have hope every September. I deserve every ball punch I get. I know you feel me, Drew. I feel you, too. Now go get ready to ice those balls again.
Joshua:
Drew Pearson pushed off.
Alexander:
Mike Zimmer looked like a leprechaun.
Devan:
I hate being a fan of this team. And I hate Kirk Cousins even more. 
Caitlyn:
I'm watching Quarterback and I experienced 15 terrifying minutes of thinking Kirk Cousins was likable, and maybe a little charming. Thankfully he quoted Margaret Thatcher and order was restored to the universe.

Fuck Gary Anderson.
AJ:
Everyone called us frauds. I stuck my neck out for this team, arguing that narrative with a fervor I'd never had before. I defended them so much I literally got banned from r/minnesotavikings for like, a week. 

And how did this team repay everything I did for them? They lost to Daniel Jones in the Wild Card round.
Thomas:
Other than Sacramento and Minnesota, every single big four sports city has made at least one championship round appearance since 1992. And Sacramento has had only one team. Minnesota has had at least three that entire time.
Nate:
This team was a fraud last year, they'll be a fraud this year. 
Dale:
Kirko Chainz was cool for approximately three minutes. They will lose to Jordan Love both games this year.
Henry:
I hope Kirk Cousins lives his entire life the same way he feels about vaccines. Seatbelts? Fuck that. Expiration dates? Nonsense. Building inspections? Let that roof drop on my head if that's God's plan.
David:
My brother and I were back home for a weekend last season and went to the Colts game. After watching the single shittiest half of football we've ever witnessed and paying $75 for four flat stadium beers, we opted to leave. I've taken a lot of grief for that decision, but regret nothing. If I were to get in a fistfight with a child and the kid beat my ass for 30 minutes before I rallied to edge him in the end, I wouldn't be celebrating my improbable comeback like Vikings Nation did. I'd hang my head in shame and then do my best to change the subject every time my friends brought it up. Screw you and your shitty, overpriced beer, Zygi.
Alex:
Kirk is the only quarterback we could really have, because he's perfect for this town. Whenever he says "golly" or offers some surface-level platitude through gritted teeth and increasingly cornered-looking eyes, I don't get mad. The Houlihan's down the street from TCO is full of Kirks who think Houlihan's is fancy because it isn't Applebee's. We are Kirk, and Kirk is us. I can't feel anymore.
Buchanan:
This year I finally got to see a game at US Bank Stadium. My in-laws got us tickets to see the Christmas Eve game against the Giants. When Joseph made that 61 yard field goal it was one of the happiest moments of my Vikings-watching life.

After the game I was driving home and my car slid on some ice while on the entrance ramp. I couldn't stop and rear ended the car in front of me. They had a few kids in the car. Everyone was fine, but I ended up spending the rest of my Christmas Eve trying to get my minivan towed and feeling guilty for ruining that other family's Christmas. The damage maxed out the deductible on my car insurance, so $1500 in the end.

That's what I get for being a Vikings fan. Fuck this team.
Daniel:
Growing up, my mom was extraordinarily strict. Anything violent was prohibited. No toy guns, war movies, or TV at all. No watching hockey, boxing, and especially football. However, through osmosis at school, I became a huge Vikings fan. That fandom became an important part of how I resisted the constraints I lived under.

The same way I experienced movies by clandestinely reading novelizations, I experienced the Vikings through the newspaper. I'd try and avoid seeing the front page blurb so it wouldn't spoil the sports section, I'd anticipate the reveal of that above the fold spread all week. I kept a box of clippings about mediocre mid-90's teams hidden under my bed. I deeply loved Warren Moon, mostly because of his name. I found a couple books about the team in my elementary school library and read them over and over. I was probably the only fourth grader who could recite starters from the Purple People Eater defense. I cared about the damn preseason, for fuck's sake. My love of the Vikings gave me something to focus on, and reading about them in the Monday paper gave me something to look forward to.

By 1998, I had a radio. Technically, I was only supposed to listen to public radio stations but I turned the station to pop music and Vikings broadcasts when no one could hear, and I practicde spinning the dial to land instantly back at classical 99.5 if I detected footsteps. During that magical regular season I tried to catch every game I could. Hearing my team be so dominant, I can't even describe what that meant to me. 

If you've ever been trapped in a situation or relationship like the one in which I was raised, you know it feels incredibly bleak. You exist in a state of honed fever-pitch vigilance, always trying to gauge where the line is that day, and failing. Eternally, you trudge through a hallway full of locked doors. There is no future. There's nothing to do but lose, forever in the endless now. But 15-1? Randy Moss's rookie year? Gary Anderson's perfect regular season? The greatest offense the game had ever seen? Maybe things can be better. Maybe one of these doors, when you seize the knob you'll feel it click open in your hand, and it'll open to someplace you've never been. 

The day of the championship game I was grounded, like usual, and lost radio privileges. But fuck that, this was too important. I listened while I was supposed to be cleaning, with the volume so low as to be nearly silent.

Then things fall apart. If you're a Vikings fan of a certain age, you can recount where you were and who you were with, like it was news of the JFK assassination. Gary Anderson wasn't perfect after all. The best offense in history knelt down to go to overtime. In overtime, they weren't the same team. Afterwards, I sat there silently crying my 12-year-old eyes out, trying not to make noise so I wouldn't get caught, screamed at, and punished more. It's not like I could ask my parents for support, not when I was breaking that many rules. So I wallowed in devastation, in fear of being found out. When I went downstairs later, I had to pretend I was okay. I'd never felt so alone.

Narratively, you'd think there'd be some payoff, right? That my rebellious devotion would be rewarded in some way? That there'd be a time where they put it all together, and I'd finally feel free, and it would put a capstone on my healing journey? My team is the Vikings. Over the past twenty five years, they have only offered lesser versions of that climactic heartbreak. My faith was not rewarded. And it will not be. They're the Vikings.

PS: I feel like I should make clear that I'm doing much better these days and that my life is pretty great. 
Submissions for the NFL previews are now closed. Next up: New York Giants.
Stay in touch
Sign up for our free newsletter