Some people are fans of the Atlanta Falcons. But many, many more people are NOT fans of the Atlanta Falcons. This 2023 Defector NFL team preview is for those in the latter group. Read all the previews so far here.
Your team: Atlanta Falcons.
Your 2022 record: 7-10. Second straight 7-10 season. Second-best pro football team in Georgia two years running. Pretty impressive shit. The 2022 Falcons also improved from being last in sacks in 2021 to being second to last this time around. So watch out opposing quarterbacks, or else you might get flattened by the ATL steamroller! At which point the ref will throw a flag and give you 15 free yards.
There's less where that came from. The Falcons blew a 26-10 fourth quarter lead to the Saints to lose the opener, after which Jameis Winston feasted on his own fingers to the horror of nearby friends and family. They suffered four straight losses after Thanksgiving, with a 17-9 loss to the Ravens at the end to eliminate them from contention in an NFC South that Tom Brady's divorce lawyer could have won all by himself (and essentially did). They lost to the Chargers on a last-second field goal from Cameron Dicker, whom the Chargers had just picked up off the street. They let Joe Burrow pass for 345 yards on them in a single half.
And then there was The Ballad Of Marcus Mariota. [plucks at a banjo lazily] Under Mariota, Atlanta had the second worst passing offense in football, with their permalance field general cracking 200 yards three times in the 13 games he started. Mariota also lost two games with backbreaking end zone picks. Here's Jalen Ramsey picking Mariota off in the end zone to beat his team:
And here's Kendall Fuller picking Mariota off in the end zone to beat them:
Of the three guys featured on Netflix's Quarterback, Mariota was the little pig who built his house out of straw. He's the guy producers snagged because they needed a clinically depressed QB to round out the trio. He's the one crying right now because you watched his career fall apart on camera and could muster only a whispered, "Hey I remember that guy" as your sole emotional response to it. The Falcons, in general, are like that. Remember that organization? With the whole 28-3 thing? Oh yeah, I do! And remember their coach? The guy who looks like he needs to be the heir to a vast shipping fortune just to get a date?
Your coach: Oh yeah! I do remember this guy! It's international heartthrob Arthur Smith, and he IS the heir to a vast shipping fortune!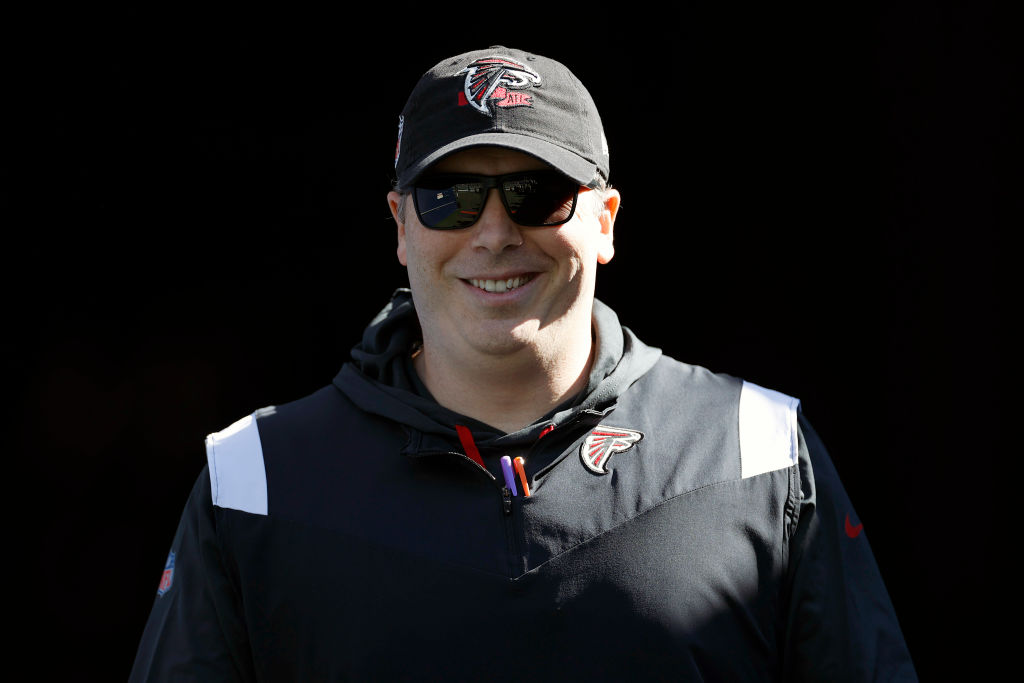 Hard to believe they cast Ryan Gosling as Ken and not this fella. If Arthur Smith went to the same pizza party as me, I would leave. I wouldn't want pizza anymore. You know guys like that, where it sucks to just watch them eat? They reach for a slice with their clammy, greasy fingers and you're like, Holy shit I can't believe what a fucking slob this guy looks like … I hope my kids don't end up looking like that … I'm gonna fucking barf. That's what I think of when I see Arthur Smith: pale walrus flaps and a face built for kissing toilets.
Former defensive coordinator Dean Pees retired during the offseason, with former Saints DL coach Ryan Nielsen arriving as his replacement. Nielsen will have his work cut out for him, because this team's recent pass rushing history spawns an infinite number of fun stats, like this one!
The Falcons' two-year sack totals of 38 would be tied for 21st league-wide in 2022 alone and still 32 sacks off the Eagles' league-leading 70 sacks.
But hey, at least Nielsen is good looking. I can deal with sideline shots of him. With Smith, I'd rather watch a replay of 9/11.
Your quarterback: You don't have one. You had years to replace a withering Matt Ryan and, to this day, have still done virtually nothing. Supposedly you now have a starting quarterback named "Desmond Ridder," which sounds like a character in a Knives Out film. The Falcons are doing their best to hype up Ridder, but the only thing Ridder has going for him is that he's young and doesn't have the Lars Von Trier-esque story arc of the man he's replacing.
Not yet, at least. Ridder started the last four games of 2022 for Atlanta and cracked 200 yards just twice, topping out with 224 yards against a Bucs team that had nothing to play for. Quite the airshow. Bryan Knowles of the FTN Almanac noted that Ridder's small sample size from last season included poor red zone play, limited mobility, and bouts of frightening inaccuracy. He's bullshit, and even you, the snail-brained Atlantan, know that better than your team does.
Behind Ridder is one-man Marjorie Taylor Greene Super PAC Taylor Heinicke, who'll start 10 games this season and sail 15 easy picks all because you assholes didn't bother to draft a new guy. You didn't even try for Lamar Jackson when he was out on the market, all because your owner is a gutless, colluding jackass.
You know you're adrift when your owner is reaching into the 2018 take bag to justify not signing one of the best quarterbacks in the sport. The Falcons tried to trade for Deshaun Watson a year ago, mind you. But that was different because Deshaun Watson was an aspiring rapist: always ready to suit up in his best skimpy towel. By contrast, Lamar Jackson simply doesn't have that Barstool in him. A pity.
Seriously though, WHY THE FUCK DIDN'T YOU TRY TO SIGN HIM?
What's new that sucks: Falcons brass looked at last year's passing attack and said to themselves, You know what? We need to establish the run more. So instead of trading up for a QB in the draft, or packaging the No. 8 pick to bring Jackson into the fold, they drafted a fucking running back. Why not draft a box of thumbtacks and eat all of them instead?
Bijan Robinson is one of the best RB prospects to come along in years: a guy who's already being touted as a Hall of Fame talent. But what does it matter? You know the deal with running backs now. You don't draft them high. You don't give them a heavy workload. You don't extend them. You don't even make eye contact with them when they pass you in the hallway. If you run a team, your job is to spit on your backs as they take a water break, and then force them to work the concession stand whenever they're not playing. The rest of the NFL—even the Colts!—got this memo years ago. But the Falcons were like DURRRR LET'S DO WHAT THE TITANS DO DURRRR.
And now you want me to talk up these assholes as a dark horse? Why, just because their division is the fucking Sun Belt Conference? Do you even KNOW about this team and its history? Why don't you go watch a child's sport like hockey instead?
Not finished shackling themselves in purgatory, the Falcons also traded for former—you guessed it—Titans TE Jonnu Smith, who proved to be one of Bill Belichick's worst free agent signings when he snatched Smith away from Tennessee two years ago. Keep in mind that the Falcons already burned a No. 4 pick on the same low value position in 2021 when they grabbed Kyle Pitts instead of Jaylen Waddle, DeVonta Smith, Micah Parsons, Justin Fields, or Ja'Marr Chase. Now they're building their offense around not one, but two overpriced tight ends. It's like a Gregg Easterbrook wet dream, minus the science parts.
Also here are wideouts Scotty Miller and Mack Hollins, both of whom will siphon valuable fantasy stats away from Drake London while Atlanta loses its fifth straight game 28-9.
Over on defense, Atlanta also splurged on enough talent that you'll hear the word "revamped" 67 times from the color guy every game. In the secondary, they traded for Lions bust Jeff Okudah and then signed another underwhelming Lions corner in Mike Hughes. They could sign Deion Sanders today—8.2 toes and all—and find more production back there. But at least they also grabbed former Bengals defensive standout S Jessie Bates to cover all of the guys who'll blow by those new corners.
Up front, here's DT Calais Campbell, who probably isn't good anymore but is still nine feet tall. Promising DT David Onyemata is also here from New Orleans, and DT Eddie Goldman unretired after a year away from the sport to rejoin his old teammates. Who knows what ticky-tack flags they'll all draw? I hope many of them! Finally, Bud Dupree, who is also not good anymore, arrives from Tennessee. Yes, another Titan. This defense isn't necessarily better, but it's certainly different. I look forward to this unit being wildly overpraised after it sacks Baker Mayfield three whole times in Week 7. You'll remember where you were.
For real though, how the Falcons didn't trade 86 draft choices for Ryan Tannehill and Derrick Henry to finish the job is beyond me.
Why the players think you suck: When designing facilities to house an NFL team, it helps to know that football players are, in general, rather large people. Some linemen even have their own moons. But Falcons ownership appears to be under the impression that they run a team comprised exclusively of horse jockeys and Cirque De Soleil contortionists, and the NFLPA blew up their spot for it.
Many player respondents expressed a consistent complaint about not having enough room in multiple parts of their facility as they go through their workday. This feedback of players being too "crammed" focused on the cafeteria, locker room and weight room.
God, imagine having to sit right next to Arthur Smith and his grotesque flipper hands in that cafeteria. Say goodbye to that meatloaf you just ate.
What has always sucked: Remember when Kanye West lived in the Falcons stadium throughout the run-up of Donda and kept having these elaborate, pretentious album release shows there? That was the most memorable thing to ever happen to this organization, and will be for quite some time. And do you know why? BECAUSE YOU DRAFTED A FUCKING RUNNING BACK. And you already had two of them!
Don't tell me these fuckers have a plan. Don't tell me they're building something special here. The best thing ever built in Atlanta was the fire that burned it down. That'll remain true until Sherman's ghost returns with a truckload of kerosene, a mountain of rags, and a lit torch.
Because Atlanta is dogshit. It's where customer service goes to die. Wanna order a sandwich in Atlanta? Welllllllllllll, you'd best sit tight there a while, feller. Ol' Jethrub behind the counter needs to call his girlfriend to make sure she got her nails done first. Then he'll be fixin' to check on the hogs out back before he can git to yer … yer … what was that you said you wanted agin? Some kind of Coke?
Georgia isn't like the rest of the Deep South, which puts real effort into being evil. No, Georgians came here at the turn of the 19th century, took a look around, said to themselves, This seems fine, and have done exactly nothing since. It's not our worst state, just our laziest. That's why Robinson will get dinged by fans here for running way too fast in the open field. Who's he think he is with all that hurryin', some kinda Yankee?
Ratto says: Finding a way to explain the pure amorphous blobbery of the Falcons, one need only consider the fact that they have hosted more Super Bowls (three) than they have played (two), and none of the five games have been particularly memorable or interesting unless your tastes run toward blown four-score leads and games in which there were two fewer punts than points. Arthur Blank has owned the team for two decades and still isn't a player in league politics. They went from their best-ever quarterback to Marcus Mariota and won the same number of games. Their last five seasons have gone 7-9, 7-9, 4-12, 7-10 and 7-10, and two of their last five coaches have been named Smith. Now tell me where you find their shadow.
What might not suck: The O-line, including All-Pro guard Chris Lindstrom, is very good, which means that Atlanta is going to win the time of possession battle in a lot of games. They won't win much more than that, but it's a start.
HEAR IT FROM FALCONS FANS!
Brent:
The Falcons had a longer thank you video for Drew Brees (1:17) than Matt Ryan (51 seconds).
The nicest thing I can say about the Atlanta Falcons as a franchise: They had a quarterback in 1971 named Dick Shiner. That's it.

The Falcons remain so malign and harmful to everyone they know that I can't even afford them the poison of attention. They're less of a franchise and more of an active fluorine fire. A chemist will tell you the best countermeasure to one of those a good pair of running shoes. I'd say the same for the Falcons. Allegedly this team has, "a nice young core." For other teams, this would indicate a modest uptick in talent. For the Falcons, it should serve as a herald of squanderings to come. Drake London will find no passes from an overwhelmed Desmond Ridder, then ultimately will be signed as a free agent by the Chiefs, where he will play a key role in Pat Mahomes' fourth Super Bowl win. Kyle Pitts will be the first receiver to post a 98% open/clear rating on routes this season and fail to reach 500 yards receiving. Arthur Smith will get credit for hiding Ridder's shortcomings behind a dominant run game, make the playoffs at best, and then evaporate instantly to the first team capable of outscoring them and stopping the run.

This will be as good as it ever gets. This is the part where now I am supposed to rag on their fans, but honestly I can't even do that in good faith, because my best advice is that they should do something else with their time in the fall, especially now that Georgia has stockpiled enough talent to win two or three more national titles every year, and that Georgians have an abundance of outdoor recreational activities available to them. The fall is the one time when the state of Georgia at its least uninhabitable. Spending it waiting for the Falcons to shit themselves on cue seems like a waste, especially when a fishing license is only $15 and our otherwise batshit, strip mall fascist state government stocks the rivers and lakes with fish for free.

P.S. I've heard Arthur Smith, against all odds, is a genuinely good dude who works his ass off and cares a lot. None of this will help him.
Frank:
Arthur Smith threw a tantrum when a reporter asked why he wouldn't call plays for Kyle Pitts.
Josh:
I remain convinced that Arthur Blank hired Arthur Smith solely because his name was also Arthur.
Ben:
Arthur Smith looks like what Brian Kemp sounds like.
Rob:
Arthur Smith is the result of a wizard granting an irrationally confident microwave burrito's wish to become a real boy, but honestly, I think he's fine.
Peter:
I live in Houston, Texas. There was one bar for Falcons fans in this city and it burned down back in May. After finding out no one was hurt, my first thought was, "Thank god I don't have to hang out with those fucking loser Falcons fans again this year." 

This team drafted Kyle Pitts and Drake London so that Marcus Mariota could miss them by 20 yards. The defense hasn't recorded a sack in living memory. 
Karl:
Not taking Jalen Carter at 8 for a team that made every quarterback play like a top-10 guy, and then to use the pick on the one thing they already have covered?
Eric:
Chris Chandler's nickname was Crystal Chandelier, for Christ's sake. He spent more time getting CT scans than he did actually playing quarterback.
Brent:
As I get older and look back to the past few seasons and past few years of my life, it all seems a blur. My friends are buying homes, getting engaged/married, having kids; The Atlanta Braves won a World Series, the Georgia Bulldogs speeded their way to back-to-back national championships ...

I still rent a tiny apartment, I don't think I'm ever going to find love, let alone have kids.

One niece is entering high school -- Wasn't she just born?

Another nephew is graduating college -- Wait I thought he was a toddler?

My buddy is a VP now -- Isn't he young?

Megatron's Butthole opened in 2017?

The Super Bowl was seven years ago?

Las Vegas has an NHL, NFL, and soon an MLB team?

Los Angeles has two NFL teams and even a Super Bowl now?

It's been 10 years since we lost to San Francisco in the NFC Championship Game?

Matt Ryan blew a 33-0 lead and is going to be a CBS Sports analyst (despite not technically retiring)?

Yet like a pebble tossed into a pond that leaves no ripples, the Falcons' continued ineptitude is the one constant, forever unchanging and matters so little. My life has become like that scene where Doctor Manhattan experiences all time simultaneously, and nothing matters. I can't tell if I'm 37 or 22 anymore.
Rob:
God's forgotten the NFC South, so we'll probably win it. But it's not going to be fun.
Jon:
We might just stumble our way to a 10-win season, but mark my words: we'll be the worst 10-win team in the history of the NFL.
Ted:
I will probably never go to a game in person unless the tickets are free.
Sean:
They'll keep doing this to me and I'll keep taking it.
R:
I'm writing because you posted my bit to WYTS last year, and I want to tell the people in the comments who criticized my partner's parenting decision to go to hell. Go to hell, internet commenters!

This is what being a Falcons fan is. Knowing there's no reason to care about your team this year, but still wanting to get angry over something. My partner is a very good mother, you nameless dorks! If she wanted to dress the baby in a pro-Hillary onesie back in 2016, that's her prerogative! I hope you like the Browns, commenter-from-last-year, because that's legit the only way I can look down on you.
Daniel:
The odds are greater that the stadium will open for a Sunday game than the Falcons winning a Super Bowl. Our fanbase is comprised of people who refuse to drink Bud Light now. If I see another lifted F-250 with a "Don't Tread on Me" sticker in the tailgating lot, I will chug gasoline then swallow a lit match.
Jackson:
The date is February 5, 2017. I, a born-and-bred Georgia boy, am fresh out of college and living in California, where I found my first real adult job. I'm in a tiny bedroom that I pay $1500 rent for, in a house that I share with four other people, eager to watch my Atlanta Falcons take on the accursed Tom Brady in Super Bowl LI. 

For your sake and mine, I'll skip over the game. Since this is California, the game wraps up at like 7pm, which is great because it still leaves you plenty of time for activities on Sunday night. My co-ed basketball team has a game at 9. Despite the abuses that the Falcons have inflicted on me and that I have inflicted on myself, I decide I should still show up to the game.

My teammates, all NorCal natives, normally delight in teasing me about being the hillbilly boy from Georgia, but in this instance I am too fucking pathetic for them to even think about it. It's like being at your own funeral. We never talked about it again, and I have not watched a complete NFL game since. 
Doug:
In my head I'd been composing this lengthy screed about how the Falcons are butt, how the haters are right and they really are just white noise for SEC fans to nurse their Sunday hangovers by, how not even the Democratic Party is as terrified of success as the Dirty Birds are and how embarrassing it is to admit I'm emotionally invested in this sad back-seat handjob of a franchise. But then I remembered the Bulldogs have back-to-back titles, which means I actually have a championship-caliber rooting interest and thus don't need to give a fuck about the Falcons anymore.

Don't be surprised if your submissions from Falcons fans are way down this year, because I guarantee you 95% of them are thinking the exact same thing.
AM:
Fuck Tom Brady, fuck Arthur Blank, fuck Thomas Dimitroff, fuck Drew Brees. Fuck anyone who still says 28-3 to me. Nepo Baby better figure this shit out.

Fuck Tom Brady.
Submissions for the NFL previews are now closed. Next up: Carolina Panthers.
Stay in touch
Sign up for our free newsletter