Why Your Team Sucks
Why Your Team Sucks 2020: New England Patriots
12:49 PM EDT on September 15, 2020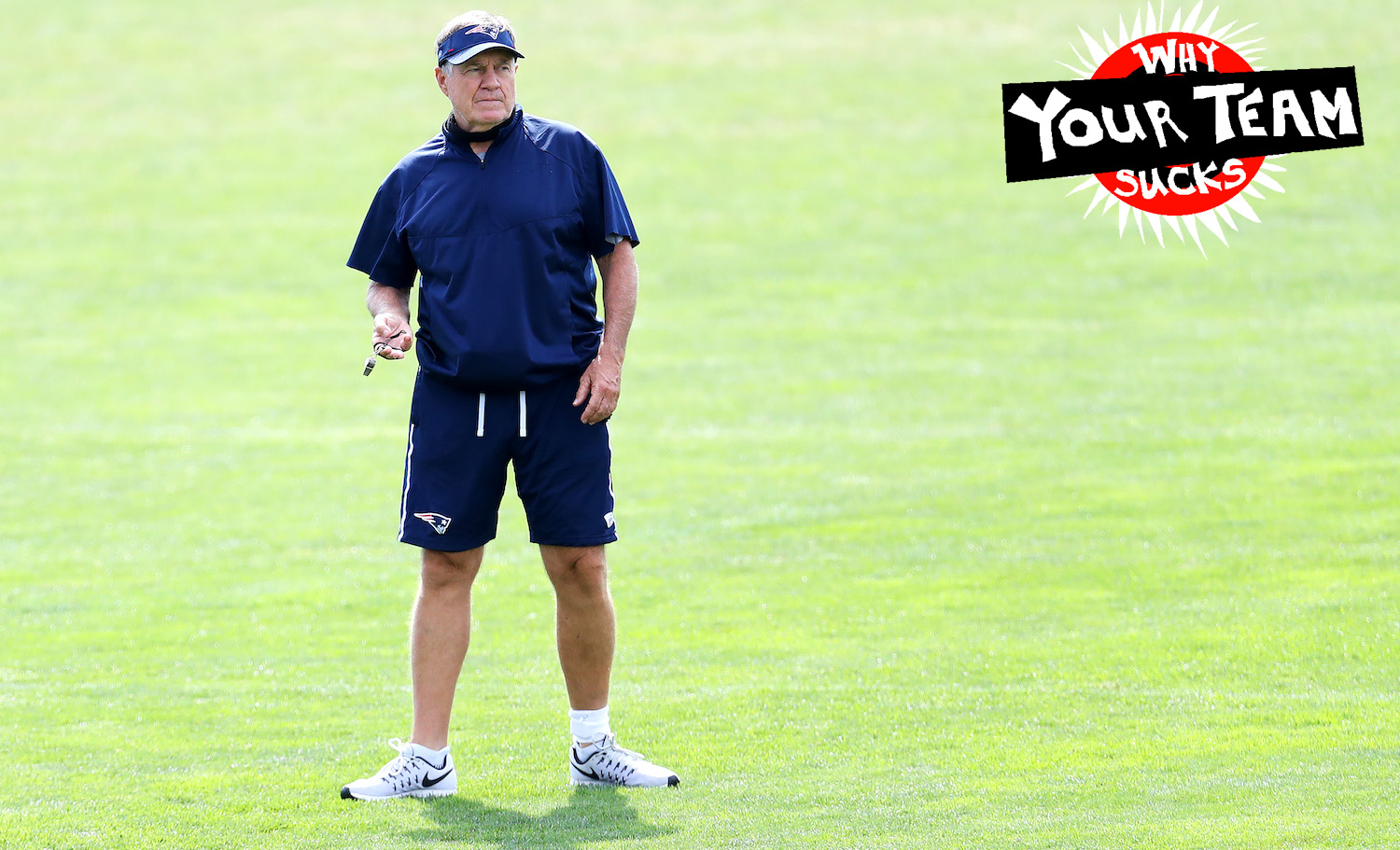 Some people are fans of the New England Patriots. But many, many more people are NOT fans of the New England Patriots. This 2020 Defector NFL team preview is for those in the latter group. Read all the previews so far here.
Your team: New England Patriots.
Your 2019 record: 12-4. You know I forget how their season ended. Let's go to a video tutorial to refresh my memory!
AGAIN!
[Layne Staley singing] YOU MADE A FOOL OF ME AGAIN AND AGAIN AND AGAIN AND AGAIN AND AGAIN AND AGAIN AND AGAIN AND AGAIN AND AGAIN
It's over. It's finally fucking OVER. Tony Romo was right in that clip. You'll never see a run like this again, ESPECIALLY NOT IN NEW ENGLAND, THE ASSHOLE OF THE WORLD. I'm gratified that it ended the way it did. The Patriots signed Antonio Brown for a single game and even they (or at least, their owner) couldn't stomach him a second longer. They cut Josh Gordon and then leaked, Dan Snyder–style, that he was lazy. One of their fans, possibly you, sexually harassed a reporter during a live hit.
They went unbeaten in the first half of the season and I had to hear about how their defense was the second coming of the '85 Bears when they'd beaten a grand total of ONE team in that stretch that finished the season with a winning record. And that one team was the sorry-ass Bills. Otherwise, the Patriots beat the Browns, the Dolphins, the Jets (x2), Washington, the Giants, and a Steelers team that suffers from clinical depression on an annual basis. Then they went to Baltimore and Lamar Jackson stomped a hole in their balls.
Then they went to the playoffs and Derrick Henry turned them into a gravel driveway. Jim Nantz cried blood at the sight of it.
Your coach: It's Bill Belichick, who's not above using his own children to get in a little bit of illegal surveillance during pregame warm-ups.
Bill Belichick to Brian Belichick after he got caught: "You're an orphan from a basket in the middle of the desert, and I took you for no other reason than I needed a sweet face to buy Lombardi trophies. D'you get that? So now you know."
Your quarterback: It's a mortal lock that Pats fans would be absolutely overjoyed if had Jarrett Stidham won the starting QB job and then went 7-9. But, much to their dismay, Belichick hopped onto eBay and found a Fair Condition Cam Newton listed at an unbelievable price.
Whoa hey this guy is black! Bill Simmons gonna appeal this signing to the Supreme Court. Given that Cam's body is tire mulch after his time in Carolina, I think these fans will end up EXTREMELY pleased when he dislocates his skull come Halloween. Also, the fans finally get to call Tom Brady gay slurs now that he plays for the Bucs. It's a dream come true all around. Tom Brady never gave a fuck about any of you people.
What's new that sucks: The entire roster. It's no coincidence that the Pats had the most players opt out of the season due to COVID: Marcus Cannon, Patrick Chung, Dont'a Hightower, newcomer Marqise Lee, and many others. Why, it's almost as if people who play for New England have an innate understanding of how little the organization cares for their safety! I haven't even gotten to the players this team lost to free agency, including Brady, Kyle Van Noy, Jamie Collins, and Marshall Newhouse. This is a roster right out of a shitty '90s comedy, only it's about as lovable as Joseph Goebbels.
Speaking of Goebbels… let's meet the kicker they drafted!
That's fifth round pick Justin Rohrwasser, who claimed to be unaware that his Three Percenters tattoo was the official logo of a far-right militia that's been named a terrorist group by the ADL. Rohrwasser said he just thought he was supporting our military, which is actually correct in a morbid sense. For their part, the Patriots definitely knew the white supremacist part but were apparently unaware that they drafted a shitty player.
Blew right past them. Incredible. These fuckheads spent a fifth-round pick on a placekicker with a fascist tattoo because he could supposedly kick in bad weather and he couldn't even kick in normal weather. Rohrwasser has already been cut once and will soon tour Conference USA campuses talking about the excesses of cancel culture.
The Pats also pulled a Marshawn and traded a retired Rob Gronkowski to Tampa for a seventh-rounder so that he could un-retire. You new starting tight end is third round pick Devin Asiasi. MORE LIKE ASSYASSY, AMIRITE?! Bereft of a formerly disgraced wideout to play opposite abandoned lapdog Julian Edelman, The Pats are counting on second-year man N'Keal Harry to become a superstar. The preseason hype wagon is ALSO counting on this.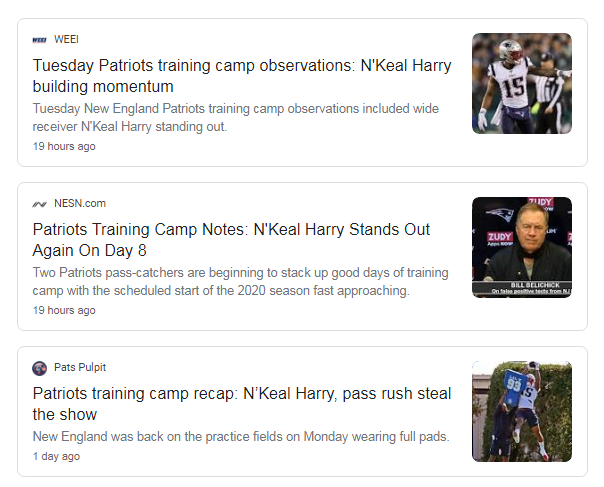 This team has a history of drafting wideouts that would make even Matt Millen shake his head. So you'll pardon my skepticism. In the Titans beatdown, Harry was targeted seven times by Brady. He caught two passes for 21 yards. After coming back from an injury late in the season, he never had more than 29 yards receiving in a game. He fumbled into the fucking end zone against the Dolphins just this past Sunday. And now he's gotta catch passes from a bedridden Cam? Or from Brian Hoyer? Or from White Jason Campbell? I'm gonna leave this popcorn uneaten.
Without Hightower as the fulcrum, the linebacking crew is incredibly fucking dire. And while Belichick can usually make do with guys he found sleeping at a bus station, he still needs good linebackers almost as badly as he needs to fuck your mom. This group of rag dolls has to visit Arrowhead on October 4th. Patrick Mahomes will be able to do anything he pleases with them.
What has always sucked: The witch is dead, which means it's time for Boston fans to engage in their time-honored tradition of mopey nostalgia. Just because the dynasty is over doesn't mean they're gonna shut the fuck up about it. I know how this works. The Pats will go 8-8 this season and Tommy From Quinzee is gonna be like YOU OTHAH FANS DON'T FACKIN' GET IT! IT'S HAHD TO TAKE THESE LAWSSES WHEN YOU'VE TASTED THE SUCCESS WE'VE TASTED! I HATE THIS DAY! I WISH WE COULD GO BACK TO BETTAH TIMES, LIKE THE DAY JAWN LEWIS DIED! VIVA! All of that is coming. I've already taken my hearing aids out to soften the onslaught.
Because nothing about the post-Brady era will humble you motherfuckers. It's too late and you're too stupid for any of that. You're still gonna get COUNT THE RINGZZZ tattooed on your ballsack. You're still gonna be in my timeline with that fucking Jack Nicholson gif anytime a talented player on another team might be on the trading block. You're still gonna be infected with a hideous case of Coach Brain, crowing anytime Belichick cuts a guy because you have magically intuited that the player in question has a secret krokodil habit. That'll all continue until I die, and then past that.
The good news is that it's still over. Your time is now past. The rest of us are moving on, joyfully, with our lives. We're onto Cincinnati. Literally. Joe Burrow is gonna be a fucking star there and you're gonna be left behind to cry hot tears and masturbate to giant printouts of the 28-3 scoring bug. No one's gonna fucking care because you don't deserve to have anyone care about you. I'd rather forgive the Unabomber than pardon Pats fans for their crimes against the general sporting world. Fuck you. The dynasty is over. I hope you all get leprosy of the penis.
What might not suck: My hatred of the Pats is currently locked in a stunning power struggle with my affection for Cam. I would like Cam to succeed but everyone else on this team to die. I think that can be arranged. Like if Belichick trades Cam out of the blue to the Chargers and Cam takes THAT team to the AFC title game? That could work.
Ratto says: "Nearly anything that could be said about Emperor Hoodworth has been said already, much of it by our slandermeister general, Bilious Von Der Magary. But the team's hatred stock has split and now includes the Tampa Bay Bradys, the latest team to try to recreate Patriotism but the first not to do it with one of Palpatine's coaching acolytes. Cam Newton could put off the day of reckoning, but for those of you pot-committed to this franchise's comeuppance, just know that there are dozens of media companies preparing The Last Dance hagiographies either on his behalf or with his cooperation. When he goes, you'll have more Belichick than you ever thought you could endure, so there's no escape. He beat everybody, including you, and he will do so well into the next life. Give up. You're doomed."
HEAR IT FROM PATRIOTS FANS!
Darrin:
Watching this fanbase talk about Can Newton after he was signed is like watching Mitch McConnell talk about John Lewis after he died.
James:
Seven of the top ten worst accents in the English language are spoken by Patriots fans.
Tim:
They finally replace their weirdo QB with someone cool and half the team opts out of the season.
Jesse:
I should be fucking strangled in a back alley and no jury would or should justifiably convict my murderer.
Alex:
We will be miserable until we win every championship in every sport, forever. Because we are, deep down, miserable people, so convinced that others are dunking on us that we have to throw it in everyone's face when something good happens to us. Even the people who were, for a while, cheering for us.
Steve:
I write in every year to whine about how sad and shitty and miserable this team and fanbase are but now Cam Newton's the quarterback and half the team is doing a 2020 covid opt-out and they will go 3-6 and finish third in the East in an abbreviated season wearing their color rush uniforms the whole way for some reason and I have honestly never been more excited to be a fan.
Michael:
Mistah Kraft is gonna get away with not having the world see his hog because the appellate process in Florida sucks.
Chris:
Of course the Patriots, a team who was famously scrutinized for doing inadequate draft homework on future serial killer Aaron Hernandez, neglected to research an average kicker who so happens to support the 3 Percenters, a cosplay militia that hates POC, Muslims, immigrants & the federal govt.

Christian Fauria and the rest of the mutants at WEEI have the intellectual curiosity of a goldfish.
Matt:
They value intelligence more than any other team does when building their roster, which now means they're the only team with a double-digit number of players smart enough to refuse to play during a highly contagious deadly pandemic.
Dylan:
You know how annoying Bears fans are when they talk about the 1985 team? Now we have a whole generation of Sullys and Barstool stooges who won't let anyone forget about this fucking team.
Erik:
All of the post millennium pats fans (Christ, it's an entire generation) are like "on to the next one" without a hint of irony as though Tom Brady wasn't the reason for optimism when things looked bleak.
Hunter:
The Boston sports scene is going to react to the Cam Newton by developing incredibly intricate new forms of racism.
Micah:
Part of me is actually relieved that I won't have to deal with the horrific stress that still plagues me every January/February as the Patriots make yet another Super Bowl run. And yes, I realize I should probably be thrown in jail.
Kevin:
When Gronk signed with the Bucs, my social media feeds were inundated with posts complaining about how he betrayed "us". Rob Gronkowski didn't play in 2019 because he retired. These same guys wear TB12 hats and post men's rights memes about how dads get screwed by moms in divorce court.
Jeremy:
Fuck the guy in my office who took down a picture of Brady in a Pats jersey and replaced it with Brady in a Bucs jersey the day after the signing.
Casey:
I got suspended from a Pats forum for saying Trey Flowers was overrated.
Oliver:
I can't decide who to side with. It's like being the child in a divorce where your mother is Sarah Palin and your father is Stalin.
Aine:
I cried harder when I found out Tom Brady left the patriots then when my ex-boyfriend and I broke up. That's how much I worshipped that goddamn man.
Adam:
Fuck Belichick the GM. This dude had the best QB on the planet taking budget deals for 20 years and still paid top dollar for bums like Adalius Thomas, Scott Chandler, and Zoltan Mesko. Belichick is laser focused as a coach on the sidelines and but likely has his face in Linda's throw pillows as a GM.
Corey:
Beyond Cam it's more of the same, more masturbating to Julian Edelman INTENSITY and COMMITMENT porn and more doddering Bobby Kraft trying to maintain his genial granddad image that only he seems to realize is not completely fucked.

This team somehow managed to optimize the fun out of sporting dominance, like watching a basketball robot swish 100 threes in a row. I'll watch the opener then spend the rest of the season tweeting shit at Bill O'Brien for trading Deandre Hopkins for a twice baked potato and watching NBA bubble highlights. Fuck the NFL.
Tavis:
If you had "about 36 hours" and "Felger and Mazz" on your "who is the first Boston sports idiot to say something openly racist about Cam" card, you should come forward to collect your prize. It will get worse before it continues to get worse (this is a sports fandom that was convinced that they got the better end of the bargain on Mookie Betts being traded because he was "greedy" and "wants to be in 'Atlanta'").

Recently, I saw a woman in NH with a knockoff Patriots jersey Gronkowski #87 on the back and BLUE LIVES MATTER on the front.
Conor:
Fuck the Pats, and fuck their plane.
Submissions for the NFL previews are closed. Next up: New Orleans Saints.
Stay in touch
Sign up for our free newsletter