Soccer
What Is This USWNT Player's Deal: Crystal Dunn
1:18 PM EDT on May 26, 2023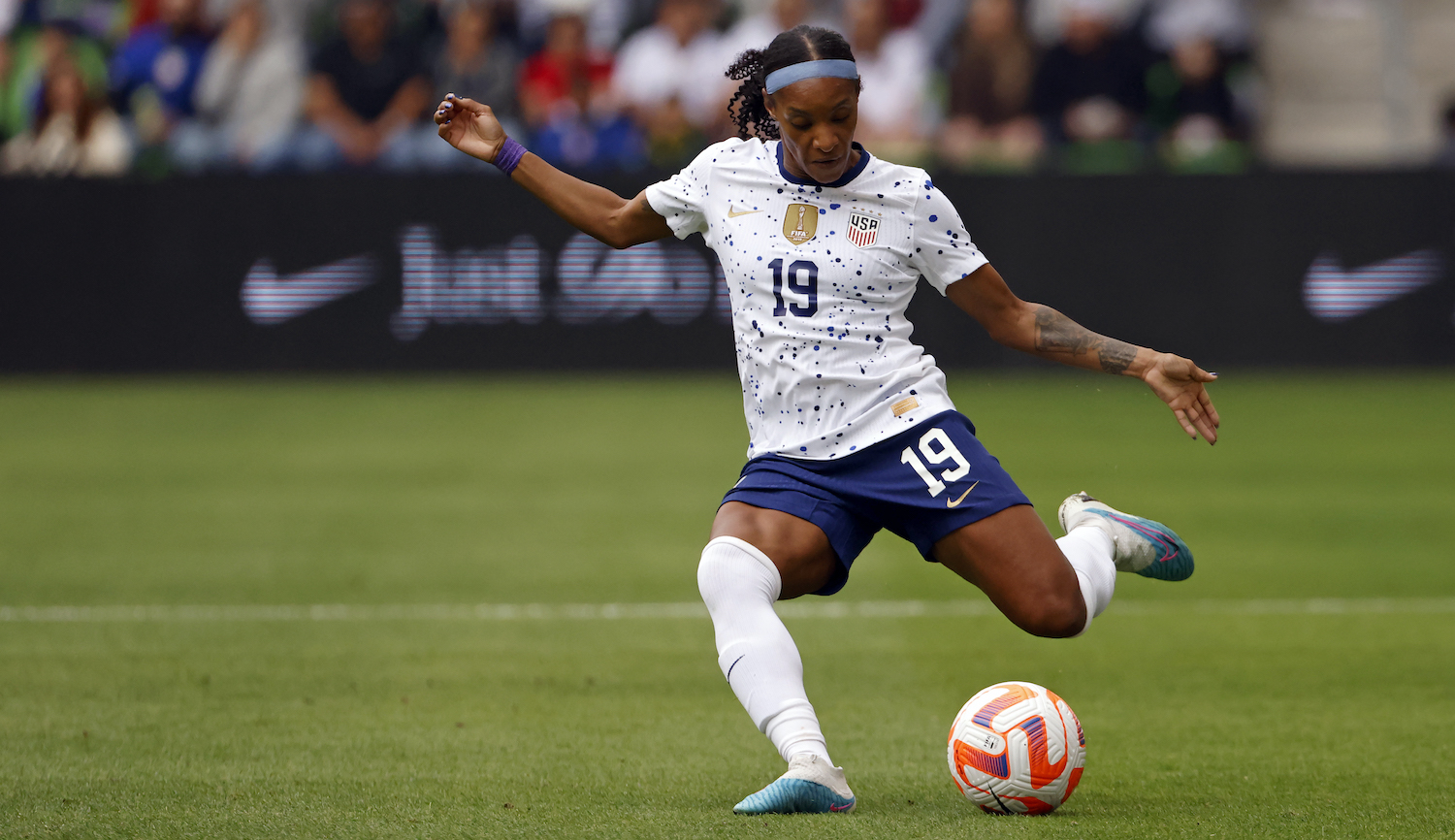 Welcome to What Is This USWNT Player's Deal, a recurring series in which Defector selects a name from the American players most likely to go to the Women's World Cup this summer and answers the question: What is this USWNT player's deal?
Eight years ago, Crystal Dunn experienced a rare, brutal sort of sporting pain, when then-coach Jill Ellis made her the last player cut from the 2015 World Cup roster. The USWNT romped through the tournament and smoked Japan in the final, all while Dunn was sitting at home, probably shocked after carving out a role with the team in 2013 and 2014. An ill-timed injury in October 2014 derailed her progress just enough to bump her, with her now-teammate Meghan Klingenberg taking the starting spot.
Though Dunn is now one of the rocks of the USWNT, I think it's worth foregrounding this moment. Dealing with that sort of disappointment says a lot about a player, any player. Dunn seems like a challenge for coaches to deal with, for purely positive reasons; she is too talented and too good with the ball at her feet to keep off the pitch, but also too versatile to have a no-shit position. She has played from center back to striker for her club teams and with the youth and full national teams. Ellis opted, in part, for simplicity. So Dunn got cracking, and she led the NWSL in scoring with 15 goals, becoming the league's youngest-ever scoring leader, while playing significantly farther up the field than the left back slot she occupied then and still kind of (more on this later) occupies now. It was an impressive season in a vacuum, doubly so given the summer she had to endure. During that 2015 season, her then-coach Mark Parsons said "she's unplayable and she's unstoppable," and called for the USWNT to start her at outside midfielder.
Here we are eight years and one manager later, and the question still hasn't been fully resolved. As she told Emma Carmichael for GQ this past March, "I no longer get to be Crystal who scores goals, assists, is this attacking player [for the USWNT]. I step into an environment where I have to be world-class in a position that I don't think is my best position. But I've owned it. I've made it my own, and I've tried to create it in my most authentic way. But I don't love it." The punchline here is that she genuinely is world-class as a left back and has won a World Cup playing left back, though one has to wonder how great Dunn could be if she were to play in the USWNT midfield. We may not have to wait long to find out.
Who Does She Play For?
Dunn plays for the Portland Thorns, for whom she has five goals and one assist through eight games. That's an impressive tally that still somehow doesn't show her full impact, as she's created tons of great chances in dangerous areas with her passing this season. She's played for a couple of other NWSL teams, and also briefly Chelsea, helping take them further in the Champions League than they'd ever been, before returning back to the U.S. to stay on Ellis's radar. She did, however, name one of her beloved chickens Chelsea.
The Lindsey Horan Magnifique Test refers to the following foolproof heuristic for determining whether or not a U.S. player is actually good or just good by our rosy American standards: Do fans tweet lovingly about them in their local language?
How Does She Play?
Unlike anyone else. The main thing with Dunn is control. She's so calm on the ball, and even when she's trying something ambitious, which she does all the time, she never overcommits to the wrong idea. She is a willing, able dribbler with the athleticism to get by most fullbacks, and for a team somewhat hard-up for consistent chance creation, her ability to stretch the field is huge. Like the best athletes in any sport, there's this almost contradictory ease to watching Dunn flay some poor right back; she's looking around and walking into the perfect pass, while simultaneously gapping a flailing defender.
So why would someone this talented be shunted off to left back? Because she's also a tremendous defender in open space. I remember the France quarterfinal in 2019 as a particularly illustrative example of this. She was consistently tested and never bent. The case for moving her into the USWNT midfield is one built on that unit's wobbliness. During the USWNT's late-2022 swoon, they were outworked and outrun in that part of the pitch, leaving their defenders to clean up too many messes. Dunn solves some of this, while also having the passing range to work the ball up and out to the attackers.
The Parental Recognition Index
The Parental Recognition Index is a holistic, objective metric that analyzes a player's full array of skills and talents, distilling it all into a single number that corresponds to their ultimate potential and the likelihood that they will become a big enough star at the World Cup that one of your parents will send you a text message about them.
Your parents, who live on the West Coast or like Hawaii and are able to stay up late enough to pull this off, have watched the USWNT romp through the group stages, win a chill Round of 16 game, but halfway through the quarters, they are concerned with how much trouble the USWNT has had generating good chances. They are noticing the midfield get outworked, leading to counterattacks. Who is putting out those fires when it's 2-on-2 at the back? Who is the one who busts down the defense and hits the hockey assist that springs the USWNT to a 2-1 win? The same player: Crystal Dunn. "This Done [sic] player," your mom has a 71 percent chance of texting you, "What is her deal. She is everywhere. Miss you." You send her this blog post.
Show To Me A Cool Highlight
This might be the easiest highlight we have to pick for any player. It has to be the rocket she scored to send Portland to the NWSL final last year. The crowd's energy is electric here; this is some Premier League shit.
How Does She Fit In With The U.S. Team?
This is the million-dollar question, and thankfully, Hailie Mace, Emily Fox, and Sofia Huerta have developed into some meaningful fullback depth for the first time in Dunn's USWNT tenure. Fox in particular has shown out in her time as a left back, which should at least give Vlatko Andonovski something to think about. The tricky thing is who makes way in the midfield for Dunn if she were to start there. Rose Lavelle has to play at the 10, though Taylor Kornieck and Ashley Sanchez haven't quite shown enough, and the double pivot of Andi Sullivan and Lindsey Horan is a bit conservative, especially for a team that will have neither Mallory Swanson nor Catarina Macario at the World Cup. I would like to see her in the midfield, though also, she's still such an elite left back that she'd help the team from the flank.
How Close Is She To The Hypothetical Best XI?
She is absolutely essential to this team, and whether it's at left back or in the midfield, Dunn has to be on the field when it matters. It's not a coincidence that the USWNT experienced its worst dip in form in a long time in late 2022 when Dunn was sitting out after giving birth to her son. Those hypothetical worries I floated in the parent section? The USWNT experienced both, in a way they absolutely would not have were Dunn on the pitch. The only question is where. 
Stay in touch
Sign up for our free newsletter