Soccer
What Is This USWNT Player's Deal: Lindsey Horan
11:19 AM EDT on May 12, 2023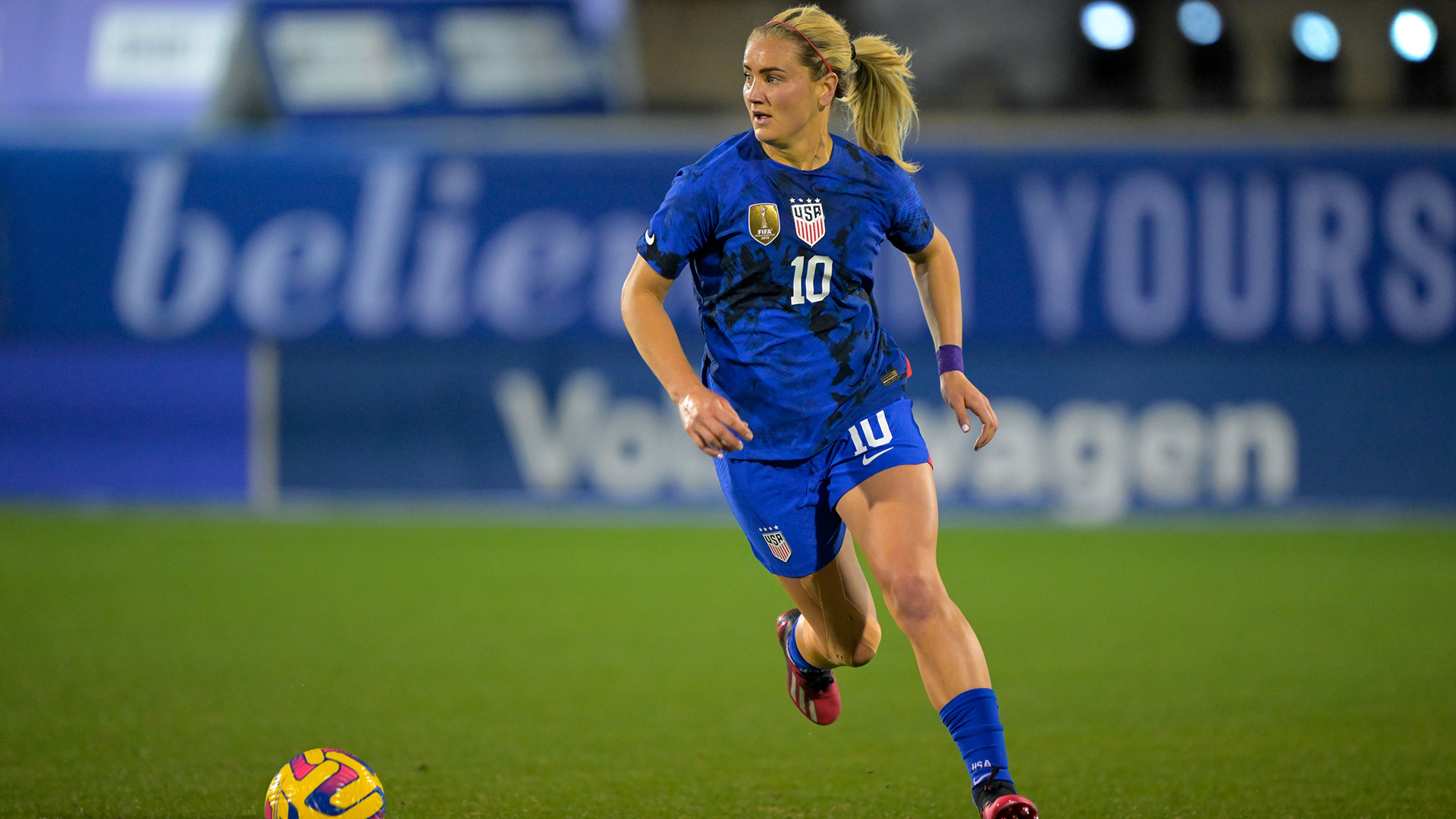 Welcome to What Is This USWNT Player's Deal, a new series in which Defector selects a name from the American players most likely to go to the Women's World Cup this summer and answers the question: What is this USWNT player's deal?
Believe it or not, the Women's World Cup starts in just over two months. The 2023 edition of the tournament—the ninth overall—is coming to us live from Australia and New Zealand starting on July 20, which is great news for everyone who wants high-stakes international soccer back in their lives, though less great news for those of us in the United States, who will have to deal with funky time zone shenanigans and late-hour kickoffs for a month.
It should be worth it, though, because this World Cup opens without an overwhelming favorite and a handful of would-be contenders facing crises of injury and rebellion. One of those is the United States women's national team, which is heading into the tournament, once again, with questions up and down the field that put a damper on the "trophy or bust" expectations.
Last time around, in 2019, the team threw those questions in the dumpster, storming through most of the field put in front of it to claim its second title in a row and fourth overall. Heading into this year's tournament, the USWNT looked to be gelling, slowly but surely, but the injury to Mallory Swanson throws its attack back into disarray and will give the other contenders hope that this will not be a repeat of four years ago in France.
With the field already set and rosters for the tournament set to be locked in by July 10, Defector is taking the "What Is This USMNT Guy's Deal" series and bringing it to the women's game. Today, we'll start with Lindsey Horan, one of the team's most talented and decorated players who is a bit of a stylistic luxury for the side, and one who might end up outside of the best XI, depending on how the tournament shakes out.
Who Does She Play For?
Though Horan first made waves internationally when she skipped college in order to play for Paris Saint-Germain back in 2012, she is back in France with a different powerhouse, the defending (for now) Women's Champions League title holders of Lyon. Well, technically, she plays for the Portland Thorns and is on loan with Lyon until June, which means she will probably be back in the NWSL sometime after the Women's World Cup. Or maybe before for a quick warm-up; it's unclear as of now.
What is clear is that this loan hasn't worked out super well for Horan, through no fault of her own. A knee injury picked up in early 2022 has been an ongoing concern for club and country, though USWNT head coach Vlatko Andonovski said in January of 2023 that Horan was "medically at 100 percent" during the CONCACAF W Championship. She's played in 10 of Lyon's 20 league matches this season, and also started in both legs of the club's WCL quarter-final penalty shootout loss to Chelsea.
Combine that with two starts for the national team in April in back-to-back friendlies against Ireland, and it does look like she's back to normal after a rocky year of knee issues, but it's something to watch out for as the final preparations for the World Cup come into view.
The Lindsey Horan Magnifique Test refers to the following foolproof heuristic for determining whether or not a U.S. player is actually good or just good by our rosy American standards: Do fans tweet lovingly about them in their local language?
How Does She Play?
The label "do-it-all midfielder" has rarely been more fitting than it is with Lindsey Horan, at least offensively. The 28-year-old can truly do it all. She can play as a deep-lying playmaker, using her sterling possession game to dictate pace and tempo when the situation calls for it. That's probably her least valuable slot, though, as the prospect of sending Horan on deep runs from the midfield into the opponent's box opens up a lot of offensive options for club and country.
One of the reasons that Horan is so valuable in the opposing box is that she's a wizard in the air. Standing at 5-foot-9, Horan is tall enough and athletic enough to latch onto crosses, and she has the ability to generate a ridiculous amount of force from those very same headers en route to goal.
With the ball at her feet, Horan can also use that same strength to muscle through defenders into dangerous positions, whether to cross the ball in herself, play give-and-gos with her strikers, or simply just let some rockets rip from a powerful right foot. And she's not afraid to do that last part: She takes almost three shots per 90 minutes, which puts her in the top five percent of midfielders across the top eight competitions in women's soccer. Simply put, with Horan on the field, goals will happen, and the main question is whether she'll be assisting them, orchestrating them from deep, or scoring them herself, by land and by air.
The Parental Recognition Index
The Parental Recognition Index is a holistic, objective metric that analyzes a player's full array of skills and talents, distilling it all into a single number that corresponds to their ultimate potential and the likelihood that they will become a big enough star at the World Cup that one of your parents will send you a text message about them.
At the age of 28, Horan has been around the USWNT scene since 2013, but didn't crack a World Cup roster until 2019's successful venture to the title. Even there, though, she was benched for both the mega-showdown in the quarter-finals against France and the final against the Netherlands. Judging by the confusion in soccer circles over, especially, the first benching, Horan's talent is widely acknowledged, even if it goes under the radar compared to some of her more goal-scoring teammates. Still, though, a couple of bruising runs from the midfield, combined with one or two powerful header goals, and she could go up the rankings. For now, I will say there is a 53 percent chance that your father will text "lindsey horan ... big presence" to you during the tournament.
Show To Me A Cool Highlight
How Does She Fit In With The U.S. Team?
This is where it gets tricky. On pure talent, Horan should be one of the first names on the USWNT team sheet. She can provide goals and assists and a midfield presence that can help overwhelm lesser sides in the tournament. For matches against stronger opposition, though, she will have to compete with Rose Lavelle, Andi Sullivan, and Julie Ertz to fit into one of the three spots in the center of the park.
It will come down to how Andonovski wants to deploy his side against, say, France or England; if he wants more creativity in an advanced role with defensive rigidity behind, then Horan might be the odd one out simply due to her versatility making her not fit into one of those archetypes. If, on the other hand, Andonovski decides to take the fight to those teams, a trio of Ertz or Sullivan with Lavelle and Horan ahead could be a barnstormer of a midfield for even the biggest matches of the World Cup.
How Close Is She To The Hypothetical Best XI?
When it comes to the best possible XI, Horan should absolutely be in the midfield. When it comes to the most tactically appropriate XI, though, she might just miss out. The answer to this question will go a long way in determining the USWNT's chances of doing the three-peat this summer.
Stay in touch
Sign up for our free newsletter