NFL
Tim Boyle? Yes, Tim Boyle
4:40 PM EST on November 20, 2023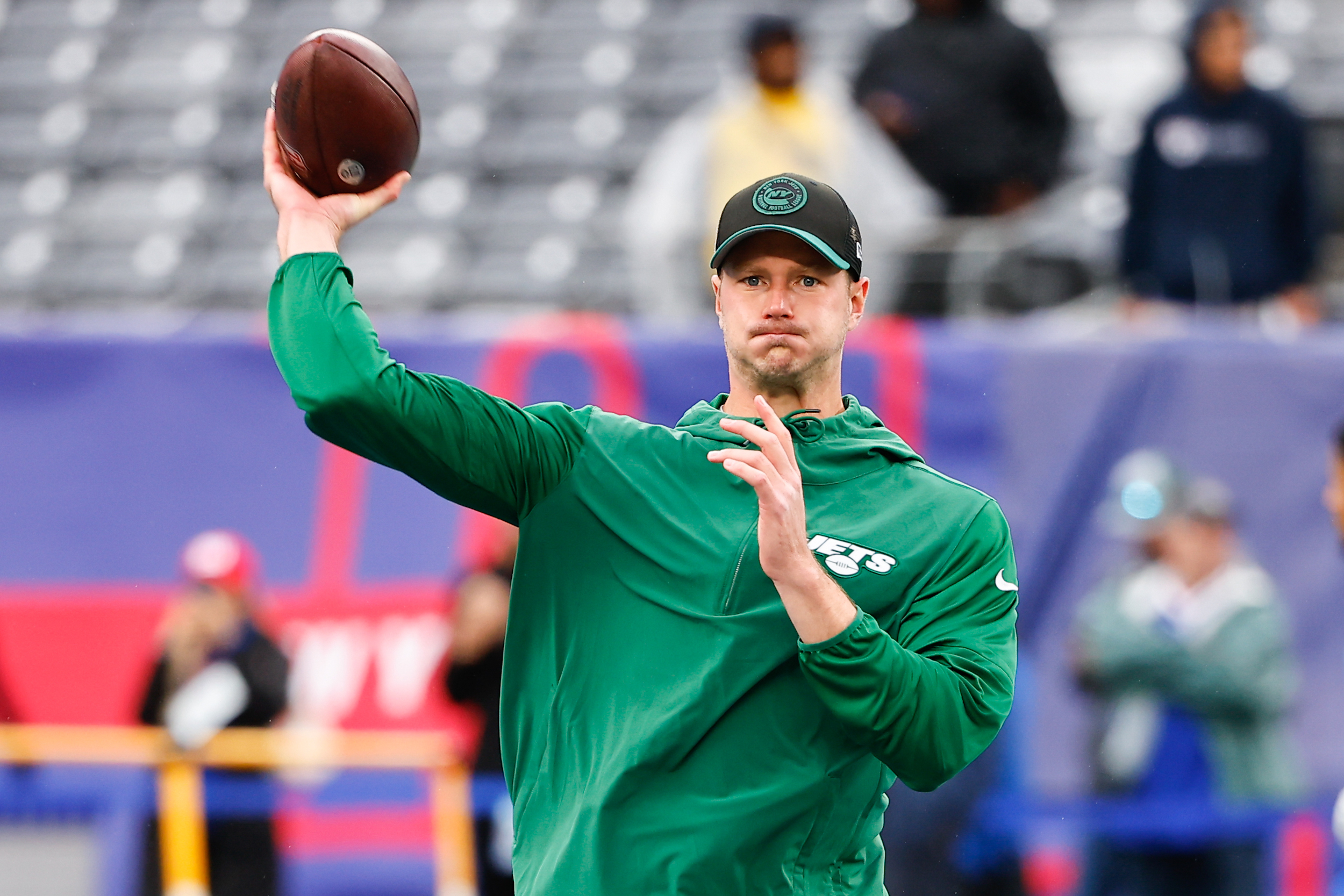 New York Jets head coach Robert Saleh has finally seen enough of quarterback Zach Wilson. Wilson, who bombed in an earlier attempt to secure the starting gig, was supposed to spend this season backing up Aaron Rodgers, ideally picking up those things that Rodgers does well (spatial awareness, improvising, throwing on the move) while hopefully not also picking up those things that Rodgers does less well (being normal). It's not clear that this ever would've worked, but it could not have worked any worse than what happened after Rodgers kerploded in the team's first game: Wilson went back under center and played his way out of any realistic hope for a future with the Jets. Saleh announced Monday that Wilson has been replaced at quarterback.
Perhaps Saleh was so long in reaching this point in part because the options behind Wilson are apocalyptically bad. For their Week 12 home game against the Miami Dolphins, the Jets will start journeyman Tim Boyle, as unlikely a figure to hold down the most important position in a real-deal NFL football game as perhaps there has ever been, at least since the bygone days when NFL football games were largely contested between moonlighting plumbers and fishermen. Tim Boyle's credentials make Tommy DeVito's look like Andrew Luck's. It is preposterous that Boyle would be in line to start a football game in 2023 in any scenario that does not involve several airliners full of professional football quarterbacks disappearing all at once in the Bermuda Triangle.
Two years ago this month the 0–8–1 Detroit Lions attempted to fill a vacancy under center by handing the offense to Boyle, then a third-year quarterback whose professional career to that point consisted of a few junk-time mop-up appearances behind Aaron Rodgers in Green Bay. This was confusing, even appalling, even for the nightmarishly bad 2021 Lions: Boyle had never performed well as a quarterback in a non-exhibition setting in his adult life. His numbers as a collegiate quarterback during his three seasons in the extreme dysfunction of Bob Diaco's Connecticut Huskies were shockingly bad: In 25 games Boyle completed fewer than half of his passes, averaged fewer than five yards per attempt, and threw for one touchdown versus 15 interceptions.
Boyle transferred away from Connecticut after the 2015 season, sat out 2016, and then took over as the starter at Eastern Kentucky of the Ohio Valley Conference. In 11 games as a Colonel, Boyle tossed 13 interceptions against just 11 touchdowns for a shitty four-win FCS team of approximately zero consequence. How on Earth this earned Boyle a tryout for the Green Bay Packers is anyone's guess, but it must be said that Boyle, at a lean 6-foot-4, at least looks quarterbackish, by the very most tired and unimaginative of standards. Boyle's football career was already unbelievably blessed by the time he found himself starting at quarterback for Detroit. He was supremely shitty across three starts, throwing six picks and leading the Lions to three losses.
You might've expected this to be enough to prove that he should not be anywhere in the line of succession for another quarterbacking job but you would be wrong as hell! Boyle scored a job with the 2022 Bears, and even got onto the field for Week 18, where he completed two of eight passing attempts for 33 yards and two interceptions. Once again you might've thought NFL personnel types had learned this lesson. No! Boyle was back under center for the Jets Sunday, after Wilson was yanked in a blowout loss to the Bills. Boyle completed seven of 14 passing attempts for just 33 yards, and dished another interception. He stinks so bad, man!
It is only because Wilson is possibly the worst quarterback in the NFL that anyone would even think of turning to Tim Boyle. In 31 games as a starting quarterback, Wilson has thrown just 21 touchdowns against 25 interceptions, and the Jets have lost 20 games. In 10 games as New York's quarterback this season Wilson has led the Jets on just nine successful touchdown drives. Sunday, against the Bills, Wilson failed to complete a single pass to a wide receiver. Even at his best—in the two games prior to Sunday's calamitous outing Wilson looked almost like a professional-grade caretaker quarterback—Wilson has not been able to get the Jets to the one place where an NFL offense simply must go, which is the end zone.
Boyle is not the choice of a team that has any real expectation or particularly vivid hope of salvaging their season. Turning things around would require the return of Rodgers, but Rodgers is still at least a couple weeks away from healthy and has suggested that his return is contingent upon the Jets remaining in the playoff hunt. Unfortunately for Robert Saleh, forfeiting the remainder of New York's games and spending the rest of this winter hiding out of sight of Jets fans will not be an option. The good news for Boyle is it will almost be impossible to perform any worse than Wilson; the bad news for Jets fans is Boyle might be just the man for the job.
Stay in touch
Sign up for our free newsletter