NHL
They Just Let Anyone Score In Seattle
1:00 PM EDT on April 27, 2023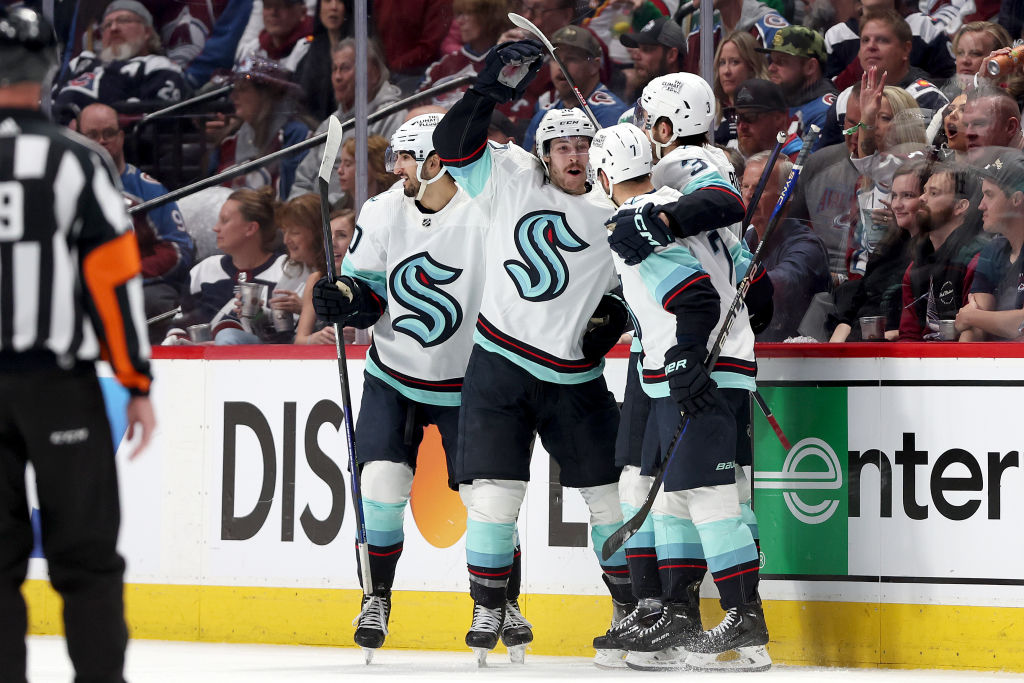 Heading into this Avalanche-Kraken series, the big scorers were plain for anyone to see. In Colorado, twin superstars Mikko Rantanen and Nathan MacKinnon had each wrapped up another stellar season, with 55 goals/50 assists and 42 G/69 A, respectively. For Seattle, former Penguin Jared McCann was their man, and this season he scored 16 more than the next-highest Kraken with a career-high 40 goals.
Five games into the series, Rantanen's scored five goals and MacKinnon's scored three. McCann, who missed most of Game 4 and then Game 5 on Wednesday after a suspension-worthy hit from Cale Makar, hasn't found the net at all. Yet, after a stressful but ultimately satisfying road win in Denver, it's the Kraken who are just one win away from their first-ever playoff series triumph. The bottom of their roster isn't showing any weakness, while the defending champs' lines look a little scraggly.
This isn't a series that's had a lot of style consistency from one game to the next. Seattle took Game 1 with uncharacteristically strong goaltending. The Avs got the bounces and won next time out, then looked distinctly more talented in Game 3. Suddenly Colorado went flat and saw the series lock up at 2-2, and in Game 5, which started with 26 scoreless minutes, the Kraken got help from unexpected places while the Avalanche got stuck waiting for some sort of contribution from a player without a trophy case in his living room.
This game ultimately swung on the McCann/Makar collision from Monday, because even though neither was able to dress for Game 5, the contrast between their respective replacements was stark. In Makar's place while he served his punishment, the Avalanche brought back Jack Johnson on defense. Johnson's made over $50 million in his career, so I don't feel bad calling him the most notorious liability in hockey history. Even in his prime, and even as he charmed many GMs with, I guess, a good body and a winning personality, he drew the ire of analytics-minded fans with clumsy, brain-fogged play that had him giving up way more chances than he helped create. And now he's 36 years old. While the Avalanche accounted for 60.7 percent of the game's overall shot attempts when Makar was on the ice through the first four games, when Johnson was out there in Game 5, Seattle dominated 17 to eight in that category. (He took an interference penalty in the first, too.)
Meanwhile, with McCann injured, the Kraken brought up the 21-year-old Tye "Dye" Kartye for eight minutes and 41 seconds of ice time. Kartye got passed over by the NHL as a teenager (in part because he lost a year to COVID lockdowns) and became acquainted with the Kraken as basically just a body for their first-ever training camp. He made enough of an impression that they kept an eye on him while he played for the Sault Ste. Marie Greyhounds, and when he became a standout OHL scorer, the Kraken signed Kartye to a deal in March 2022. With 28 goals for the AHL's Coachella Valley Firebirds this year, Kartye earned a high-stakes NHL debut when the Kraken found themselves with an empty forward slot. And after Morgan Geekie and MacKinnon traded goals in the second period, it was the newcomer who put Seattle ahead after a controversial no-call and a fantastic setup by Jordan Eberle.
Yanni Gourde tallied his own first goal of the Kraken's playoffs in the third, and Seattle would go on to survive a late push and win 3-2.
These Avalanche are really nothing like the team that hoisted the Cup last summer. They have most of the biggest names still, at least when Makar is out there alongside MacKinnon and Rantanen, but their depth is just decimated. Gabe Landeskog has been missing all year with a knee injury, Nazem Kadri signed with Calgary, André Burakovsky plays for the Kraken when he's healthy, and Valeri Nichushkin is absent from the team now for mysterious reasons. They've tried to limp their way through this series, but as long as Philipp Grubauer continues to play solid goal, it's a real challenge.
The Kraken, on the other hand, look blessed. They continued to struggle in their search for reliable netminding this season, but their stout defense stymied opportunities while their offense became one of the most efficient in the league. Matty Beniers, their prize rookie, immediately adapted to NHL speed. Oliver Bjorkstrand was acquired from Columbus and eventually found a groove. Surplus scorers from past winners, like Jaden Schwartz and Eberle, did their part. And surprises like McCann, Daniel Sprong, and Eeli Tolvanen all put up career-best years.
This was a season where a lot went right for the Kraken, and you can't necessarily count on these odd little pieces to click every year. But right now what Seattle has is a team that looks underwhelming at first glance but whose bottom six can outplay anyone's. In the playoffs, where there's generally less space to operate and tight games get decided on lucky bounces, just having a horde of dudes who are ready to put their stick on the puck and shoot can be more meaningful than a beautifully skilled duo or trio. I mean, even defenseman Will Borgen is out here scoring playoff goals, for god's sake. Some teams go as far as their best player can carry them. The Kraken might go as far as their last man on the bench can take them.
Stay in touch
Sign up for our free newsletter