NBA
There's One Way To Fix The All-Star Game
12:14 PM EST on November 7, 2023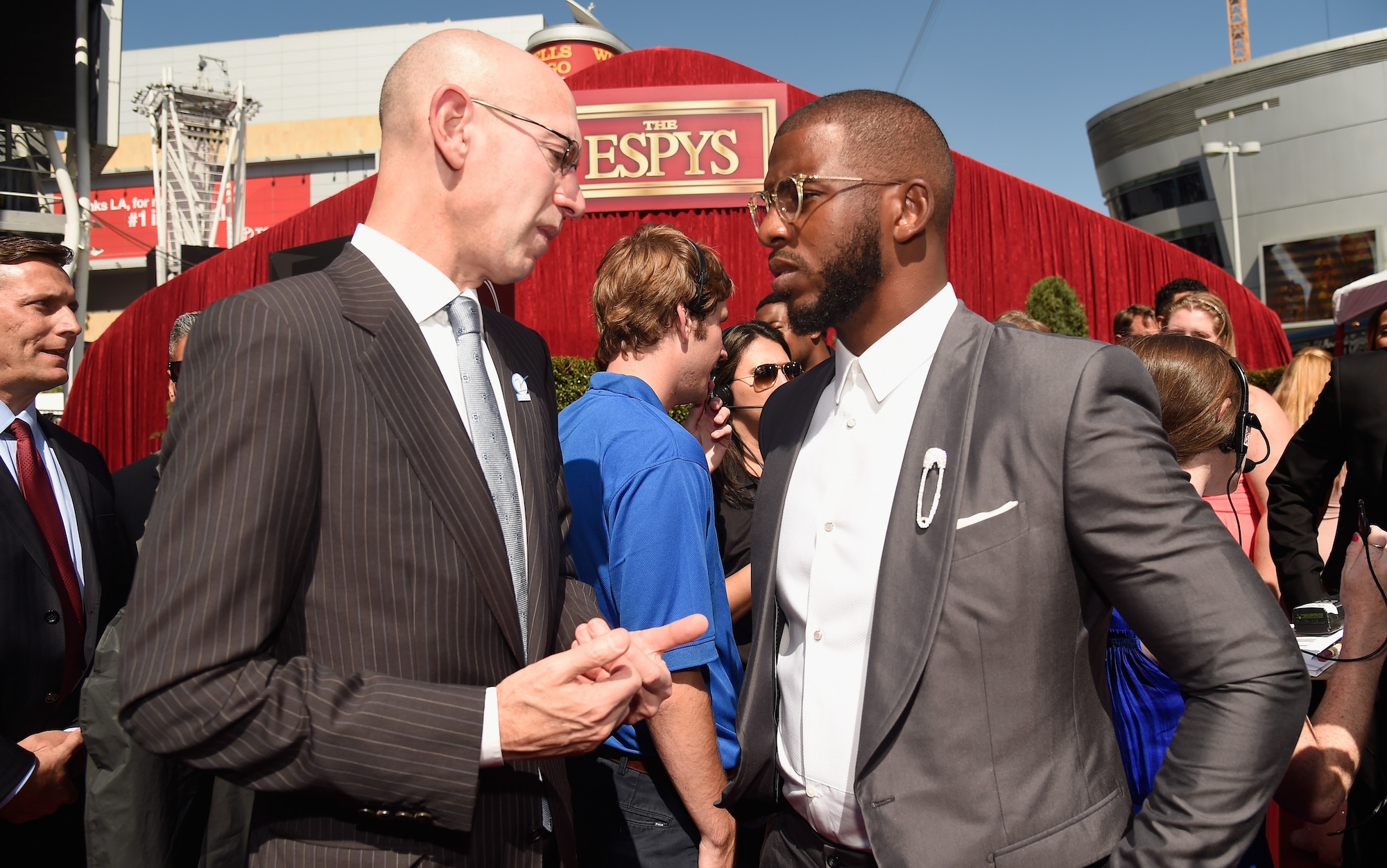 Adam Silver has apparently decided that it's his fault that NBA All-Star Games lack intensity and buy-in from players, and even cited the vague "taking responsibility" dodge that doesn't actually mean anything but sounds like it does. Okay then, Ichabod. You're it. Hang your head and apologize to each of us personally, like they do at AA.
Of course, by this standard Silver still owes us apologies for load management, for not thinking of the In-Season Tournament before now, for the flattened ratings, for LeBron James getting older, for James Harden asking for a new team every three months, for the game not being bigger than football, and for all the other things that seemingly plague this seemingly vibrant sport. He's been on a few clean-up campaigns lately, so him taking responsibility for the All-Star Game is mostly performative.
So I guess points for trying. But the All-Star Game was an extraneous exercise for years even before Silver got to the big chair, and he's already changed the format three times and is changing back to its original conference vs. conference format and ending the captains' draft. He hasn't said anything yet about the turgidity of the Saturday Skills wasteland, but he's taking baby steps. Toward that end, he asked Chris Paul, his likely successor, what he thinks the game needs to inspire the players to give more effort, and what he got told, according to Marc Spears of ESPN, is "less pregame bullshit."
According to Paul, who according to Silver said according to Spears, 
"You guys tell us how important the All-Star Game is but then you change all our pregame protocols so that we don't go through our typical routines as we would before a game because you have these elaborate introductions. No complaint about the introductions. We understand why you do it, but then you expect us then to go out and be in the mindset that we're playing a typical basketball game."
But wait. Paul told Silver who told Spears that halftime blows too.
"We're sending mixed signals. And if we want guys to treat this like a real game, and again, this is not about Finals intensity, it's just a fun game. But if we want players to treat it that way, we have to treat it that way. And so, it means that the introduction is going to have to be a little bit shorter and halftime's going to have to be a little bit more typical, starting in Indianapolis."
We give Silver credit for acknowledging that the All-Star Weekend is a bland, bloated mess, and that there hasn't been a game that looks like a normal game since 2001. Since 2007, the average score is 160-151. There's nothing at stake, most of the players made the team based on their scoring averages, playing defense in an exhibition is decidedly uncool, and getting injured in one is just a chump move.
And yet Paul is also right. The game's value to players ends when the teams are named. That's when the bonuses get paid, and the bragging rights begin and end. This is also true of all the other all-star games—they are advertising extravaganzas that fans increasingly find isn't worth the five-hour investment.
Last year's game explained it all. Giannis Antetokounmpo, one of the two team captains, put his name on Team Giannis's 185-175 win over Team LeBron while making his only shot, committing a foul, and leaving after playing only the first 20 seconds because of a preexisting hand injury. Worse, James injured his hand during the game and didn't play after halftime. Yeah, that's selling the game.
So, Silver's right. And yes, Paul's right too. But since all-star games are about sponsors rather than superstars, it doesn't take the players long to figure out their place in the weekend is profoundly tangential. And it isn't because the pregame stinks or halftime last an extra 10 minutes. The premise itself is outdated, and there's only one thing that can actually save it.
We'll now give you a few minutes to get some coffee, grab a snack, and then blurt out the answer.
Money.
If Adam Silver wants the All-Star Game to matter to the players as more than a brand-awareness exercise, it will only work if it's winner-take all, and if the pile of money is sizable enough to make the players want it. More than that, they should get paid at the end of the game World Series Of Poker–style, with bricks of cash, while the losers have to sit and watch. If they could induce the players to put up their own dough to play, that would jack the stakes up even higher, but we suspect someone from the union would notice that and suggest an alternative, like not doing it.
Besides, they have all been raised to understand that the thing to strive for is the Larry O'Brien Trophy, winning on home court to the applause of their highest-rolling fans, not the Gainbridge Fieldhouse in Indianapolis in the middle of February. The All-Star Game is a nice thing to be part of, but as Paul suggested, a lot of the frills fall under the catch-all term "pain in the ass." This isn't a romantic notion, but facts bear out what mythology can no longer hold.
Like load management, though, Silver's view is a weird no-man's-land between what the owners who pay him want, and what the players, whom the owners also pay, see as their priorities. If Chris Paul saved us 10 minutes of shrieking dry-ice infected intros and five minutes of halftime gasbagging, swell; one fewer trip to the loo is a recognizable kindness. But you can't really put his name on a trophy for that. The basic truth is that sports—all sports—outgrew their all-star games decades ago. They are now glitzy dinosaurs, and Adam Silver can't claim responsibility for that.
But if he really wants to do so, either because he feels shame or is just playing the magnanimous penitent for a crime nobody takes much notice of, we're good with that too. Nice going, Adam. You've really embarrassed yourself. Go sit outside until we need someone to take responsibility for the Wizards.
Stay in touch
Sign up for our free newsletter