NBA
The Warriors Blew It
4:59 PM EDT on May 9, 2023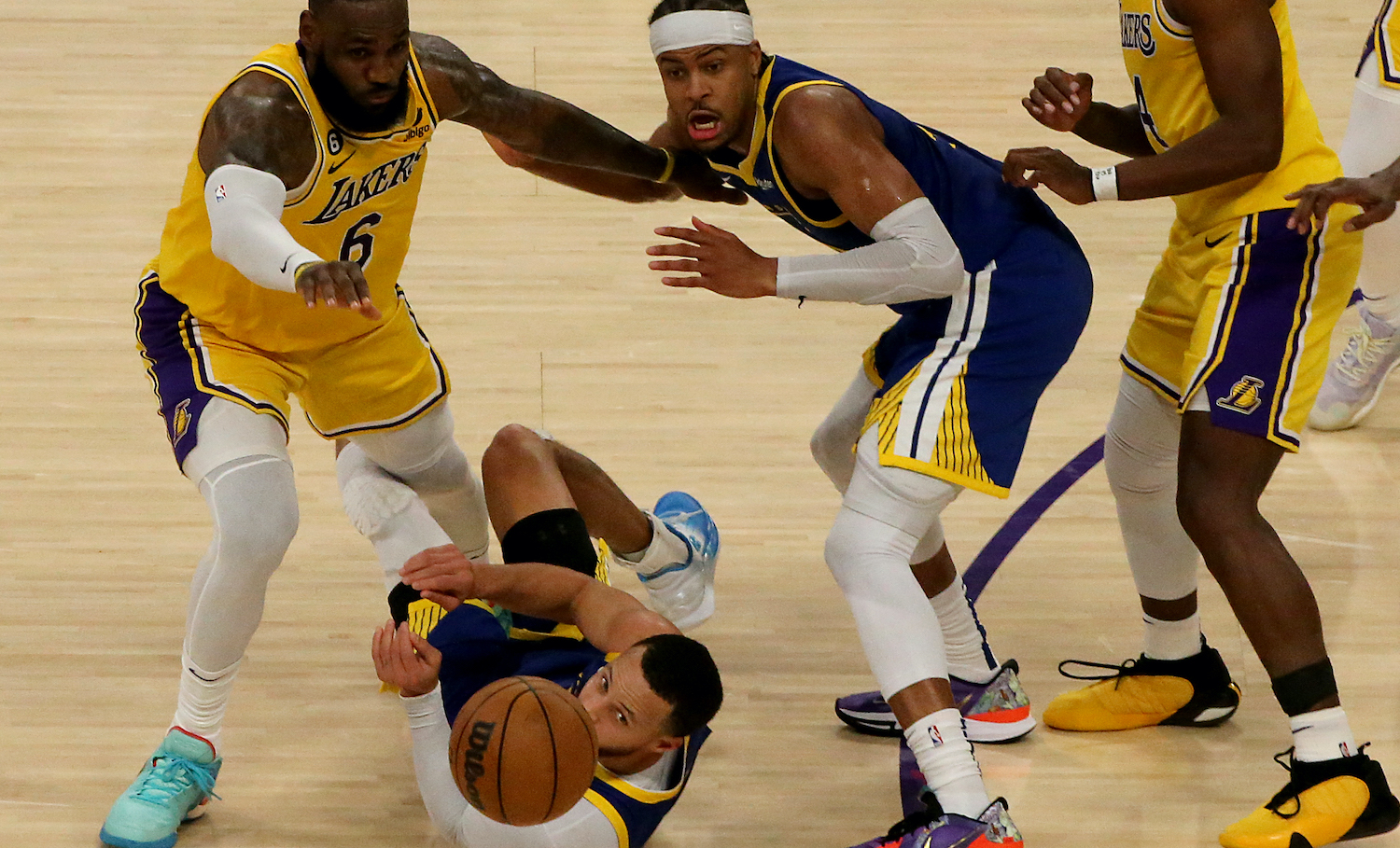 With all due respect to the spectacle of the Lonnie Walker IV Game and the odd sight of LeBron James's real-time adoption of the elder statesman supporting player lifestyle, the Golden State Warriors find themselves in a 3-1 hole in their second-round series with the Lakers less because Walker went off and more because the defending champs themselves turned into pumpkins at the highest leverage moments of Game 4. They blew it!
The Warriors have spent all season straining against considerable internal tensions, which is part of what made their first-round success against a determined Kings team so impressive. After losing the first two games, Golden State stabilized and stopped turning the ball over for the first time all season. There was reason to believe perhaps they had rounded a corner, even if Jordan Poole was playing like a badly concussed Ramon Sessions. Unlike the Kings, the Lakers can actually put enough defensive pressure on the Warriors to create turnovers, especially when their theoretical backup point guard is clearly boomed. As a result, the Lakers looked like the superior team through three games.
This is why I love a Game 4 in a 2-1 series. Three games into a series like this, each team has schemed and re-schemed, and the desperate drive to avoid a 3-1 hole tends to force cool adjustments and great performances. Steve Kerr made the right adjustments on Monday, starting Gary Payton II (who maybe barfed while on the court) and forcing Anthony Davis out of the paint. Steph Curry then made use of that space with perhaps his best game as a passer this season. For much of the game, the Warriors looked thrillingly like the Warriors.
L.A.'s shotmaking kept them in contact through a great Warriors third quarter, though with three minutes left, Klay Thompson cashed a three-pointer off a stunning trio of passes to give his team a three-point lead. It was at this point that Golden State showed off the bizarre decision-making chops that spurred them to the third-worst turnover rate in the clutch this season. Thompson, who made three shots in 41 minutes, killed his team's momentum by pulling up for an audacious 30-footer on the next Warriors possession, then followed it up with an even worse shot into a close contest with 14 seconds on the shot clock.
The Lakers scored on their next three possessions, which included Curry fouling James twice and also an offensive rebound. After Steph hit a layup to make it a one-point game, the Warriors once again put Davis into the action and Curry had two great chances to score. This sequence was not part of the blowing it, to be clear. Curry got the space he wanted against Davis, but he missed shots. That's basketball. Two Lonnie Walker free throws then set up the most critical possession of the game. Golden State used some misdirection with Curry to try and set up a 4-on-3 into a hammer play, designed for Draymond Green to turn the corner on Curry's man and nail Thompson in the corner, sprung free by an Andrew Wiggins screen. Every single part of the plan went wrong. Instead, Dennis Schröder stuck with Green, the Lakers instantly diagnosed the action and switched it—the hammer play is named after Lakers coach Darvin Ham!—and Green got caught in the air before whipping a pass to nobody. Ballgame.
The Warriors somehow got another chance after a poorly called jump-ball that should have been Lakers ball. This time, Curry found himself on the ground with a timeout and the ball with 1.5 seconds on the clock. Perhaps scarred by the timeout fiasco in Game 4 of the first round, or perhaps unaware of how much time was on the clock, Curry threw the ball over his head and out of bounds. Actually ballgame.
The tactic of using doubled screens to force Davis to either commit to defending the perimeter or cede an open shot was a great tactical move on Kerr's part. But Ham has proven an able counterpuncher, and there are ways to pre-switch things and keep Davis down. More importantly, the Lakers only have to win one of the next three games. Given that this is a 3-1 series between LeBron James and Steph Curry I will predict nothing, although I will note that the Warriors did not have even a single game with single-digit turnovers all year until Game 7 of the first round. It would be foolish to expect them to get their shit together at this juncture.
Stay in touch
Sign up for our free newsletter