Soccer
The USMNT Once Again Played The Best
2:51 PM EDT on October 15, 2023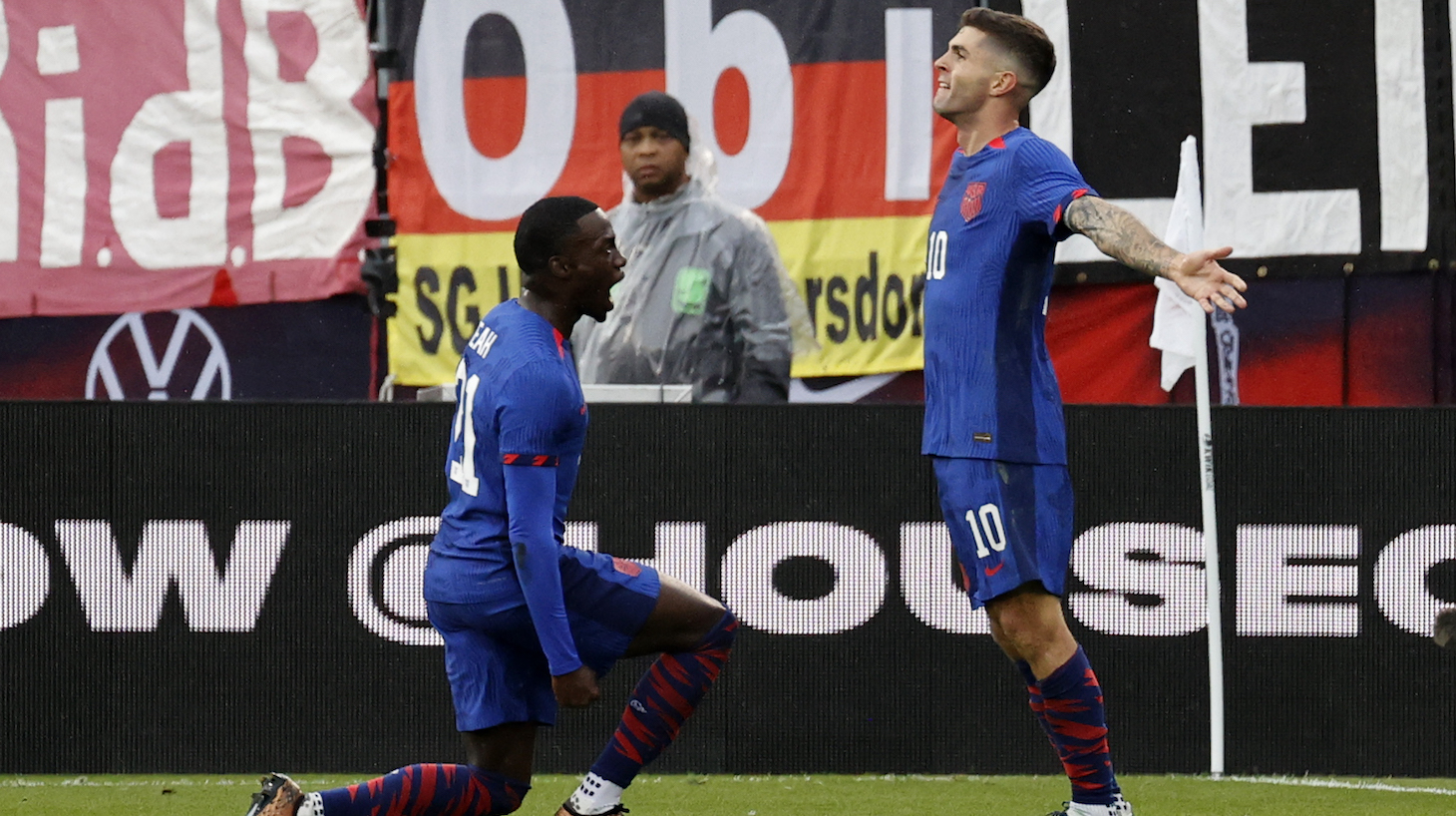 Saturday's match between the USMNT and Germany was a refreshing return of what has become an all too rare occasion: a contest between two intercontinental heavyweights, taking place outside of a World Cup. Indeed, from the American perspective, it had been five years since the last time the U.S. played against one of Europe's traditional powerhouses in a friendly match, back when Italy beat the U.S. 1-0 in November of 2018. In place of the high-profile cross-confederation friendlies of yore now stand the matches of the Nations League, a tournament originally designed to enliven international breaks with matches of ostensibly real stakes but which has in effect mostly just monotonized non-tournament international play, where the same intra-continental teams play each other over and over and over again.
The U.S. is one of the teams most affected by the new system. With Europe's big teams tied up in Euros or World Cup qualifying or else toiling away in the UEFA Nations League, and with the Americans' calendar crammed with World Cup qualifiers and biennial Gold Cup matches and the CONCACAF Nations League, the USMNT doesn't get that many opportunities to measure itself against the world's true elite of either Europe or South America. There's only so much entertainment to be had and information to be learned from watching the U.S. thump the same CONCACAF foes time after time.
All of which is what made Saturday's throwback match against Germany so intriguing. Though a purportedly "meaningless" friendly, it was the U.S.'s biggest match since that World Cup round of 16 defeat against the Netherlands 10 months ago—and the USMNT played like it. No doubt eager to build on its impressive showing in Qatar, and to prove that this young group warrants all the hype and hopes for future American soccer greatness placed on it, the U.S. came raring out of the gates.
The first half was a high-intensity, wide-open, thrilling, and even affair. Defense appeared optional during that opening period, as the Americans and Germans took turns pulling off explosive attacking transitions. One sequence about halfway through the half served as a good summary of the game up to that point.
About 25 minutes into the game, the American defense forced a German turnover and pushed the ball forward, shattering Germany's back line in the process. A Folarin Balogun cut-back found Christian Pulisic all alone in the penalty area with just keeper Marc-André ter Stegen to beat. Pulisic went to dribble past ter Stegen, but fell over when it appeared the German had caught Pulisic's leg while coming out to challenge. The referee didn't give a penalty, and so Germany pushed the ball forward themselves, which quickly sent striker Niclas Füllkrug in on goal.
Füllkrug feinted past a sliding Joe Scally tackle, wound up to shoot on the vulnerable American net, but sent a weak effort right at keeper Matt Turner. Turner wasted no time chucking the ball out to a teammate, which kicked off yet another attack. The ball came to Pulisic down on the left wing, and Pulisic drove forward in between two defenders, sucked in two more as he continued on his way toward goal, dropped his shoulder and knocked the ball on to open up some space between himself and Antonio Rudiger, and cracked a shot directly into the top corner of ter Stegen's goal. That made for three dangerous attacks one after the other, all in about a 70-second span, each one of which could've ended in a goal. But of the three, it was that extra touch of class from the American player that left a mark.
It was, of course, exciting to see, out on a pitch with such formidable competition, that it was America's star who possessed that touch of brilliance that could turn a half-decent chance into a wondergoal that put the team ahead on the scoreboard. But it was, of course, no surprise when Germany restored order through their many more players of much more class. The opening goal seemed to wake Germany from its stupor. From then on the Germans sharpened the kinds of attacking moves that had already earned them multiple solid scoring opportunities, and pressed the Americans with more commitment, which quickly tilted the match in their favor.
Twelve minutes after Pulisic's goal, Leroy Sané danced through the center of both the USMNT's midfield and defensive lines, carrying the ball into the penalty box where Ilkay Gündogan took over and scored the equalizer in the 39th minute. Thirteen minutes after halftime, Füllkrug finally buried one of the myriad golden chances his teammates had spent all day teeing up for him, which gave Germany a deserving lead in the 58th minute. Three minutes after that, Füllkrug played setup man for Jamal Musiala, whose excellent match was rewarded with the goal that put the match to bed.
So what was there to learn from Germany's 3-1 win? A lot. We learned that the U.S. is still a good and growing team that can hang with the best in the world at least for stretches, but is still not effective enough in attack nor strong enough in defense to extend or even just protect a lead against a team of Germany's caliber. This USMNT can come away confident that it still has the pieces that could one day construct a truly great national team, but also with the knowledge that there's much more polishing to be done before getting there. We learned that Germany has a truly ridiculous array of cool players, though it will likely take a bit of time to see if new manager Julian Nagelsmann, in his managerial debut with the Mannschaft, is the man to put it all together. The trio of Sané (who constantly had poor Sergiño Dest looking like he'd just stepped off a whirling merry-go-round), Musiala (who turns as if he had an action figure's swiveling hips), and Florian Wirtz (even in a mediocre individual showing, you could see what all the hype is about) looks like it could develop into the world's preeminent attacking midfield line in the near future.
We also learned just how compelling a big-time, intercontinental friendly can be. Saturday's match might've lacked the manufactured stakes of the Nations League, and you could tell from the reactions of the players (especially the German ones) that there wasn't all that much riding on the match's result. Nevertheless, this friendly gave viewers a matchup we don't typically see, gave both teams a chance to check their progress against a strong, fresh opponent, and made for a much more entertaining spectacle than what we normally get from these breaks in the club schedule.
Outside of the big tournaments, international soccer has lost a lot of glamor over the years. Now that the best players from all over the world are already concentrated in a handful of the biggest clubs and leagues in Europe, there's less excitement and sense of discovery in the prospect of seeing a national team play another one from some far-off land. Still, international breaks would be better if they at least showed us some different matchups from time to time, instead of repeating the same old games against the same old opponents, resold under the guise of some "new" tournament. It's nice to beat Mexico, but as a USMNT fan, I'd rather see the boys test their mettle against the Germanys and Frances and Brazils and Japans a little more often. In matches like that, even a loss can, in a way, feel like a win.
Stay in touch
Sign up for our free newsletter