MLB
The Rays Have Chewed Up The Worst Teams In Baseball And Spat Them In The Garbage
11:11 AM EDT on April 9, 2023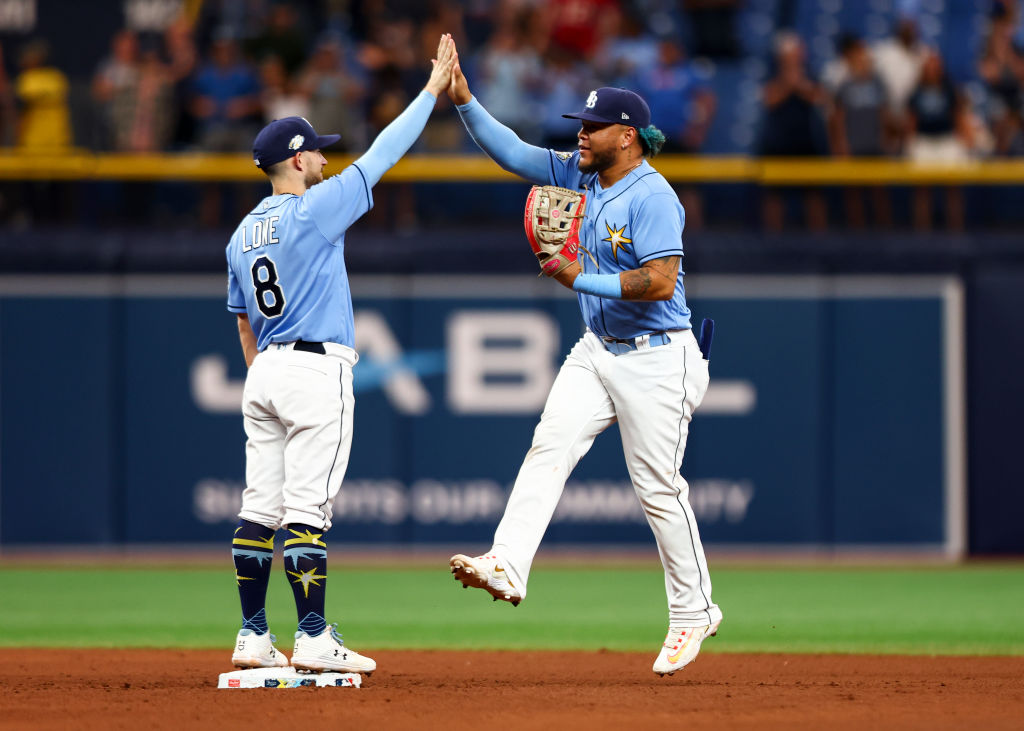 There are two ways to look at the 8-0 start the Tampa Bay Rays have so far enjoyed this MLB season: cower in fear at this baseball monster or point and laugh at their hapless opponents. On the one hand, the Rays' stats are mind-blowing, as they dominate the league with a .936 team OPS, a 2.13 ERA, and a run differential of plus-46. (They win their average game by a score of 8.00 to 2.25.) On the other hand, the Rays' schedule so far has been pathetic: the Detroit Tigers, the Washington Nationals, and the Oakland Athletics. In the words of J. Jonah Jameson, "Crap, crap, megacrap. I'll give you 200 bucks for all of them."
Saturday afternoon in Florida was the setting for another beatdown. Jeffrey Springs started on the mound for Tampa, and in unconventional Rays fashion he went seven full innings on just 89 scoreless pitches, following up on a near-flawless six innings imprinted on the Tigers where he K'ed 12 and didn't allow a hit. The A's starter, 28-year-old Shintaro Fujinami, was not lucky enough to even see through the fifth inning and saw his ERA ... well, it actually decreased to just 17.55 after an even worse MLB debut.
But after a Friday night series opener where a smattering of Oakland hits gave a respectable coat of paint to what was mostly a lopsided 9-5 Rays win, the A's had absolutely nothing to celebrate in Game 2. An early Oakland threat ended with a play at the plate, Isaac Paredes drove in two in the bottom of the fourth, and the A's pitchers lost all control in the fifth. Tampa scored three runs in an inning that had a pair of walks and a trio of HBPs, then Manuel Margot and Brandon Lowe each homered in the sixth. Randy Arozarena added insult in the eighth by scoring a dong off a meatball from A's catcher Carlos Perez, who came on in relief with the game 9-0.
It's been like this for over a week now. Tampa didn't make over its roster very much from a solid 86-76 campaign last year, but all of their top guys, hitters and pitchers, are riding hot streaks to start this season. (In particular, the success that Arozarena and Paredes had with Mexico in the WBC must have revved them up.) In addition to all the on-field success they're experiencing, the Rays might also set an MLB record for longest fingernails, because nobody is biting theirs in that dugout. While there have been a couple of dramatic ninth-inning moments in this Rays season—a few guys got on for the A's on Friday, a five-run explosion gave them a 10-6 win against the Nats on Tuesday—the margin by which Tampa has won its first stretch of games is nearly unprecedented. Let's work backwards on this: They're the first team to open 8-0 since the 2003 Royals, the first to win eight straight games by four runs or more since the 1939 Yankees, and the first to handily win those eight specifically at the very start of the season since—do you know it?—the 1884 St. Louis Maroons!
But even the disaster that was the Altoona Mountain Citys, who gave the Maroons most of those wins and folded with a 6-19 record in that Union Association season, would have to feel pretty good taking on the Rays' opposition. The Tigers nervously tested the gas pedal last year and hit a mailbox at 25 miles per hour. The Nationals let a generational young talent go to San Diego last season because somehow that makes them more enticing for a new owner. And the A's are a ghost in their own home, so unwilling to spend on even one significant contract that their greed has overwhelmed any other possible on-field identity. These teams present no challenge at all. Even the last-place finishers in the Rays' AL East this year will likely have a better record than any of these chumps.
Does that invalidate the Rays' 8-0 mark? Of course not. Those wins count in the standings like any other. All Tampa can do—and what they have been doing—is play to their ceiling against whatever's out there. But for division rivals like Toronto and New York, who are already looking up at that imposing record, they can take some solace in the fact that those eight wins are the gigantic shadow of a relatively small dog. When the Rays maintain this level of play against actual Major League teams, then it'll be time to run and hide.
Stay in touch
Sign up for our free newsletter