NFL
The Problem Was Always Josh McDaniels
11:48 AM EDT on November 3, 2023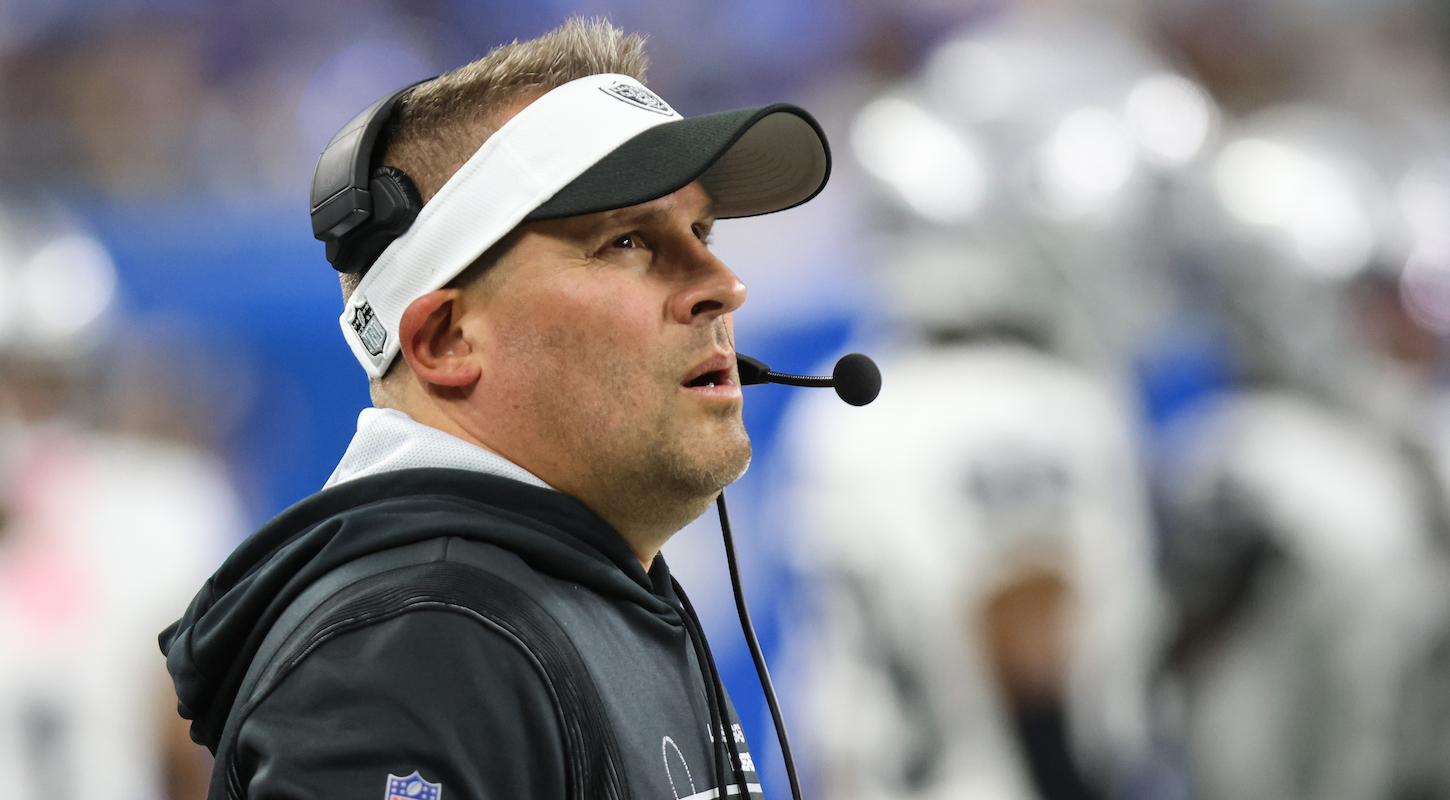 Josh McDaniels is a bad football coach. This is an objectively defensible statement. The proof is now in the tapioca, and the tapioca currently is splattered all over the turf at Allegiant Stadium in Las Vegas. 
McDaniels is out, after less than two seasons as the Raiders' head coach. They went 6-11 in 2022, and got to 3-5 this year before the collective moans got so loud that even cash-strapped Mark Davis recognized the problem wasn't the players—it was Josh. It was always Josh. Everywhere he has gone, other than New England, the problem has always been Josh and that jockstrap he carries around in his back pocket. The one he's never washed. The one he stole from Tom Brady's locker before leaving Foxboro and striking out on his own. The one he tossed to anyone who ever questioned his football acumen. Smell it, he'd say. Any questions? 
This alone got him hired as an NFL head coach—twice. And now, not even Brady's presence in Vegas as minority owner was enough to keep Josh's head from rolling. Ding-dong, the witch is dead.
I could say I told you so, and will, because I did. But when I say it, it has the air of a lover scorned. Of course I'd say Josh McDaniel is a shitty coach: He cut me. My time as a Denver Bronco ended at his hand, like that of so many of my friends. He took over for Mike Shanahan in 2009 and immediately began dismantling what had been a well-oiled machine. The Broncos started off 6-0 that year, then won two of their next 10 to finish at 8-8. In Week 13 of the following season, with the team's record at 3-9, he was fired.
How did things go so wrong so fast? Where do we start?
Josh had immediately butted heads with Denver's most talented young offensive players, Jay Cutler, Brandon Marshall, and Tony Scheffler. They were Shanahan guys, and they made him uncomfortable, so he sent them packing. My old teammate, Tyler Polumbus, who played for both Shanahan and Josh, relayed this story to me: After trading Cutler, Josh addressed the entire team and said, "Fellas, don't worry about the quarterback situation. I can turn a high school quarterback into an All-Pro."
That jockstrap in his pocket gave him a false confidence, as did his handle on gaming the system. The league fined him for filming a San Francisco 49ers walk-through practice. The video guy had come in with Josh, replacing the Shanahan-era holdover. Did Josh know this was happening? He says no; judge his credibility for yourself. Either way, it brought shame upon the Broncos organization. Surveillance and skulduggery may be considered "best practice" in New England, but that shit didn't fly in Denver. 
McDaniels's ego wasn't only fragile on the field. He famously shipped out running back Peyton Hillis because, rumor had it, McDaniels thought his wife was attracted to Hillis. For those of us accustomed to being handled with class—Shanahan, agree with him or not, could be counted upon for this—Josh's approach to leadership left much to be desired. Case in point: I found out my Broncos career was over from a message left on my parents' answering machine. "Honey, there's something I think you need to listen to." When I tried to contact Josh for an explanation, his secretary told me he was in a meeting and that he'd call me back. He never did.
My story is not unique. The sport is littered with players and ex-players done wrong by McDaniels, ones who'd loved the game of football but learned to hate it under him. Polumbus told me that every day at work began with a "bad football" reel from the day before: McDaniels would dog cuss the player and their coach for any bad play from the previous day's practice, setting the tone for a super fun day. Many of his (de)motivational tactics were Bill Belichick knock-offs, like putting slogans and mantras in big block letters around the building, then calling guys out in meetings, making them stand up to recite them, and cussing out those who couldn't. I experienced the same thing during my one week in Cleveland under Eric Mangini, another Belichick disciple who tried to copy and paste The Patriot Way, and failed miserably.
Clearly a good football team is more than merely its clever Xs and Os. McDaniels and Mangini are not the New England football robot factory's only outputs who laid waste to professional football teams. Matt Patricia. Romeo Crennel. Brian Flores. Joe Judge. Brian Daboll. All of them have losing records as NFL head coaches. Only Bill O'Brien has a winning record. All of these slapdicks put together have only two playoff victories as NFL head coaches. Two. For context, every single one of Shanahan's former assistants who took a top job has a winning record in the NFL; they have three Super Bowl trophies among them.
So Mark Davis did what he had to do. In doing so, he may have regained the locker room—one that has already been to hell and back. I hesitate to sympathize with the Raiders, but what Josh did to that team—what Davis did to it, through him—was nearly criminal.
The year before McDaniels got there, the Raiders had lost their head coach, Jon Gruden, amid a scandal over racist emails. One of their teammates, Henry Ruggs, killed a woman while reckless driving and went to prison. Another teammate brandished a gun on Instagram live. Darren Waller and Maxx Crosby fought addiction issues. It was a team in disarray when Gruden resigned in October of 2021, but special teams coordinator Rich Bisaccia took over and steadied the ship, somehow bringing the Raiders to the playoffs, where they nearly upset the Super Bowl–bound Bengals in Cincinnati. 
To my mind, the Raiders had found their coach. The team loved Bisaccia. Special teams coaches often are beloved by a locker room, because they deal with the entire team. They are not offensive or defensive specialists, but everymen, and they have a mass appeal. So how did Mark Davis reward the success of this deeply emotional journey? He fired the beloved guy who got the Raiders through it and replaced him with a preening, cheating football robot with a proven record of annihilating the football spirit of grown professionals. 
Derek Carr was the emotional center of that team. He'd led the Raiders through the fire with courage and vulnerability. He had his teammates' trust, and he attracted the best wide receiver in the league, Davante Adams, to Vegas. This kind of power and influence made Josh uncomfortable, so, true to form, he shipped Carr out just like he'd done to Jay Cutler in Denver—because, remember, Josh could turn any old high school quarterback into an All-Pro.
Can Josh design a good play? Sure. Can he make his players care about running that play? He cannot. There is a reason the Raiders have blown more double-digit leads than anyone else in the NFL over the last two years. When the game drags on, the team whose players care more about each other and, yes, their coach, will dig the deepest and find a way to win. I respected Mike Shanahan too much to leave a single drop of unspent juice in my tank. I would die to execute his vision. Josh elicited no such feelings.
Ultimately, this should be a lesson to everyone in the sports world. If you don't have the respect of your team, it doesn't matter how clever you are on the fucking whiteboard. Coaching is about connecting with other humans. It's about paying attention to what they are going through and responding to it. It's about listening to what they tell you. It's about putting them in positions to succeed, challenging them to be their best, and respecting the effort they give you. Honoring their sacrifice. Believing in them. Showing them that you love them, not just as players, but as people. 
It's about setting them to up shine, not running off the brightest among them so you can be the star instead. In the end, it was McDaniels's ego that did him in. He always believed he knew better and was better, but he never did, and he never was.

Nate Jackson is a former NFL tight end and author of
Slow Getting Up
. He lives in Denver.
Read More:
Stay in touch
Sign up for our free newsletter