NFL
Same As It Ever Was In Raiderland
12:09 PM EDT on November 1, 2023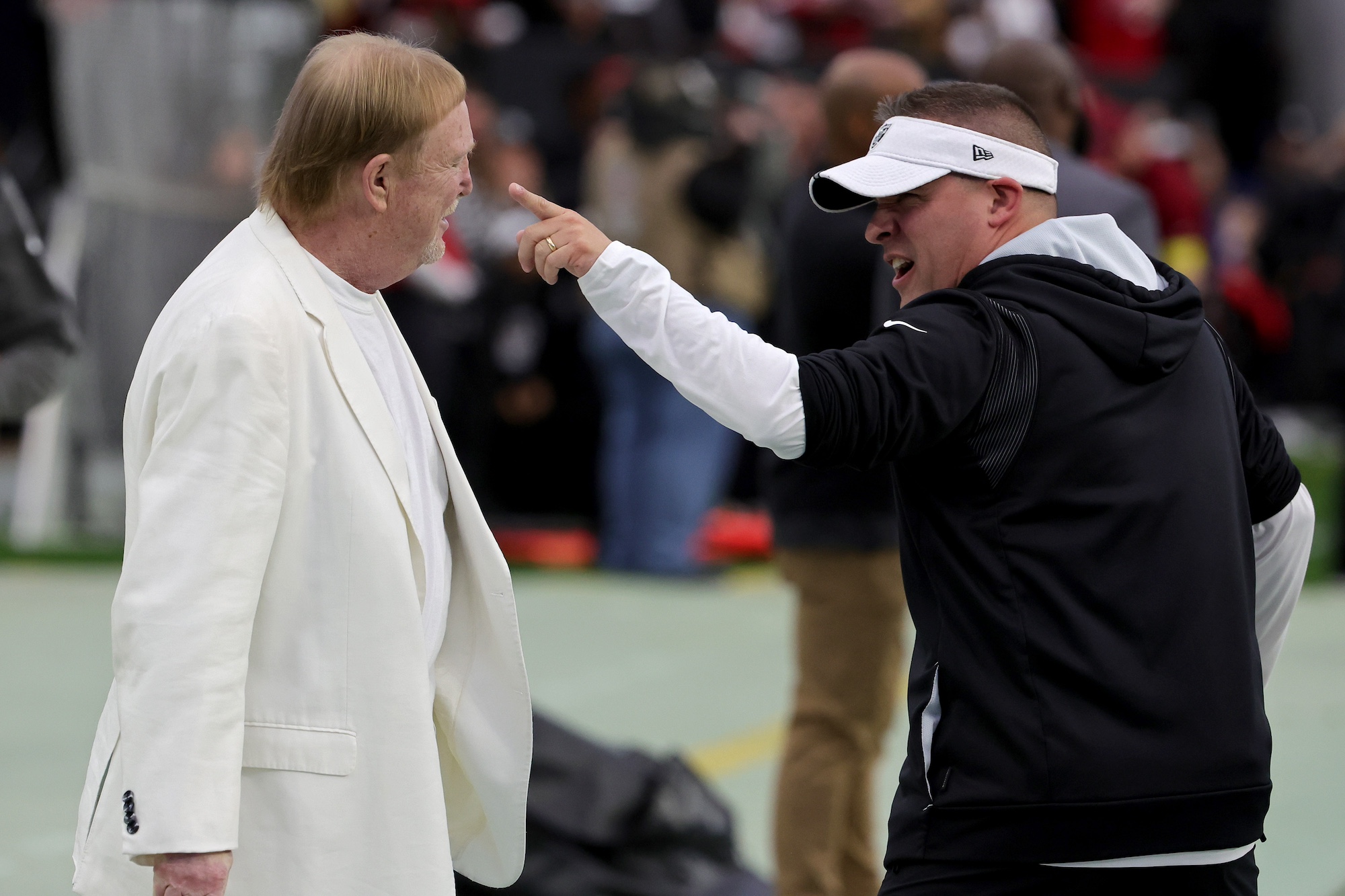 We can imagine Mark Davis talking to himself after he finished firing his football team's coach and general last night and coming to a bold and innovative realization: This looks like a job for Becky Hammon.
And we can equally imagine Hammon telling Davis, I just won you two championships. I gave you joy and a reason to be seen outside. Why do you hate me so?
Davis fired the brainlesstrust of Josh McDaniels and Dave Ziegler, the architects of yet another sad, failed version of the Las Vegas Raiders, and did so late enough in the evening (it was announced after 10 p.m. Pacific time) to allow us the mental vision of him suddenly realizing upon closing time at P.F. Chang's that his football team still isn't any fun, and he would rather be associated with it only well after dark. Why he needed a full 26 hours to fire them after the team's latest monument to turgidity, a 26-14 loss to Detroit in which they had the ball for barely 20 minutes and were outgained by 329 yards, suggests that maybe he spends his days pretending the football team isn't his, and is dealing with it now only because it's the Aces' offseason and he has nothing else to distract him.
Or maybe he was done gathering Halloween candy and was coming down from his Reese's sugar rush. Indeed, maybe he fired them over the phone while still wearing his Bluey costume. We can only live in hope.
But that's not really fair. We don't take Davis seriously as a football owner because he's never given us cause to do so, but he does presumably deserve some notice for hiring the right people for his WNBA team. It isn't like he is comprehensively incapable of doing this ownership thing.
Nevertheless, the almost unremitting joylessness of his tenure running this very-long-ago proud NFL franchise surely must have played a role in his choice to blow up his football operations office under cover of darkness in the neon capital of the world. The only interesting thing about McDaniels and Ziegler getting hooked was the time of day, but the time of day is instructive because it suggests that he didn't want to have to explain himself to anyone for this comprehensive failure, after the comprehensive failures of Rich Bisaccia (which was only a failure because he wasn't hired full-time), Jon Gruden (who may redeem himself if he successfully sues Roger Goodell into penury), Jack Del Rio, Tony Sparano, and Dennis Allen. By games relative to .500, McDaniels is squarely ranked as the 420th best coach in NFL history (out of 521), and if he doesn't want to collect four more years of Davis's money while poolside, he still could be hired to run the Chargers because football owners never learn.
It's been 12 years now, and the only reason Davis doesn't get more grief for the Raiders playing the fewest number of playoff games (two) in his tenure is because they had played only five in the previous 12 years. The rot was already there, and it has been addressed inadequately, if at all. Davis's one football achievement is moving his team from a place where they mattered to a place where they provide the world's most powerful road-field advantage. As an aside, they host the Giants Sunday, which is the best news they've had since the play before Derek Carr broke his leg in 2016.
So we are left to wonder only one thing: how Davis hires the next full-time coach and general manager of the team. How does he convince anyone that he has suddenly had the franchise-changing inspiration to make people take him seriously? Does he walk into the presser holding his two WNBA trophies? Does he have Hammon sitting to his left? Does he just hire Hammon?
And at that moment and perhaps that moment alone, with the smoldering corpse of a briefly impertinent media member smoking in the foreground, the Raiders will be respected and feared again. Barring that, they will continue to do their work, or what passes for it, under cover of night in a city that prefers its hockey franchise, when only desperate high-rollers, elevator cokeheads, and vampire bats roam the streets. Things will only get better when the A's move there in 20-something-or-other and John Fisher provides the cover of mockery and contempt Davis so desperately needs.
Stay in touch
Sign up for our free newsletter