NHL
The Penguins And Islanders Are Having A Mid-Off
12:00 PM EDT on April 12, 2023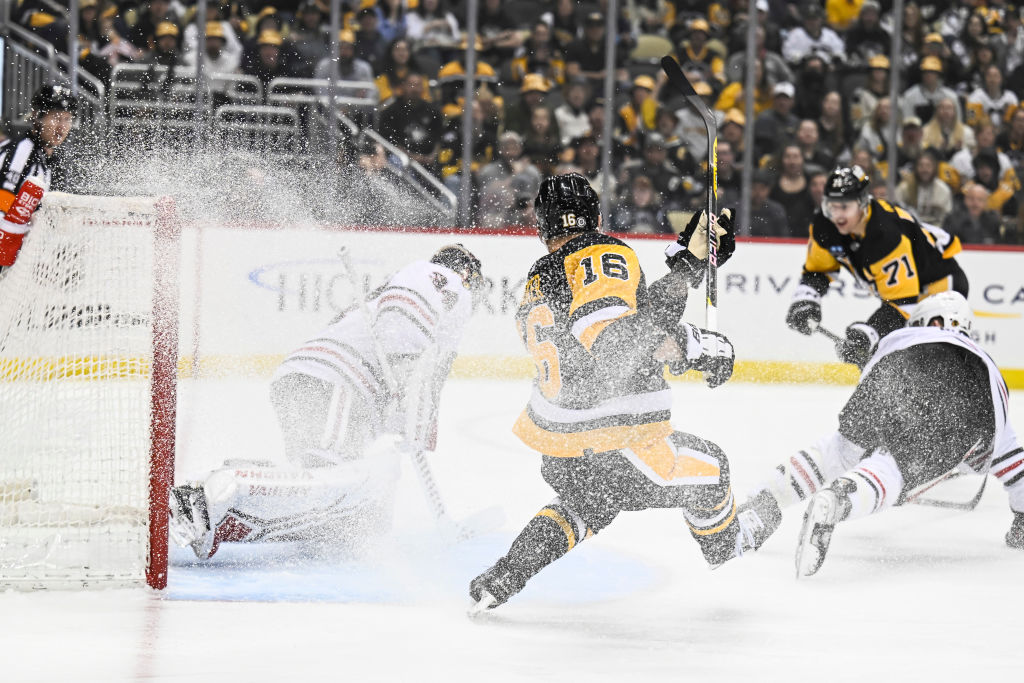 Let's get the worst news out of the way first: The scrappiness of the Buffalo Sabres finally failed them on Tuesday night, as the Devils beat them 6-2. There's no shame in losing on the second night of a road back-to-back against two playoff-bound foes, but it does knock the Sabres out of an unlikely playoff chase, extend the NHL's longest postseason appearance drought, and force them into a long summer until they can try to show even more growth.
So the Panthers have now clinched the second-to-last playoff spot in the East, which saves them some face after threatening to go from 2022 regular-season champs to 2023 bottom-half chumps. But still battling for the final ticket to the playoffs are the Islanders and the Penguins. Neither of them seems to want it very much.
The Isles fumbled what should have been a simple win against an undermanned, washed-out Capitals squad on Monday night, giving the Pens a golden opportunity to pull ahead on Tuesday. Pittsburgh was playing, of all teams, the tanking Chicago Blackhawks, who had lost 11 of their last 12, including a game the night before, and who would do unspeakable things if it meant they could get a better shot at the No. 1 pick and Connor Bedard. This should have been an easy two points (at home, too!) for any team still trying with all its might to extend its season.
Except nobody told Petr Mrázek! The Chicago goalie, who in his previous start allowed seven against the Kraken, picked yesterday to give his biggest performance of the season. The Pens skaters put in some effort, generating a decent amount of breakout chances, but Mrazek was there to make pad saves on all of them, and by the end of the second it was 1-0, Chicago, thanks to this flukey shot by Connor Murphy.
It was a rough night for Mrazek's opposite. Tristan Jarry is often the Penguins' ace in net, but sometimes he's more like a joker. His boys got a sigh-of-relief equalizer on the power play five minutes into the third, but a 1-2 punch by Chicago snuffed out the joy. First, Buddy Robinson, a 31-year-old with three career NHL goals heading into this game, appeared in the slot with a puck and sent an attempt past Jarry that made it look like the goalie's glove arm fell asleep. Then Andreas Athanasiou, who helped spoil things for Calgary in Chicago's lone win in recent memory, showed off his one great skill—his speed—to disorient Jarry into letting in another. Chicago would add two empty-netters, sandwiching a pointless Penguins goal, and win 5-2.
Oh, did I mention it was Fan Appreciation Night in Pittsburgh? In the aftermath of that loss, the most bewildered and depressed-looking hockey team you ever saw had to file back onto the ice to deliver keepsakes to those Pens supporters who stuck around.
"I think in the third we got frustrated and kind of imploded," Pens vet Kris Letang said after the game. "It's a tough one to swallow."
Before Pittsburgh takes the ice again, facing Columbus on Thursday, the Islanders play the Canadiens on Wednesday. If the Isles do anything besides lose in regulation, they'll clinch and the Penguins' last game will be pointless. Not only that, but by far the longest playoff streak in the NHL would come to an end at 16 seasons, and even though a lot of their older guys are on the books for several more years, the Penguins are going to have to come up with a rebuild plan. I mean, that should probably happen no matter how this week plays out.
This two-team stumble to catch the departing train of the playoffs is the last true excitement of the regular season. But the added struggle here is that, unless Florida slips up, the Isles or Penguins are competing for the prize of a series against the Bruins that shapes up to be a bloodbath. I've mostly avoided speaking their name, but Boston is a ridiculous, kind of unprecedentedly good team that wins basically every game they play and whose only weakness, maybe, is the fragility that comes from being a relatively older squad maintaining such a high level for 100-plus games. History makes them slightly less scary, however. None of the last seven Presidents' Trophy winners has advanced past the second round, and the best of that bunch, the '19 Lightning, got absolutely humiliated by the mediocre Blue Jackets.
There's no reason to predict something will happen again just because it has before, but whomever the Bruins' opponent is will at least have a puncher's chance, and that's what the Penguins and Islanders are battling to earn. If they can't even beat freaking Chicago or Montreal, though? Maybe Boston could just get a bye.
Stay in touch
Sign up for our free newsletter