NHL
The Panthers Finally Have The Big-Game Bob They Paid For
12:27 PM EDT on May 23, 2023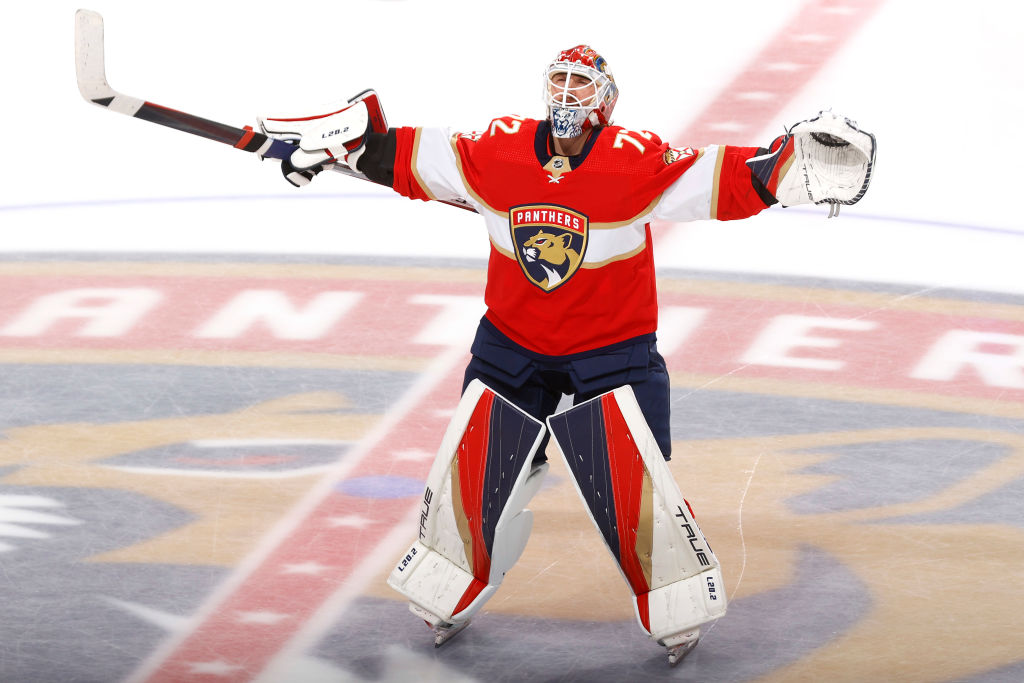 Sergei Bobrovsky and the Florida Panthers looked for a long time like a cautionary tale, warning of the danger inherent in signing a goalie to a mega-contract for his 30s when it's almost as likely that you can pull an effective netminder from someone else's bench. As part of Florida's effort to really get serious after some major draft picks but a complete lack of playoff time, they took the free agent Bobrovsky, a couple years removed from a Vezina in Columbus, for seven years and $70 million in 2019, the same summer they made the ill-fated hire of Joel Quenneville to be their coach.
Bob was bad from the get-go, with a save percentage of just .900 in his first season in the sun, and the Panthers won just a measly game in the COVID bubble. By the end of the next year, he looked like their third-best option in net, especially as he allowed 10 goals on 63 shots in less than two full games of playoff ice time. But that big contract meant they were stuck with him, particularly because Chris Driedger got expansion drafted, and in a 2021–22 that saw the Panthers dominate right up until the second round, he at least played passably. Again, though, he struggled with consistency. When the Panthers took the ice against the Bruins for the start of these playoffs, it was not Bobrovsky between the pipes but Alex Lyon, a 30-year-old riding a hot streak after he was unglamorously called up from the Charlotte Checkers.
Bobrovsky got another shot, though, as the Panthers went down 2-1 in the series and Lyon lost that special something. It didn't seem to matter, since his first start yielded five goals and another loss. But Paul Maurice stayed with him, and he stole an overtime Game 5 with 44 saves, survived a wild Game 6 with a 7-5 final, and edged out Jeremy Swayman through another overtime in Game 7. Then, a killer awoke.
Throughout the second-round Toronto series, Bobrovsky gave the Panthers a guaranteed win as long as they scored three goals. The inconsistency that had once ruined his reputation disappeared, and in every single game, including a clincher with 50 saves, he allowed just two pucks to pass through him. Against Carolina, he's been even better. In that iron-man Game 1 he stopped 63 shots. In Game 2 he missed an early redirect but then turned into a big boulder, leading Florida to a 2-1 road victory. Finally, in Game 3 on Monday night, he was impenetrable, achieving the perfection his team needed as he made 32 saves in a 1-0 win that put a heavy three-game weight on Carolina's backs.
What can I say about this performance that Jesperi Kotkaniemi's locker-room lumberjacking didn't express?
The Canes are already a team with a depleted forward unit that, as controlling and aggressive as they are in most areas of the ice, isn't especially great at finishing the chances they create. They were hurt further by the fact that they only got one power play all night. But when they did actually manage to cook up something dangerous, Bobrovsky's reflexes were sharp as Legos on the floor at 3 a.m.
Though the Panthers lost their centerpiece skater, Aleksander Barkov, to a concerning injury in the first period, Sam Reinhart's power play goal midway through the game was all they needed to lift Bobrovsky to a win and leave the Canes shaking their heads and hurting their sticks after three straight one-goal losses.
"We can't do much more," Carolina coach Rod Brind'Amour said afterward. "We like how we're playing, clearly. It's just, we've got to find a way to put one in."
This is basically the hottest a goalie can be, and at just the right time, too. Going back to the third period of Game 1, Bobrovsky has stopped 109 of his last 110 shots faced. He's 10-1 in his last 11 games, hasn't had a bad night since that Boston Game 6, and is surfing a torrent of momentum and adoration from his teammates and fans. I don't know how his mask hasn't melted yet.
How's he doing it? I don't even know if he knows—if he could in fact isolate the difference between good and bad goaltending, his Florida career would look a lot different. But even if all you can say about Bobrovsky is that he's had a sweet run of games that showcased how he's still got the stamina and the magic hands that made him so famously sought-after coming out of Ohio, this is the kind of month that might define an entire career. Just a few weeks ago, Bob was an over-the-hill obligation that would interfere with the Panthers' need to improve. Now, it's impossible to think a single negative thought about him, unless you're shooting on him. Whatever he's owed—another $30 million actually, by cap hit—it's worth it in exchange for just five more of these wins.
Stay in touch
Sign up for our free newsletter