NHL
Game 1 Didn't Last Long Enough
11:00 AM EDT on May 19, 2023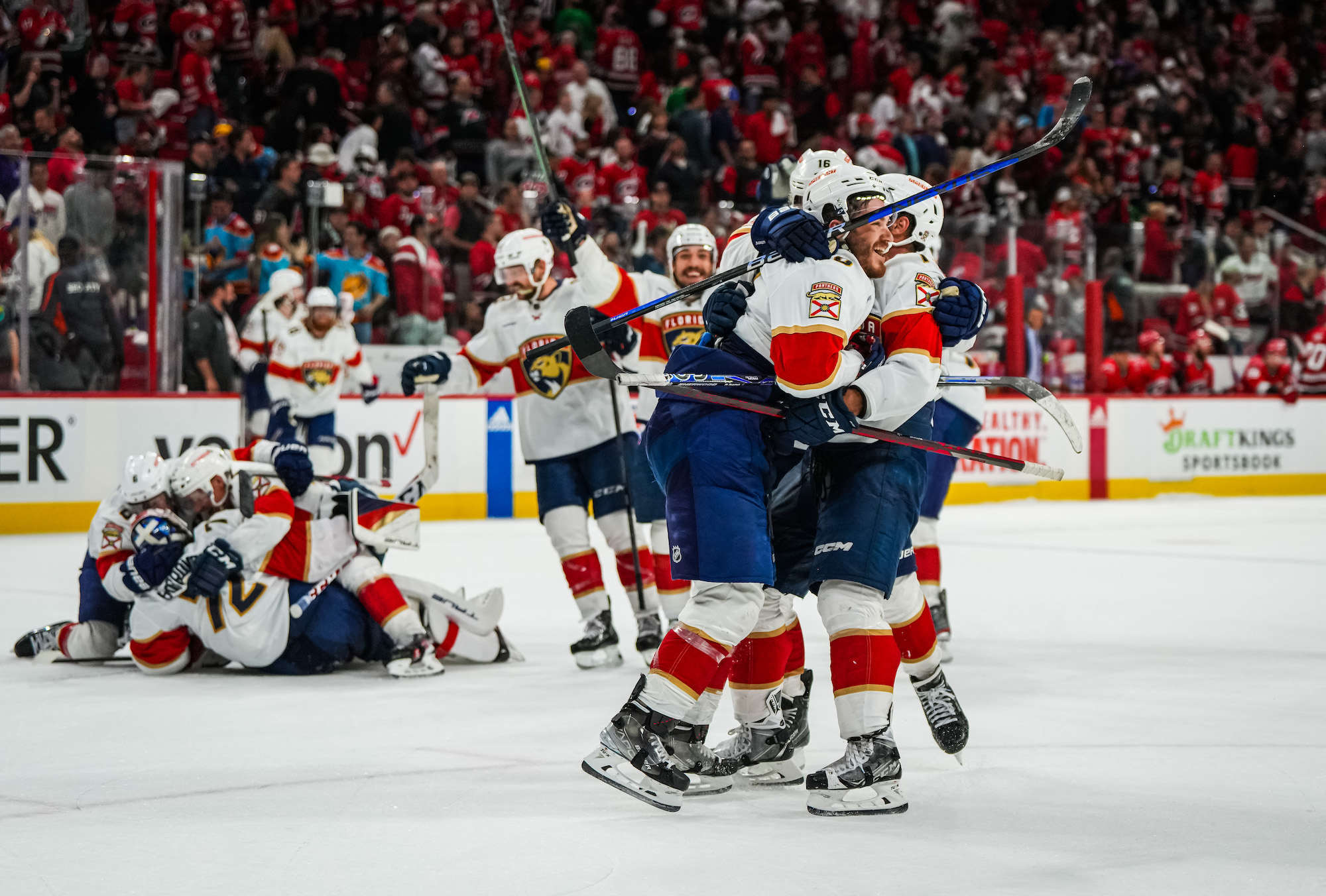 Of all the fascinating things to come out of the four-overtime Florida-Carolina Eastern Conference Final Game 1, there was one clear failure.
That it didn't go five. Or, better still, six.
Matthew Tkachuk's path to the Conn Smythe Trophy got a little broader and better lit when his 20-foot wrister whistled over the glove-side shoulder of Hurricanes goalie Frederik Andersen with 12.7 seconds left in the seventh period of this three-period game. The Panthers, the eight-seed that makes their brother eight-seed Miami Heat look like the 1996 Chicago Bulls, are now a game to the good in this unlikely yet already riveting series. Unlikely, because the first game lasted five hours and 44 minutes. Riveting, because with a little gumption and enough intravenous hydration and snack food, they could do this again, starting tomorrow.
And it is that more than anything else that can win over the elusive casual fan—the idea that going all night is still a concept in this country, which is something that watching LeBron James's body parts leak all over the Ball Arena floor last night cannot do.
This is not one of those hyperstupid hockey's-better-than-basketball-and-you-just-don't-get-it screeds. You like what you like, and it's no more complicated than that. No lectures here, at least not without more coffee. But hockey can do one thing that basketball cannot even after you allow for all the practical differences between the games, and that's last until it doesn't. It is not just a revelation for first-time callers, but a mesmerizing experience for long-time listeners. There was only a bit of difference between the energy levels of the two teams in period seven and period four (periods five and six were played a little tighter for tactical reasons starting with the identities of coaches Rod Brind'Amour and Paul Maurice), but watching a game morph from one kind of thing to entirely another is something basketball is rarely capable of. Fast teams want to play fast, big teams want to play big, shooting teams shoot and grinders grind, and in a game of contrasting styles the battle is about who gets what they want. What you were walking into the arena is what you are when you leave.
But in a four-overtime game, the exigencies change visually and viscerally as today meets tomorrow, from make-no-mistakes to screw-it-it's-almost-closing-time. And this was the case Thursday night in Raleigh, as both teams took more shots on goal in period seven than in any of the others because the attention to positional detail starts losing arguments to cramping thighs. Last night was settled in part because Tkachuk is a glorious opportunist, and in part because veteran Carolina defenseman Brent Burns turned the puck over seconds before.
And across the land, people snapped from their agreed-upon torpor because the game was finally over, even though Tkachuk could have done the decent thing and missed the shot, forcing a fifth overtime and taking the entire night to a new level of surreality. And who, ultimately, doesn't want that?
Sadly, a lot of people don't. TNT kept showing us shots of sleeping children in the stands as though they had just completed another cruel day on the forced march to Khabarovsk. The TNT studio crew, especially the holy relic Wayne Gretzky, seemed both exhausted and almost perturbed by the whole thing even though this would be their best-watched night of the entire postseason. They, especially the updated Fred Flintstone that is Paul Bissonnette, covered all the available topics from food between periods to liquids between periods, but seemed almost to run out of topics before their between-periods segments ended. The game outlasted them, making it a great game by definition.
But imagine them having to do yet another 15-minute segment. Imagine the sports bar owner south of Oakland who couldn't find the game when Lakers-Nuggets ended (in the minimum four quarters, the candies) but had to shoo people out of the place at closing time three hours later even though the game wasn't over. Imagine the fifth overtime we'd all but been promised, and imagine the sixth overtime after that, where the last player to score a winning goal in such a circumstance (1936) was named Mud Bruneteau, the best name/nickname in the sport save Pat (The Little Ball Of Hate) Verbeek.
Hell, imagine the Hurricanes thinking for two days that all they needed was 12.7 more seconds.
And while you're doing all that imagining, scorn all the social-media weaklings who complained that they had to go to work in the morning and the game was being mean to them. You disgust us. One, this is the home of Quit Your Job, so we have no sympathy for your pathological fear of Jennifer Stalin over in HR. Two, you can go to bed whenever you want without announcing your intentions because the only person who actually needs to know that is your partner. Three, why would you commit to four overtimes and then bail out before the fifth? Four, how do you live with your worthless sniveling selves? This was a magic evening that comes along far too rarely. Playing until tomorrow East Coast time is all well and good, but playing until tomorrow on the Pacific Coast is epic stuff. Making sure we know you don't like it is the mark of someone without character, dignity, or enough beer.
But there is hope. Game 2 begins 42 hours from the end of Game 1, and if the Panthers and Hurricanes are interested in making their sport more accessible to the nation as a whole, they'll reach that fifth overtime and look at you through their hungry, thirsty, and spent faces and say without uttering a word, "We do this for your amusement, so don't be ungrateful bastards. Accept it as our gift. We're going longer than the golf, for Christ's sake. How is that not cool?"
It is cool, cooler than anyone can possibly know, and for everyone who missed it, it can all happen again because in this sport at this time of year, the only real dirty word is "regulation."
Stay in touch
Sign up for our free newsletter